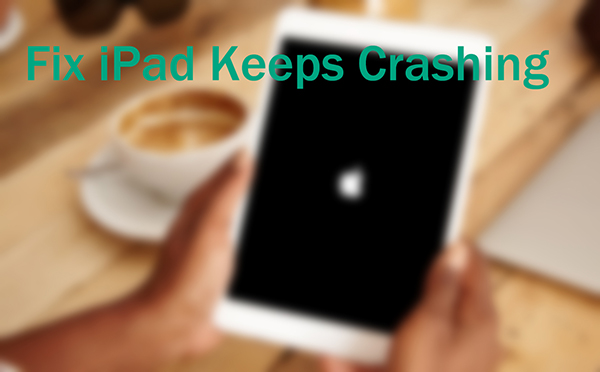 Compared to other tablets, the iPad is a masterpiece creation from one of the world's biggest tech companies- Apple Inc. The device is envied for its sleek and classy design as wells as its unmatched performance. iPads are less likely to develop glitches. That, however, does not exempt them from developing issues, and the iPad keeps crashing problem has raised eyebrows on the internet.
If you are experiencing this issue, you are not alone! They are a whole lot of iPad users experiencing the same problem out there. iPad crashing problem can be very annoying and inconvenient. It means that you can barely complete any function using the iPad since it keeps rebooting. Luckily for you, we have lined up probable causes for the problem and a detailed guide on how to fix this iPad crashing issues. Let's solve it now!
Why Does My iPad Keep Crashing
If your iPad suffers from the crashing issue, it is most likely that the device is stuck in a boot loop that keeps on restarting your iPad every time you try accessing or executing applications. Essentially, there is no one particular cause for the problem; instead, there are several reasons why you might be experiencing the issue—here is a list of some common causes for the problem.
• Incompatible applications;
• iOS software glitches;
• Software bugs;
• Corrupted applications or files;
• Battery problems.
Simple Fixes for iPad Keeps Crashing
Fix 1: Force Restart iPad
Force restarting your iPad is also referred to as performing a hard reset on your device. It is one of the many easy ways to get back your devices after a software bug. A hard reset does not lead to data loss and is entirely safe. It provides your system software and iPad applications with a fresh start eliminating bugs that may be causing the iPad keeps crashing problem. Here is how you perform a hard reset.
iPad with a Home button: Hold the Home and Power button simultaneously until an Apple logo appears on your screen.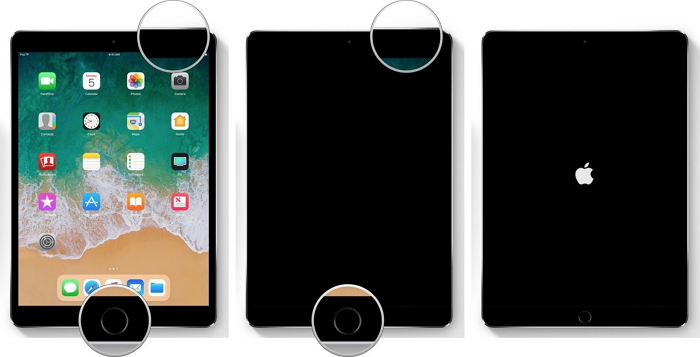 iPad without Home button: Press and quickly release the Volume Up button. Do the same with the Volume Down button. Finally, press and hold the Power button until the iPad restarts.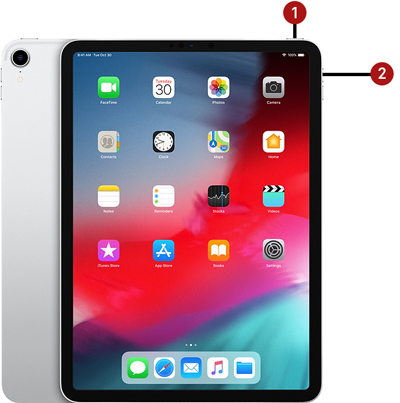 Fix 2: Update Software
Running your iPad on obsolete iOS software could be the root cause for this crashing problem. For iOS devices like iPads, you must regularly update your device to help fix software bugs. Here is how you go about updating your iPad.
• On the main menu, go to Settings > General > Software Update;
• If there is an available update, click on Download and Install the Updates;
• Ensure that your iPad is fully charged or connected to a power source as the process is power draining.
Also, it is crucial that you update all the apps on your iPad. To update, go to AppStore app > Today > Profile icon and find the Available Update section. Select Update All to update all the apps.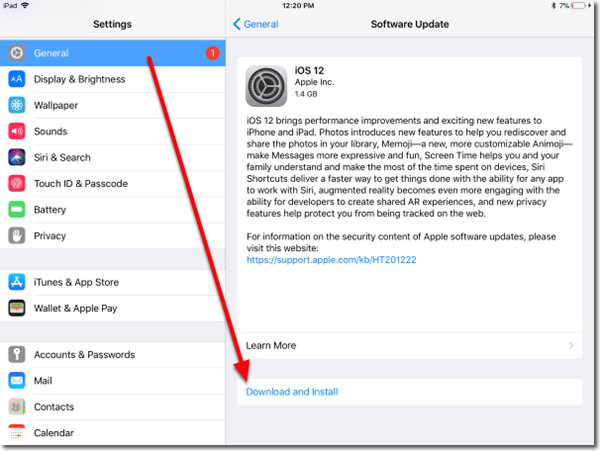 Fix 3: Check Battery Health
If your battery is too old, it may be the reason why your iPad keeps on crashing. Therefore, you need to check your battery health. To do that, simply access Settings >Battery > Battery Health. Battery health is automated, and the page will tell you the battery health status. Consider replacing the battery if the battery requires service. Also, make sure that only replace it with a genuine Apple battery. You should consider the help of a professional phone repairer for battery replacement services.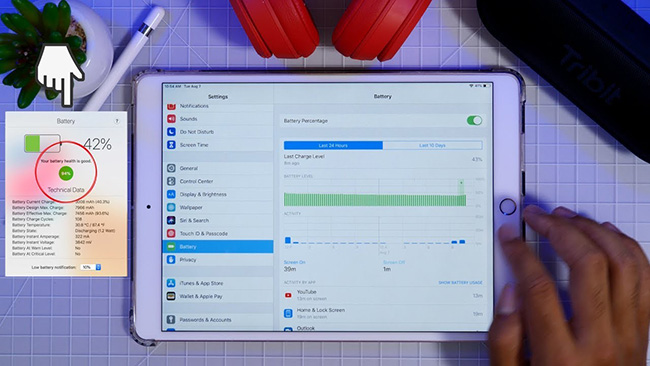 Fix 4: Free Up Space
Running your iPad in low space could be the reason why your iPad keeps crashing. Usually, using your device in low space means that applications and system software have no room to run, which eventually causes iPad freezing and abrupt crashing. Therefore, it is imperative that you delete some of the apps you do not use, clear app caches, and other unnecessary media files.
To free up some space, go to Settings > General > Device Storage. Here, you can see a list of recommended items that you should consider deleting to free up some space. In the end, ensure you at least have 1GB of free space on your iPad.
Fix 5: Fix iPad Keeps Crashing with TunesKit (No Data Loss)
If the problem is yet to be resolved, your iPad may have developed a severe iOS system software glitch. Therefore, you will need third-party software to help repair the system software. In this case, we highly recommend that you use the TunesKit iOS System Recovery.
TunesKit iOS System Recovery is a top professional tool built to help iOS and tvOS device users fix system software-related problems. The software is knit with top-tech and has abilities to fix over 150 iOS related issues, such as iPhone stuck in frozen screen, boot loop, black screen, white screen, software update failure, among others. TunesKit is simple to use and works fast to resolve the problem without loss of data. You certainly do not need a data backup while using the software. That said and done, here is a detailed guide on how to use the TunesKit iOS System Recovery to fix your iPad's crashing problem.

Characteristics of TunesKit iOS System Recovery:
Fix iPad keeps crashing without data loss
Repair different tvOS/iOS issues by yourself
Provide Standard Mode and Advanced Mode
Easy to use with friendly interface
Available on Windows and Mac platform
A step-by-step guide for how to fix iPad keeps crashing using TunesKit iOS System Recovery.
Step 1

Connect iPad to Computer

Launch TunesKit on your PC. Using a genuine USB cable, connect your iPad to the PC. Click Start to continue.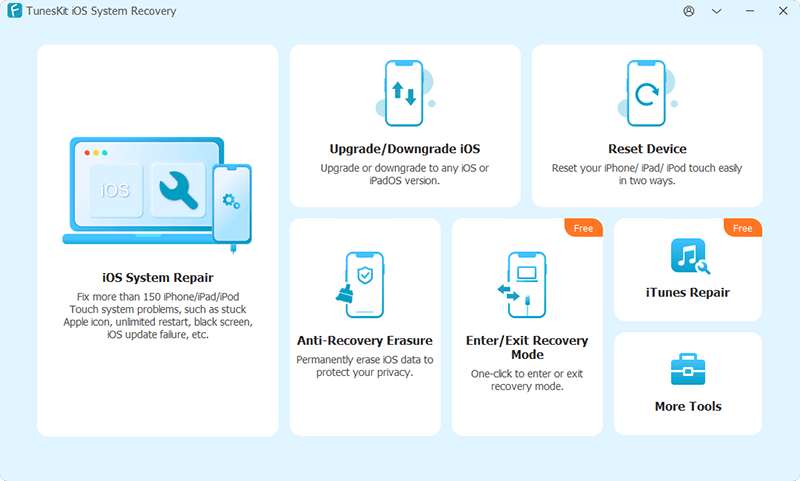 Step 2

Select a Mode

To guarantee the safety of your data, select the Standard Mode as your repair mode. Do not use the Advanced Mode; it will lead to data loss. Click Next to proceed.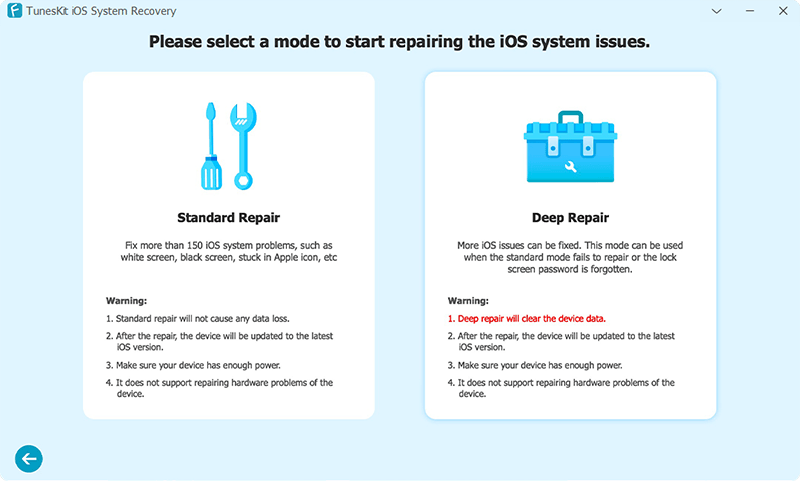 Step 3

Download Firmware Package

Get ready to download the firmware package. Check to confirm whether the firmware detail matches your iPad's device info. Then, hit the Download option to begin the download process. It will only take a few minutes, depending on your internet speeds.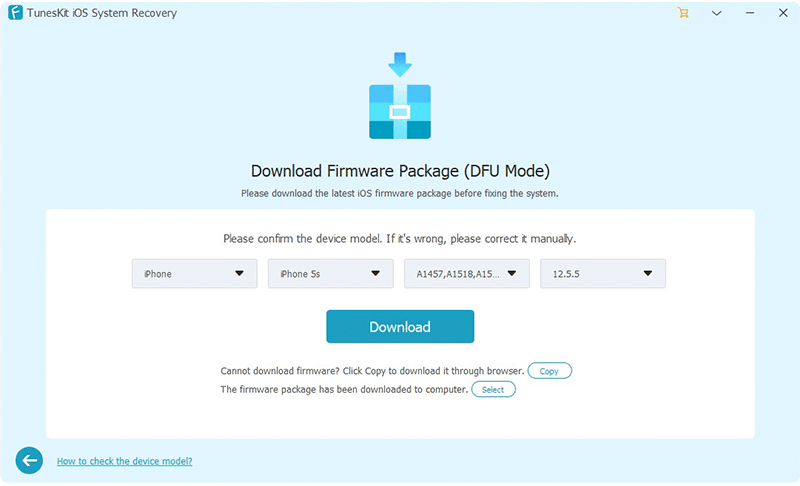 Step 4

Fix iPad Keeps Crashing

Once the download is complete, click on the Repair option to start the iOS recovery process. It will only take a few minutes. Also, ensure that your iPad is connected to your PC through the entire process. After it is complete, restart your iPad and check whether the iPad crashing problem is fixed. This process should work to resolve the problem for you.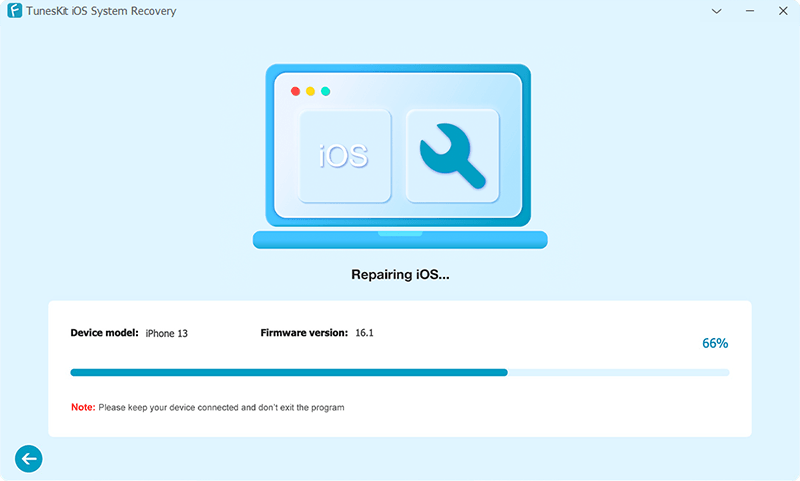 Fix 6: Restore Your iPad via iTunes
Using iTunes to restore your iPad should be a remarkable way to get rid of the iPad keeps crashing issue. It is worth noting that restoring your iPad will erase all your iPhone content and user data. Before doing so, backup your iPad via iTunes or iCloud can reserve the data well. Let's see the how-to.
Step 1: Connect your iPad to a computer. Then launch iTunes. Ensure that you are using the latest iTunes version.
Step 2: You will see a tiny iPad icon appears on the toolbar when iTunes detects your iPad. Click on it.
Step 3: Click on the Summary option. You can find it in the left menu.
Step 4: In this phase, you will see a Restore iPad option. Click on it and follow the instruction to restore your iPad.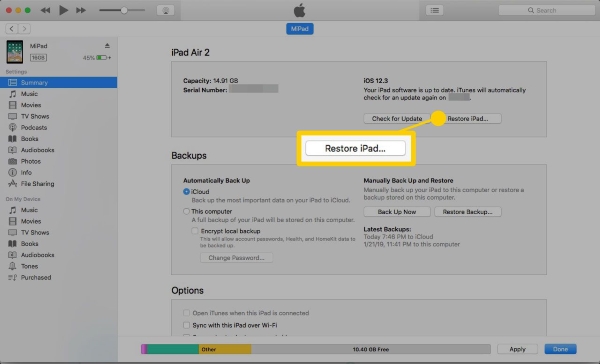 Video Tutorial: iPad Keeps Crashing? Here is How to Do!
Conclusion
You now have the iPad keeps crashing solutions with you. It is upon you to try them out and find out which one works to fix the problem. Here is a free tip! – using the TunesKit iOS System Recovery software has proven to be a much fast and effective fix for the problem. The software works fast, updates your iPad after repair, and guarantees users 100% data safety. You should try it today! If it does not work, you can always contact Apple support for corresponding assistance.

Brian Davis has covered tech and entertainment for over 10 years. He loves technology in all its forms.