Top 8 Ways to Fix iPad Keeps Turning On and Off Can't Miss
6 mins read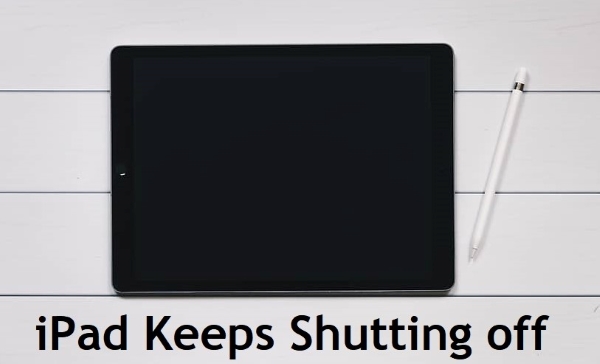 Q:"Hi! I wonder why my iPad keeps shutting off every few seconds, so annoying. I am not good at fixing iOS products. I tried to restart it but I failed. Is there anyone who can help? Thanks in advance." – Susan from Reddit
Among all the tablets, the iPad stands out for its leading technology, stability, and user-friendly interface. Since it is released in 2010, it has won millions of uses for itself. Be it as it may, nothing can be flawless. iPad is no exception. Some small glitches pop up at times, which are not difficult to resolve but annoying enough. The problem Susan met is one of them. I believe that some other iPad users have this problem, too. If you are one of them, you have come to the right place. Feel free to check these step-by-step DIY tips to more about why my iPad keeps shutting off and fix it easily.
Part 1. Why Does My iPad Keeps Shutting Off?
There could be multiple reasons why your iPad keeps shutting itself off. There is an unconscious explanation that triggers it. Oftentimes, this can be the result of cluttered storage. Your iPad sets itself to safety protocol when the iOS framework returns to retrieve something from the corrupted memory. It is a security measure that Apple has chosen to take by helping the device to reboot instead of giving it a chance to crash or become bolted. Or it can be a software bug or glitch that caused all the mess. The issue may also result from a worn-out battery. In doing repair work, we must suit its methods to the situation. Continue reading for details to fix "my iPad keeps shutting off".
Part 2. How to Fix My iPad Keeps Shutting Off?
Solution 1. Quickly Fix iPad Keeps Turning On and Off [Loss-Free Repair]
A professional and reliable iOS recovery program can fix this problem easily. It is designed to repair iOS system problems. TunesKit iOS System Recovery is a leading one of them.
This software can fix iPad won't turn on, iPhone stuck on black screen, disabled screen, and other 150+ iOS system issues. Once you own it, you do not have to worry about any iOS problems on your iPhone, iPod touch, iPad, and Apple TV. You can select from two modes: Standard mode and Advanced mode. The first one can fix common issues and will not cause any data loss on your iOS device. You can use Advanced Mode, which is more powerful, to fix other serious problems.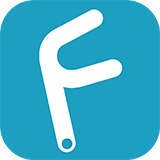 Features of TunesKit iOS System Recovery
Fix 150+ iOS/iPadOS/tvOS system in loss-free way
One-click to enter/exit recovery mode for free
Easy to use with only 3 steps
Available for both Windows and Mac computer
Can fix iPhone/iPad/iPod touch/AppleTV without data loss
Try It Free
600,000+ Downloads
Try It Free
600,000+ Downloads
3 steps are listed below about how to use TunesKit to fix iPad keeps turning off and back on. Let's start it by downloading and installing TunesKit for free.
Step 1

Download, Launch, and Run TunesKit

To begin with, connect the iPad with your computer. Now you should start to run TunesKit iOS System Recovery. Click the Start button.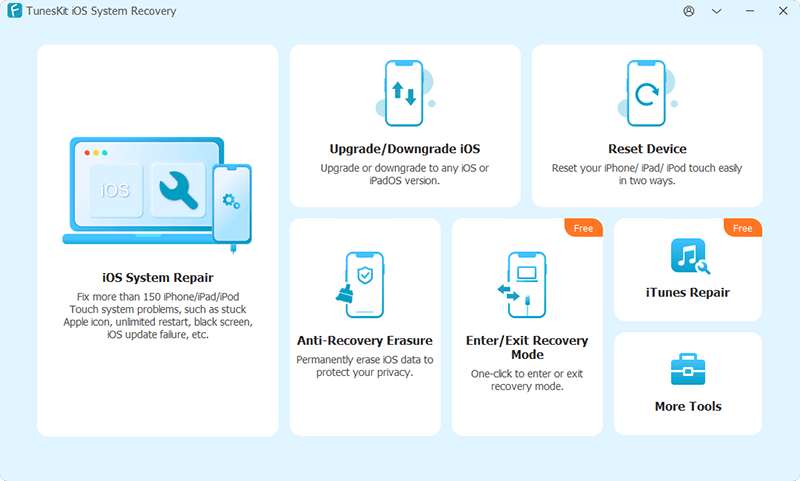 Step 2

Choose Standard Mode

To fix this problem, which is a common one, you can choose the Standard Mode. Tap the Next button.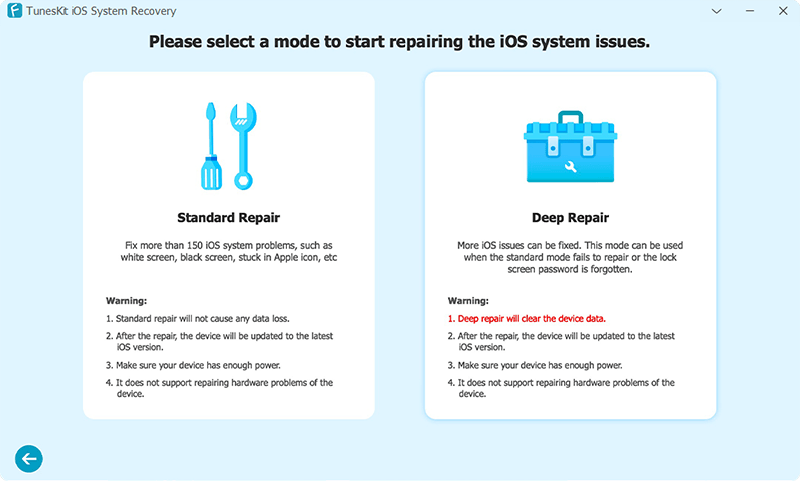 Step 3

Download Firmware and Fix iPad Keeps Turning On and Off

Verify the information of your iOS device carefully. When you ensure that all the information is correct, click the Download button. Click the Repair button at last and wait until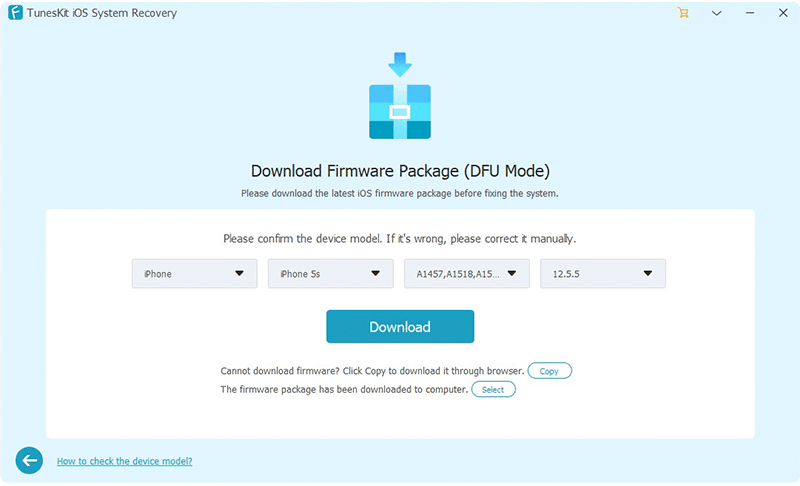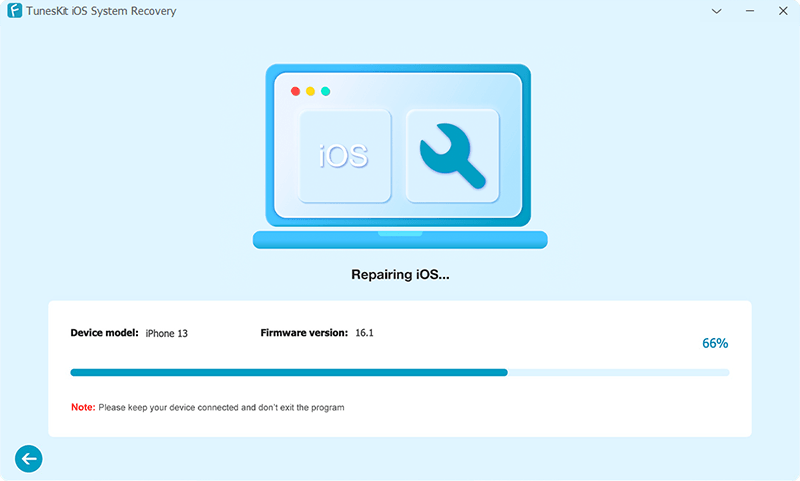 Solution 2. Drain off Battery and Recharge
Even serious problems can occasionally be solved by simple solutions. Rather than keep going and searching form for some complicated solution for iPad keeps shutting off, go for the simple one. Completely drain off the battery on your iPad. Some non-useful charge in your device may have caused the problem. To resolve this, simply remove the charge from your device and re-charge your iPad. Just turn your iPad on after it has been charged. Hopefully, now it will turn on without errors.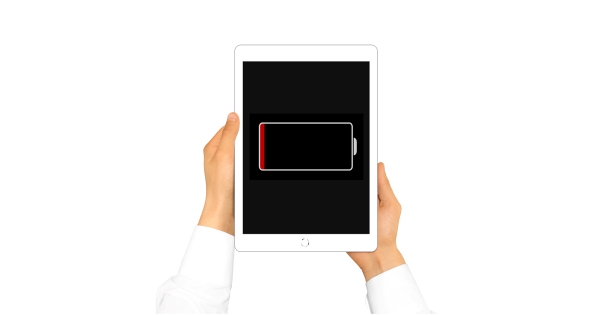 Solution 3. Delete Corrupted App
Some people finds that their iPad keeps shutting off problem happens the instant they use some app. In this case, this problem is probably caused by this app. So, the best solution will be deleting the corrupted app completely. You need to go to Settings → General → iPad Storage → choose this app → Delete App.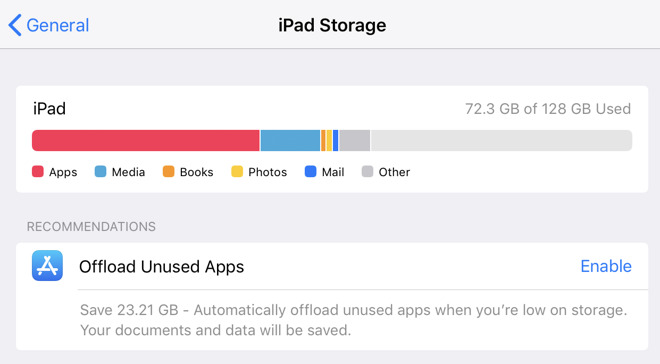 Solution 4. Hard Restart iPad
A hard reset may be necessary if your iPad keeps shutting off randomly while charging or playing games. Hard resetting might help if the computer shuts down by itself or if it rapidly drains the battery due to rogue processes or cellular radioactivity. And there is no bad influence after the hard restarting. It is so easy that you can follow the guide below and do it by yourself.
iPad with Home button: Please hold the Home button and Power button till the Apple logo shows itself.
Other iPad models: Please press and then release the Volume Up button and Volume Down button respectively and fast. Then press the Top button till the Apple logo shows itself.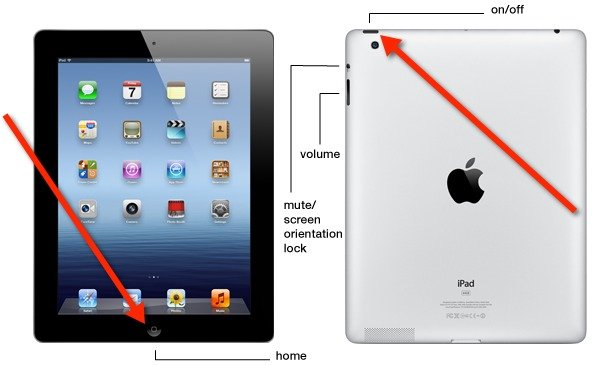 Solution 5. Reset All Settings
Using reset all settings on your iPad will be as simple as the name suggests. It's possible that the iPad shuts down randomly due to one of its system settings. Resetting the system settings is one of the remedies to fix most of the software problems. You are required to simply take a sneak peek into the below-noted steps:
Step 1. Go to the "Settings" by tapping on the gear icon on your home screen and then, choose "General" from the given options.
Step 2. Now, you have to tap on the "Reset" and then "Reset All Settings" options.
Step 3. Next up, enter the passcode to confirm the resetting all settings process.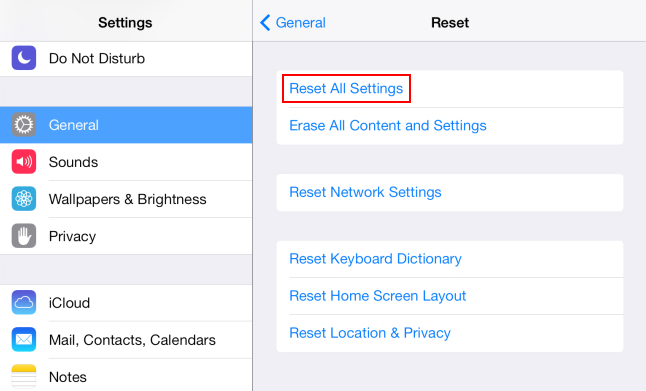 Solution 6. Update Your iPad
Outdated iPadOS will cause many problems. It is not strange that it makes your iPad turn on and off. Therefore, updating the iPad to the latest version of iOS can resolve the "iPad turns off automatically" issue. And you can easily find out the solution if yours is caused by this reason. That is updating the outdated iPadOS. For those who do not know how to update iPad, I prepare a brief guide.
Step 1. Head to the Settings app.
Step 2. Choose the General option.
Step 3. Choose the Software Update button.
Step 4. Tap the Download & Install option.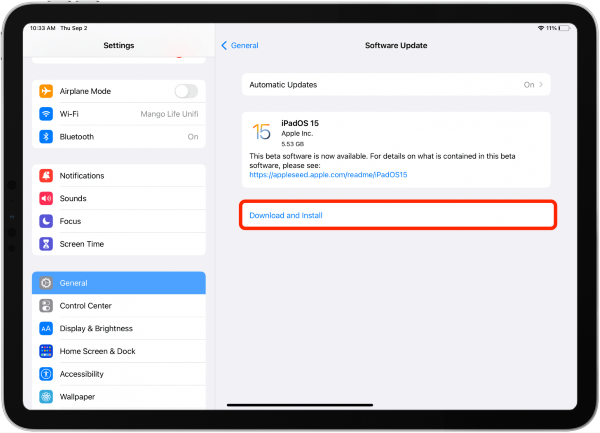 Solution 7. Restore Your iPad
This is the last suggestion for iPad keeps turning on and off, which is restoring it. Why did I mention it at last? Some of you may already know. You will lose all the data on your iPad after restoring it. However, it sometimes works. A backup is recommended before you restore your device.
To restore the iPad,
Step 1. Check if you have installed the newest version of iTunes on your laptop or PC. You need to connect it with a PC using an original cable.
Step 2. Launch iTunes and select your device.
Step 3. Next, enter the Recovery mode. At last, choose the Restore option. Using this option will erase all information on your device and restore it to its original state. Restarting your iPad will give you a brand-new device, free of data and errors.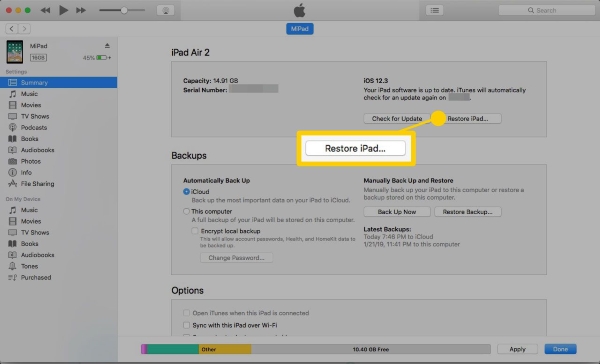 Solution 8. Reset iPhone to Factory Settings
You can try to factory reset your iPad if this issue still exists after trying all the above methods. Using this method will erase all your iPhone content and data. Therefore, you can choose to backup your iPad before resetting it. Here are steps for how to factory reset your iPad.
Step 1: Navigate to the Settings app on your iPad Home screen.
Step 2: Click on the General option.
Step 3: Scroll down until you see the Reset option.
Step 4: Then, click on the Erase All Contents and Settings. Enter your passcode when your iPad prompts you to do it.
Reset your iPad when it finishes resetting. After that, the iPad keeps turning on and off issue will not appear on your iPad anymore.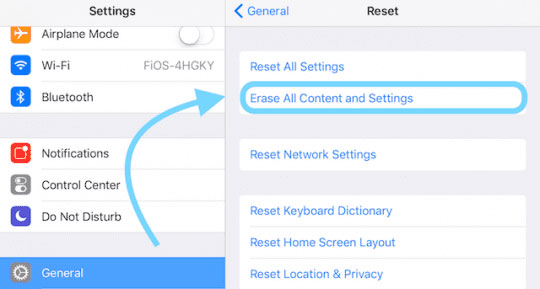 Part 3. Summary
When your iPad keeps shutting off, do not hesitate to follow the 8 solutions in this passage. Among those methods, some are highly suggested, like hard restarting iPad and using a professional tool like TunesKit iOS System Recovery, which will not erase the data. And you need to think twice before using some of them, like restoring iPad.