The electronic devices always make mishaps, ranging from black and blue screen, locked screen, and boot loop to update failure. Neither iPhone nor iPad can escape from these troubles. Nearly all people can imagine that when their devices get stuck in those issues and don't work well, they will feel perplexed and hesitated about the best solutions. Do not be worried. Through the following information, you will be enlightened about how to fix iPad stuck in boot loop. And your contacts with the local service center will not be the only solution.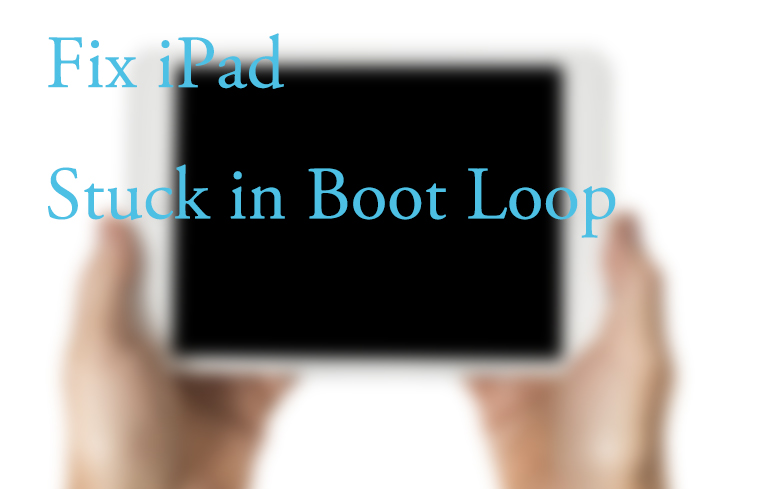 What Leads to iPad Boot Loop?
Before learning how to get iPad out of boot loop, we have to figure out why boot loop happens. As the name implies, boot loop means that your device reboots itself over again and again. You can never get the normal interface until the device is out of power.
A series of factors are associated with boot loop. The most common reason is that your device suffers from jailbreaking. Some software may be incompatible with your iPad. So pay attention to security. You'd better use safe and reliable software. Damages to hardware like batteries may also cause boot loop. As for this issue, you need to ask help from technical specialists. Above these two factors, you may check whether your device has a system update, as iPhone or iPad stuck in boot loop may be explained by the operation to update the iOS system.
Video Guide on How to Fix Boot Loop
First, there is a short video for you to learn how to fix the iPad boot loop issue. For detailed steps, please refer to the following parts.
Some Common Tips
Prior to contacting the customer center or taking a bus to go to the franchised store, you can refer to the following measures, most of which work miracles.
Apply hard restart to your iPad
The first easy way you should be aware of is to forcibly restart your device, when it comes to iPad stuck in boot loop. Generally, this option helps. Two methods can be available:
iPad with the Home button: you should simultaneously hold down the Power and Home buttons down for about 30 seconds until iPad shutdowns and restart itself. When the white Apple logo shows, you can release the buttons.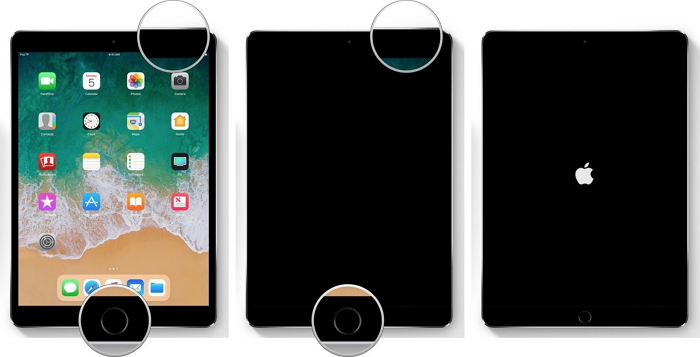 iPad without the Home button: firstly, you should quickly press and release the Volume Up button, and then quickly press and release the Volume Down button. Lastly, you should press and hold the Power button until the Apple logo appears.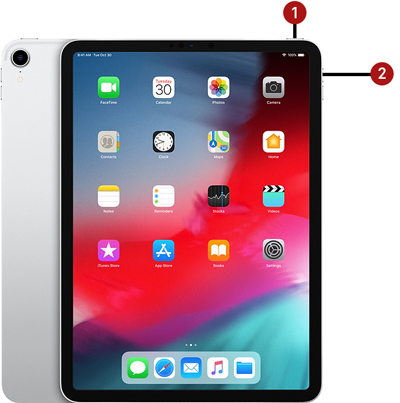 Despite the hard reset, this way will not harm your data or files.
Factory reset your iPad
This option will erase all data and information. You should make it clear before factory resetting your device. The concrete steps are as follows.
Step 1. Open the Settings app from the home screen;
Step 2. Select and click the General button;
Step 3. Scroll down to and click Reset;
Step 4. Find and click Erase All Content and Settings;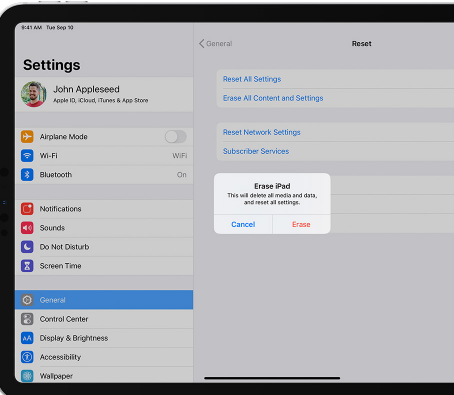 Nevertheless, if you want to save data, the alternative step is to use iTunes on your computer to manually back up data from your iPad to iTunes drive, and then start erasing the device through iTunes instructions. Then, use your USB to connect the device to the computer.
Restore your iPad through iTunes
This is a more advanced method. Before adopting it, make sure that you have the latest version of iTunes downloaded in the computer. But you should remember that using iTunes to restore iPad will also erase your data.
Step 1. Use the USB/lightning cable and connect iPad to the computer;
Step 2. Now you need to put your iPad into recovery mode. Just press and hold the Home and Power buttons. Keep holding them before you see the recovery mode screen. But for iPad with Face ID, you need to press and quickly release the Volume Up button and then the Volume Down button. Now, press the Power button until your iPad is in recovery mode.
Step 3. On the computer, look for an iTunes page about your device in recovery mode;
Step 4. Just click the OK button. Next, follow the iTunes instructions to restore your iPad.

Another Prescription by Using iOS Repair Software
If all of the measures above fail to work efficiently, try to download an additional system recovery software. This will not waste your time and can effectively recover your iPad to normal status and without data loss. May you be confused about a great variety of similar apps? Well, here is an option you can choose:TunesKit iOS System Recovery.
If you are faced with any problem in iPad, or specifically the iPad stuck in boot loop after update, then TunesKit will be a magic formula. Apart from the issue, it can also fix iPad black screen, blue screen, red screen, etc. It can promise a satisfying result. In its home page, one of the issues it can solve includes stuck in boot loop. Download its free version, and then you will find its magic functions.

Key Features of TunesKit iOS System Repair
Fix 50+ iOS issues, including iPad boot loop
Two repairing modes: Standard Mode and Advanced Mode.
Supports different iOS devices like iPhone,iPad and iPod.
Compatible with all iOS versions including the iOS 14.
One-click to enter or exit the Recovery mode for free and downgrade iOS versions.
Lifelong free update and easy-to-operate interface.
Three steps to fix iPad boot loop
Step 1: Connect your iPad to PC. TunesKit will detect your iPad quickly. Then, click the Start button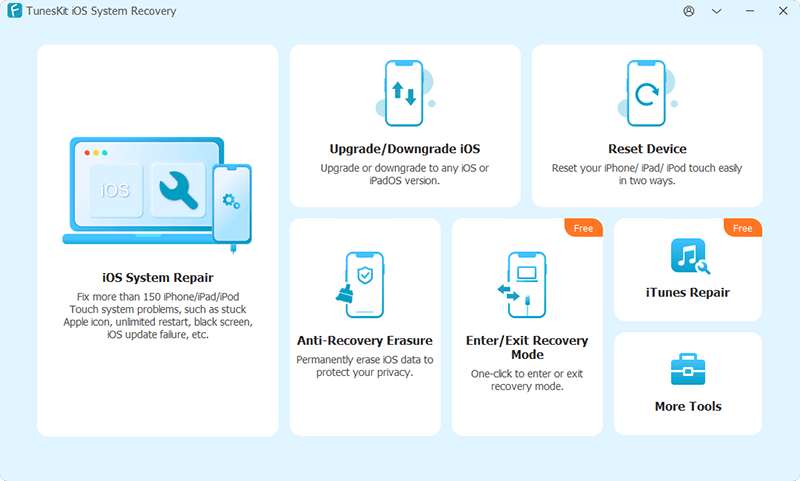 Step 2: Select a mode to repair the system issue and click the Next. Here, the Standard Mode is highly recommended.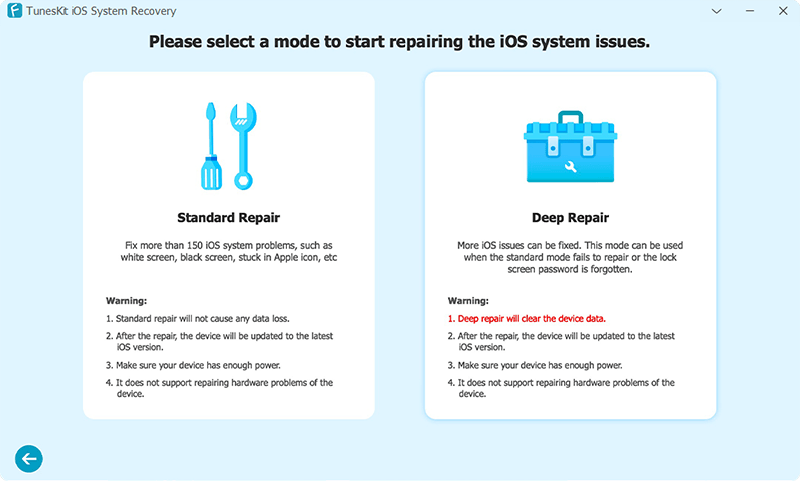 Note: The two modes are different. Do not select one of the modes randomly. The standard mode will not cause any data loss, but the other is the opposite. Yet, the advanced mode is able to solve more complex issue than the first mode. Therefore, consider thoughtfully and based on your requirements before choosing.
Step 3: Download the firmware package. While the correct package is downloaded, click the Repair and begin to recover the iPad.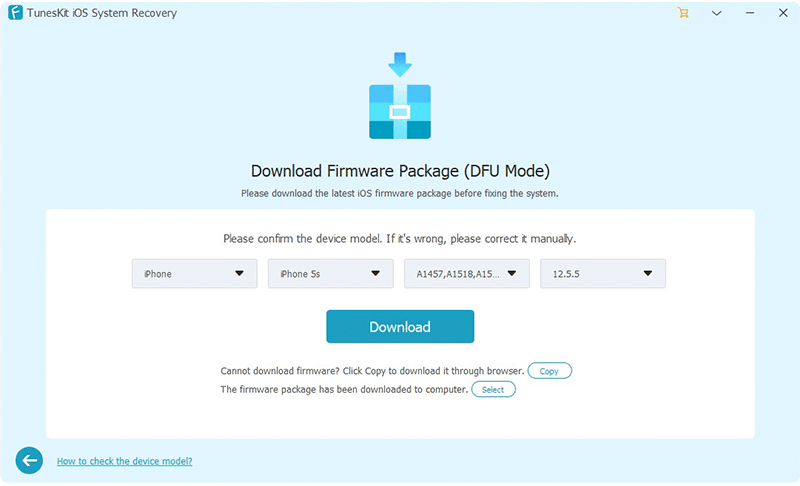 Conclusion
May you be surrounded and haunted by iPad stuck in boot loop? Try TunesKit! It will not depress you. Its free version enables you to see all-round roles. You may regret once letting the rare opportunity run away!

Brian Davis has covered tech and entertainment for over 10 years. He loves technology in all its forms.