10 Most Common iOS 12 Update Problems and Fixes
6 mins read
On June 4th, 2018, Apple Inc. announced the iOS 12 as the next mobile OS for iPad and iPhone. This announcement got many iPhone and iPad users excited because the iOS 12 operating system brings some delightful new and brilliant features which makes the devices faster and responsive.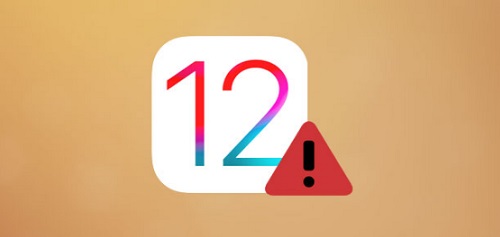 The new iOS 12 is yet to be launched but Apple Inc. has released a beta version of the operating system the developers and the public. Already many Apple disciples have upgraded their devices in an effort to try out the new great features of the new operating system. This trial phase has seen many of these users report experiencing a number of problems with their iOS 12 beta upgrade. Some of the most common iOS 12 Update Problems are:
1. Unable to Check for Update
Many early users of iOS 12 beta have reported that when they try to update their devices they get this error message unable to check for update. Unfortunately, this is not a new problem to Apple's mobile operating system. This has occurred over a couple of the past few years every time Apple released an earlier version of its mobile operating system.
Solutions:
There are a number of things you can do remedy this problem. They include:
• Restart your device or reset its network and try again
• Ensure that the battery of your device is no lower than 50% and the device is connected to Wi-Fi
• Use iTunes to update to iOS 12 instead of the usual over the air
2. Error 14
This is another common error that most iOS 12 early adopters have reported. Many users of this operating systems say that after upgrading to iOS 12 they receive error 14 "An Unknown Error Occurred". This simply means that the iPhone or iPad cannot be restored.
Solutions:
• Make sure your Xcode 8 is the latest version. You can check the apple developer website for the current version
• Do a clean restore of the operating system using the backup you had before updating
3. Software Update Failed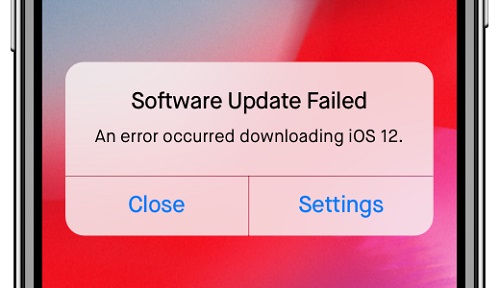 This update failed bug is common to new Apple's mobile operating software versions. Many users have reported the same bug the iOS 12 beta version. Although this is an annoying problem it is very easy to solve as noted in early iOS versions where it was also reported.
Solutions:
• Reboot your device and try again. In case the problem persists restart the device
• When the error message pops up on your screen you get two options; "Settings" and "Close". Select the "Close" option and then wait for a few minutes before trying to download and install the operating system again
4. Data Lost After iOS 12 Update
Some iPhone users may encounter this problem after upgrading their devices to iOS 12 beta. Specifically, some important data like contacts, or photos might disappear unexpectedly from the iPhone. But don't worry. With a few tricks, you can still get back the lost files from iPhone on iOS 12.
Solutions:
• Recover the lost data from iTunes or iCloud backup if you have backed up the device before upgrading to iOS 12
• Use iOS data recovery software like TunesKit iPhone Data Recovery to restore the disappeared data from iOS 12 if you have no backup
5. An Error Occurred Installing
This problem has been reported widely on social media platforms. Many users claim that their iPhones do not install iOS 12 developer profile. Many reports receiving the "Profile installation failed" or "Update Failed. An error occurred installing iOS 12" messages. This prevents the users from enjoying the many features of the new iOS 12 operating system.
Solutions:
• First, check if your iPhone or iPad supports iOS 12 operating system
• Turn off the settings app and then try installing the app again after a few minutes
• Check the network setting of your devices
• Use iTunes to update to iOS 12 operating system
6. iOS 12 Apps Crashing Constantly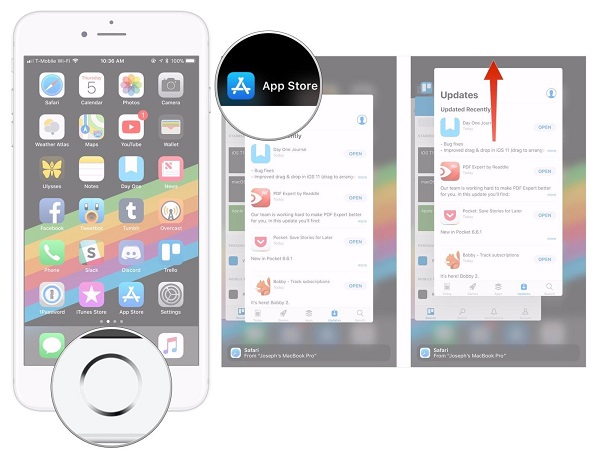 One of the most annoying problems with the iOS 12 upgrade is that the iOS 12 apps keep quitting or crashing constantly without any trigger. Many Apple disciples have complained that they cannot enjoy the amazing features of the iOS 12 because the apps once installed keep freezing. One of the reasons for this could be the latest version of the apps on your device are not compatible with the iOS 12.
Solutions:
• First, check the App Store is there are new updates for the specific apps on your device that are crashing. Updates on the apps is likely to resolve the issue
• Force quit the freezing app and then launch it again. If the problem persists repeat the process after a few minutes
• Reboot your devices then start the problematic app and check if it is working
• Delete the app in question from your device, restart your devices and download and reinstall the app to see if it works
7. Devices Keep Restarting
Many iPhone users have complained that once they update their devices to iOS 12 operating system the devices start experiencing problems with a constant restart. Some claim their iPhones reboot out of the blues, while others claim that their devices restart constantly, yet some others claim that the logo for Apple keeps appearing and disappearing without any trigger.
Solutions:
• Force restarts your device to see what happens. Most likely the device will stabilize and start operating normally
• Check the settings and if you can't note any problem reset to factory settings. If the settings were responsible for restarting this trick should work
• Check old apps on your devices for any that has crashed or is not compatible with iOS 12. Uninstall it and download a new version and reinstall
8. Battery Fast Draining
Nearly all iOS update have registered this issue. It is thus not a big shock that many people are experiencing the same problem with iOS 12 beta version. Many people report that after updating their iPhones to iOS 12 better, the battery life becomes extremely short and their devices tend to overheat. This problem will be solved with the launch of a more stable iOS 12 version. However, below are a few tips to contain it.
Solutions:
• Close all applications running in the background to save the battery
• Remove the case on your device to increase air circulation and reduce overheating
• Check and stop iCloud services running in the background
See also:
10 Useful Tips to Save Battery on iPhone
9. iOS 12 Download Stuck
The iOS 12 operating system is relatively large in size and this can cause problem downloading it. Usually, the issues happen if you have relatively small storage space on your dives. This may also happen if you have a poor internet connection which slows down the download considerably.
Solutions:
• Force start your device and then check the storage space on your device and the internet speed to make sure that they can allow for a successful download before you start again
• If you had tried downloading the iOS 12 update before make sure that you delete the old profiles you had downloaded before you start again
• This problem is more common with a beta version of the iOS. It will be great to just wait for the official version that is more stable
10. Devices Slowing Down
The iOS 12 is designed to improve speed and the responsiveness of your devices. However, some early users of the beta version have reported that their devices slowed down considerably after updating to the iOS 12 beta version. This is a common problem with past beta versions of the iOS can be solved.
Solutions:
• Check the storage space of your device and delete any unwanted data. Low storage space is likely to slow your device down
• Check the open up or those running in the background. Sometimes we want to test all the apps just because the operating system is new. This can slow down the system. Close all apps you are not using can help improve speeds
• Restart your devices