iPhone Overheating/Hot? Get Useful Solutions Here!
6 mins read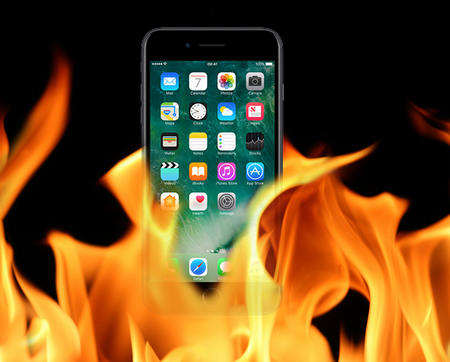 "Currently using an iPhone 6, I am confused why does my phone get hot constantly? There is no damage to the battery of the device, what cause the problem? Will there be any solutions to fix the issue? "
The overheating problem on iPhone is not rare as most of the users have complained about it before. The iPhone becoming too hot may result from a long time os using, many applications rinning in the background, iOS system bugs and more. If your iPhone displays a temperature warning or you can clearly feel its battery getting hot, just read on this post to find 10 easy fixes to get your device revert to normal operating temperature.
The Highly Recommended Way to Fix the Overheating iPhone
Before getting to other common ways, we would like to recommend a best and the most effective solution to you to deal with the iPhone turning overheating problem. And the hot iPhone can be generally attributed to iOS system errors, so using professional iOS system recovery tools such as TunesKit iOS System Recovery, is your top choice. Besides solving iPhone overheating, this program can also fix nore than 50 different kinds of iOS issues such as iPhone screen flickering, a series of iTunes errors, etc.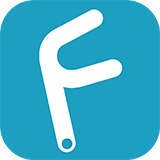 Key Features of TunesKit iOS System Recovery
Fixes iPhone overheating problem with no data loss and the fastest speed
With Standard Mode and Advanced Mode to work out simple and complex problems
Works well on diverse iOS devices including iPhone, iPad, iPod and Apple TV
Supports the latest iOS 14 version and older ones
Simple steps to operate
Try It Free
600,000+ Downloads
Try It Free
600,000+ Downloads
How to use TunesKit iOS System Repair to fix iPhone overheating with 100% working efficiency?
Step 1: Launch TunesKit iOS System Recovery for Windows on the computer and connect your iPhone with youe personal PC through a USB cable. When your device is successfully connected and detected, tap on the "Start" button.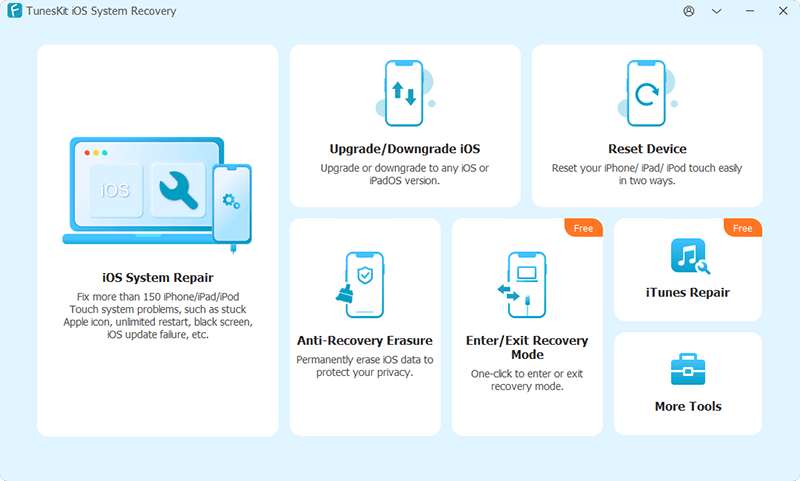 Step 2: Follow the instructions on the main screen to put your device into the recovery mode, then select the Standard mode to solve the overheating iPhone problem without causing you data loss.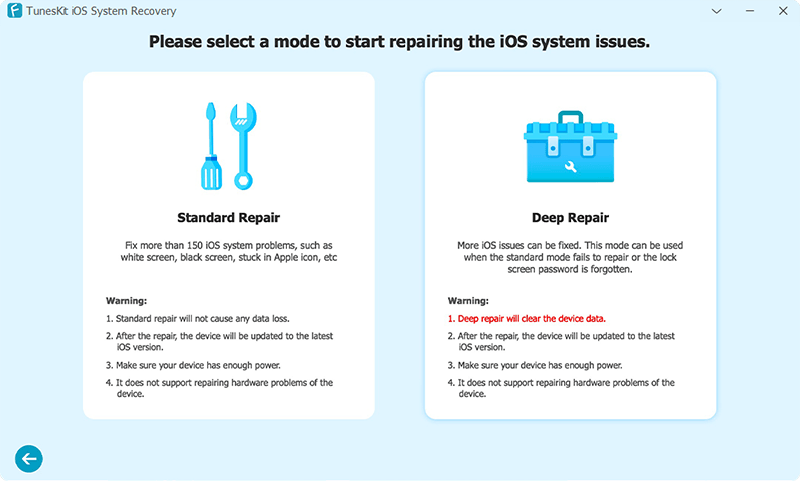 Step 3: Make sure the common information of your iPhone displayed on the screen is correct. If anything goes wrong, correct them. After that, click on the "Download" option to make the application download and verify the firmware package matched with your iPhone.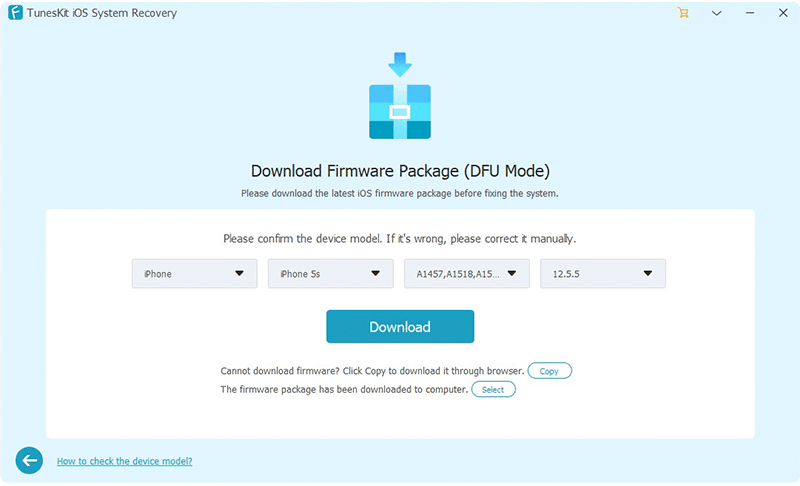 Step 4: When the firmware package is downloaded and verified, hit the "Repair" button to fix your device's iOS system. Keep your iPhone connected during the process. Finally, your overheating iPhone becomes normal.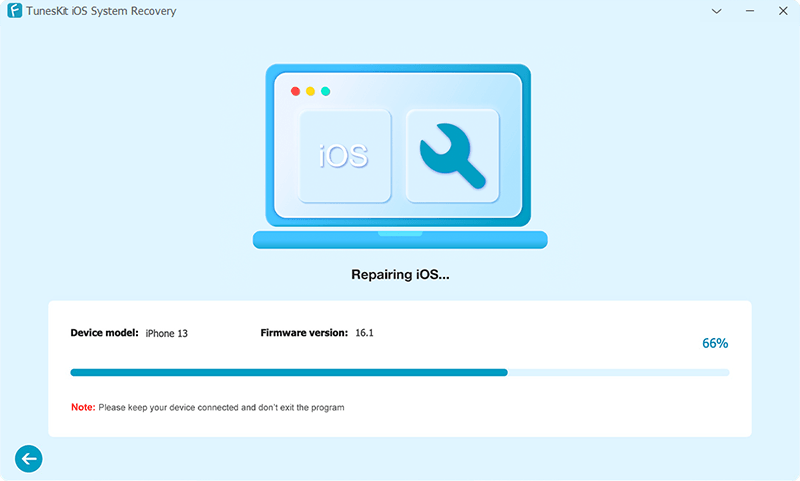 Other Possible Methods to Solve iPhone Overheating
1. Restart Your iPhone
If you have encountered problems with your washing machine, TV, computer or other electrical appliance before, you may had the experience that a technical maintenance staff will often ask firstly, "Have you turned it off and re-opened it?" Similarly, your iPhone needs to be reset as well. In fact, the easiest handling method of the overheating problem is to restart your iPhone. Here's how to do:
1) For iPhone 6s or earlier,
Press and hold the Power button and the Home button at the same time for at least 20 seconds until the Apple logo appears on the screen.
2) For iPhone 7 or 7 Plus,
Press the Power button and the Volume Down button in the meantime for at least 20 seconds until you see the Apple logo on the screen.
3) For iPhone 8, 8 Plus, X, XS, XS Max, XR
Press and release the Volume Up button then press and release the Volume Down button. After that, press and hold the Power button (iPhone 8 or 8 Plus) or the Side button (iPhone X) until the Apple logo displays on the screen.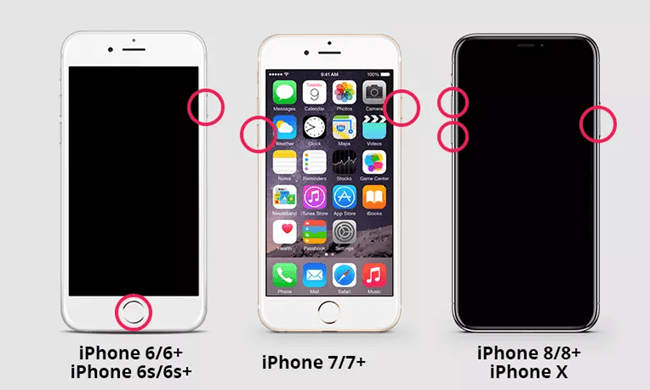 2. Check Battery Usage
Just like the CPU of your iPhone to the engine, the battery will be the gasoline. If an app loaded on your device uses too much battery life, it will put a burden on your iPhone's CPU. If the application you are not using often occupies a disproportionate number of batteries, it may crash in the iPhone background. To avoid this situation, you can check battery usage by taking the following steps.
Step 1: Launch Settings on your iPhone, find Battery and tap on it, then wait for a few seconds until it detects the running apps.
Step 2:You'll be able to view the list of apps, check out which apps are consuming the most battery life in this section. You can click Last 7 Days option to see specific information about the amount of power used by each app in the past 7 days.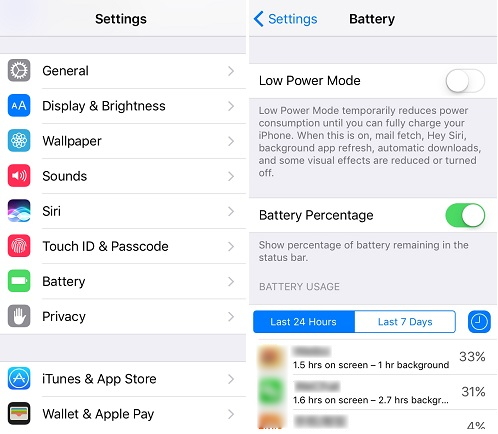 3. Close Background Apps
One of the most common reasons for iPhone overheating is that the CPU usage is close to 100%. Therefore, try closing apps when you don't need to stop using too much CPU. What you need to do is double-clicking the Home button and swipe up from the bottom of the screen to close them. For iPhone X, the operation is to swipe from the gesture bar and hold firstly, and then touch and hold the app card you want to close. Tap on the red button appearing at this point to close it.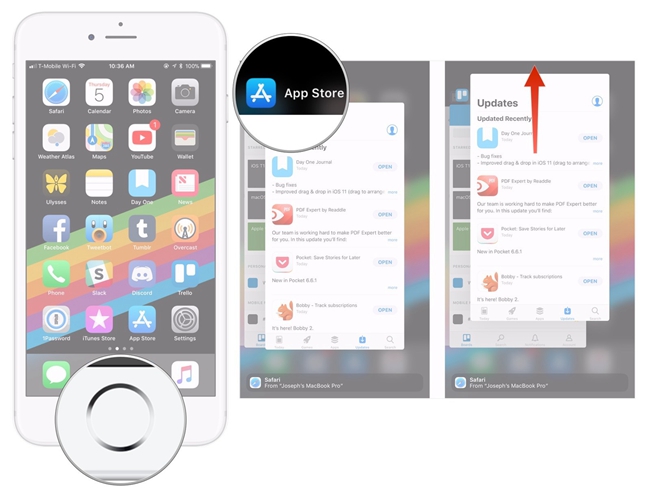 4. Delete Unused Apps
Many users enjoy downloading the most popular apps on their iPhone to follow the trend, neglecting the impact it has on the device. Actually, you can delete those apps that were not frequently used or have never been opened before to release the burden of the iPhone battery. To do this, press and hold the app you want to remove, tap the black "x" appears when it starts wiggling. In this way you can also clear out the data and cache occupied by the app. Go to the App Store if you want to download it again.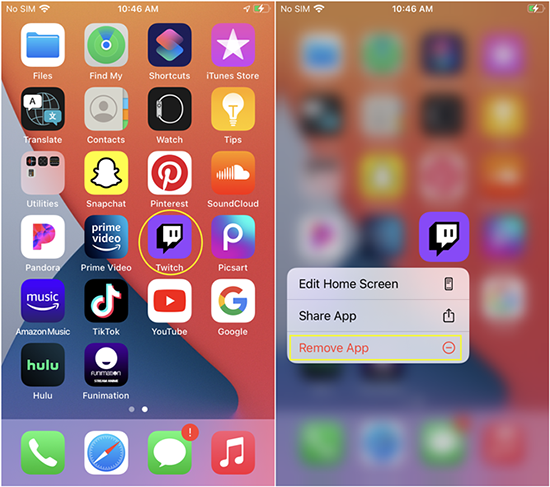 5. Update the Software of Your Device
Every time Apple releases the most recent versions, it will fix some corresponding errors. In case that your iPhone is getting overheating, you may check whether the iOS system on your iPhone is the latest one. To check this, navigate to Settings > General > Software Updates, then click Download and Install if you see a new version here. Follow the steps as required to continue updating.
See Also: How to Recover Lost Data After iOS 12 Update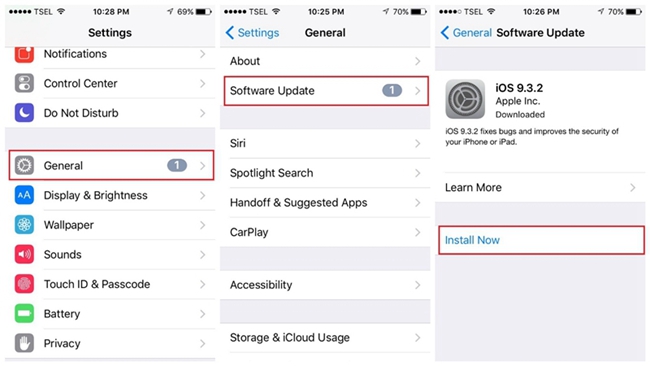 6. Keeping the Device Out of a Warm Environment
The best temperature for maintaining iPhone normal working is ranging from 32° and 95° Fahrenheit (0° and 35° Celsius). And put your device in a warm environment such as under the direct sunlight, or in the car will surely cause your iPhone to overheat. So avoid the above circumstances would be a good solution on how to cool down your device.
7. Update the Apps on Your iPhone
In general, the new versions of each app are designed to fix bugs existing on the current one. As we've described in the above section, software bugs can be the cause of your iPhone being overheating, so it's necessary to make sure whether the apps on your device are updated. Open the App Store and click on the Updates option from the bottom. You can either click UPDATE button beside each app or simply tap Update All to save time.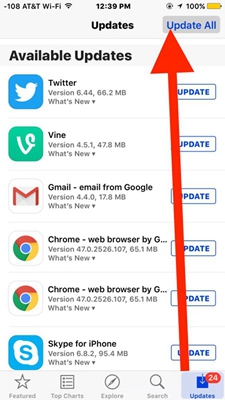 8. Turn off Some Features
If the issue still exists on your iPhone, you can turn off some features on your device if they are not in use. You can go to Settings > Personal Hotspot and switch if off. Navigate to the Control Center and tap on the icon if you want to turn off the Bluetooth on your iPhone. You can close Location Services on Settings > Privacy and disable Background App Refresh on Settings > General. Turning these features off can help decreasing the heating of your device.
9. Reset All Settings
If you've tried all the ways mentioned above and still cannot fix your iPhone 6 overheating problem, there's one solution you can try which is reset all your settings. Go to Settings > General > Reset, tap on Reset All Settings, enter the password as required and click on Reset All Settings again. In this way you'll be able to reset your device to default settings.
See also: Recover Data from iPhone after Restoring to Factory Settings.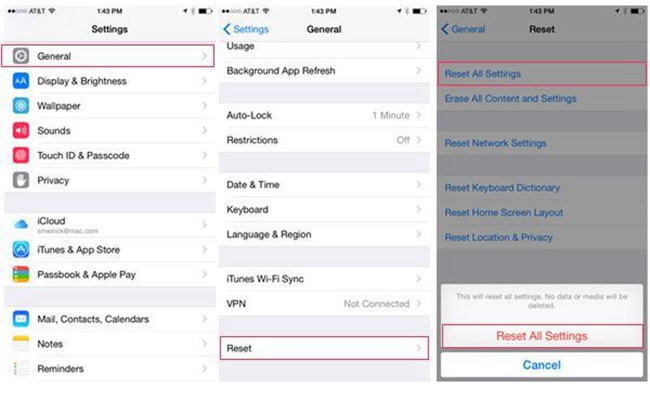 The Bottom Line
This is all for the solutions to overheating on an iPhone. In addition, you can try more quick tips such as remove the case of your device or stop charging your iPhone while using it. Leave your iPhone for a rest if you are watching videos or playing 3D games for a long time.