2023 Top 6 iOS Downgrade Tools [Free & Paid]
4 mins read
iOS downgrade is getting very popular nowadays, and the reason behind this is the widespread news that Apple brings new upgrades just to slow down your phone so you would buy a new one. However, the Apple authority has refused this fact. Still, many people desire to downgrade their iPhones and other Apple products.
Apple gives its users a limited time to downgrade to earlier versions, which can't be done easily until you have the right application. You need to look for an excellent iOS downgrade tool that can be used to downgrade your iOS device. Further, we will discuss the top 6 well-reputed tools for this purpose.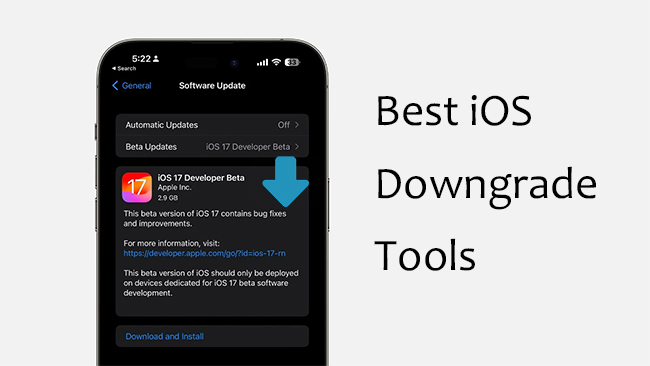 #1 TunesKit iOS Downgrade Tool
One of the easiest and best ways to downgrade your iPhone is using the TunesKit iOS Downgrade Tool. It's a simple tool that would allow you to downgrade your iPhone with just a few clicks and without much trouble. Using TunesKit, it will even help you to downgrade to older versions that are unsigned. This will also enable you to avoid all the system lags and errors you might face.
Besides being an iOS downgrade tool, TunesKit can also help users fix various iOS system issues like iPhone stuck on Apple logo, boot loop, update failure, etc. The most important thing is that it can repair these problems while retaining all the data intact. TunesKit is easy to use with a friendly UI, so people can handle it without any hassle.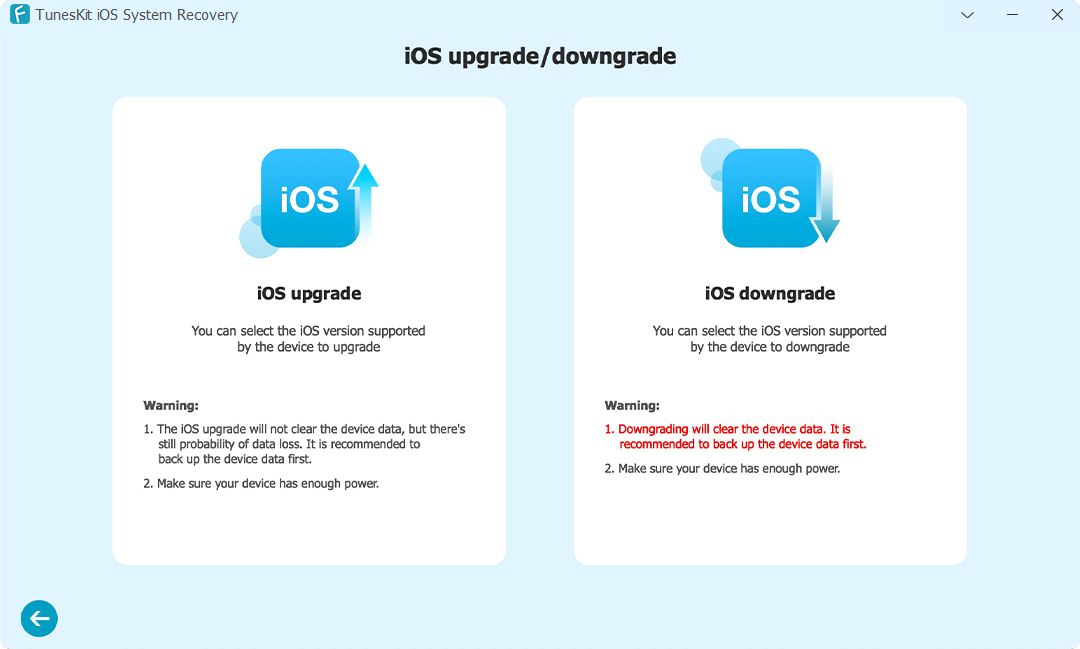 Pros:
It supports several iOS versions for you to choose when downgrading.
The TunesKit iOS downgrade tool is extremely easy to use.
It's the fastest working tool to downgrade iOS without data loss.
It's compatible with almost all the iOS versions and devices.
Cons:
The version with a free trial has only a limited number of features.
#2 Tinyumbrella
In the market, two kinds of iOS users wish to downgrade their iPhones. One is those who want to downgrade their iPhones just because they aren't enjoying the latest one, and the second one is those who perform jailbreak; these users often prefer downgrading their iPhones so that they can jailbreak easily.
The best thing about Tinyumbrella is that it's completely free and is well-reputed among jailbreakers and even users who want to downgrade to previous versions without the motive of jailbreaking.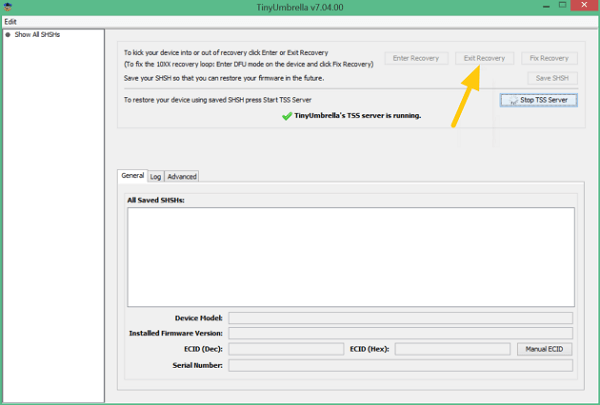 Pros:
It's an iOS downgrade tool free for everyone.
It may work on almost all devices, whether iPhones or iPads.
It's backed by a strong team of developers.
Cons:
Tinyumbrella lacks active maintenance in the current period.
It may not work on the latest iOS models.
#3 Futurerestore
Futurerestore is a free iOS downgrading tool that most jailbreakers have used for many years and are still using. Futurerestore can restoration your smartphone to a previous iOS version even if Apple has stopped signing it. You may restore your device to any iOS version, even betas.
However, downgrading through Futurerestore may require some important files, a fully functional device, and patience.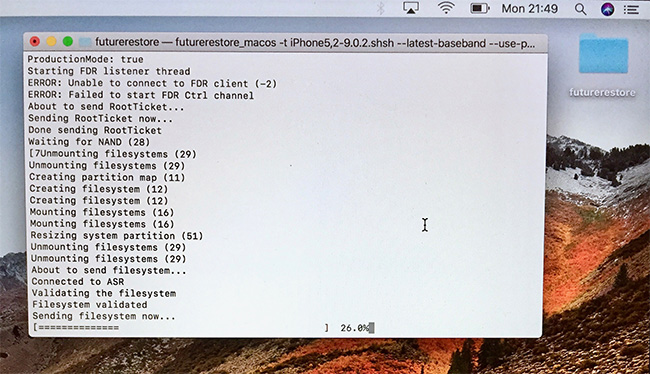 Pros:
It allows you to downgrade anytime and not just within a period.
After a successful downgrade, Futurerestore will help you fix almost all software problems.
This is a completely free tool to use.
Cons:
Futurerestore can't downgrade your iPhone without a PC.
Many of the features are not free.
It's relatively less safe.
#4 TaigOne iOS Downgrader
If you are looking for assistance in downgrading an iOS device that has already been jailbroken, then TaigOne iOS Downgrader is the correct tool for you. It will assist you in downgrading your iOS devices (iPhones and iPads) to a lower version of the firmware. The primary thing that's required is for you to select the firmware update to which you want to downgrade. The only problem with TaigOne iOS Downgrader is that it's accessible through "Cydia", which can't be trusted.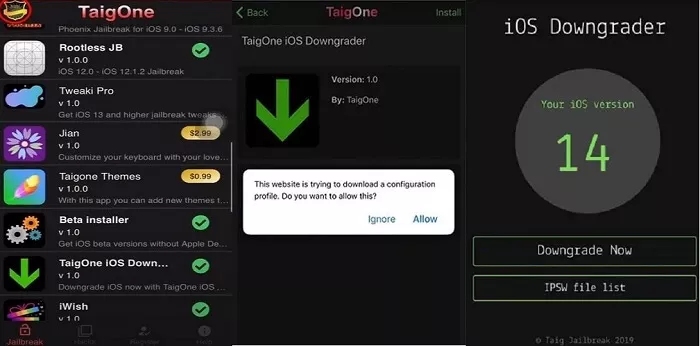 Pros:
It's free.
Supports automatic firmware download.
Comfortable for beginners.
Cons:
This may erase the entire data from your iOS device.
Only work on those iOS devices that are already jailbroken.
It may fail in doing the work.
#5 Joyoshare UltFix
Joyoshare UltFix stands out because it's designed in a manner so that it can recover more than 150 types of problems related to the iOS system. Joyoshare is exceptionally popular as a downgrade tool.
Joyoshare is widely used to downgrade the device from the iOS 16 and iOS 15 versions, but the fact is that it would even work on the earlier versions too. Not just iPhones but other devices can be downgraded too by using Joyoshare.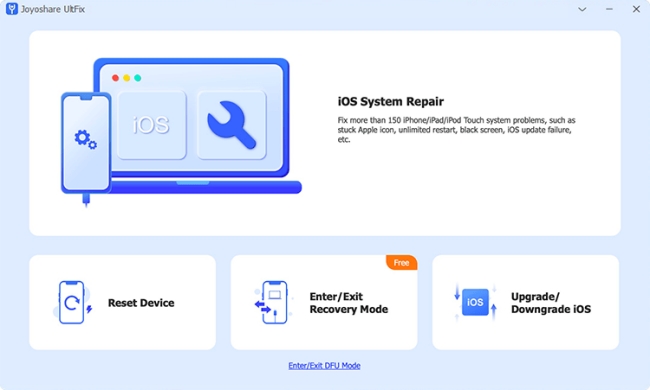 Pros:
Along with iPhone downgrading, it also supports other 150+ problems.
It has a very simple interface.
Almost all iOS devices are supported.
Cons:
JoyoshareUltFix may not support the latest iOS 17 updates.
#6 Dr.Fone - System Repair
We can say that among all the best iOS downgrade tools that we have discussed so far, Dr.Fone can be considered the best or at least the second best, standing just after TunesKit. It's a tool offered by a well-known Wondershare. You can downgrade your iPhone and iPad from the current version to the previous one with simple steps. It's an iOS downgrade tool for Windows and Mac. It has a very simple, organized, and neat interface.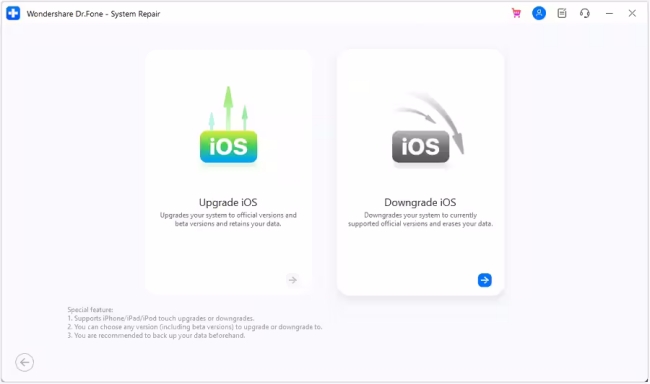 Pros:
A very high rate of success with an easy and fast procedure.
Very low chances of damage and data loss.
Supports almost all iOS devices.
Cons:
The full version is expensive.
May feel sluggish sometimes.
Limited features in the trial and free versions.
Summary & Suggestion
Looking for a reputed iOS downgrade tool to downgrade your iOS device? Then the information given above may be helpful for you. All the tools are reliable and trustworthy, but depending upon your device, you may have to opt for a specific one. Make sure that before choosing any tool, you have carefully reviewed the entire content and selected the one suitable for your device. TunesKit iOS Downgrade Tool is trusted by many users all over the world. It is well-developed to help Apple users fix 150+ iOS system issues without data loss, including downgrading iOS to the previous version in one click. Just download it for free and have a try!