iTunes Error 4005 When Restoring iPhone? 9 Quick Fixes!
6 mins read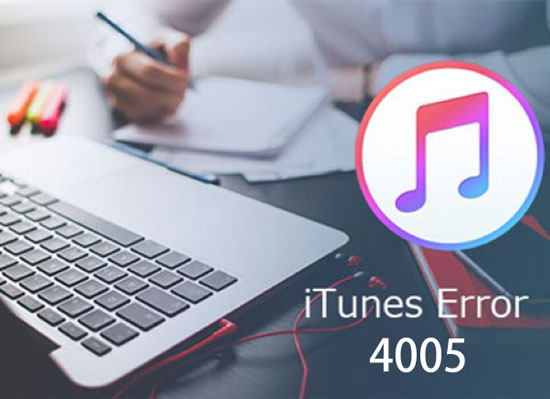 It is often frustrating that an error 4005 message occurs when you want to update or restore your iPhone, iPad and iPod by iTunes. And you are also confused about what iTunes error 4005 is and why iTunes says error 4005. Most importantly, how to fix the 4005 error on iTunes? Just keep reading and you will find the solutions to these questions.
Part 1. The Definition of iTunes/iPhone Error 4005 and Its Common Features
1.1 Definition
iTunes error 4005 mostly happens during the process of restoring or updating your iOS devices by virtue of iTunes. After that a message that writes "the iPhone 'iPhone' could not be restored, an unknown error occurred (4005)" is shown on your computer. The error cannot be identified and it is a technical glitch.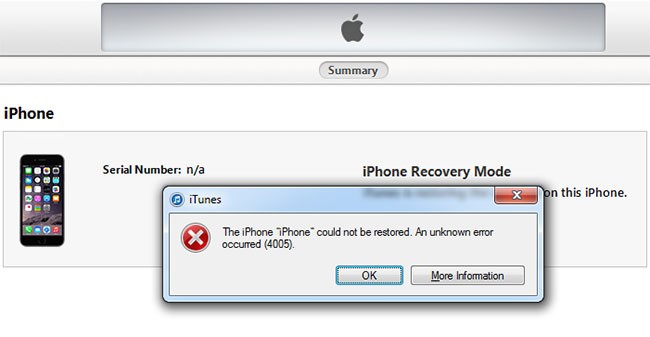 1.2 Features
The error code 4005 on iTunes keeps you from continuing the device restoration and update process. Usually, you will notice following symptoms before presenting 4005 error.
1. The process of updating and restoring the device was interrupted by iTunes error 4005.
2. A message with "The iPhone could not be restored" was appeared on PC or mac.
3. The computer gets slow or sluggish amid operating.
4. There are some freezes when updating the device.
Part 2. Some Reasons that Lead to Error 4005 on iTunes or iPhone
To help you find the most likely cause that results in your iPhone error 4005, we have listed following possible reasons to let error code 4005 pop up.
1. Some iOS system issues on your device.
2. Improper iTunes download and installation.
3. Not disabled iCloud syncing function.
4. Outdated computer system or old iTunes version.
5. Virus attack.
6. iPhone disconnection.
7. A few broken links.
8. USB disconnection or hardware problems.
9. Corrupted iOS and iTunes files.
Part 3. Most Recommended Advice to Fix Error 4005 Without Data Loss
Now that we have find out some reasons that cause iTunes error 4005, how can we get the problem solved while keeping our data? Professional iOS system repair software like TunesKit iOS System Recovery is able to do the trick. This tool supports diverse kinds of iOS issues including iPhone recovery mode, white Apple logo, black screen, Apple TV issues etc. Moreover, it supports diverse devices like iPhone, iPad, iPod touch and Apple TV, and all iOS versions, including the latest iOS 15. Finally, it has a simple interface which is easily understood and operated by customers.
Related steps to fix the problem of iTunes error 4005 are as follows.
Step1: Firstly, open TunesKit iOS System Recovery for Windows on your computer. Then you have to connect your iPhone till it's detected. Next, click "Start" button. Next, choose the "Standard Mode" and "Next". You have to select which device you've connected. Then follow the instructions from the interface and let your device is into DFU mode. After that, click "Next" button.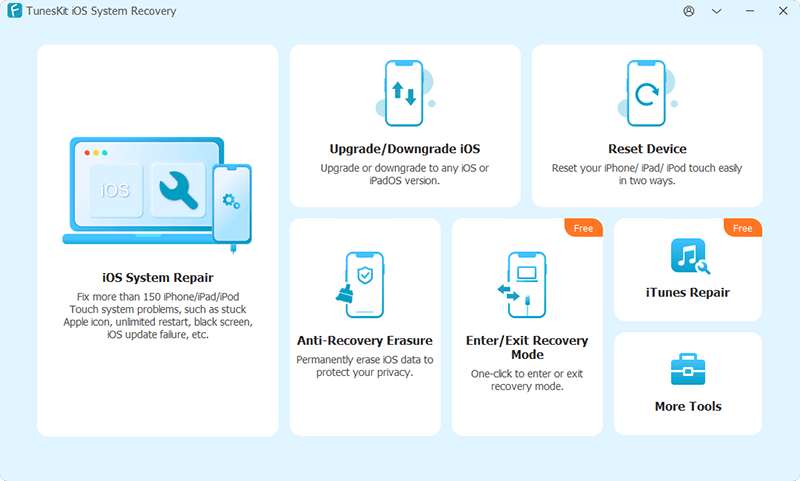 Step2: The application will download the firmware package matched to your device after finishing the first step. Before that, you have to make sure the device info is correct, including the model version, iOS version, etc. You can correct it if there's anything wrong. If all information is correct, click the "Download" and it will start downloading and verifying the firmware.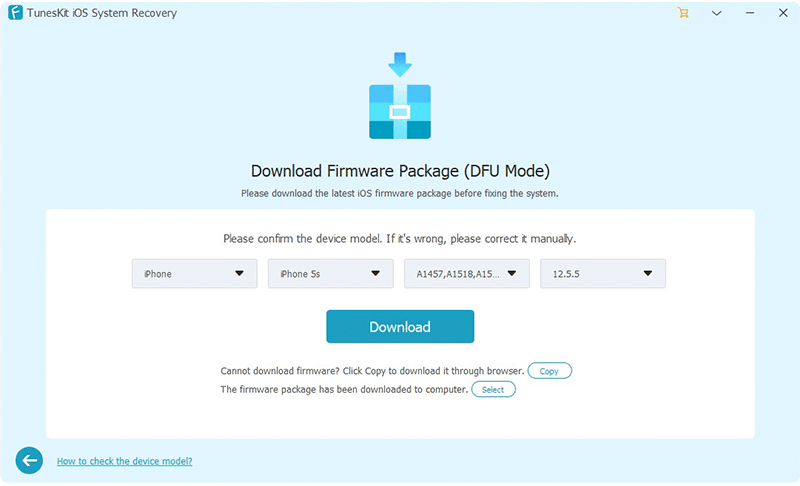 Step3: When the firmware has been downloaded successfully, you just click the "Repair" button and the program will automatically begin to fix your iPhone. Don't disconnect your device until the process is completed. Otherwise, the device might become bricked.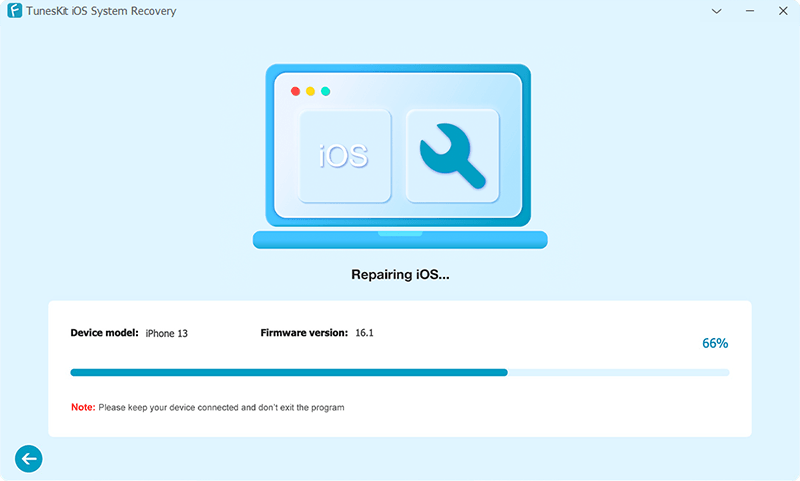 Part 4. Other Hot Ways to Solve iTunes/iPhone Error 4005
Instead, if you are more willing to personally fix iTunes error 4005 without the third-party tools, there are also other methods that give you a hand.
4.1 Install the latest iTunes
Outdated iTunes version sometimes may give rise to error 4005, because it is not compatible with the latest version of iOS device. You have to update it when your iTunes is unable to restore the backup.
For Mac users, you need to follow these steps:
Step 1: Open iTunes.
Step 2: Click system references in Apple icon.
Step 3: Click software update.

For Windows PC customers, you have to try these steps:
Step 1: Click iTunes app.
Step 2: Click Check for update in help icon.
Step 3: Follow the guide.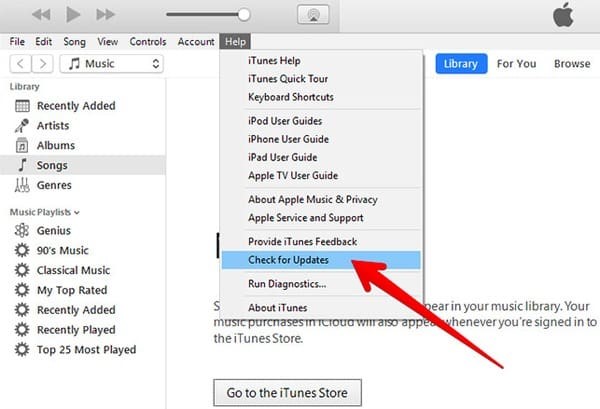 4.2 Restart your computer
If updating iTunes to the latest version doesn't work, then restart your computer. This procedure may help you remove some problems of iTunes and the device.
4.3 Update your computer's operating system
Updating your computer's operating system is needed, as an out-of-date OS system may be the source of many other problems and it is incompatible with the latest iTunes.
To do this, you are required to click control panel, then you will be brought to the system and security, finally choose windows update and install.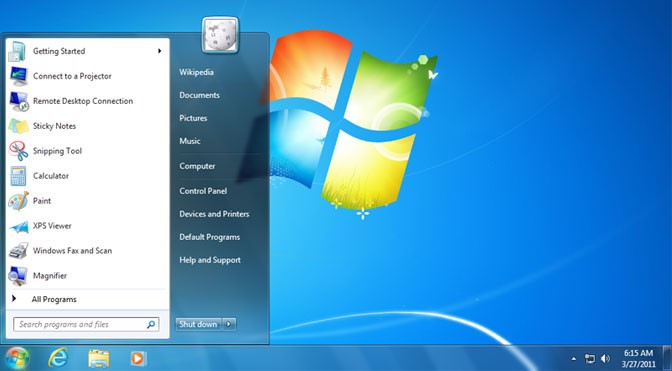 4.4 Check USB connection
Generally, the simplest issue is always ignored. So check the USB connection by plugging every USB port of your computer to see whether the USB port is working fine.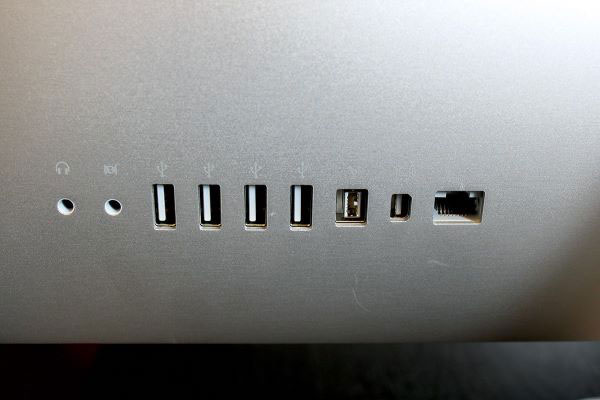 4.5 Force restart your iPhone
It is evident that above methods to fix the issue about iPhone/iTunes error 4005 don't work if you have read here. But don't worry! Force restarting your iPhone can also help you.
If you use iPhone 8 and later, please press briefly and quickly release the Volume Up button first and then the Volume Down button. Finally push and hold the Power button until you see the Apple logo.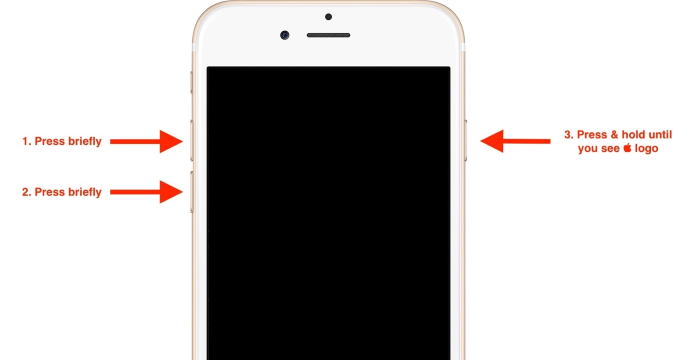 If the device is iPhone 7 and 7 Plus, tap and hold the Power and Volume Down buttons until the Apple logo appears.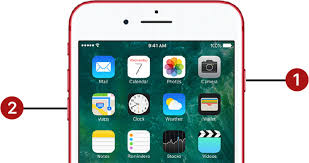 If your iPhone is 6 and former, press the Power and Home buttons until the Apple logo is shown on the interface.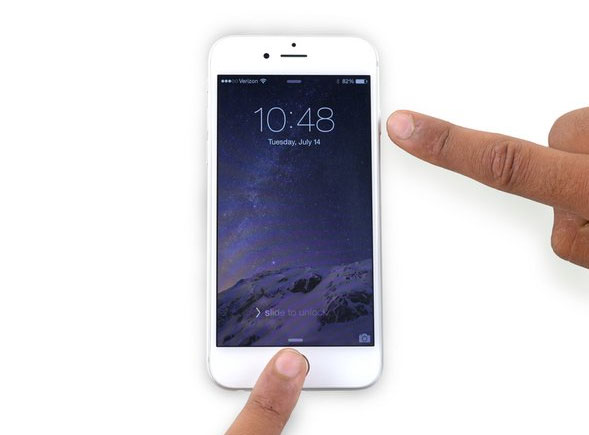 4.6 Put your iPhone into DFU mode
If everything is Ok, then you could try to hard reset your iPhone by putting it into DFU mode. But it's worth mentioning that this method will remove all your data and information. Thus it had better to backup your iPhone before going at this process.
Do as follows for iPhone 6s, iPhone SE, iPad, or iPod Touch users.
Step 1: Make your iPhone be connected to computer and open iTunes.
Step 2: Press and hold the Lock and Home buttons simultaneously for 8 seconds.
Step 3: Release Lock button and hold Home button only.
Step 4: Then the device will be into recovery mode.
Step 5: Employ iTunes to restore your iPhone.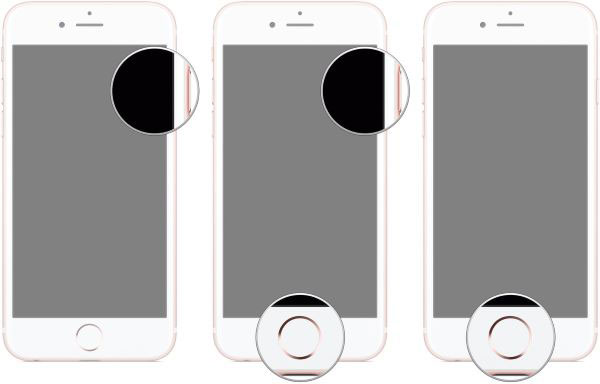 Follow these steps for iPhone 7 and iPhone 7 Plus users.
Step 1: Connect your iPhone to computer and open iTunes.
Step 2: Press and hold Lock and Volume Down buttons simultaneously for 8 seconds.
Step 3: Release Lock button and hold Volume Down button only.
Step 4: Then the device will be into recovery mode.
Step 5: Employ iTunes to restore your iPhone.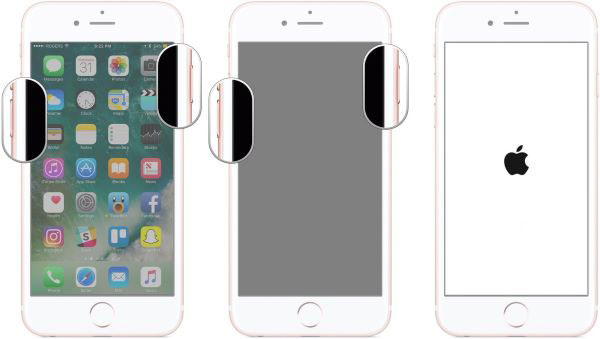 Here is what you should do for iPhone 8, iPhone 8 plus, iPhone X, and later users.
Step 1: Connect your iPhone to computer and open iTunes.
Step 2: Press the Volume Up button and release quickly.
Step 3: Press the Volume Down button and release quickly.
Step 4: Press the Lock button.
Step 5: After iPhone gets black, press and hold Volume Down and Lock buttons simultaneously for 5 seconds.
Step 6: Release Lock button only.
Step 7: Then the device will be into recovery mode.
Step 8: Employ iTunes to restore your iPhone.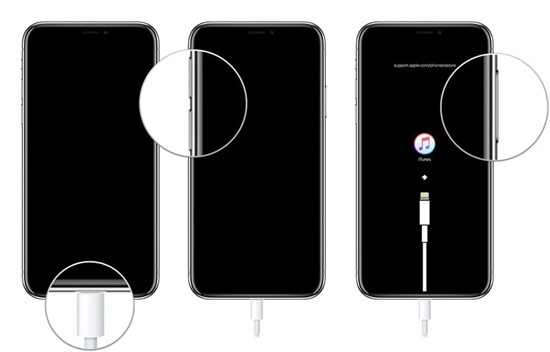 4.7 Charge your device
Sometimes lack of power also brings about the error 4005, thus failing to restore iPhone. So you could check your device and see if it is in a low state of battery, and charge it when needed.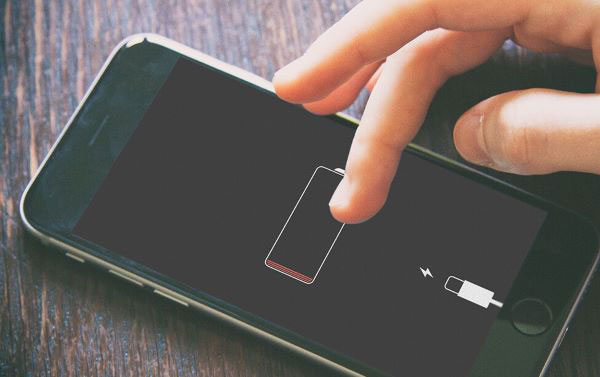 4.8 Contact Apple store
If you are still facing the error 4005 problem after trying all above ways, then the final try should be bringing your iPhone to Apple store. The store will provide free and authorized service to make the ghost touch on your iPhone fixed. But first you have to make sure you have got data backups by iTunes and iCloud.
Video Tutorial: How to fix iTunes error 4005
Part 5. Bottom Line
That's all ways we can offer you to fix the problem of iTunes error 4005. But some of them will lead to data loss. If you want to deal with the issue effectively and safely, you are suggested to use a professional and reliable tool such as TunesKit iOS System Recovery. Lastly, we hope this article can help you and please share your methods to fix the error 4005 if we missed any.