Best 3 Ways: Downgrade to Unsigned iOS
6 mins read
Apple updates its system constantly to launch new features and fix some system bugs. However, the newly released system version often comes with several errors and affect people's use. If you don't want your iOS device to update automatically, you'll need to downgrade to an unsigned iOS system. This thing prevents your system from installing new iOS updates as new iOS versions can contain bugs that can be harmful to your device. Unfortunately, it's not easy for you to find reliable ways to downgrade your iPhone. But don't worry, you can read this guide to find out some useful solutions to downgrade to unsigned iOS.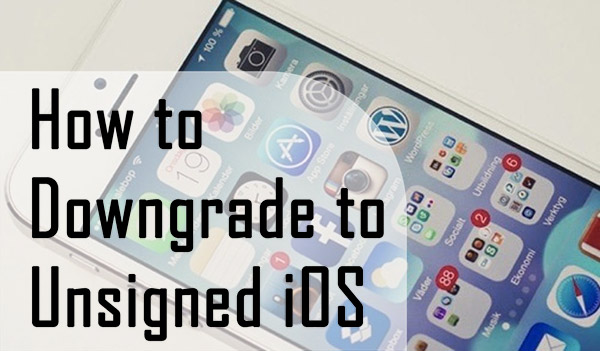 Part 1. Can I Downgrade to an Unsigned iOS?
Every latest iOS version comes with a signature. A signature that comes with an Apple update is nothing but a piece of code. You'll be able to add a signature to your iOS version by installing a new iOS version via iTunes. The sign from an Apple update will be deleted after two weeks. It means you can downgrade or upgrade to any iOS version until the iOS version carries a signature. You won't be able to downgrade or upgrade to any iOS update if the signature gets deleted after two weeks or so.
In this way, Apple makes jailbreaking software and iOS device fairly difficult. However, you can still downgrade to unsigned iOS using a few methods. However, you can't get it done officially. People want to downgrade to the unsigned one for allowing them to move to a stable iOS system, so they don't have to install a new iOS update whenever it comes.
Part 2. How to Install Unsigned IPSW?
Solution 1. Use TunesKit iOS System Recovery
The first method to downgrade to unsigned IPSW that we want to recommend to you is to use TunesKit iOS System Recovery. This advanced program can help you downgrade or upgrade iOS with simple and easy steps. With this tool, you can not only test the new features of the latest iOS beata version, but also downgrade to older unsigned version to avoid system errors. More importantly, TunesKit iOS System Recovery allows you to downgrade iOS without iTunes within several clicks by yourself.
Also, If you're facing an iOS issue, you can take the services of TunesKit iOS System Recovery. Surprisingly, this tool can help get rid of 150+ software issues. It is a pretty incredible third party that has set high standards.
Here's the guide to downgrade to unsigned iOS using TunesKit iOS System Recovery.
Step 1: In the first phase, you'll only need to visit the official TunesKit iOS System Recovery website and download the latest version of this application. After installing it on your Windows or Desktop computer, you'll need to connect iPhone to your PC and choose Upgrade/Downgrade iOS.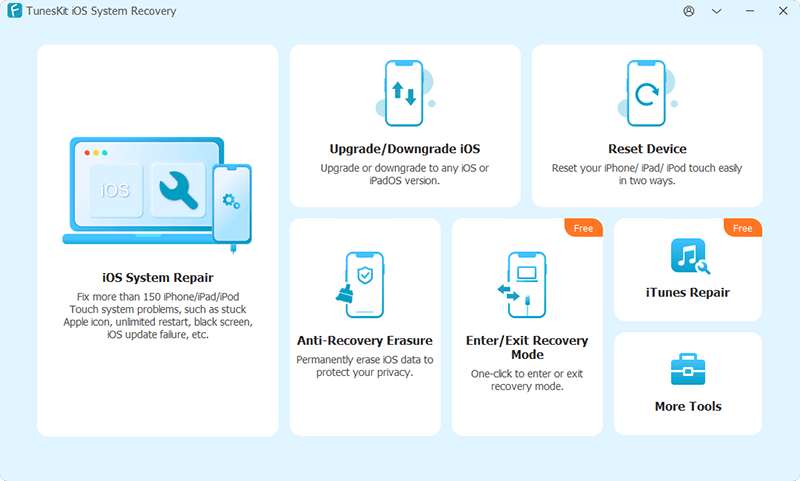 Step 2: Now, you are enabled to choose from iOS upgrade or iOS downgrade on the screen. Hit on the iOS Downgrade option, and ensure that your iPhone has enough power.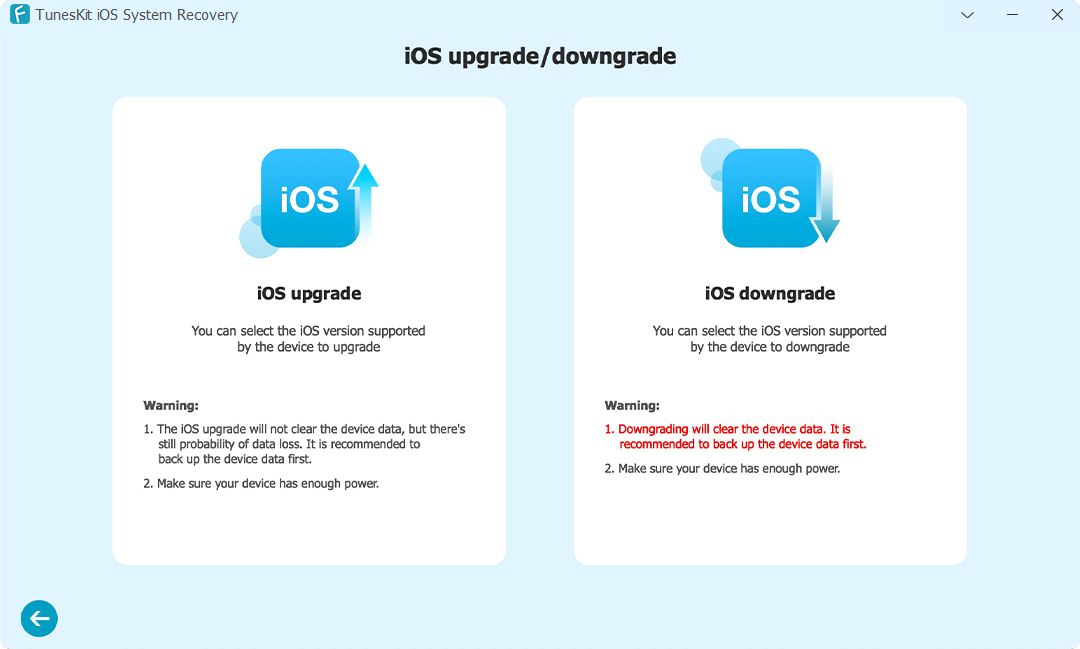 Step 3: Then, you need to check if the onscreen information corresponds wit your iPhone. If yes, please click on the Download button to download the right firmware package.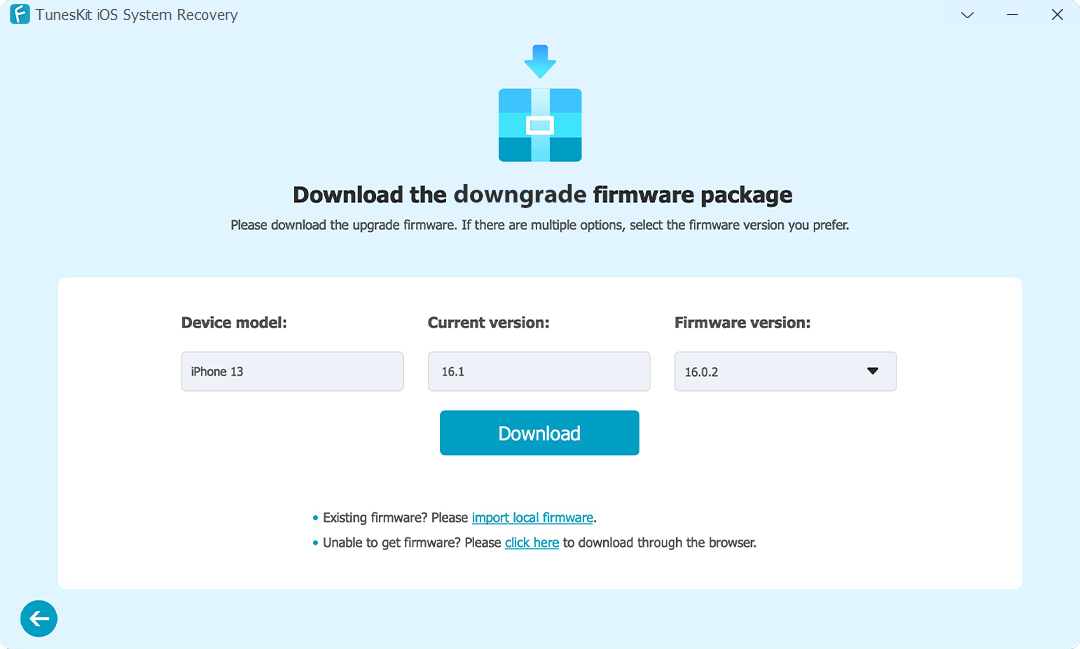 Step 4: After downloading the firmware package, you'll need to hit on the Start Downgrade button to install unsigned IPSW.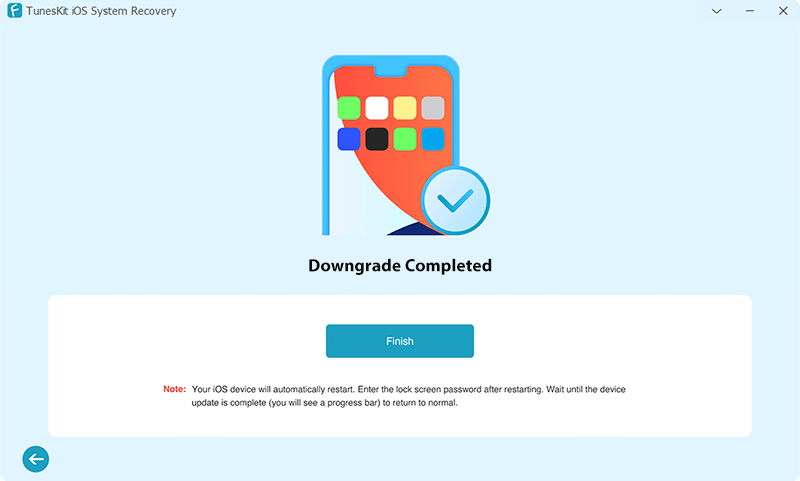 Solution 2. Downgrade Your iPhone via iTunes
Downgrading your iPhone with iTunes is also a reliable method for you. Remember to back up your important data before you use this method. After the backup, you can follow the detailes steps below to downgrade your iPhone.
Step 1: Visit the ipsw to download the IPSW file. Then, launch the Settings app on your iPhone and go to iCloud.
Step 2: After that, turn off Find My iPhone and connect your iPhone to the PC.
Step 3: Open iTunes on your PC, and then choose the icon of your Device. Then, choose Summary followed by Restore iPhone. After the restoration, you can follow the on-screen guidance to downgrade iOS.

Solution 3. Use SHSH Blobs to Downgrade iPhone
If you want to downgrade iOS 15 to 14 unsigned or other unsigned iOS versions without iTunes, you'll need to follow the steps below. However, you need to meet certain requirements before installing an unsigned iOS.
Step 1: Acquire the right SHSH Blobs
After connecting your iOS device to a PC, you'll need to launch iTunes and then hit the Summary icon. Now, you'll need to copy the ECID after clicking the Serial Number field. After copying it, you'll need to paste your Notepad document. Then, you'll need to perform the same task for the Device Identifier and navigate to TTS Saver. Select the device type after pasting the ECID into your designated field. Later, you'll only need to hit the Submit button after pasting the Device Identifier.
Step 2: Preparations before downgrading to Unsigned iOS
First of all, you'll need to install NonceSet 1112 on your PC. Now, you can install the futurerestore after downloading the iPhone iOS firmware.
Note: You'll need to ensure your device has at least 9 to 10GB of free space.
Step 3: Install unsigned iOS Firmware
1) In this phase, you'll need to create a folder and name it futurerestore on your computer. Later, all you need to do is unzip your futurerestore file there. Your folder should look like c:/futurerestore. Now, you'll only need to copy the SHSH2 and IPSW into this folder. Moreover, if you want to write your command line pretty easily, you can try changing the names of your files.
2) Locate your generator key string after launching the SHSH2 blobs in your Notepad. After finding the generator key string, you'll need to enter it in your PhoenixNonce app. Later, you'll need to hit the SET button to confirm the changes you've made. Next, your iPhone device might get restarted again, so you'll need to be a bit patient for some time.
3) After launching the app again, you'll need to ensure the key string you've found is correct. You should make sure you haven't launched iTunes, or else you won't be able to download to unsigned iOS without iTunes. Next, you'll need to connect your iPhone to a PC and ensure both devices use the same Wi-Fi network.
4) In this phase, you'll only need to access the computer's operating system as an administrator. Later, you'll need to enter the command line futurerestore -t my.hsh2 -i signed.ipsw restoreto.ipsw after launching the Command Prompt.
5) After entering the command line, you'll need to hit the Enter icon, and after this, the process of downgrading to unsigned iOS will start occurring. You need to wait for a few minutes before it gets completed.
Part 3. Hot FAQs about iOS Downgrading
Q1: Can I downgrade to unsigned iOS with jailbreak?
Yes, you can downgrade your iPhone via jailbreak. To avoid fragmentation and other errors, Apple doesn't allow users to downgrade their iPhones' software. However, the jailbreak community develops its own solution to downgrade the system.
Q2: Can I downgrade iOS without a computer?
No, you are not allowed to downgrade iOS if you don't have a computer. All the methods mentioned above need to be completed with the assistance of a computer.
Part 4. Conclusion
Downgrading to an unsigned iOS version isn't easy as you haven't got any official method to serve your purpose. Moreover, you may lose your important data in the process. However, after reading this guide, you'll figure out how to install unsigned IPSW. Among all these methods, TunesKit iOS System Recovery is the most recommended one. It is a prestigious third-party tool that not only allows you to complete it safely, but also enables you to get rid of many iOS device issues.