Fixed: iPod Is Disabled Connect to iTunes
Posted by Brian Davis on Sep 21, 2021 4:12 PM • Category:
Fix iOS Issues
4 mins read
"My old iPod Touch is no longer functional! It says, 'iPod is disabled, please connect to iTunes'. And I forgot the password too. Now, what to do, how do I unlock it?"
If you notice the warning "iPod is disabled, connect to iTunes" on your iPod touch, you've probably tried ten times to unlock your iPod using the wrong passcode. Wanna know how to solve this frustrating problem? Then you have come to the right place. Because, in this article, I will walk you through some effective ways to resolve this issue and unlock your iPod.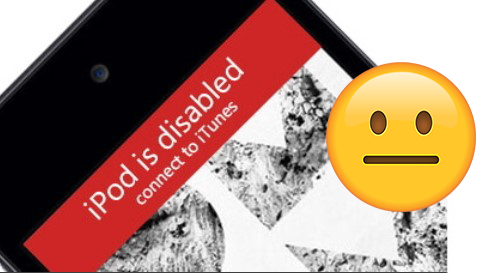 Part 1. How does 'iPod is disabled connect to iTunes' occur?
But before moving further, let's understand how this issue occurs.
To access data on an iPod, you must enter a password as a security precaution. Suppose you input an incorrect passcode more than six times continuously. In that case, your devices will go into self-protection mode, locking the device and requiring you to unlock it again after a certain period.
You will get the notice which says, "iPod is disabled, please try again in [number] minutes.", after six to nine unsuccessful tries. In this case, you may still use the correct passcode to open your iPod. However, after the tenth wrong attempt, your iPod will get locked. In this scenario, the only option left is to reset the gadget.
As a result, if you cannot recall your iPod passcode or your device displays "iPod is disabled connect to iTunes," your only option is to reset the device, which will destroy all your iPod data and settings, including the passcode. You will then be able to set up your gadget and overcome this problem.
Part 2. How to fix iPod is disabled connect to iTunes issue?
There are the following ways to fix this issue. Let's discuss them one by one:
Method 1: Using a professional system recovery software for iOS
TunesKit iOS System Recovery allows you to quickly resolve any common iOS/tvOS issue without the need for assistance from an Apple technical professional. If your iPod is disabled connect to iTunes problem occurs, you can try TunesKit to solve it without losing your data. It provides two repair modes – Standard Mode and Advanced Mode to help users fix any iOS issues to the greatest extent. It can also help solve other iOS system issues like iPod stuck on Apple logo, iPod touch white screen of death, etc.
Here are the simple steps:
Step 1: Connect your iPhone to your computer using TunesKit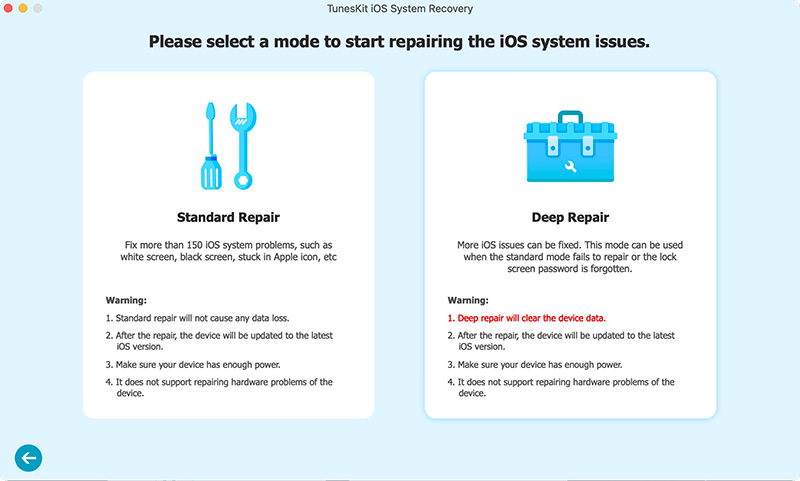 You must first install TunesKit on your computer and then connect your phone to it using a USB cord. Finally, press "Start" once your phone has been detected.
Step 2: Choose a repair mode and download the firmware package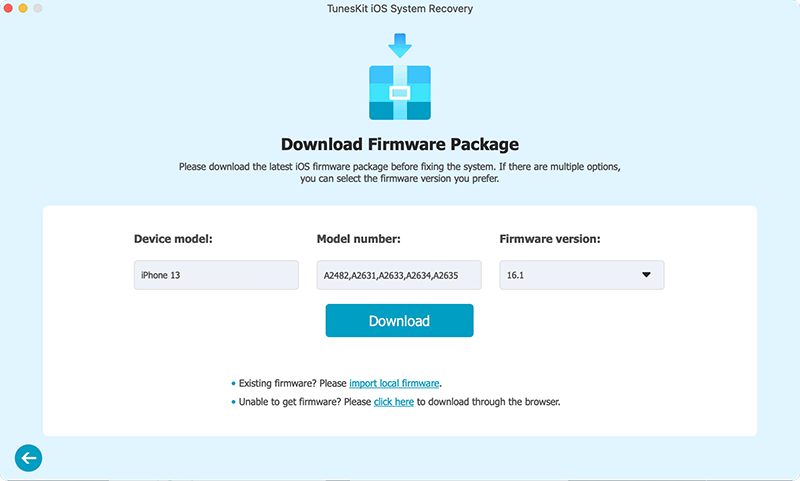 To repair a disabled phone, start with Standard Mode, which may resolve common iOS errors and fix it without losing any data. However, suppose you are experiencing more significant iOS system problems like iPod is disabled connected to iTunes. In that case, you may select Advanced Mode, which will allow you to recover more severe issues while erasing all data on your phone. After that, validate your device details and click "Download."
Step 3: Restore the iOS system.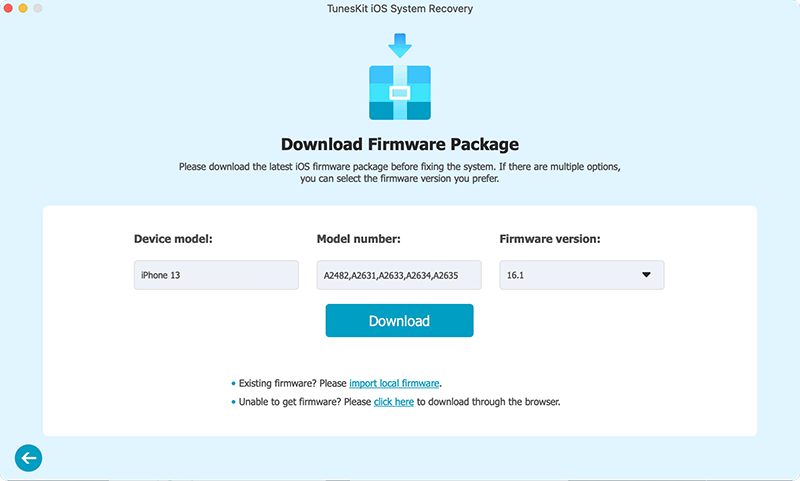 Once the download process is complete, select the "Repair" option and wait for your phone to be recovered.
Method 2: Using the iCloud website from Apple
If you do not have access to your computer, you can use this method and iPod is disabled connect to iTunes fix without computer.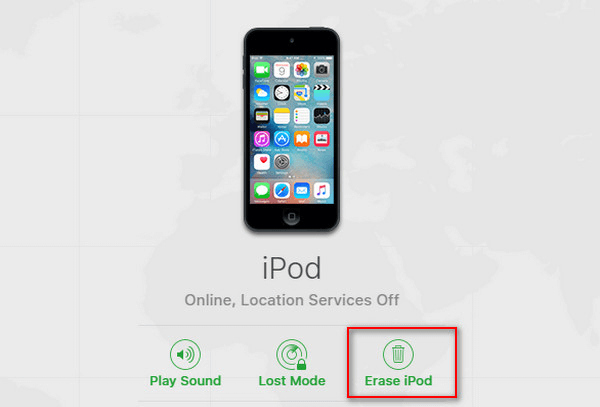 Step 1: Go to iCloud.com/find.
Step 2: Enter your Apple ID and password to sign in.
Step 3: At the top of the window, click the 'All Devices' button.
Step 4: Choose your iPod from the drop-down menu.
Step 5: Click the 'Erase' button and then the 'Confirm' button.
Step 6: Now, set up your iPod as if it were brand new.
Method 3: Using your iPhone's Recovery mode
If iTunes asks you for a passcode, use this method.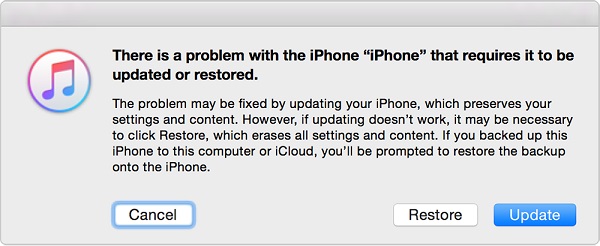 Step 1: Turn off your iPod
Step 2: Connect your iPod to your computer.
Step 3: Launch iTunes.
Step 4: Hold down the Power and Home keys at the same time.
Step 5: Then, click the 'Restore' button.
Set up your iPod now.
Step 6: Close the tab after you've finished.
You can also repair and solve this iPod is disabled connect to iTunes bypass problem by enabling the recovery mode in iTunes.
Method 4: Using DFU mode
After trying all the solutions above but the problem still exists, you can try using put your iPhone into DFU (Device Firmware Update) mode for a deep repair.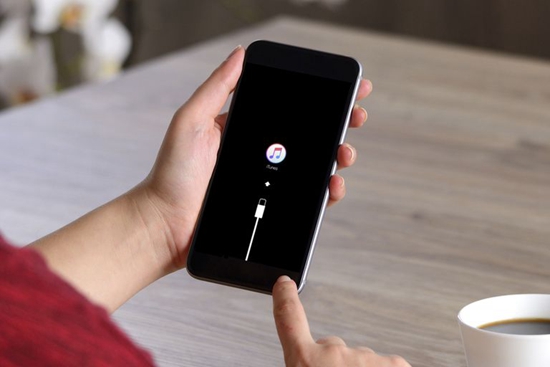 Step 1: Turn off your locked iPod touch completely.
Step 2: Use a USB cable to connect your iPod touch to your computer.
Step 3: Hold down the Power button for 3 seconds. Then, hold down the Home button.
Note: It is important to note that you should maintain the Power button pressed during the procedure.
Step 4: Hold both buttons for 10 seconds before releasing the Power button.
Step 5: Continue to hold the Home button for 10 seconds.
Step 6: When iTunes reports that your iPod Touch is in recovery mode, press and hold the Home button.
Step 7: Now, click "Restore iPod".
Part 3. Wrapping Up
Voila! With the help of the four methods mentioned above, one can efficiently resolve the iPod is disabled connect to iTunes how to unlock issue. In addition to this, using a third-party tool like TunesKit iOS System Recovery can be the safest option to get your iPod back to working mode. Share your experience or working methods with us!