iPhone X Reboot Loop Again? Here's the Fix
6 mins read
Q: "My iPhone X has been stuck in a boot loop for a couple of days (flashing apple logo every few seconds). About 20 minutes ago, somehow, it just randomly turned on, and was working completely fine. So, I plugged it into my Mac, and started backing it up just in case. It got about 1/3 of the way through backing up, then I looked over, and it was on the lock screen, which was extremely dim. The phone felt very hot. Then, it turned off, and is now back in a boot loop. What could this be, and what can I do?" -u/mshumer from Reddit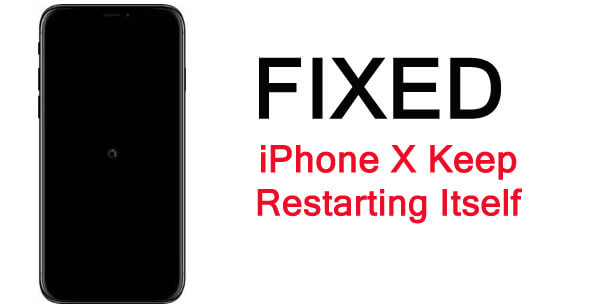 Boasting of an amazing OLED screen and with no home button, iPhone X is definitely distinct from its processors. However, it is still not immune to those common iPhone issues. Let's say, boot loop. Likewise, if your iPhone X is suffering a similar problem with mshumer's, you can find all you need to know about iPhone X boot loop fix in this passage. We've mapped out in the subsequent context the reason why iPhone X being caught up in a boot loop and some workarounds for you to tackle the problem.
Part 1. Why iPhone X Bump Into Boot Loop?
For certain reasons, iphone x boot loop all of a sudden and get stuck in the reboot loop. To better deal with the problem, we are going to prep you for the causes that lead to the iPhone X boot loop.
Unsuccessful update: An unsuccessful update may be caused by a bad connection of internet and the halted update process can easily result in a boot loop. Boot loop can occur even though you've already finished the update.
Malfunctioning hardware: malfunctioning hardware could probably be a damaged battery connector or a broken component. Under this circumstance, it's better to repair or replace the malfunctioning hardware as soon as possible.
Jailbroken iPhone: Jailbreaking is a double-edged sword. You can acquire extra services after jailbreaking while a jailbroken iPhone X is more likely to be affected by malware or virus attack, which can end up in a boot loop as well.
Part 2. How To Fix iPhone X Stuck on Apple Logo Loop?
Here are 4 universal ways for you to troubleshoot the boot loop despite what caused it.
2.1 Force Restart Your iPhone X
If your iPhone X stuck in a boot loop, the first thing you should try is to force start it. Force restart on iPhone X, XS, XS MAX, or iPhone 8 is quite different from iPhone 6S, 7, and 7 plus. The routine requires a three-button procedure, involving pressing and holding the side button and one of the volume buttons.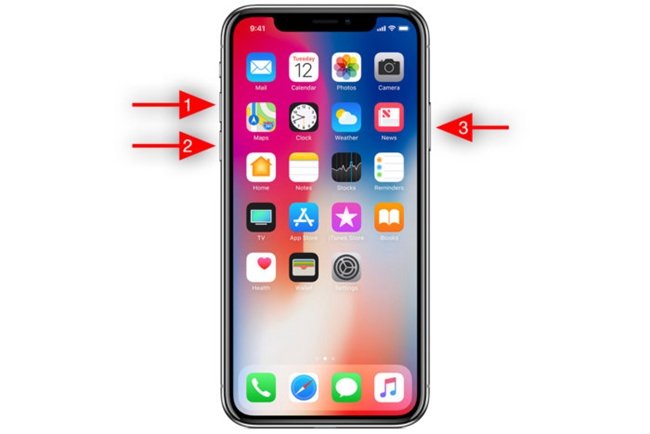 1) Quickly press and release the Volume Up button.
2) Quickly press and release the Volume Down button.
3) Press and keep holding the Side button until the screen turns off and then turns back on. Then you can release the Side button when the Apple logo appears. After that, your iPhone X will restart automatically.
2.2 Update iOS Version via iTunes
One of the feasible methods to get iPhone X stuck on Apple logo loop done is updating your iPhone via iTunes. An outdated iOS version will bring your iPhone trapped. You can connect your iPhone to a computer and use iTunes to get the latest update.
For Windows: Connect your iPhone to your computer, when your iPhone is detected by iTunes, click the device icon. Then, hit on the Summary option and click Check for Update to update your iOS version.
For Mac: Connect your iPhone to your Mac. Then open Finder sidebar and select your iPhone. Click the General and click Check for Update.

2.3 Efficient Tool to Fix iPhone X Boot Loop Without Data Loss
iTunes provides a quick and convenient fix to the problem, but the unavoidable defect is that it may cause data loss to some extent. Therefore, we have another option for you - TunesKit iOS System Recovery. This smarter and faster program focus on rescuing your iPhone from more than 150+ scenarios including boot loop, black/blue/frozen/white screen, DFU mode, and recovery mode. No data will lose and it works for most iDevices. Furthermore, it has a simple and concise interface that all users can get their iOS devices fixed within several steps.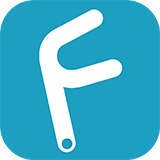 Key Functions of TunesKit iOS System Recovery
Fix iPhone X reboot loop efficiently with several steps
Provides two different iOS fixing mode
Available on the latest iOS version including 16
Supports the latest iPhone modes including iPhone 14
User-friendly and concise interface
Try It Free
600,000+ Downloads
Try It Free
600,000+ Downloads
Next, we will present you how easy using TunesKit iOS System Recovery to repair iPhone X stuck in boot loop can be.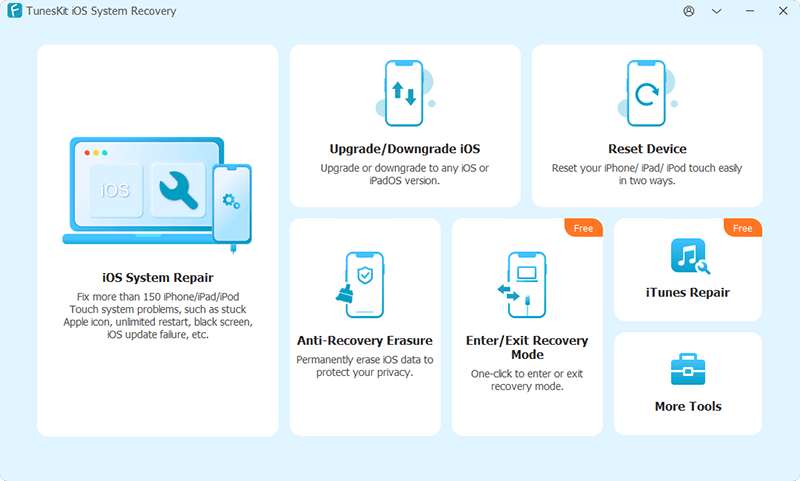 Step 1. Download the free trial of TunesKit and connect iPhone X to your PC. After that, launch the program and click Start to move forward.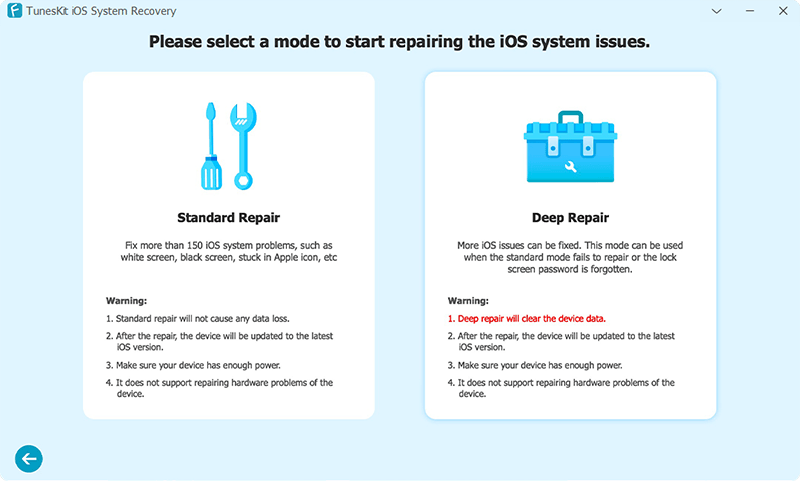 Step 2. In the next window, choose the Standard Mode and press Next on the right bottom.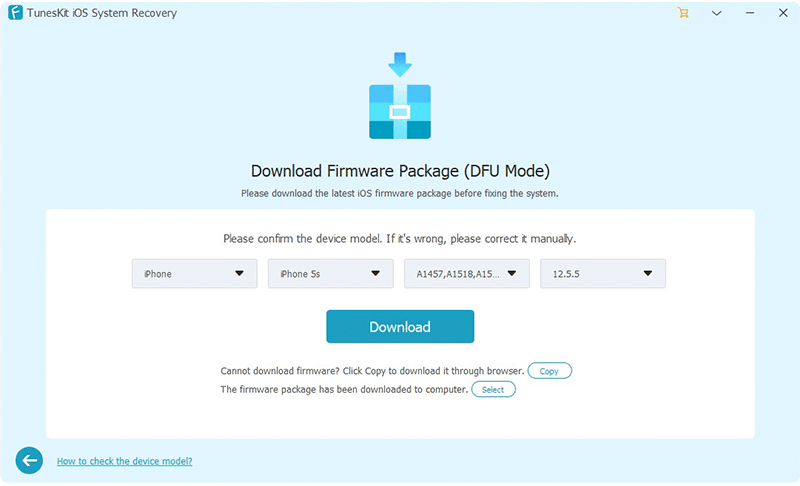 Step 3. Download the firm package matched to iPhone X. Once the correct package is downloaded, begin to recover the iOS System and get your iPhone X out of boot loop.
What has introduced above is the Standard Mode, if your iPhone X is in a more serious situation, please check the guide of Advance Mode.
Video Guide: How to Solve iPhone X boot Loop Issue
Here is a short video about how to fix this knotty issue using TunesKit iOS System Recovery. Hope that it can help you solve your problem at ease.
2.4 Using iTunes To Fix iPhone X Reboot Loop
If the above methods are not able to fix your iPhone X, you can try to restore it via iTunes. Though it will erase all your iPhone data.
1) Simply connect your boot loop iPhone X to a computer and launch iTunes on Windows or Finder on Mac.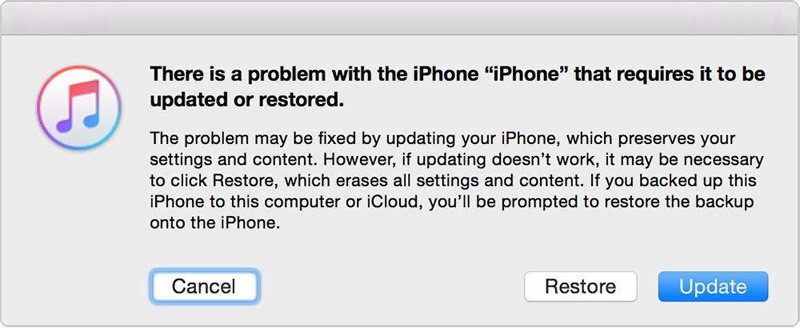 2) A pop-up window will appear not long after iTunes finish detecting a problem of your iPhone X. Just hit Restore to get your device out of boot loop.
3) If the pop-up didn't show up, you can click on Summary and then Restore iPhone to restore your iPhone X manually.
2.5 Restore Your iPhone X in DFU Mode
If the above solutions are not working, you put your iPhone into DFU Mode and restore it via iTunes. DFU mode means Device Firmware Update mode, which will erase all the data and content on your iPhone and fix the iOS problem with a high success rate. If you don't know how to put your iPhone into DFU mode, you can do the following steps:
Step 1: Connect your iPhone X to the computer via a lightning cable.
Step 2: Press the Volume Up button and release it quickly. Then, press the Volume Down button and release it quickly.
Step 3: Keep holding the Side button. Don't release it even your iPhone screen goes black.
Step 4: Press and hold the Side button. Then, press and hold the Power button and Volume Down button for 5 seconds.
Step 5: Release the Power button while keeping holding the Volume Down button for 10 seconds. The iPhone screen will keep black when it is in DFU mode.

3. The Bottom Line
When you read this, I am sure you are well-prepared for the next iPhone X boot loop. You can try these 4 solutions one by one when the boot loop occurs to you iPhone X. When the problem cannot be solved by force restart, updating iTunes, and iTunes Restoring, TunesKit iOS System Recovery will be your final slay trick as its powerful fixing features that can solve most iOS issues without losing any data. When you face any other issues, you can download TunesKit iOS System Recovery and take it a try.