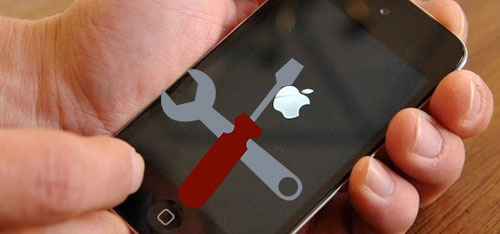 Are you confused by your iPod gets stuck on the Apple logo problem? Want to find the most effective and full solutions to fix it? Well, you are fortunate to read this article, as next we are going to discuss some common and efficient ways ever to settle this frustrating trouble.
Part 1: General ways to fix iPod stuck on the Apple logo
Actually, the white apple logo screen of death on iPod is not a rare issue. There are often some reasons behind it, just to name a few -- software update or jailbreak failure, hardware problems and wrong restoring from backup. When you are confronted with this situation, just try out these fixes.
1. Restart your iPod
Restarting your iOS devices when they encounter some problems such as stuck on the Apple logo screen is the first way and the most basic one people think of. Similarly, rebooting your iPod may do the trick in dealing with this issue. To unfreeze iPod stuck on the Apple logo screen of death, you just need to simultaneously press the Home and Power buttons. Then release them until the white Apple logo is shown on the main screen. After that, your iPod will reboot by itself.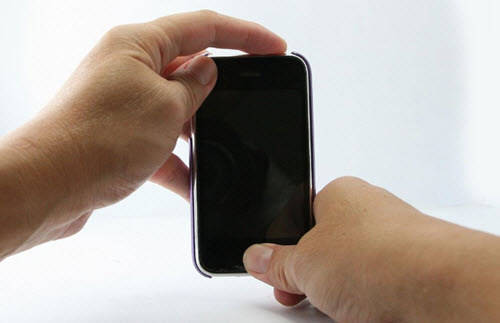 2. Update iOS firmware
The Apple logo being always appeared on your iPod might result from iOS change failure. In this case, you can update the iOS firmware to resolve this.
For Windows,
Step 1: Connect your iPod to the computer.
Step 2: Click the iPod icon and tap the Summary tab on iTunes.
Step 3: Hit Check for update button.
Step 4: If an update is available, iTunes will proceed in updating by itself.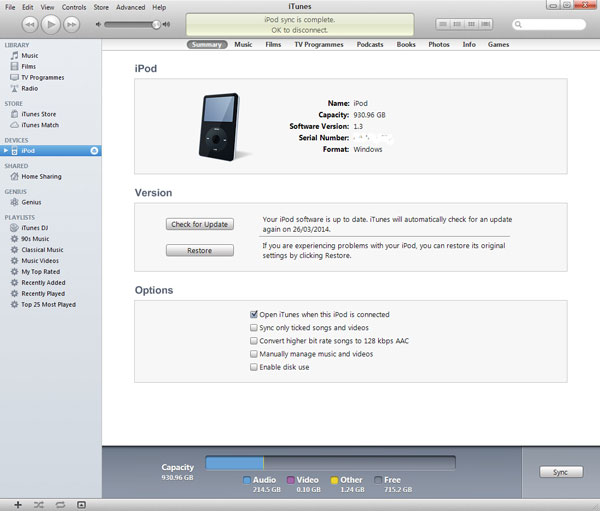 For Mac,
Step 1: Make the iPod with the Mac connected.
Step 2: Launch the Finder.
Step 3: Choose your device in the Finder and click the General button.
Step 4: Tap check for update and start updating.
3. Put iPod into recovery mode
If restarting your iPod doesn't work in fixing the frozen Apple logo screen, then you could try to put the device into recovery mode. But to prevent you from feeling regretful after entering recovery mode, you are suggested to have a backup of your data on the device in advance, because this method will delete all files on your iPod afterward.
Step 1: Open iTunes on your computer and switch off your iPod first.
Step 2: Then make the iPod connected with the computer with a USB cable.
Step 3: Press the device's Home button till it successfully connects to the iTunes screen.
Step 4: Let go of the Home button.
Step 5: Tap the Restore button in the message appeared on the screen to restore your iPod to the factory settings.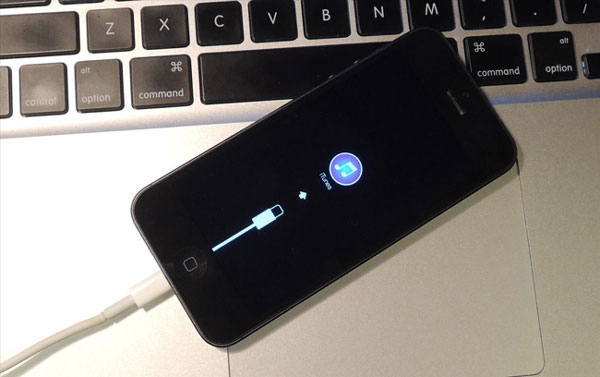 Part 2: The perfect way to solve iPod staying at Apple logo screen
Now the final attempt, which is also the perfect fix to work out the problem of iPod stuck on the Apple logo is using iOS system recovery tools such as TunesKit iOS System Recovery. Why? Because this program can solve almost all iOS system issues including iPod stuck in Apple logo, headphone mode, boot loop screen, and iTunes errors, etc. Besides, it supports different devices like iPod touch, iPad, iPhone, and all iOS versions. Moreover, it also supports tvOS and can fix many Apple TV issues. Finally, the most important one is that with simple operating procedures, it won't cause any data loss during the process of repairing. In this way, why not try steps as below of TunesKit iOS Repair, which has the highest success rate and fastest speed.
Step 1: Connect iPod to the computer and choose the repair mode. Launch TunesKit iOS System Recovery for Windows. Then you have to hook up your iPod with the computer until the device has been detected. Next, click "Start" button, and choose the "Standard Mode". Select the device you connected before following the instructions and letting your device into DFU mode. Finally, click "Next" button.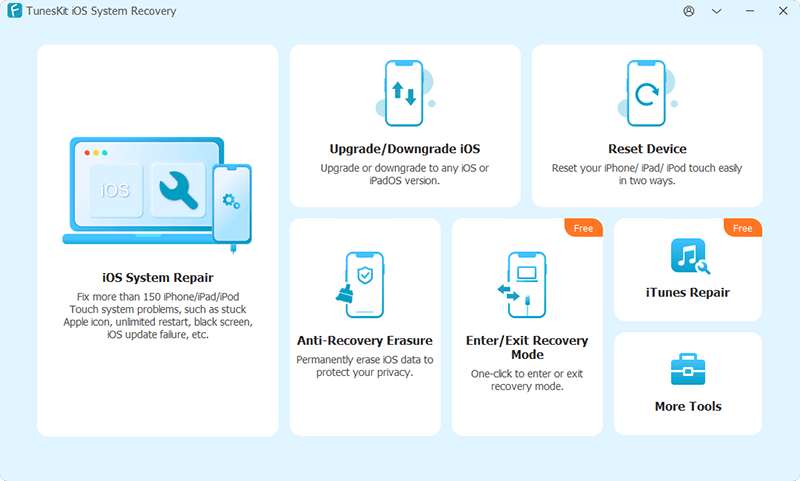 Step 2: Download and verify firmware package. Examine whether your device info including the model version, iOS version, etc.is right. If there's anything wrong, just make it corrected. Then, click the "Download" button and this tool will begin to download the firmware package matched to your device. After that, verify the package quickly.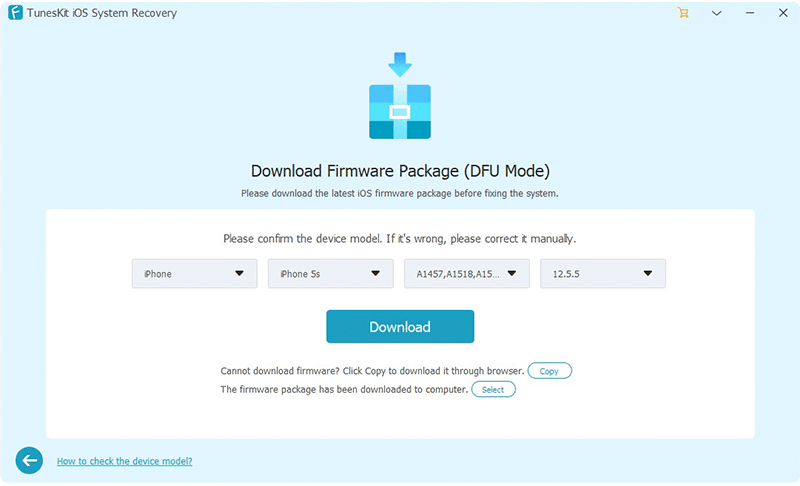 Step 3: Fix the issue on iPod. After the firmware package has been downloaded completely and successfully, the final step for you is just taping the "Repair" button and your iPod stuck on the Apple logo issue will be begun fixing by this software. Keep your device connected until the process is completed. Otherwise, the device might encounter other issues.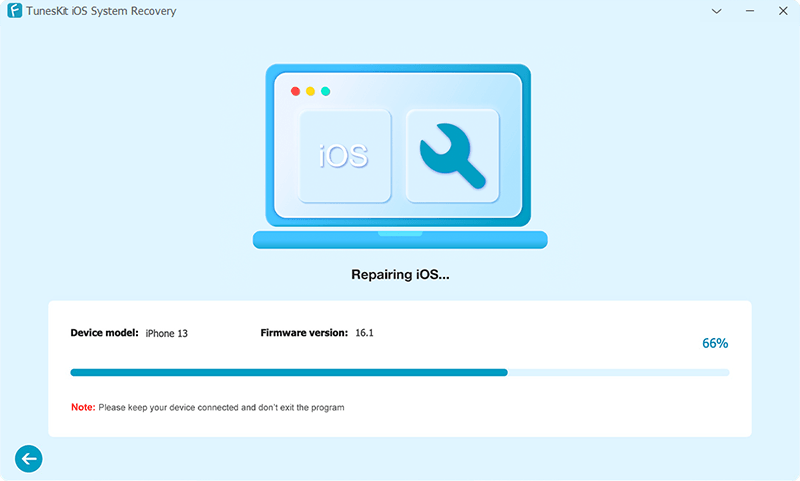 Part 3: Conclusion
Stay calm and don't be frustrated when your iPod gets stuck on the apple logo. Solutions as described above are able to give you a hand. But kindly remind, before testing those fixes, make sure to have a backup of your iPod, as most of the ways will completely erase the data from the device. Otherwise, you are recommended to try iOS repair software that will cost you a couple of bucks but won't cause any data loss.

Brian Davis has covered tech and entertainment for over 10 years. He loves technology in all its forms.