"I wanted to transfer music to my iPod via iTunes and connect iPod to iTunes. Still, it doesn't bother to recognize and says 'iPod support service is not installed' instead".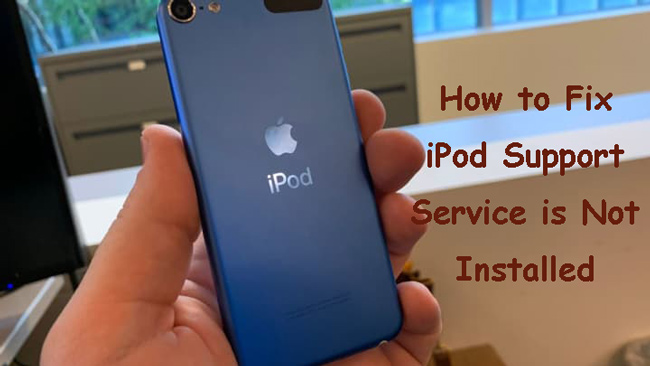 When you decide to install iTunes on your PC, some other important components will be installed. These components assist iTunes in gathering information about the services and required data. Of all the major components, iPod Support Service is one of the major aspects. If you remove this component from your computer, your iTunes won't recognize your iPod. In this article, we'll talk about iPod Support Service in detail and tell you how to fix the ''iPod support service is not installed Windows 10'' issue.
Part 1: What is the iPod support service on Windows?
iTunes tends to install iPod support services to detect any device you connect to iTunes. Installing the support service helps iTunes to detect your iPod. However, you can't use this service directly on your PC. Instead, iPod Support Service opts to run in your computer's background.
Every time you connect a device to your PC, a support service reads the device and sends the basic information to your iTunes app. In this way, iTunes will be able to find out about the device you've connected with your PC.
After connecting your device, you can back up your device, restore your device, sync your content and perform many actions on it.
In other means, iPod Support Service behaves like an identifier that helps your iTunes to recognize the device you connect with your PC.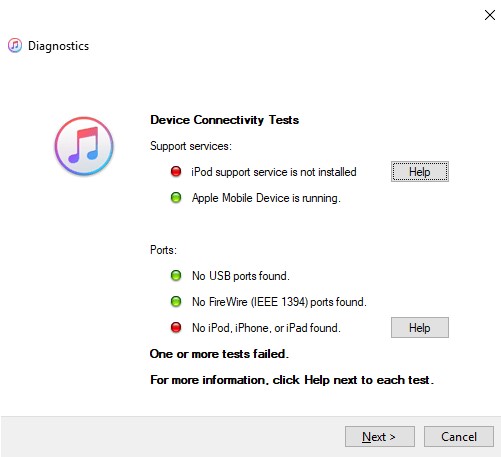 Part 2: How to fix Windows 10 iPod support service is not installed on Windows
If you're facing iPod support service is not installed, it means you haven't installed the support service on your PC. After installing the support service, you can easily make a PC to detect the iPod.
Before heading into the installation process, we'd like to reveal the important things you must look at before installing the iPod service.
• First, you'll need to ensure that the iPod is on the Home screen.
• Unlocking iPod is also pretty important before installing a support service.
• Don't forget to install the new version of iTunes, as this thing matters a lot in determining how things go about the business.
Now, you can proceed ahead to install an iPod support service to get rid of the issue you're facing. However, the process of downloading the support service depends upon whether you've installed iTunes through Apple or Microsoft, as both the processes are a bit different.
Here's the step-by-step guide to putting things in order.
iTunes downloaded from Microsoft:
Step 1: Navigate to the Home screen after unlocking iPod. Next, all you need to do is connect the iPod to your PC.
Note: You need to turn iTunes off in this process.
Step 2: After reaching the Start button, you'll need to click on it and select Device Manager.
Step 3: Now, you'll be able to see your device name under Portable Devices. Select Update driver.
Step 4: In this phase, all to need to do is press Search automatically for updated driver software.
Step 5: After installing the software, you'll need to navigate to Settings and then select the Update & Security option from there.
Next, you'll need to hit Windows Update to check the possibility of any other updates. Now, you'll need to start your PC and check whether iTunes detect the iPod or not.
It is most likely that you'll be able to transfer files through iPod after installing the iPod support service.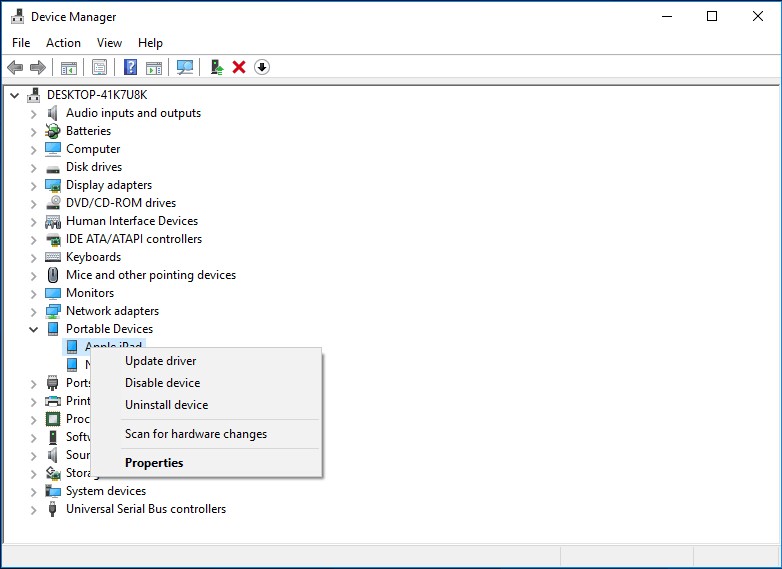 iTunes downloaded from Apple
Step 1: First, you need to unlock your iPhone and navigate the Home screen. Next, you'll need to connect your device to a PC and make sure iTunes is turned off.
Step 2: Launch the Run Command option after hitting the R key and Windows.
Step 3: After navigating to the Run window, you'll need to tap Program files and then hit the Common files option. Next, you'll need to select Drivers after hitting Apple and Mobile Device Support option. Later, you'll only need to tap OK to put the things in order.
Step 4: Select Install after hitting the usbaap1.inf or usbaap164 file.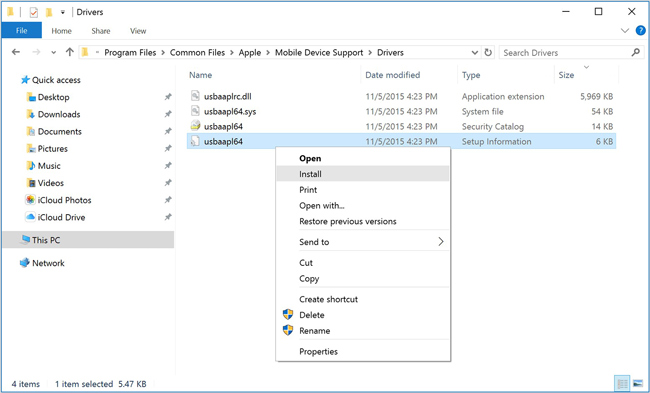 Note: You'll need to make sure the files you've installed end in inf. However, if you don't know whether you've installed the correct file, you can navigate File Explorer Window. Next, you'll need to tap Details after hitting view to access the correct file type.
Step 5: Restart the computer after disconnecting your iPod. Later, you need to check if iTunes recognizes your iPod.
Part 3: Recommended iOS fixing tool - TunesKit iOS System Recovery
If yes, you've got an unbelievable tool in the shape of the TunesKit iOS System Recovery. It is monumental third-party software that can help you fix more than 150 issues with minimal effort. Moreover, it doesn't cause data loss courtesy of its Standard Repair Mode. It is now fully compatible with most iOS devices including the latest models. If you encounter any iPod issue like iPod stuck on Apple logo, iPod touch white screen, iPod stuck in boot loop, etc., TunesKit iOS System Recovery can help you fix it within several steps.

Key Features of TunesKit iOS System Repair
The interface is more than satisfactory
It offers a 100% success rate
Comes with Standard mode and Advanced mode
Supports iPhone/iPad/iPod touch/ Apple TV
Can fix various iOS issues without data loss
How to repair your iOS device using TunesKit iOS System Recovery?
Step 1

Launch TunesKit iOS System Recovery

After launching TunesKit iOS System Recovery, you'll need to tap Enter Recovery Mode top put your iPod into Recovery mode and select Start.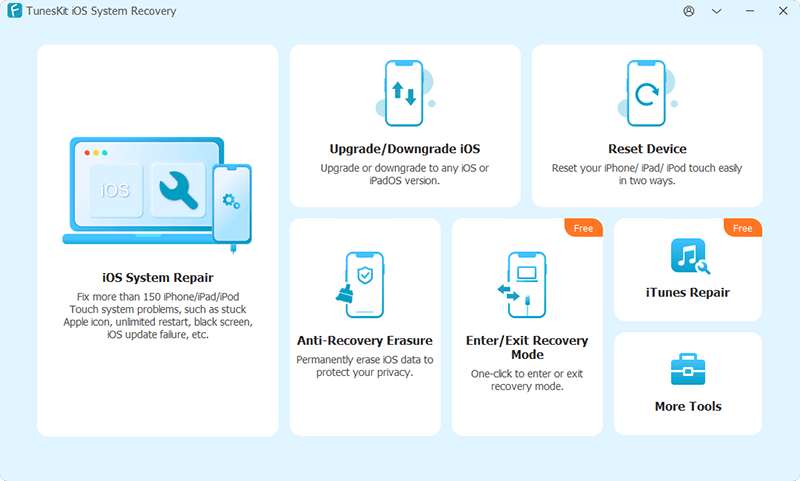 Step 2

Hit Standard Repair Mode

Now, you need to press the Standard Repair option if you don't want to loss any iPod content.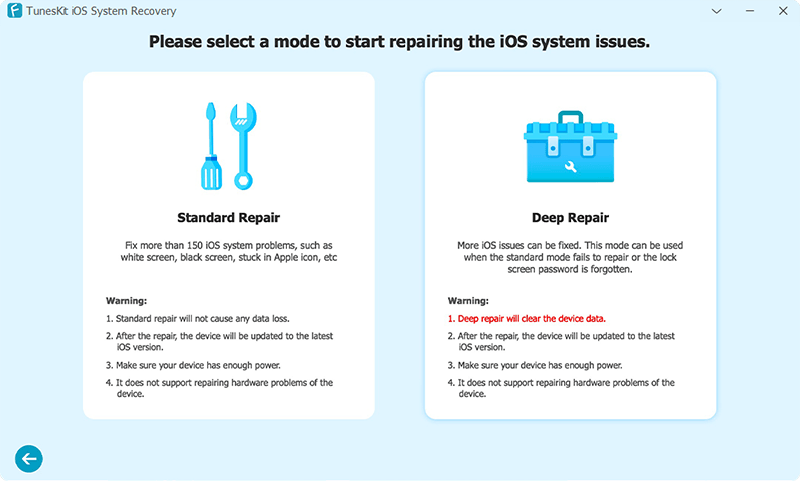 Step 3

Download Firmware Package

All you need to do is clicking the Download button to download the appropriate firmware package in this phase. Before downloading, please check if all the given information is corresponding to your iPod.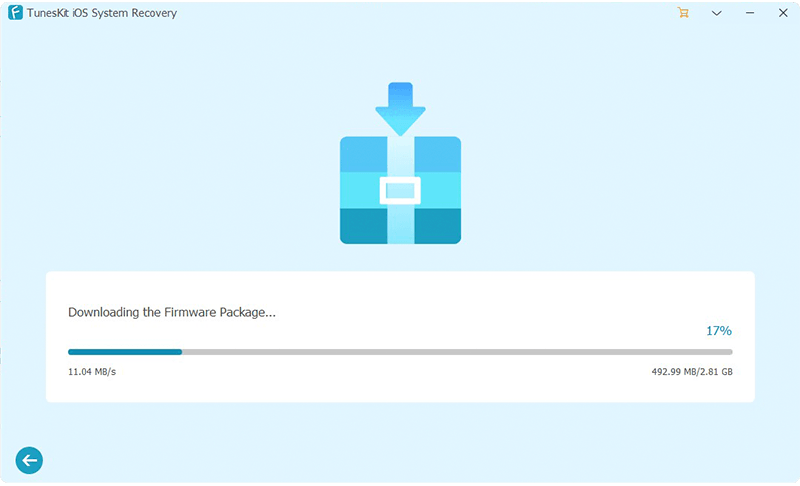 Step 4

Repair iOS device

Tap on the Repair option, and it will begin repairing your device. This process will take several minutes.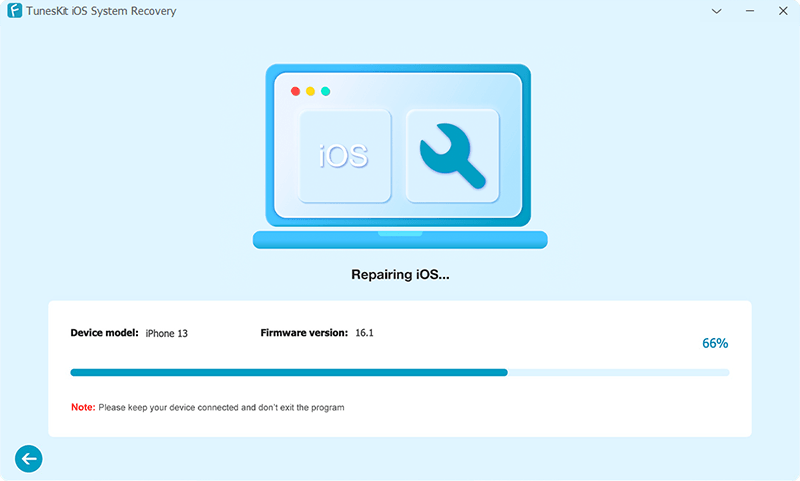 Conclusion
If your screen shows iPod support service is not installed while connecting iPod to iTunes, you can read this guide. We've listed the precise ways to get your issue solved, as you'll only need to download the iPod support service to get the thing sorted. On the other hand, if you find any issue in your iOS device, you can acquire the services of TunesKit iOS System Recovery. Apart from being user-friendly, TunesKit iOS System is pretty good at removing any iPhone issue with minimal effort.

Brian Davis has covered tech and entertainment for over 10 years. He loves technology in all its forms.