Don't Cry Over iPod Screen Frozen: Here's The Real Fix!
5 mins read
As with any mobile device, Apple's iPod Touch may sometimes freeze. A frozen iPod Touch is a real troublesome problem if you need to keep track of contacts, respond to emails, or store important data. However, there's no need to be concerned when iPod freeze — they can usually be thawed and restored using the iPod's built-in restart function in a few minutes or seconds. Therefore, instead of contacting Apple Support for your iPod screen frozen, try to repair it yourself first.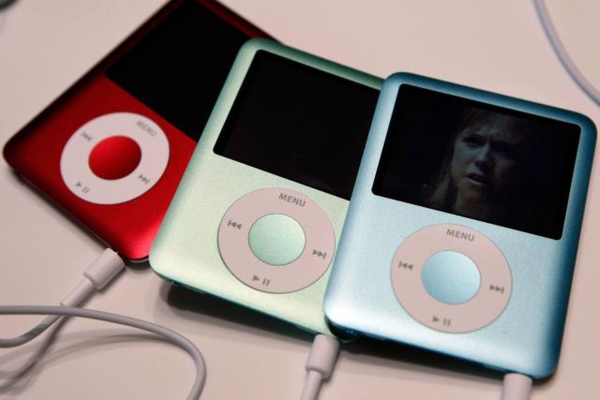 Fix 1. Recommended: Repair iPod System to Fix iPod Screen Frozen
Software and system bugs can be culprits of iPod frozen screen. Fortunately, there's still a way for you to unfreeze your iPod that's simple and effective. A repair software called TunesKit iOS System Repair can help you fix any kind of freezing issue on your iDevice. You should know that this program will not wipe any data from your device. So, there is no need to worry about any data loss. Not only that when your iPod is stuck on Apple logo screen or white screen then also you can use this software to fix the issue. Unfreeze your iPod by following this short guide.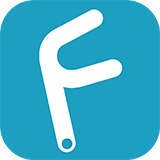 Key points of TunesKit iOS System Recovery
Ability to fix any kind of system errors like boot loop, black screen, iTunes errors , etc.
Support iPhone/iPad/iPod/iPod touch/Apple TV, etc.
2 smart recovery modes: standard and advanced modes to fix common and complicated iOS, tvOS errors respectively.
No data loss after the reparation with standard mode.
Fully compatible with the latest iOS 15, 14, 13 and lower versions.
4 Easy steps and customer-friendly interface.
Try It Free
600,000+ Downloads
Try It Free
600,000+ Downloads
Now it's time to use TunesKit iOS System Recovery to settle the iPod frozen screen and make it working again.
Step 1

Download, Install and Launch it

You need to take advantage of iOS System Recovery software to make this method work. So, you should download the software on your computer from the official website immediately. It is available on both Windows and Mac platforms and is free to try.
Step 2

Connect iPod to PC

Your frozen iPod device should now be connected to your computer through a USB data cable, and you should wait until the software recognizes the device. Next, you should open it and select the "Start" option and move on to the next step.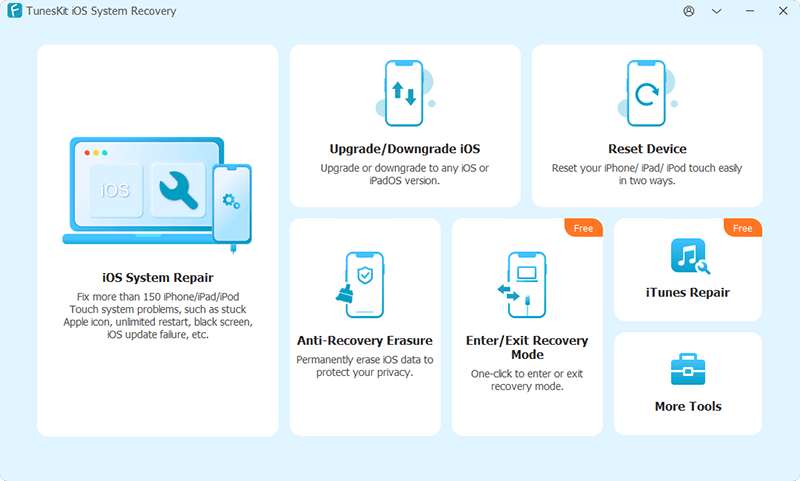 Step 3

Choose Standard Mode & Download Suitable Firmware

You should choose the "Standard Mode" option from the main menu of the software. And then the software will ask about your device information. Fill in the details correctly and click on "Download". This should start the downloading process and wait until it is finished. This may take several minutes.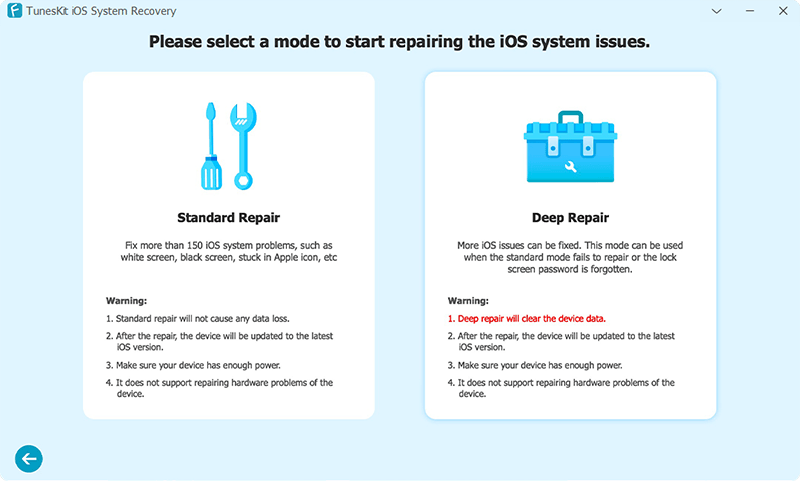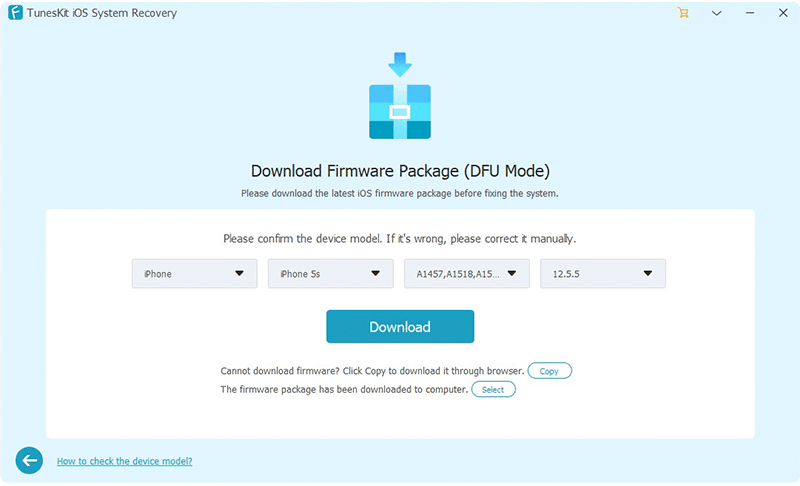 Step 4

Start to Unfreeze Your iPod

As soon as the downloading is finished, click "Repair", and then the software will automatically start repairing your iPod. You don't have to do anything while this process is taking place. It is completely automatic. Simply sit back and watch the software take care of everything.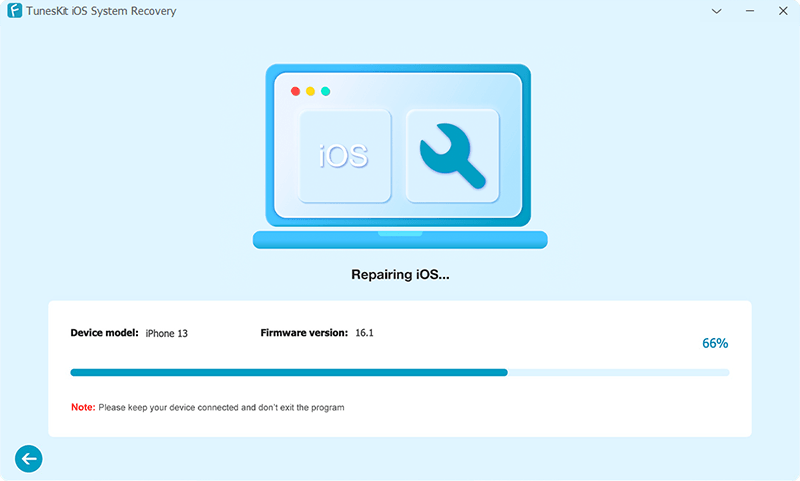 Fix 2. Force Restart iPod to Fix Frozen iPod
If your iPod screen is black or frozen, you might need to force restart your device. A force restart won't erase the content on your device. Force restarts your device only if the buttons and touch are not working on your iPod. Here is how to force restart your device. Follow these steps: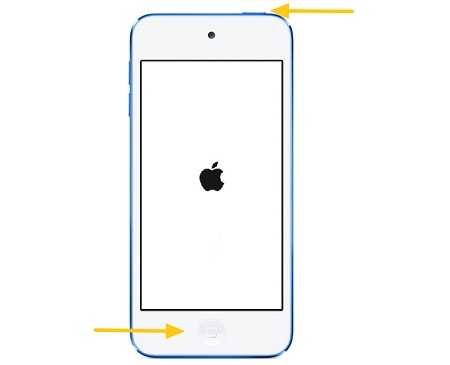 iPod Touch
Step 1.
If you are using 1st-through 6th-Gen,
· Long-press the Home button that on the front of the iPod Touch and the Sleep/Wake button that on the top simultaneously.
If you are using 7th Gen,
· Simultaneously press and hold the Volume Down and the Sleep/Wake button.
Step 2. Keep holding and the buttons until the slider appears. When the screen flashes and goes black. At this point, the hard reset begins.
Step 3. After a few seconds, the screen flashes again and goes black. The hard reset begins at this point.
Step 4. Release the buttons and the iPod Touch boots up and are ready to use.
iPod Nano
For iPod Nano 7th generation,
· Simultaneously press the Sleep/Wake and the Home button until the screen shuts off. After a few seconds, your device will restart.

For iPod Nano 6th generation,
· Hold down the Sleep/Wake and the Volume Down button until you see the Apple logo.

For iPod Nano 5th generation or earlier,
· Push the hold switch in the "Off" position. Then hold the Menu and Center (or Select) buttons until the Apple logo appears.
iPod Classic
Step 1. Ensure the Hold switch is in the unlocked position.
Step 2. Hold the Menu and Center (or Select) buttons until the Apple logo flashes.
iPod Shuffle
Step 1. Disconnect your iPod shuffle from everything. Press the power button to turn it off.
Step 2. Wait for 10 seconds, then turn on your iPod Shuffle again.
Fix 3. Check the Hold Switch to Fix iPod Frozen
Check whether your iPod has been unfrozen by sliding it on then off again. Slide the Hold switch to the "Off" position if you find it in the "On" position before you do anything to it. And then, check if the device returns to normal.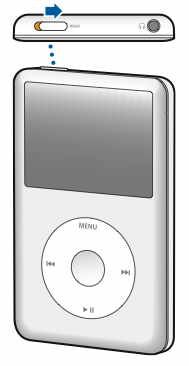 Fix 4. Ensure iPod Charge Properly to Fix Frozen iPod
When your iPod seems to be low on battery and is frozen and unresponsive, it may be because the battery is low. If you've been using your iPod for a long time, this is especially common encountering this issue. Check if the iPod has resumed to its normal state after charging it for at least 30 seconds. Furthermore, it is essential to ensure that the iPod is charged properly by paying attention to the iPod port, the charging accessories, and even the outlet. They should be cleaned as much as possible even though they are intact.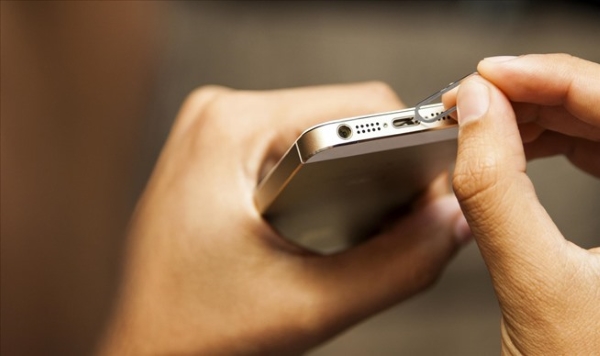 Fix 5. Update iPod with iTunes or Finder to Fix Frozen iPod
Users of the iPod touch also can update their iPod's iOS on the computer if their touch has frozen. You can avoid potential risks associated with over-the-air delta transfers by updating iOS through iTunes or Finder, rather than updating the iPod directly.
Windows
Step 1. Make sure you've installed the latest version of iTunes on your computer.
Step 2. Plug the iPod into the computer, and click the iPod icon on the top left of the iTunes main screen. Click on "Summary" → "Check for Update".
Step 3. Please click the "Update" button to confirm the updating process.
Mac
Step 1. Open Finder and plug your iPod into the Mac.
Step 2. Under the "Locations", click on your iPod in Finder's left sidebar.
Step 3. Choose "Check for Update" and then press the "Download and Update" button to install the update.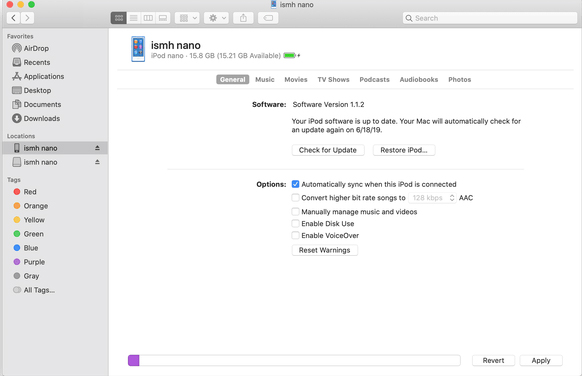 Conclusion
We just hope that at least one of these proffered solutions works out for solving iPod frozen screen problems. We think TunesKit iOS System Recovery is an awesome way by which you can unfreeze iPod and solve your problem rapidly and fluently. It will help you out with over 150+ problems and make sure you never face this issue in the future, for sure! If you guys have further queries related to this article then let us know in the comment box. We will get back to you shortly. Have a great day!