iPod touch won't turn on? Many iPod users may face this problem when they use their devices. Generally, this issue appears without a warning sign, so you will be thrown into a panic not knowing what to do to deal with it. As it's time-consuming and expensive to take it to an Apple Store for a repair instantly, it's suggested that you try some easy methods to fix it at home first. In this post, we'll tell you the major reasons for this issue and offer five useful methods for you to solve it.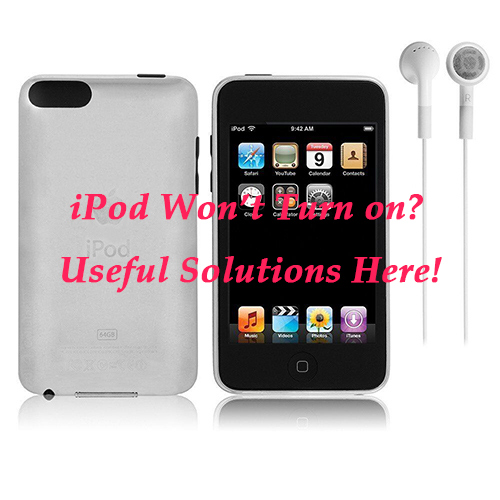 Part 1: What Leads to iPod touch Won't Turn on
In general, there are several causes of this issue, which can be roughly divided into two kinds: software issues and hardware problems. Below are the detailed possible reasons for iPod touch won't turn on:
1. You have not used your iPod touch for a long time and it ran out of charge.
2. There is something wrong with your iPod battery.
3. You may have a software problem, which you can try figuring out at home.
4. There may be an issue with hardware inside your iPod, which is difficult for you to fix by yourself.
Part 2: What to Do if Your iPod touch Won't Turn on
Method 1: Charge Your iPod touch
If you haven't used your iPhone touch for a long period of time, a dead battery may be to blame for iPod will not turn on. It's really easy to solve it. What you need to do is to use an original cable to charge it for about an hour. If you don't see the charging screen during this process, you need to ensure that the cable is plugged properly on both ends, and that there is no dirt, dust, or lint in the charging port.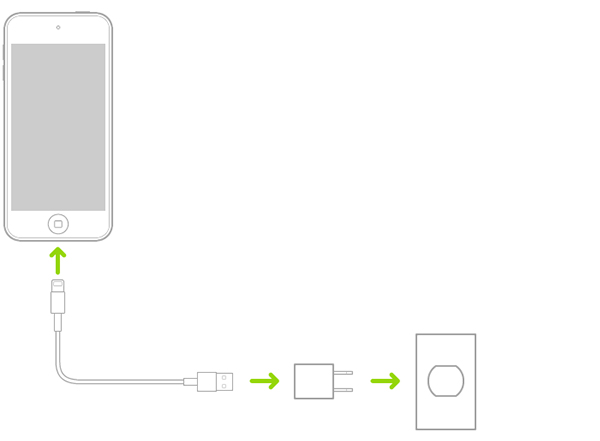 Method 2: Force Restart Your iPod touch
When you meet such problems as iPod touch not turning on, it's very practical to fix it by force restarting it. A force start can clear system glitches and repair your device efficiently when there's no hardware failure. It will neither take much time, nor erase your saved data. You can follow these steps to force restart your device according to its model if your iPod won't turn on:
To force restart iPod touch (7th generation): You need to hold down the Power key together with the Volume Down key in the meanwhile for over 10 seconds, and then loose both keys when you see the Apple logo.
To force restart iPod touch (6th generation) or earlier: Hold down the Home key as well as the Power key for 10 seconds or so, and loose both of them until the Apple logo comes out.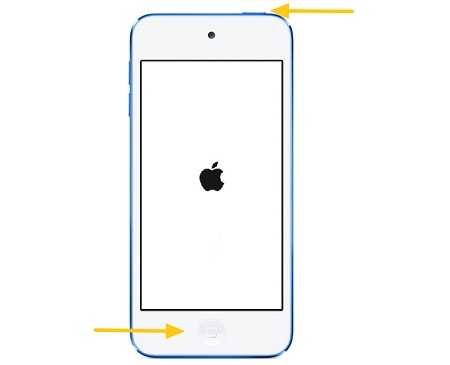 Method 3: Restoring Your iPod touch with iTunes
Another method to fix iPod touch won't turn on is to restore it by using iTunes. It's simple and straightforward for users to conduct this method, so you can finish fixing your iPod touch guided by the detailed instructions from iTunes. Here are the specified steps you can follow to repair your iPod touch.
Step 1. Download and install the latest version of iTunes from the official website. Then, open it on your PC, and keep your iPod connected to it with a lightning cable.
Step 2. Set your iPod touch into Recovery mode by force restarting it.
Step 3. Once your device is detected by iTunes, click on your iPod device icon, and then tap on the Summary tab.
Step 4. Finally, tap on the Restore iPhone button, then Restore to fix your iPod not turning on.

Method 4: Use TunesKit iOS System Recovery
In addition to the methods mentioned above, you are also recommended to use TunesKit iOS System Recovery to fix your device when not knowing what to do if your iPod touch won't turn on. As a professional and practical software, TunesKit iOS System Recovery is able to help you fix your iPod will not turn on in 4 simple steps without data loss. You don't need to worry about not knowing how to conduct it, because this software has a user-friendly interface which will guide you to finish repairing your iPod easily.
What's more, if you are obsessed with such issues as iPhone/iPad/iPod white /black/disabled screen, restored troubles, or software update errors, TunesKit iOS System Recovery can be a useful tool for you to settle down these matters.

Why Choose TunesKit iOS System Recovery?
Fix iPod won't turn on issue without data loss
Fix various iOS problems instantly
Two repair modes are provided
Fix problems on iPhone, iPad, iPod, Apple TV
Clear interface and the steps are simple
Now, download TunesKit iOS System Recovery from the link above, and then use it to fix your iPod won't turn on by following the easy steps in the following.
Step 1

Run TunesKit iOS System Recovery on your PC/Mac and connect your iPod to it

At the beginning, run TunesKit iOS System Recovery on your PC when the installation is finished, and then get your problematic iPod connected to it.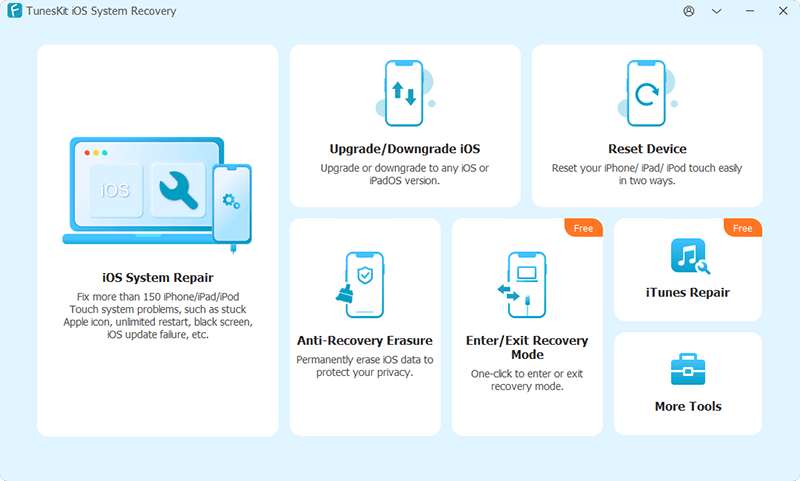 Step 2

Select a mode to fix iPod touch won't turn on

Select either Standard Mode or Advanced Mode in accordance to your own needs. Then, if your device cannot be detected by the software, put it into DFU mode first following the step on the interface.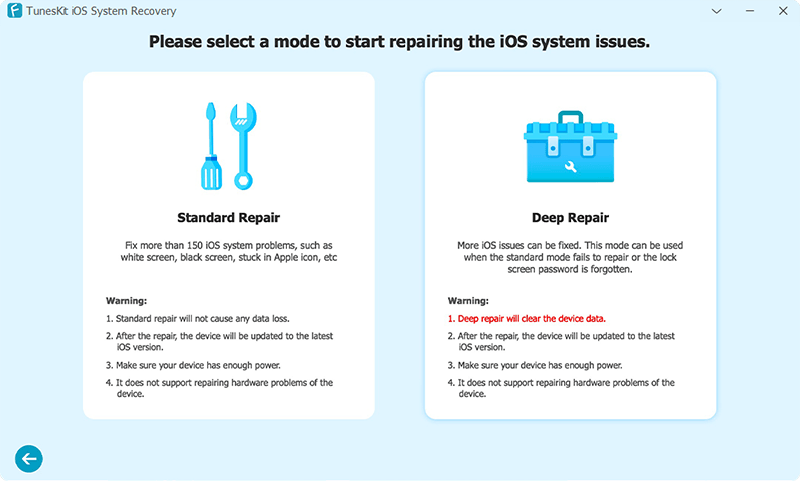 Step 3

Download matched iOS firmware package

When the device info of your iPod comes out, check if it's matched. Then, tap Download to enable the software to download firmware for you.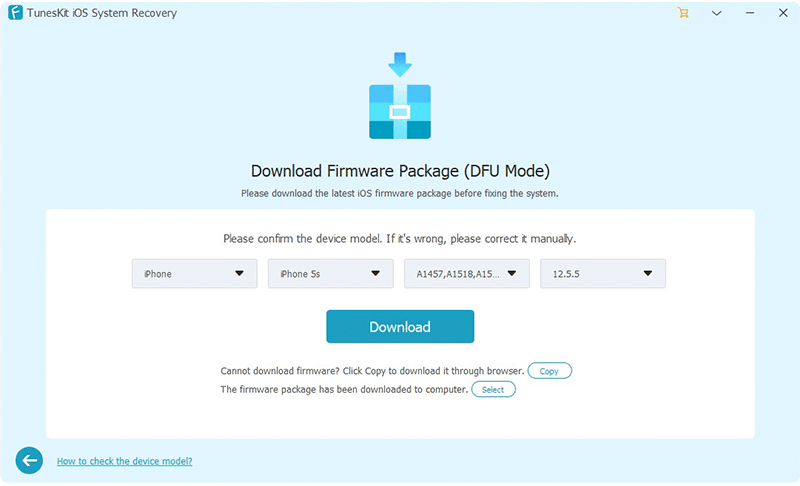 Step 4

Start to repair iPod touch not turning on

Once you finish downloading the firmware, click on the Repair button to fix your iPod touch won't turn on issue.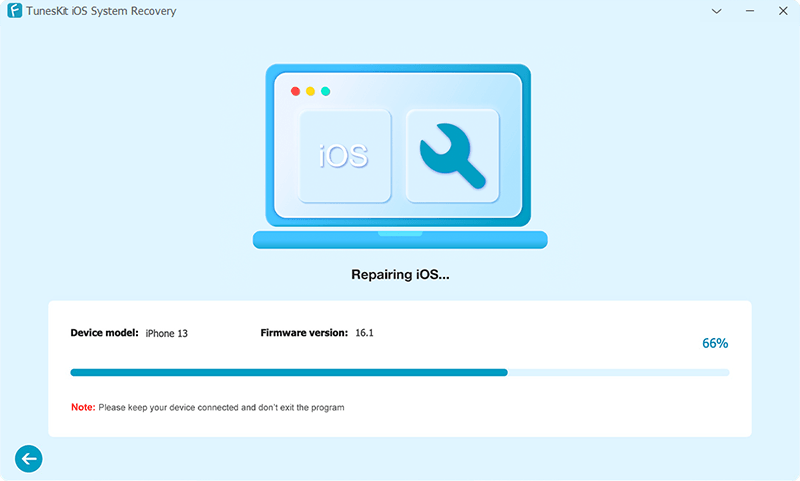 Method 5: Have Recourse to Hardware Repair
When you have tried all the previous methods and your iPod touch is still not turning on, there might be something wrong with your hardware. In this case, you had better take it to an Apple Store for a repair or replacement. It is recommended that you do not disassemble the device to repair it if you do not know the relevant knowledge, which may damage other hardware in your iPod.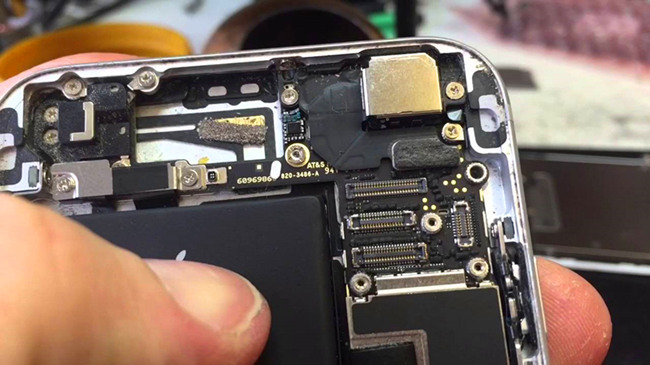 Part 3: Conclusion
That's all for how to fix iPod touch won't turn on. All these five methods we introduced in this post can be operated by you to help you out. And among them, we think TunesKit iOS System Recovery, which is effective and easy-to-conduct, is your best option. You can have a try and tell us your opinions in the comment section.

Brian Davis has covered tech and entertainment for over 10 years. He loves technology in all its forms.