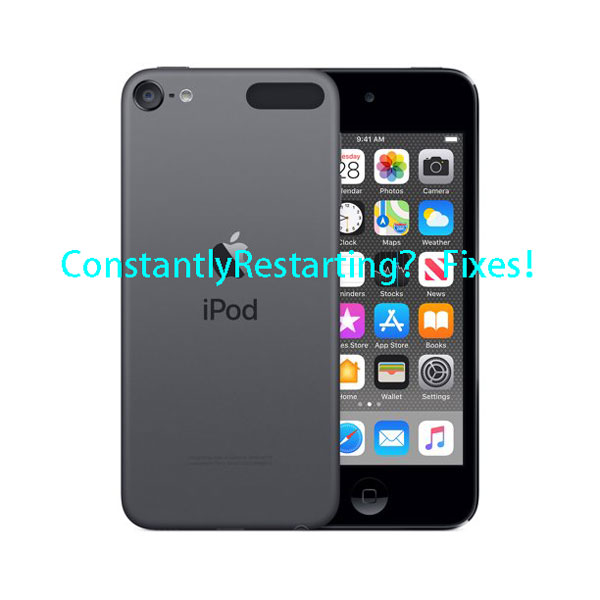 "Each time when I use my iPod touch, it keeps restarting. Sometimes it stays on the interface for 3 or 4 minutes, after that, the process begins to circulate. I was very panic and don't know what to do. Do you have some suggestions? Please help me!"
Do you ever meet with such situation like above? If you did, just keep reading. Actually, there are not many problems about iPod touch. But one issue at times is very head-scratching. That is the iPod touch stuck in reboot loop. When your iPod touch, such as the 5th generation keeps turning on and off, the reasons can often be attributed to a faulty battery, software issues, hardware problems, recently installed applications and so on. But there is nothing to be panic, as next we will provide you the top 10 full solutions to fix it.
Way 1: Reboot iPod touch manually
When our iPhone or other iOS devices stick at an application or encounter other errors, we always restart them firstly. Similarly, before trying out other methods, you can manually reboot your iPod touch to see whether it performs normally after this process. To do this, you just hold down the Power and Home buttons simultaneously for a few seconds till the Apple logo is shown on the interface.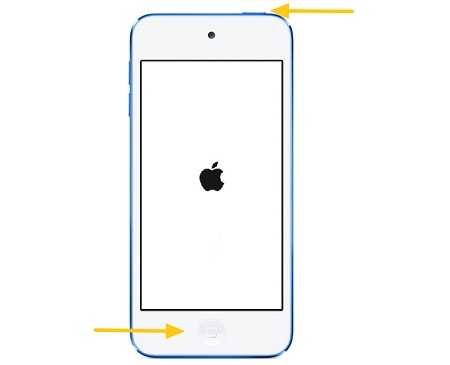 Way 2: Update software
If the first way failed, then you have to give it a try to update the device's software. As we all know, an outdated software sometimes results in a few errors that cause some functions do badly. To fix the constantly restarting iPod touch by updating software, here's what to do.
Step 1: Open Settings on iPod touch.
Step 2: Head to the General.
Step 3: Click Software Update button.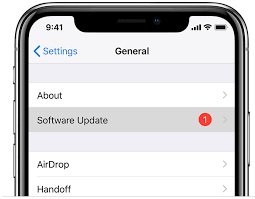 Way 3: Install the latest apps
Similar to an old software, outdated applications may also cause some problems to stop the iPod touch from working well. At this time, updating apps is necessary. You can try following steps.
Step 1: Open the App Store on iPod touch.
Step 2: Tap Updates tab.
Step 3: Click Update button to install the latest apps on the device.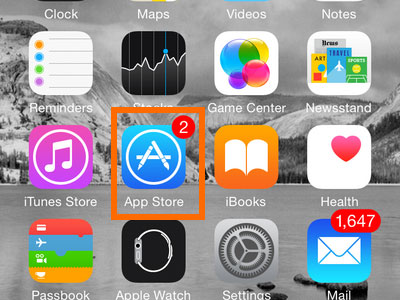 Way 4: Delete faulty apps
Faulty applications not only influence the functions of other apps, but also affect the iPod touch's hardware from times to times. So to remove them so as to resolve iPod touch keeps restarting, do as follows.
Step 1: Launch Settings and then go to "Privacy" > "Analytics" > "Analytics Data".
Step 2: Long press faulty apps and edit them.
Step 3: Click Cross icon and delete.
Way 5: Clean up iPod touch storage
Freeing up storage is a must during the use of iOS devices like iPod touch, because fully occupied storage may make the device disabled or meeting problems. To work out this issue, you can proceed in these steps.
Step 1: Go to "Settings" > "General".
Step 2: Hit Usage and Mange Storage tabs to find the applications that occupy your iPod touch's memory.
Step 3: Delete cache data on each large app.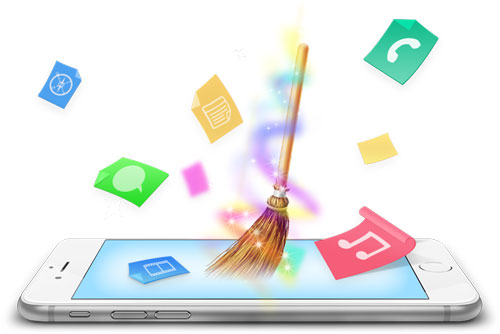 Way 6: Remove SIM card
At present, the latest version of iPod touch can perform both under wi-fi and cellular data connection. But if the SIM card has some errors, the link between your iPod and the wireless carrier will become damaged, which will land the device into restart loop. So to solve this problem, power off the device first, and then employ a reject tool to remove it.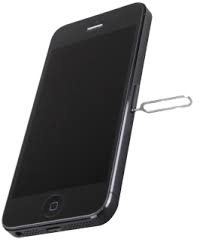 Way 7: Check charge-related accessories
The iPod touch sometimes also gets turning on and off when it is charged. If it is this case, there may be something wrong with the battery, charge port, Lightning cable or charger. You can check these accessories or change them at nearest stores.
Way 8: Factory reset your iPod touch
If your iPod touch 5th generation is still turning on and off at this time, then you could try to factory reset your device. The followings are the procedures. Before that, you had better to back up your data.
Step 1: Tap General in Settings.
Step 2: Click Reset and hit Erase All Content and Settings.
Step 3: After the step 2, your iPod will restart.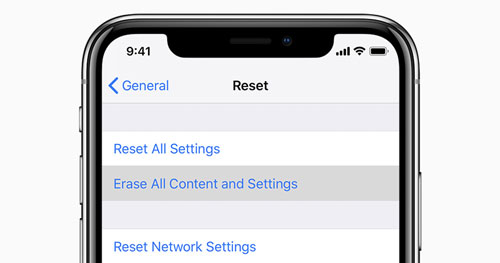 Way 9: Restore iPod with iTunes
There are also other alternatives to work out iPod touch keeps restarting such as restoring the device through iTunes. However, this will remove all your data on your iPod touch during the process. Make sure you will back up the data before trying the following steps.
Step 1: Open iTunes and connect your iPod touch with the computer.
Step 2: Click the Device icon and tap Summary tab.
Step 3: Hit Restore iPod and Restore button in the message appeared.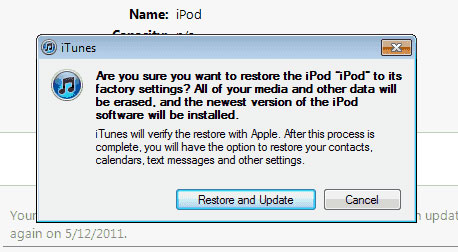 Way 10: Using iOS system recovery programs
Given the fact that some above ways will remove all your data on the device, you must need a secure and efficient one to fix your iPod touch constantly restarting. In that case, you are highly recommended to use professional iOS system repair software like TunesKit iOS System Recovery. It is a wildly accepted tool to make your iOS system back to normal with almost every problem solved. Besides, it fixes all iOS and tvOS system issues including iPod touch keeping restarting, iPhone errors, black screen, Apple TV issues etc. Moreover, it supports diverse devices like iPhone, iPad, iPod touch and Apple TV, and all iOS versions, including the latest iOS 13. Finally, the most important part is that it won't cause any data loss.
Step 1: Open TunesKit iOS System Recovery for Windows on your computer first. Then connect your iPod touch and wait till it's detected. Next, click "Start" button and choose the "Standard Mode" and "Next". At his time, you have to select which device you've connected. Then your device will be allowed into DFU mode. After that, click "Next" button.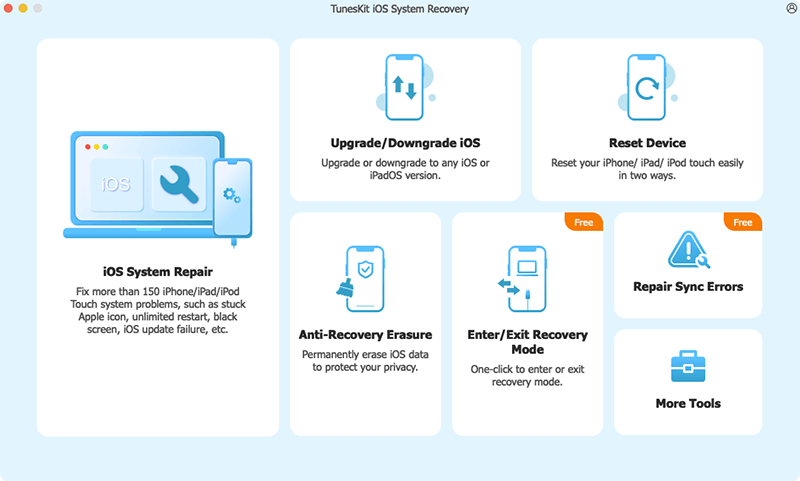 Step 2: Check if the device info is correct, including the model version, iOS version, etc. Correct it if there's anything wrong. If all information is correct, click the "Download" and it will start downloading and verifying the firmware package.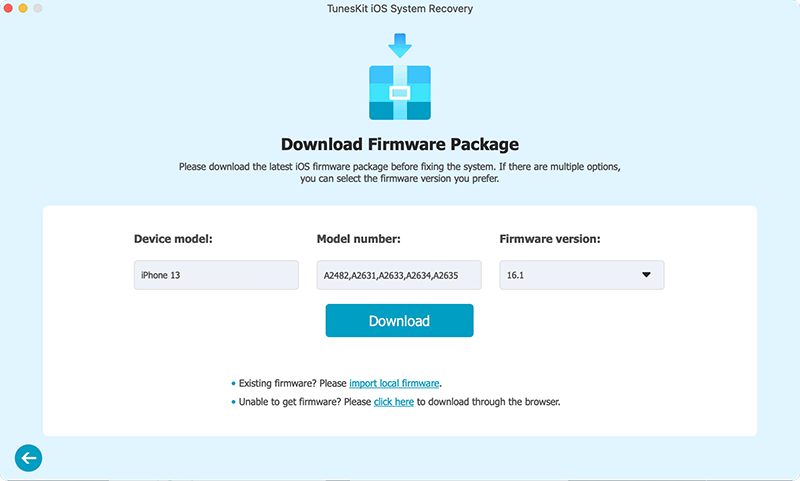 Step 3: When the firmware has been downloaded successfully, you just click the "Repair" button and the program will automatically begin to fix your iPod touch. Make your device connected until the process is completed.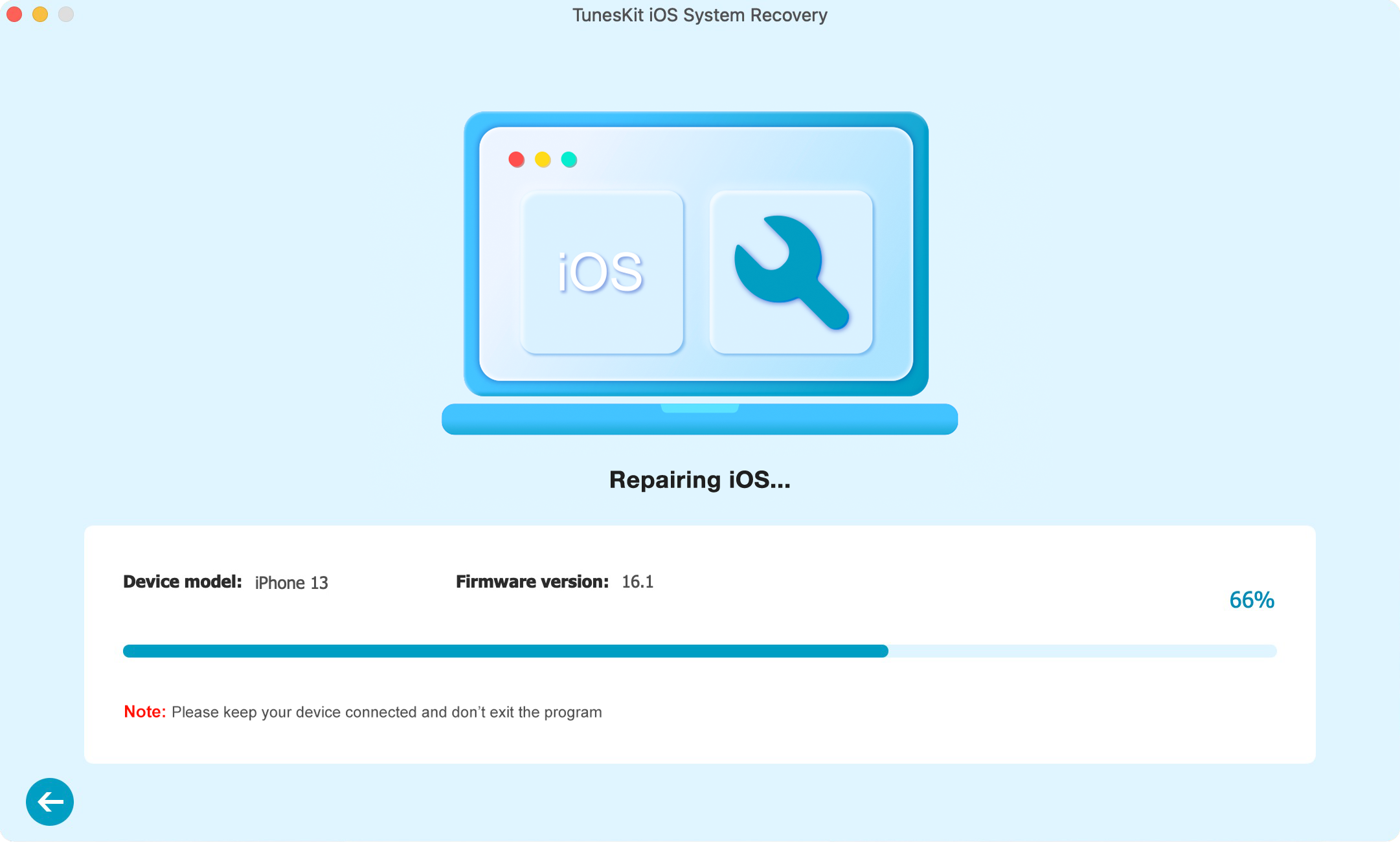 Video Tutorial
Final words
Indeed, iPod touch keeps turning on and off is frustrating and you may think it was damaged. But it's not and this issue is just a common one occurred on the device. When it happens, simply try above 10 complete guides to fix it.

Brian Davis has covered tech and entertainment for over 10 years. He loves technology in all its forms.