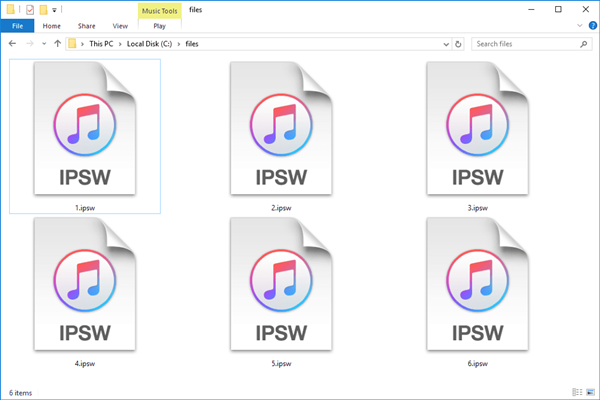 IPSW file is a file format used in iTunes to install iOS, iPadOS, tvOS, and HomePod firmware. The data in the IPSW files is encrypted and can be installed using the Apple iTunes software. When we encounter problems on iOS, one of the best ways to solve them is to restore IPSW on your iDevices.
However, under certain circumstances, restoring IPSW could be a problem for some users because they either don't know how to do it or don't have the right equipment. Well, you can stop looking for guides, as we are going to tell you how to restore IPSW with or without iTunes/Finder in this article.
1. Why You Need to Restore IPSW
Although iOS is an excellent operating system, problems do strike sometimes, such as iPhone won't update, error 4013/4014, iPhone stuck on the update screen, etc. Upon running into such problems, one of the most effective ways is to restore IPSW. In a word, restoring IPSW firmware will get your Apple devices back on running.
But many users may find it difficult to restore it. Why? Reasons for that vary. Some may not know how to use the encrypted IPSW. Some don't have the right version of the IPSW, which offers different versions to iPhone, iPad, iPod, and Apple TV. Other users may be suffering from their iTunes not working, and usually, you have to use iTunes/Finder to restore IPSW. To help users in different situations, we are going to tell you how to restore IPSW firmware with or without iTunes.
2. How to Restore IPSW
In the first part, we will talk about 3 different methods to restore iPhone firmware. Don't hesitate to check them one by one.
Method 1: How to Restore IPSW Without iTunes
To restore IPSW without iTunes, you will need the help of TunesKit iOS System Recovery, a powerful system repair tool available on both Windows and macOS. Aside from helping you restore IPSW without iTunes, it can also solve almost all the system problems in your iOS without hurting the data. It will restore the IPSW firmware on almost all models of Apple portable devices as well as Apple TV. Even dead or disabled Apple devices can be rescued by this program.
Although with such all-round features, TunesKit iOS System Recovery remains to be user-friendly. To restore IPSW, all you need to do is to click several buttons and the work will be finished in several minutes. Even users who have never gotten in touch with similar tools can complete the restoring process easily without iTunes.
In the next part, you simply need to follow the step-to-step guide to complete the restoring process.
Step 1: Download and install TunesKit iOS System Recovery and launch it. Then, connect your Apple device with your computer. It is recommended to put your iDevice into the recovery mode with one-click, because the IPSW can only be restored in the recovery mode. Simply press the "Enter Recovery Mode" button. And when your device has entered the recovery mode, press the "Start" button.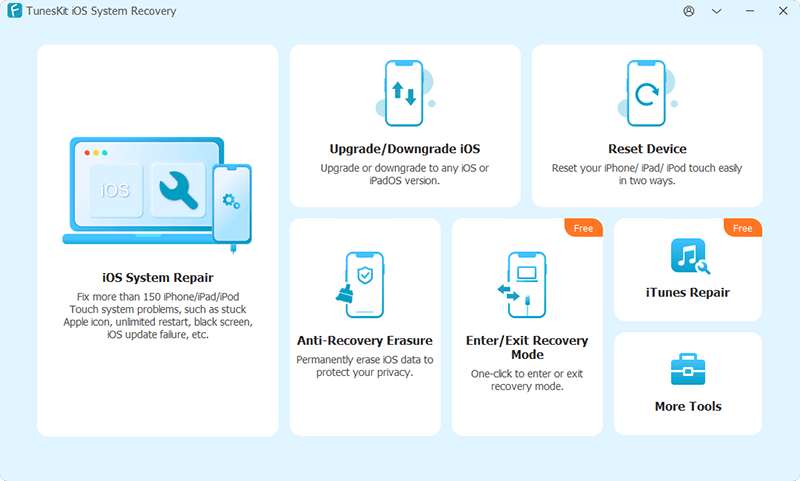 Step 2: In this window, two modes will be presented for you to choose from. Choose the "Standard Mode" box so that your iPhone restore IPSW won't cause any data loss (The "Advanced Mode" will tackle complex issues by erasing all the data). Then press the "Next" button to continue.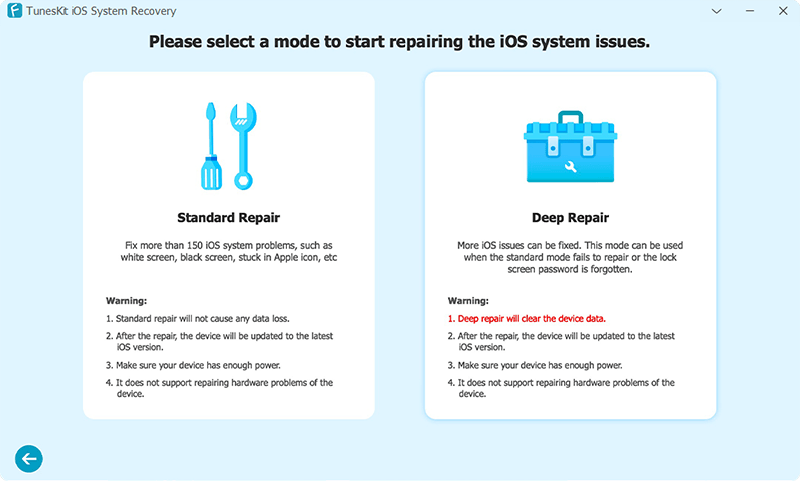 Step 3: The program will scan your device and display some device model of it on the screen. You should make sure that all is right and correct the wrong options. Press the "Download" button to start downloading the IPSW firmware that matches your device model.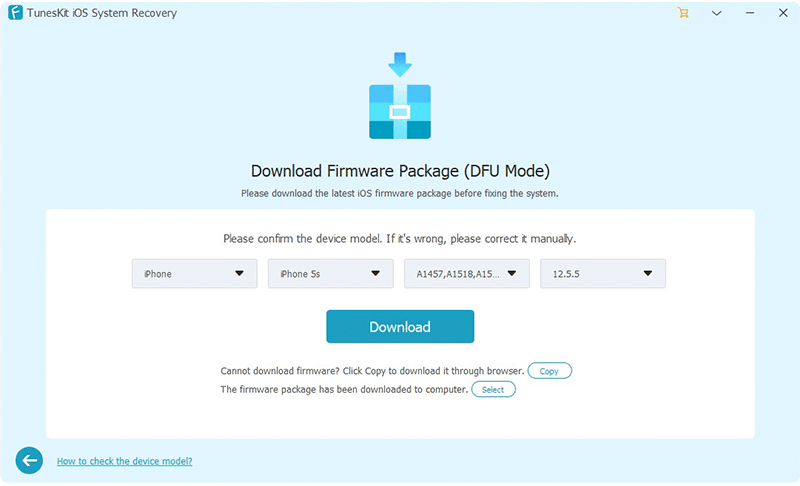 Step 4: Once the IPSW firmware is downloaded, push the "Repair" button to unzip the file and restore it on your iPhone. By the time the restoring process completes a few minutes later, disconnect the device and see if the IPSW has been restored successfully.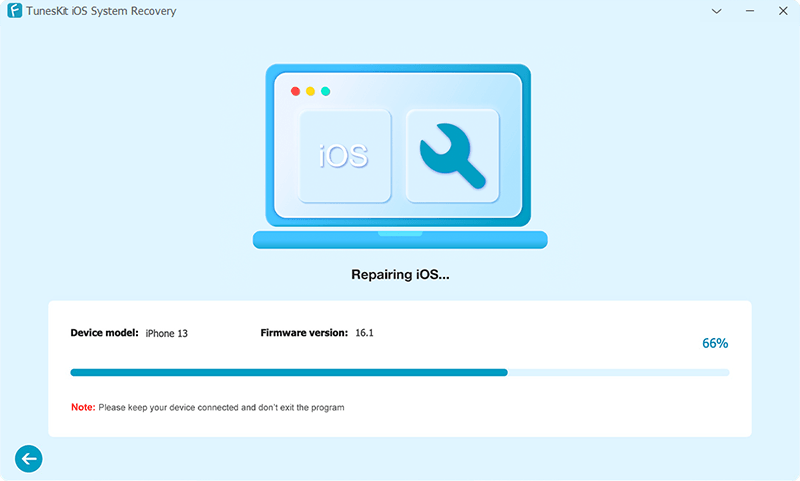 Method 2: Finder/iTunes Restore IPSW Tutorial
Usually, iPhone users need to use iTunes on PC or Finder on Mac to restore IPSW. If your iTunes or Finder can work properly, you might as well resort to them. Plus, please make sure you have the latest version of iTunes installed. Next, you just need to follow the guide below.
Step 1. Connect your Apple device to the computer and select it.
Step 2. On Mac, hold the "Option" key and then press the "Update" button.
On Windows PC, hold down the "SHIFT" key and press the "Update" button.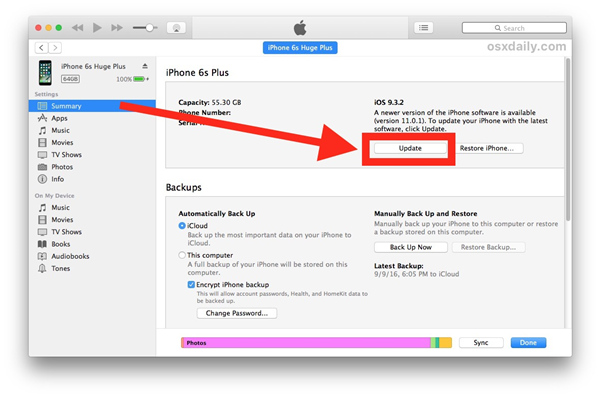 Step 3. Select the IPSW file you downloaded on your computer and press the "Choose" button. The restoring process will begin and you should wait until it finishes, which would take longer than updating iOS on your phone.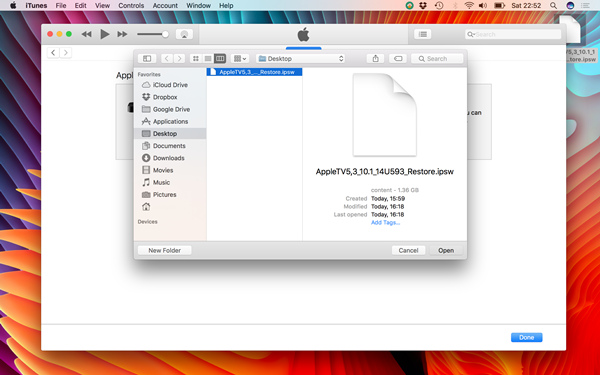 Video Tutorial: How to Restore IPSW on iPhone Without/Using iTunes
3. FAQ
1. Where can I download IPSW?
IPSW files for different Apple devices can be downloaded from websites like IPSW.me or OSXDaily.
2. Why should I choose IPSW?
Compared with the common updates over the air, IPSW consists of the complete update files, usually 10 times as large as OTA files, and therefore guarantees a better success rate.
In some rare cases, users want to use IPSW because it is necessary to create custom configured firmware for future restores. The customized IPSW is often created by third-party applications like PwnageTool or sn0wbreeze. This is almost exclusive to those who jailbreak or unlock the iPhone, and normal IPSW by Apple should be enough for common users.
4. Conclusion
This article has provided the best methods to restore IPSW as well as answers to the most frequently asked questions. There is a tutorial for users who can properly use iTunes or Finder. And a more user-friendly method is provided that doesn't require those two tools and can fix most iOS problems. We sincerely hope that our guide will help you restore the IPSW and have a better understanding of it.

Brian Davis has covered tech and entertainment for over 10 years. He loves technology in all its forms.