2 Quick Ways to Restore iPhone from DFU Mode with or without iTunes
5 mins read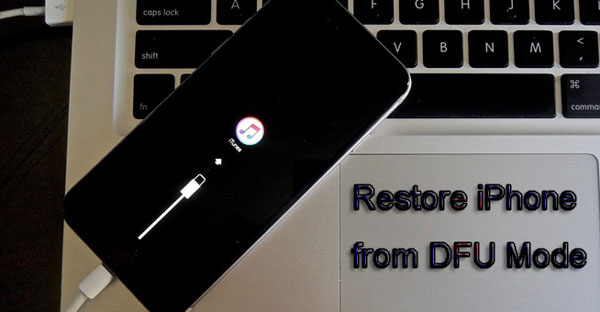 What is DFU Mode?
Device Firmware Upgrade, abbreviated as DFU, is the device-related mechanism to update the firmware, and it allows all devices to be restored from any state. When iPhone, iPad and other iOS devices become stuck in DFU mode, you cannot have access to them. For example, they get unresponsive even a call or a message arrives, and can only interact with iTunes.
Then it comes to the iOS devices DFU mode recovery, which refers to the upgrading or downgrading the firmware on the iPhone, iPad or iPod, etc. So now you might be wondering how to restore iPhone from DFU mode. In the subsequent context, we have mapped out two methods to iPhone DFU mode restore, including restoring with iTunes and without iTunes.
Part 1. Restore iPhone from DFU Mode with or without iTunes
Way 1: Restore iPhone from DFU Mode without iTunes via TunesKit
Yet apart from restoring with iTunes, there is another useful method that doesn't require iTunes and most importantly, it won't cause any data loss. That is employing iOS system recovery software like TunesKit iOS System Repair to restore iPhone from DFU mode. In addition to that, even if your iPhone gets stuck on the Apple logo, black screen or meets other iOS issues, TunesKit iOS System Recovery is able to solve these problems and make your device function normally. Besides fixing more than 150 kinds of iOS errors, this application also supports resolving tvOS system issues. And it is fully compatible with iPhone, iPad, iPod and other iOS devices, and even the latest iOS system. Last but not least, with 2 smart recovery modes and simple operations, it has been warmly welcomed by many users around the world.
Now let us look at how to restore iPhone in DFU Mode without iTunes .
Step 1: Download TunesKit iOS System Recovery software and install it on the computer. Then open this program and connect your iPhone to PC with a USB cable until the device is being detected. Next, choose the repairing mode and click the "Start" button.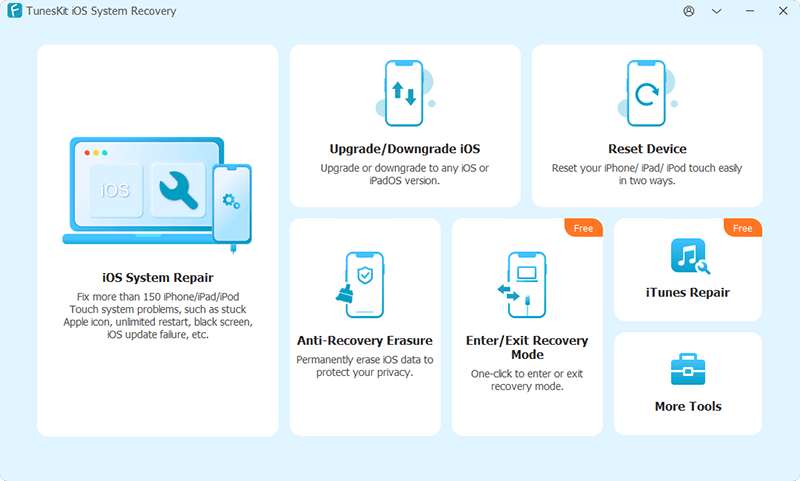 Step 2: If your iPhone has already been in the DFU mode, then it will require you to check the device-related information including version and model. Then you have to hit the "Download" button on the right corner of this tool's screen. After that, the firmware package corresponding to your device will start to being download.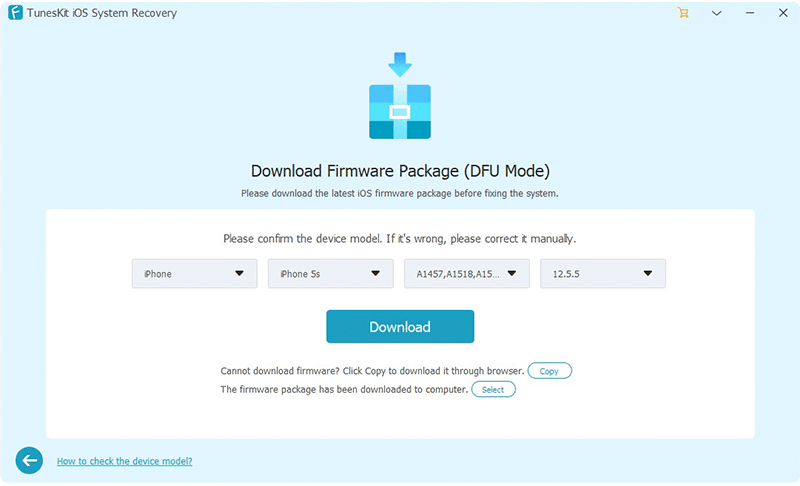 Step 3: After it successfully downloads and verifies the firmware package, just tap the "Repair" button and it will begin to repair your iOS system by itself. Finally, when the fixing process is completed, you succeed in restoring your iPhone from DFU mode. Don't disconnect your iPhone during the whole process, otherwise you have to try it again and some other problem may occur.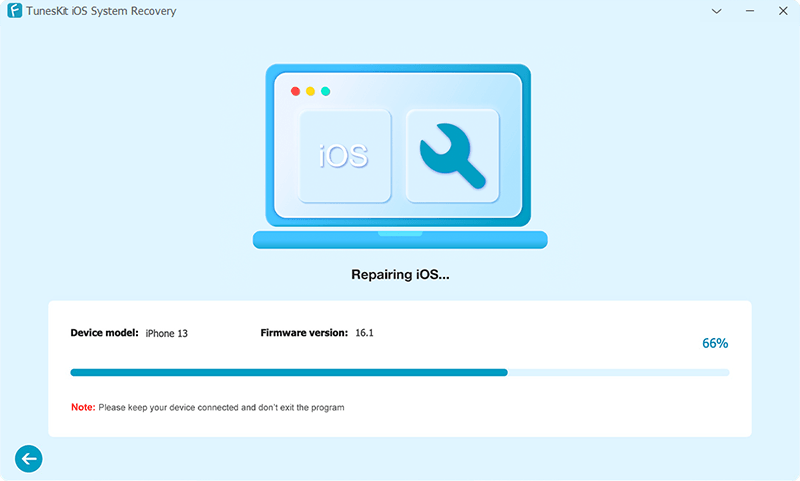 Just as mentioned above, using TunesKit iOS System Recovery is easy and speedy. You don't need other people's help and wait for a long time. Come and simply give it a try.
Way 2: Restore iPhone from DFU Mode with iTunes (Data Loss)
iTunes, which is particularly designed by the Apple company for the iPhone/iPad/iPod, is effective for these iOS devices. As it can recover lost and deleted data, and factory reset the iPhone when it has some problems like freezing and disability. Many people rely on this program to manage their iOS devices, so it is natural that what first occurred to them is using iTunes when it comes to restore iPhone in DFU mode.
To restore your iPhone, iPad or iPod from DFU mode with iTunes, you can follow steps as presented here.
Step 1: Install the latest version of iTunes.
Step 2: Launch iTunes and turn off the iPhone/iPad/iPod.
Step 3: Connect the iOS devices to the computer.
Step 4: Press the Home button until the DFU mode in shown on the main screen.
Step 5: Let go of the Home button.
Step 6: Wait iTunes detect your iOS device, which is in DFU mode.
Step 7: Tap the Restore iPhone/iPad/iPod button on the message appeared on the iTunes screen.
Step 8: Finally confirm the Restore order and then iTunes will begin to restore your device from DFU mode by itself.
Step 9: After the restoring is finished, your iPhone/iPad/iPod will restart automatically.

However, restoring iPhone from DFU mode with iTunes will lead to data loss. Yes, this method will indeed remove all of your data saved on the device. If that happens, you have to recover the data from a previous iTunes backup, which doesn't contain the most recent data.
Video Tutorial: 2 Effective Ways to Restore iPhone from DFU Mode with/without iTunes
More FAQs Related to DFU Mode
Letting your iPhone get into the DFU mode by virtue of iTunes is easy to operate. The followings are the related steps.
Step 1: Connect iPhone with the computer, then open iTunes and press the Power and Home buttons in the meantime.
Step 2: Release the Home button and pressing the Power button simultaneously.
Step 3: Loosen the Home button and wait the iPhone screen goes black.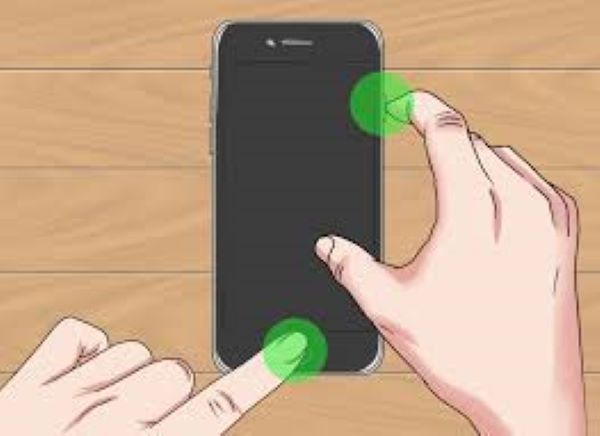 2. How do I get my iPhone out of DFU mode with iTunes?
If your iPhone has entered the DFU mode yet you want to exit it, at this time, you can try out procedures below.
Step 1: Launch iTunes and hook your iPhone with PC.
Step 2: After the iTunes detects the device, simultaneously hold the Home and Sleep buttons, then loosen them together.
Step 3: Press the Power button instantly till the iPhone get restarted.
3. Does DFU mode erase everything?
Putting your iPhone into DFU mode and restore iPhone in DFU mode will bring the device back to factory settings. So it does remove everything including data and applications on the iPhone. If you are seeking methods to restore iPhone data after DFU mode, you can directly use professional iPhone data retrieving tools such as TunesKit iPhone Data Recovery, which can retrieve diverse kinds of data including photos, Wechat messages on iPhone, etc. and has a customer-friendly operation.
4. How to put iPhone in DFU Mode without computer?
Many users are wondering how to put iPhone in DFU Mode without iTunes. Unfortunately, it is unfeasible for users to enter DFU Mode without iTunes. We need to launch iTunes on a computer and restore our iPhone when we enter it into DFU Mode. Thus, we can enter an iPhone into Recovery Mode but not DFU Mode without a computer.
Bottom Line
Although restoring iPhone/iPad/iPod from DFU mode may seem hard to be solve, yet above two ways are easy and effective in fixing this issue. But for the sake of your device safety, we sincerely suggest you use TunesKit iOS System Recovery to restore iPhone from DFU mode without iTunes. Finally, if you think this article is helpful, you can share it with your friends and relatives who have the same confusion.