6 Workable Methods to Solve Apple Music Crashing/Freezing on iPhone/iPad
Updated by Brian Davis on Feb 8, 2022 1:35 PM • Category:
Fix iOS Issues
5 mins read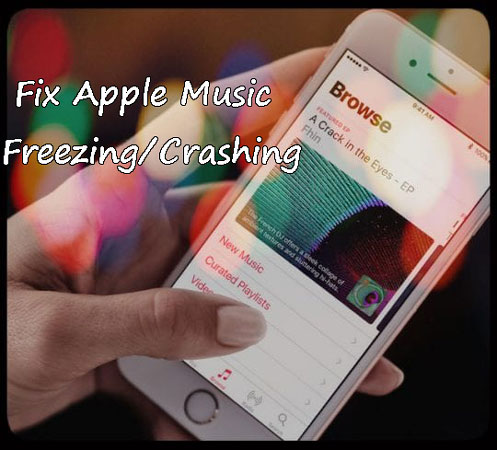 Do you use the Apple music app on iPhone or iPad? Have you updated your device's version to the latest iOS 15? Whichever the device and no matter what iOS version it runs, you might meet with the problem of poor performance of the app such as the Apple music freezing or crashing. You may scratch your head and have no idea about what to do when it stops suddenly and gets unresponsive. Well, this article is posted here to help you to fix the Apple music freezing/crashing on iOS 15/14.
Why does Apple Music keep crashing on iPhone
If you are now troubled by the issue that Apple Music keeps crashing on your iPhone, here are some possible glitches that may cause it.
- iOS version. An outdated or damaged software version will cause this issue. If you are now using an outdated iOS version, you can update it to the latest version to fix this issue.
- Application. Sometimes you may need to update the Apple Music to the latest version to avoid meeting bugs like keeping crashing.
- Network. Keep your network connection stable to get the best experience using Apple Music. Otherwise, it will keep crashing and freezing.
Top 6 methods to fix Apple Music crashing on iPhone
Method 1: Force quit all background apps
Once the Apple Music turns frozen on your iPhone/iPad, what first comes to your mind is to quit all apps running in the background. Because there might be a faulty program that cause the problem. To force quit all apps background, you could double press down the Home button or launch the control center, then swipe them up off the top screen. After a while, re-open the Apple Music app to see if the issue still exists.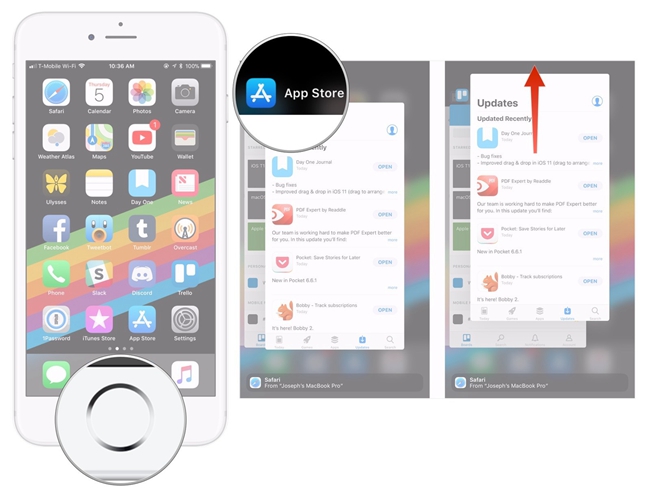 Method 2: Use Apple Music de-freeze software
Next, if you would like a faster and more effective way to solve Apple Music app crashing or freezing on iOS 15/14, then you are highly recommended to use professional iOS system repair tools to fix the iOS, thus de-freezing the app on your iPhone/iPad. Here you could use the widely popular software named TunesKit iOS System Repair. This mighty program can definitely settle the unresponsive Apple Music while keeping all data on your device. It is powerful enough to fix more than 150 iOS issues like iPhone force restart not working, no sound on iPhone video, iPhone camera shaking while taking pictures.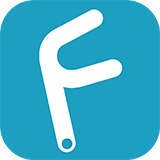 Key Features of TunesKit iOS System Recovery
Resolve 150+ kinds of iOS problems like iPhone freezing, app crashing and so on.
Support almost all iOS devices and iOS versions.
With Standard and Advanced Modes to fix common and complicated issues.
One-click to enter or exit recovery mode.
Support downgrading iOS versions.
Easy steps and user-friendly screen.
Try It Free
600,000+ Downloads
Try It Free
600,000+ Downloads
Step 1: Install TunesKit iOS System Recovery and open it. Then connect your iPhone to a PC. Click on the Start button to start fixing the unresponsive Apple Music app and choose the Standard Mode.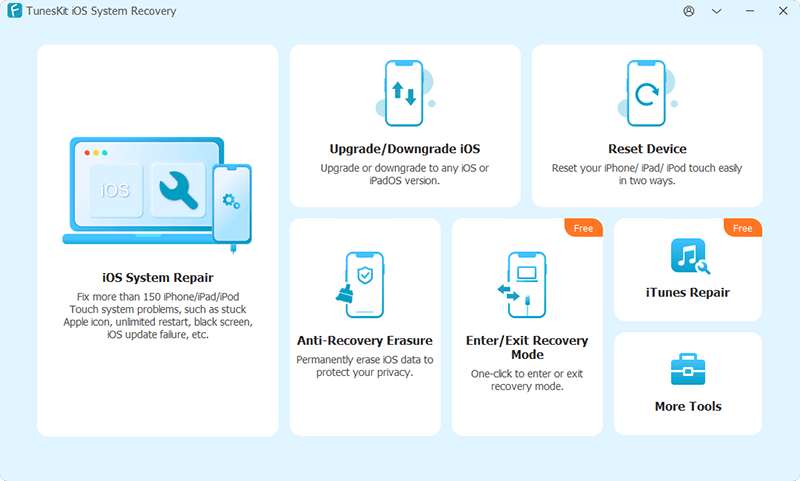 Step 2: Check the information of your device. Then tap on the Download button to download and verify the firmware package matched with your device.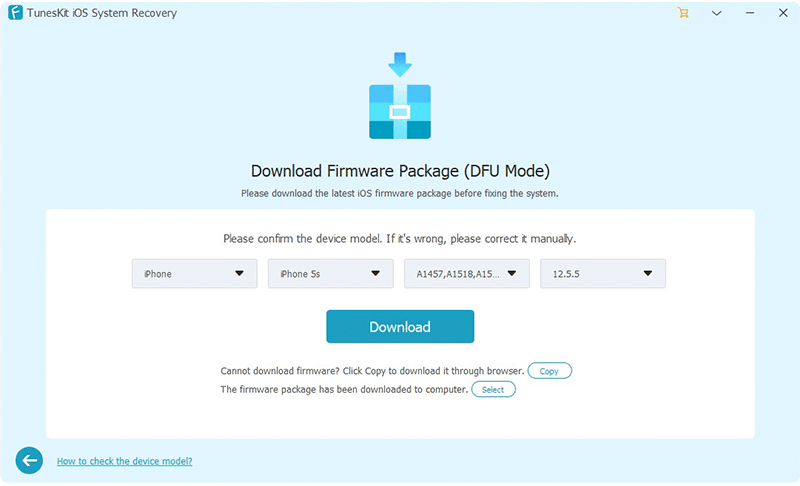 Step 3: After the firmware package is successfully download and verified, press down the Repair button to fix the iOS system. Finally, when the process finishes, close the software and plug out youe deice. At this time, the Apple Music freezing or crashing on iPhone/iPad is resolved.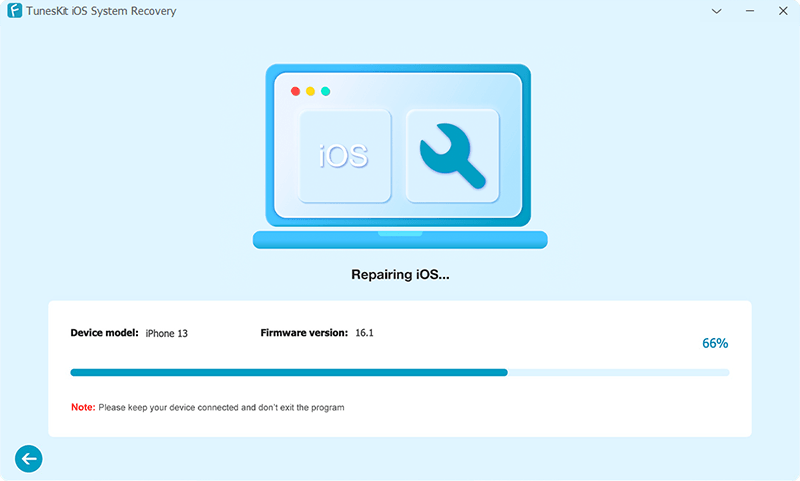 Method 3: Restart your iPhone/iPad
Of course, there are also other fixes that are worth trying. Firstly, restart your iPhone or iPad, which is publicly recognized as the common tip to work out most problems.
To restart iPhone X/11 or later models, simultaneously hold the Side and the Volume buttons until the Slider is shown, then pull on the slider to turn off the iPhone, finally press the Side button to turn on your device.
To reboot iPhone SE (2nd)/8/7/6, hold the Side button until the Slider is dispalyed and pull on the slider to switch off the iPhone, finally press down the Side button to switch on the device.
To restart iPhone SE (1st)/5 and former, hold the Top button until the Slider is presented, then pull on the slider to power off the iPhone, finally press the Top button to power on your device.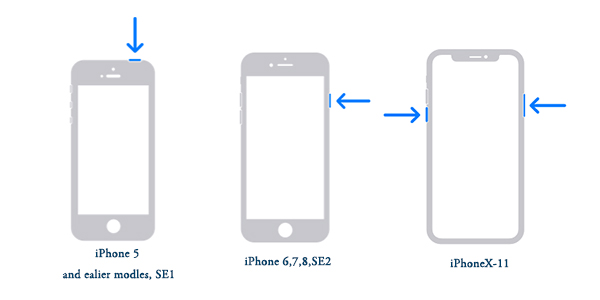 To restart iPad with Home button, press down the Home and Power buttons at the same time until the Apple logo appears on the interface.
To reboot iPad with Face ID, each quickly press and let go of Volume Up and Down buttons, then hold the Top button until the Apple logo appears on the screen.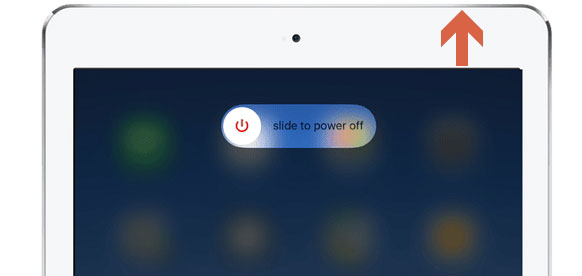 Method 4: Reinstall the app
Usually, when an app goes wrong, directly deleting and installing again is possible in dealing with the issue. Similarly, uninstall the Apple Music app and download it later to resolve the its crashing problem.
Procedures: Long press the Apple Music app icon on the Home interface till the "X" signal pops up, then click the cross and head to the App store to install it again.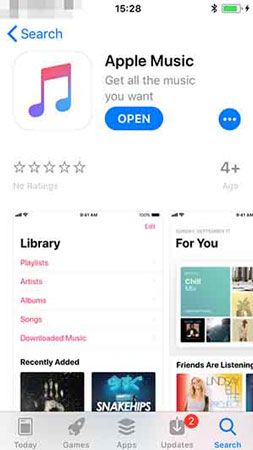 Method 5: Re-sign in the app
After re-installing the Apple Music app, you must have to re-log in the account. If not, try to exit it and re-sign it to get out of this trouble. Here's how to do it.
Step 1: Open Settings of iPhone/iPad and tap the iTunes & App store option.
Step 2: Click Apple ID to sign it out, then sign in again by entering your account and passcode.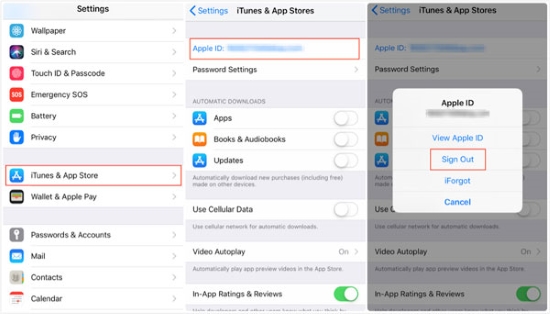 Method 6: Restore your iPhone using iTunes
The last resort to fix Apple Music carshing on iPhone is using iTunes to restore it. This tool can solve your problem absolutely. However, it will erase all your iPhone data as well. If you are attempting to use this method, back your iPhone first if you don't want to lose your personal data. Follow the steps to make it.
Step 1: Connect your iPhone to your computer and then launch iTunes.
Step 2: Click on the little iPhone icon, select Summary and hit on Restore iPhone.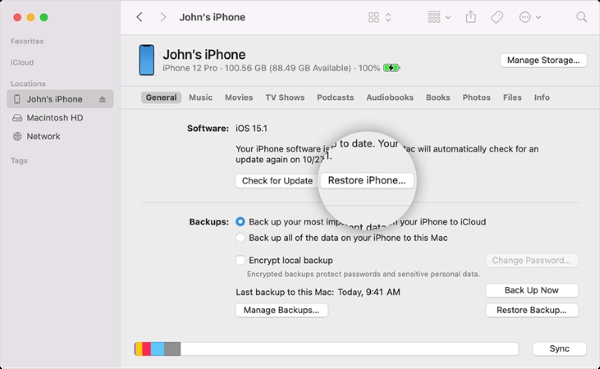 Video Tutorial: 4 Fixes for Apple Music Crashing/Freezing on iPhone
Here is a video tutorial on how to fix Apple Music crashing on iPhone. You can get more video tutorials for solving iOS issues on our channel.
Verdict
The Apple Music app on iPhone/iPad turning freezing or crashing after an iOS update could result from several situations. To name a few, an improper installation of iOS update, an incompatible app version and some software bugs. Whatever, what is significant is that you are able to resolve the matter with the help of the above 6 useful methods.