How to Stop Facebook App Crashing
Posted by Brian Davis on Aug 26, 2019 6:02:11 PM • Category:
Restore iPhone
4 mins read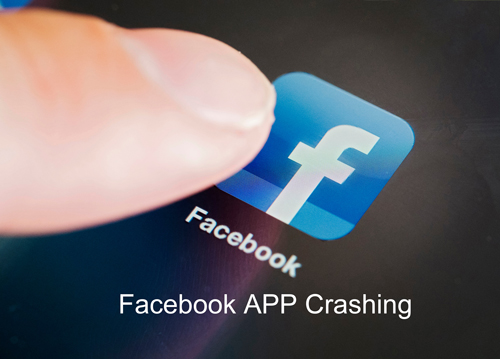 As the largest social network in the world, Facebook allows users to send messages to friends and post status updates. At present, having Facebook is part of our daily lives, and Facebook now provides a mobile app in order to cater to the development of mobile phone. However, Facebook app crashing, a problem commonly reported by iPhone users, now is hindering the usage of Facebook app.
To help all those users who find their Facebook app keeps crashing, we conclude 5 practical solutions to the problem. Follow the instructions and your Facebook will be functioning normally again.
1. Stop Facebook Keeps Crashing by Closing Conflicting Apps
If your Facebook app keeps crashing when multiple apps are opened, especially when your iPhone runs slow and apps having difficulty loading, then the simultaneously operating apps may impose too much pressure on your iPhone. Try to close all the apps and open the Facebook app again, then your iPhone may back to normal.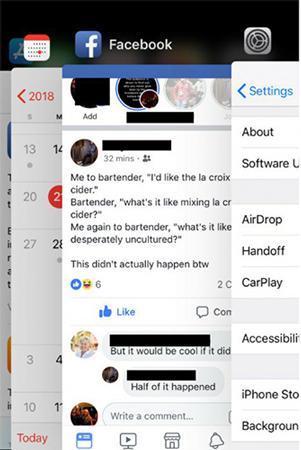 If your Facebook app crashes when an app is newly installed, then it can be deduced that the newly installed app might conflict with the Facebook app. Under this circumstance, try to uninstall the new app and use Facebook app to see if the crashes happen again.
2. Stop Facebook Keeps Stopping with TunesKit iOS System Recovery
The constant crashes of Facebook may not result from the glitches of the Facebook app itself but iOS System issues and the problems of other apps. However, it would be strenuous to find out the real culprit, since it can be iTunes issues, bugs of different apps or incompatibility between the iOS system and Facebook app. Don't worry, we have prepared a shortcut for you.
TunesKit iOS System Recovery is a useful iOS repairing tool that covers over 30 issues. You can use it to do a complete sweeping of your iPhone, which can resolve all the potential problems related to the nonstop crashes. We understand that no one wants accidental data loss in the recovery process, and we guarantee that, as long as you follow the instructions, nothing will be gone after the recovery except the Facebook app crashes.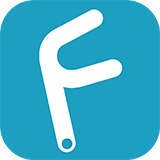 TunesKit iOS System Recovery Key Features
Covers 30+ iOS issues and iTunes glitches
User-friendly interface
3 easy steps to finish the whole operation
No data loss in the Standard Mode
Lowest price among similar products
Try It Free
600,000+ Downloads
Try It Free
600,000+ Downloads
Next part is a tutorial of using TunesKit iOS System Recovery:
Step 1

Connect iPhone to PC / Mac

Connect your iPhone with the computer with a Made for iPhone cable. After it is being detected by the software, tap the Enter Recovery Mode button and the Recovery Mode of your iPhone will be turned on.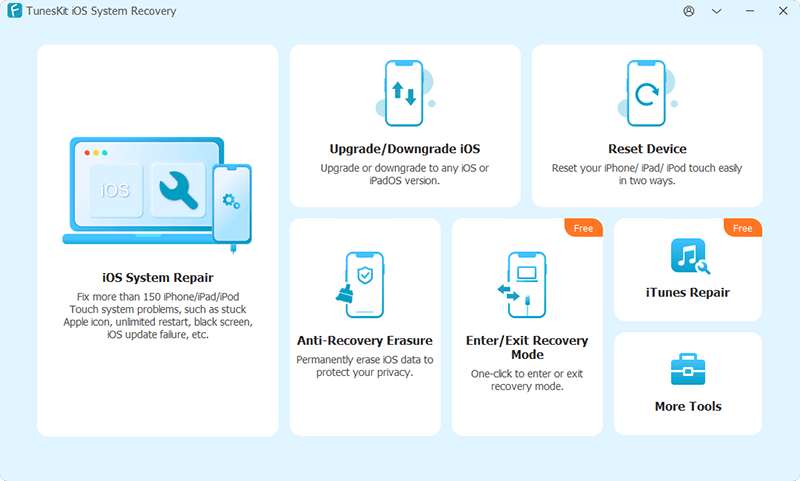 Step 2

Choose the Correct Mode

In the next interface, select the Standard Mode and click the Next button. The reason is that the Standard Mode is designed to resolve common troubles like Facebook app crashes without data loss, while the Advanced Mode is designed to repair senior issues at the cost of your data.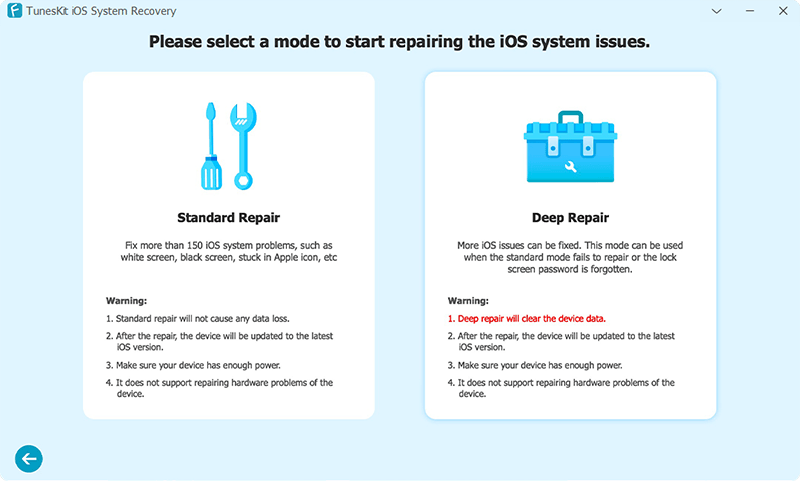 Step 3

Download Firmware Package and Fix Facebook Crashes

In the next window, the info of your device will be detected and presented, and what you need to do is to ensure it is correct so that the software can download the proper firmware. After your examination, download the matching firmware and click the Repair button. After a few minutes of waiting, your Facebook may cease to crash.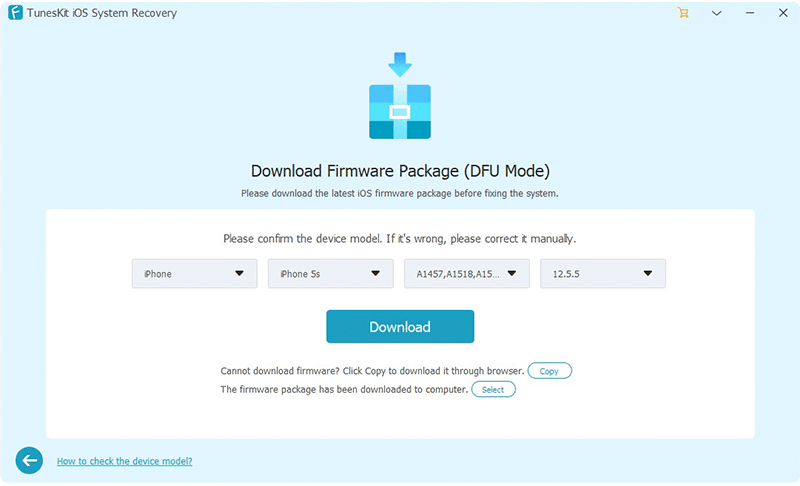 3. Hard Restart to Stop Facebook App Constant Crashes
I assume that anyone who found their Facebook keeps stopping will try to close Facebook and reboot their phone, aiming to reset everything on the iPhone. But normal reboot will not be complete enough, while a hard restart, or so-called force restart, will be thorough enough.
Here is a guide to hard restart different models of iPhones:
1) iPhone 6 and its derivative models: hold the Power button and the Home button simultaneously until the Apple logo appears on the screen, which costs about 10 seconds.
2) iPhone 7 and its derivative models: hold the Power button and the Volume button simultaneously until the Apple logo appears on the screen, which costs about 10 seconds.
3) iPhone 8 and later models: press and quickly release the Volume up button, and then do the same to the Volume down button. Next, hold the Side button until the screen suddenly shuts off, which takes about 10 seconds.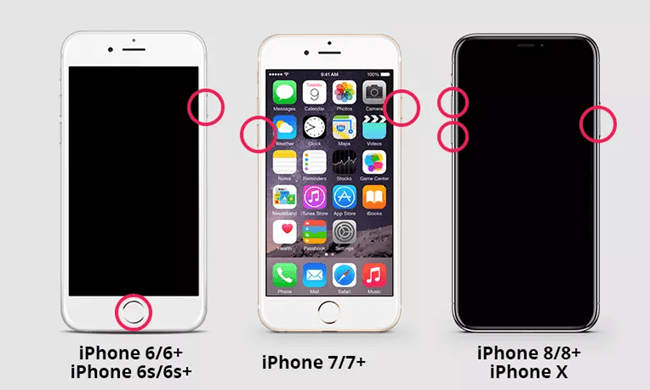 4. Update Your Facebook to Stop Facebook Keeps Crashing
Old versions of Facebook might cause Facebook to close constantly, while new updates may contain patches to fix various bugs. Therefore, it is recommended to make sure your Facebook is the latest version. Facebook, along with other apps, is supposed to update automatically when Wi-Fi is connected, but if it doesn't, you should update it manually.
To update your Facebook manually:
1) Open App Store
2) Tap Updates at bottom right
3) And if Facebook's update is available, tap Update.
Sometimes, Facebook may refuse to be updated. In this case, you need to uninstall the Facebook in your iPhone and reinstall it again.
5. Ask Apple Official Support to Resolve the Facebook App Crashing
Browsing through different guides to stop Facebook from crashing, you would notice that many of them suggest the iTunes Restore as the final solution. However, I recommend you to be cautious before taking this action, because it will erase all the personal data of yours.
If all the previous solutions fail to work, the best final solution is to ask for the customer support of Apple. The professional technicians will provide you with the best and, most importantly, the safest solution possible.
Bottom Line
Follow all the instructions given above, Facebook should stop crashing. All these instructions will not cause data loss, because we understand that no one wants their precious photos, documents or other files get lost.
Hope this article can help you make the Facebook app back to normal again.