How to Recover Apple ID without Password
Posted by Brian Davis on Dec 12, 2022 4:30 PM • Category:
Unlock iOS
4 mins read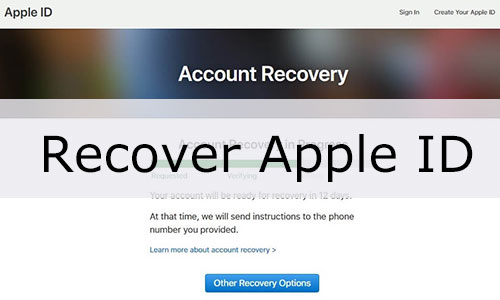 In the event that you forget the password that was associated with your Apple ID, you can typically reset it. However, if you have activated two-factor authentication but are still unable to reset your Apple ID password, Apple will prompt you to select Account Recovery as your next course of action. Some people might be curious about what Account Recovery is and how it can be done. Within the article, we will both explain it and provide instructions on how to recover Apple ID.
Part 1. What is Account Recovery
Account Recovery is the last resort to recover your Apple ID account if you are unable to provide enough information to reset your Apple ID password. However, it is not instantaneous, and for the sake of your account and information security, it usually takes a few days or more for the operation to recover your Apple ID account, and you will be informed of the exact time of recovery.
In the meantime, you still have the opportunity to continue trying to reset your Apple ID password during the account recovery waiting period. We'll provide you with several helpful ways to reset your password in the next part. If they all fail, you'll have to wait until the recovery period ends.
Part 2. How to Recover Your Apple ID Account
Method 1: How to Recover Apple ID Password on Your iPhone or Other Trusted Apple Device
Before attempting to use the Recovery Account on the Apple website, you can reset your Apple ID password on your iPhone or other trusted Apple device, provided you are already signed in to your Apple ID account on another Apple device. Let's see how to do that.
Go to Settings, click on your name account > Password & Security > Changed Password, and follow the instuctions to reset the password.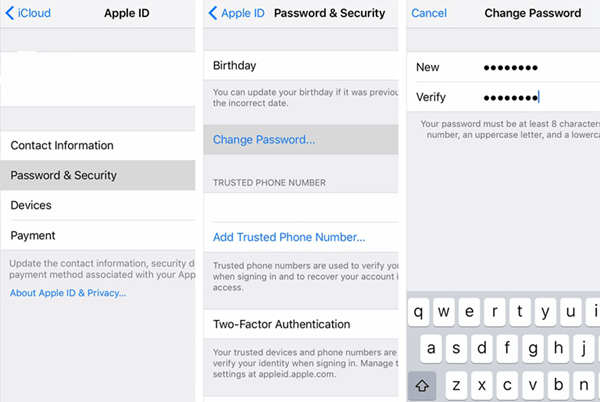 Note: These steps are also available on your other trusted Apple devices, like the iPad and Apple Watch.
If you'd like to reset the password on your Mac computer, go to Apple menu > System Settings > System Preferences > Password & Security > Change Password, and follow the prompts to reset the password.
Method 2: How to Recover Apple ID Password on a Borrowed Device
In case you don't have another trusted Apple device, you can borrow an iPhone from a friend, family member, or even the Apple Store. In this situation, the steps to reset your Apple ID password are different from those described above. Follow the guidelines below:
Step 1: Open the App Store on the borrowed iPhone and install the Apple Support app.
Step 2: Launch the app and scroll down to Passwords & Security > Reset Apple ID password.
Step 3: Click on A different Apple ID, type into your Apple ID, and follow the prompts to reset your password.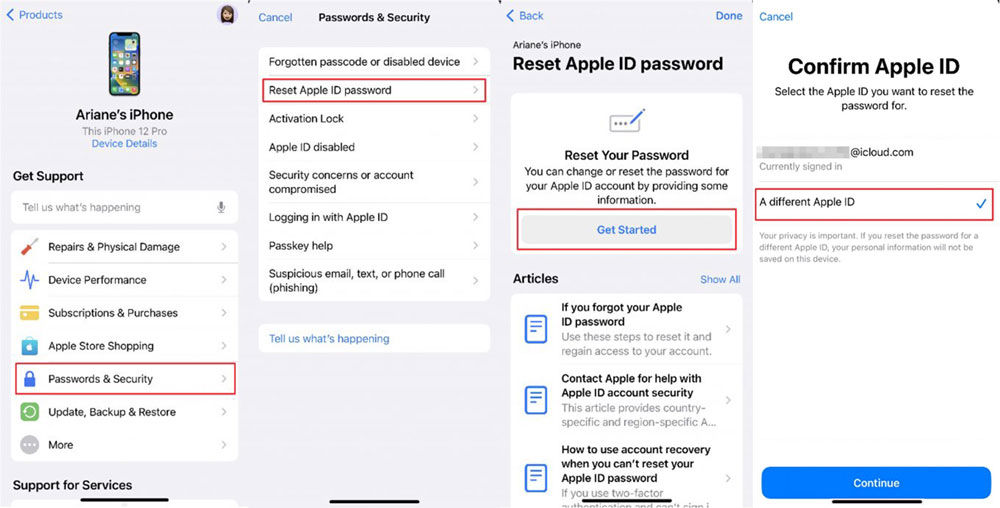 Method 3: How to Recover Apple ID Account via Recovery Account
Account Recovery is the choice of last resort and should only be used if you have failed after the above methods. It's an easy process; simply visit iforgot.apple.com and follow the on-screen prompts to submit your account recovery request. You will then receive an email from Apple containing confirmation of your request and an estimated recovery date and time. Once the waiting period is over, Apple will send you a text message or email with instructions on how to log back into your AppleID account.
Open a browser and access iforgot.apple.com, then enter your Apple ID and other required options. Then you will receive an E-mail to be notified of the recovery date and time.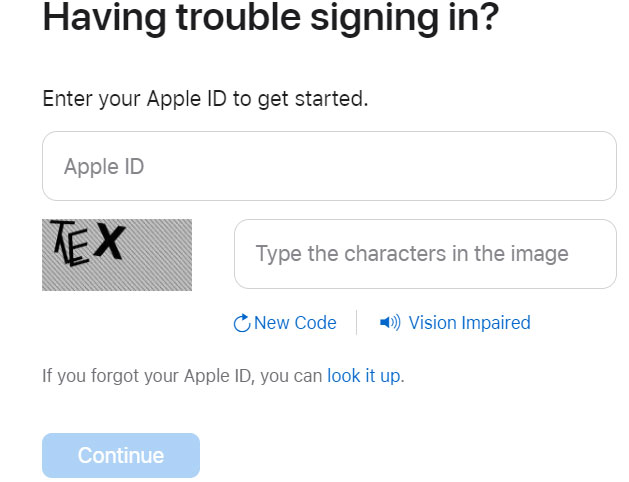 Part 3. Extra Tip: How to Remove the Previous Apple ID
When your family or friends give you an iPhone they no longer use, they may not carefully restore the phone to its factory default settings, but give it to you as is. In this case, you will need to enter the Apple ID password first in order to completely factory reset the phone. You can ask for the password from the other, but this does not guarantee the security and privacy of the other account. Therefore, we would like to introduce you to a third-party tool that can directly remove the previous Apple ID account without entering the password, namely TunesKit iPhone Unlocker.
TunesKit iPhone Unlocker has the ability to remove the screen lock, screen time, MDM, and Apple ID. With its help, you are able to remove the previous owner's Apple ID without a password and then create your own Apple ID to access various Apple Services. Besides, the process will also erase all data and content on the iPhone so that you don't have to factory reset it manually.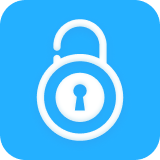 Key Features of TunesKit iPhone Unlocker
Remove Apple ID without password
Unlock iPhone/iPad/iPod screen lock with ease
Fully compatible with most iOS devices, including iPhone, iPad, iPod, Apple TV, etc.
Available on the latest iOS version, including iOS 16
Try It Free
600,000+ Downloads
Try It Free
600,000+ Downloads
The Bottom Line
How to recover an Apple ID password? We are sure you have got the answers now. It is not complicated to recover an Apple ID account by resetting the password. No matter the Apple device you trust or not, it can help you to solve it perfectly. Of course, you can also apply to Apple Recovery Account to recover the account, which will take a long and uncertain time. By the way, in case you want to remove an unwanted Apple ID without entering a passcode, TunesKit iPhone Unlocker will be of help.