How to Find your Apple ID Password without Changing It
Posted by Brian Davis on Nov 13, 2023 11:00 AM • Category:
Unlock iOS
4 mins read
Apple ID ties our Apple devices together and makes them work well together, so almost every Apple user creates an Apple account to manage their iOS devices. Sounds good, right? However, this can cause trouble for you if you forget your Apple ID email address or password. Once you lose one of these, you lose control of the phone that is rightfully yours. People who encounter this kind of problem may ask, how to find Apple ID password without changing it?
No need to struggle with this issue anymore, I will give detailed steps on several methods below, you must be wondering how to do this, so keep reading.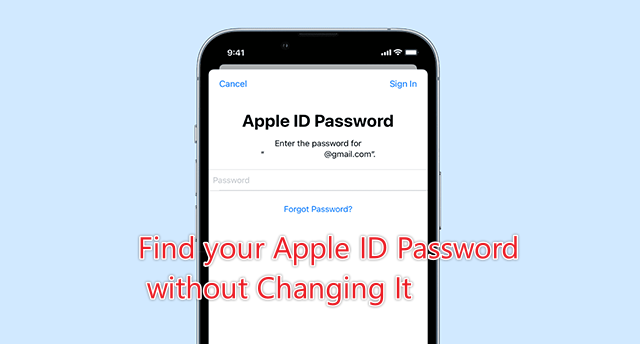 Section 1: Proven ways to find your Apple ID password without changing it
Way 1: Ask Siri to find your Apple ID password
Siri is a virtual assistant that uses voice recognition, natural language processing, and machine learning to provide assistance to users. Users can interact with Siri through voice commands, either by pressing and holding the Home button on older Apple devices or by using the "Hey Siri" wake phrase on newer devices that support hands-free activation. You can find your Apple ID password with the help of Siri. Here's how:
Step 1. Launch Siri on your iPhone.
Step 2. To verify a password using Siri, please say to Siri, "Hey Siri, show me my password." Or you can ask Siri to show you a specific password. For example, you can say, "Hey Siri, what's my Apple ID password?"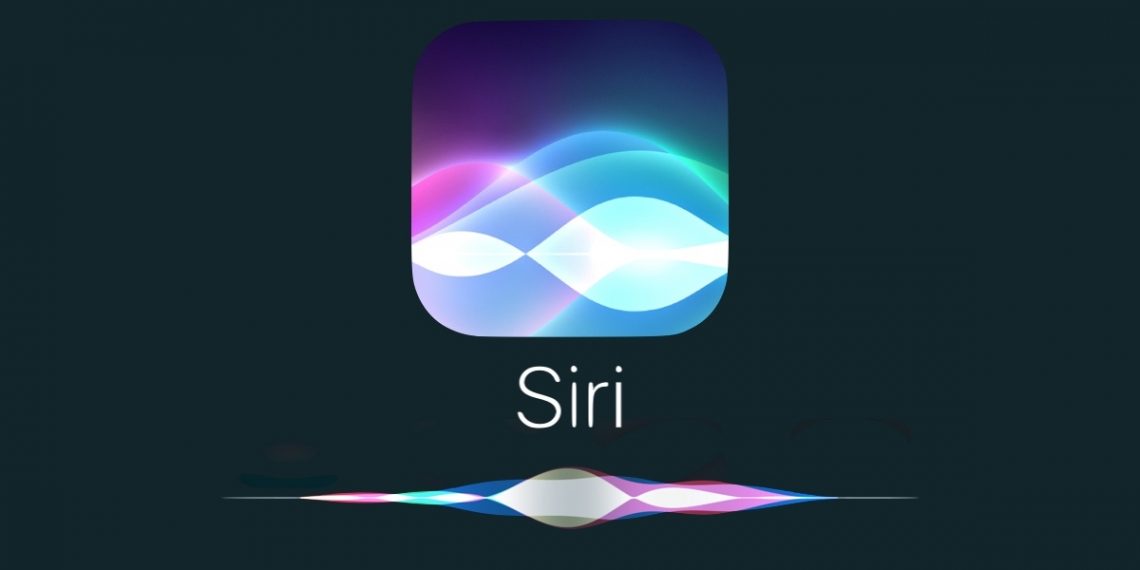 Then you can view your Apple ID password without changing it.
Way 2: Use iCloud keychain to find Apple ID password
iCloud Keychain is Apple's password management tool that synchronizes the passwords on all your devices and automatically populates them when you use Safari. iCloud Keychain remembers them so you don't have to enter your password. You can easily find your Apple ID password without changing it.
Step 1. Proceed to the Settings > Apple ID > iCloud > Password & Keychain on your iPhone, then switch to Sync this iPhone. This action can help you securely store your password, credit cards, and more in iCloud as well as autofill your information in safari and other supported web browsers on all your devices.
Step 2. Tap the Settings app, scroll down to Passwords and unlock with Face ID or Touch ID to view your passcode.
Step 3. Find the website where you signed in with your Apple ID and click on the password field. The password will then be displayed.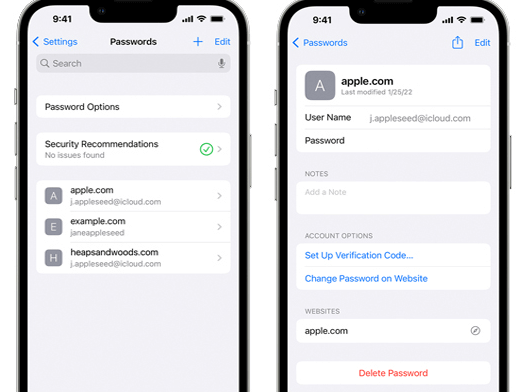 Way 3: Find your Apple ID password on a Mac
When iCloud passwords and keychains are enabled, you can get Apple ID password without changing it on your Mac. Here's how to do it.
Step 1. In the upper left corner of your Mac screen, click on the Apple menu and select System Preferences.
Step 2. Locate the Password option and fill in the information required to authenticate your identity.
Step 3. Select a website that you're logged into with your Apple account, and the username and associated password will be displayed on the screen.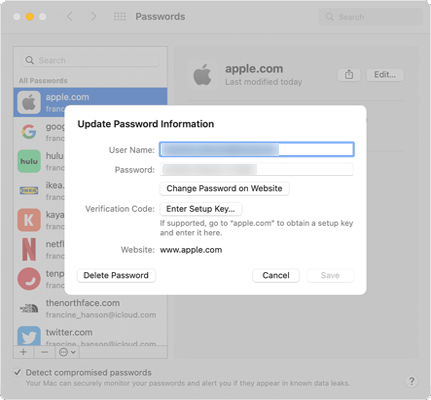 Way 4: Use secure email to find Apple ID password without changing it
With the launch of the Secure Email Recovery option, regaining access to your Apple ID has never been easier or safer, and you don't need to change your existing ID to do so. In this method, we'll walk you through the process of finding your Apple ID password using secure email.
Step 1. Visit Apple's Forgot Password Reset website.
Step 2. Input your Apple ID and then hit the Continue button.
Step 3. Select Get an email to continue.
Step 4. A password reset letter titled "How to reset your Apple ID password" will be sent to your secure email address.
Step 5. Click on the URL "Reset now" to set a new password and carefully remember it this time.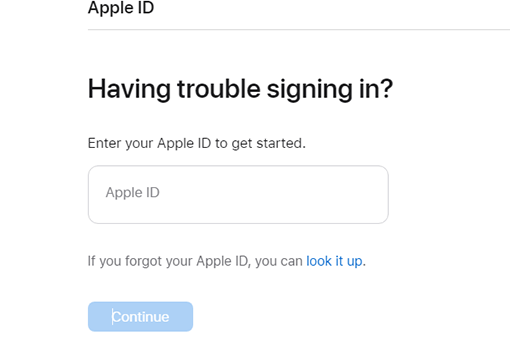 Section 2: How to remove Apple ID password without changing it
If the above solutions can't solve your problem, then you can remove Apple ID directly with the professional and safe iPhone unlocking software - TunesKit iPhone Unlocker, which can help you remove Apple ID without data loss. Next, you can begin the process of configuring your device from the beginning. It has a user-friendly interface that allows users to unlock their devices in a few simple steps without requiring technical expertise. It can also bypass MDM without a username or password, allowing users to access their device freely.
In addition to the remove Apple ID function, you can also use it to unlock iPhone when forgot passcode, remove screen time passcode, remove MDM from iPhone.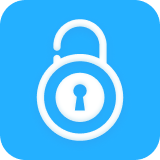 Why Choose TunesKit iPhone Unlocker?
Enables you to remove Apple ID in just three steps
You can also unlock lock screen, Apple ID, Screen Time with ease
It is compatible with iPhone/iPad/iPod touch
Fully supports the latest iOS version up to iOS 17
Offers concise and user-firendly interface
Try It Free
600,000+ Downloads
Try It Free
600,000+ Downloads
Here's how to remove your Apple ID password without changing it using TunesKit iPhone Unlocker.
Step 1
Download and install this software on your computer, connect your iPhone to your computer with a USB cable, launch this software and click Unlock Apple ID in the main interface of the software.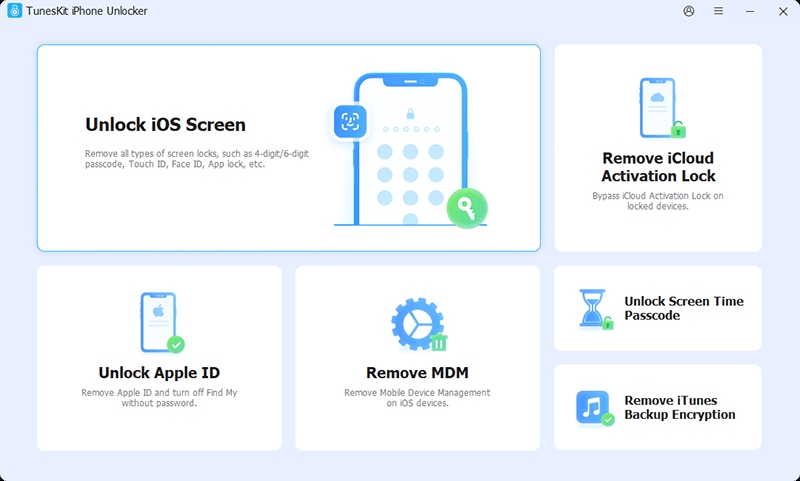 Step 2
Simply hit Start button to continue, then click the Download button to download the matching fireware package for your iPhone.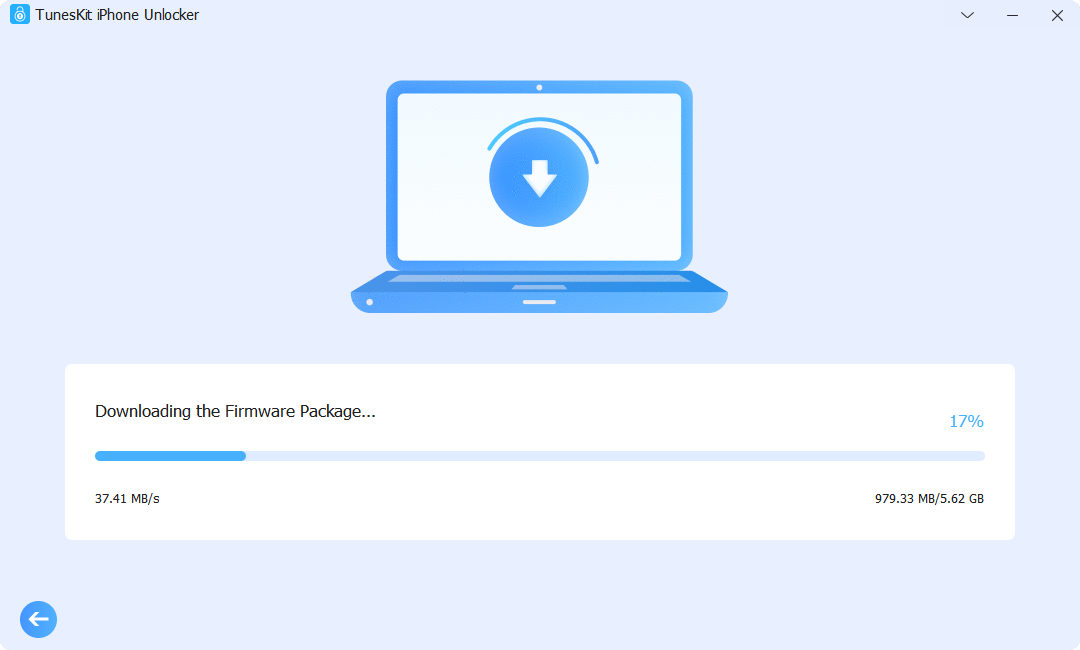 Step 3
Click on the Unlock button once the firmware package has been successfully downloaded and the TunesKit iPhone Unlocker program will start removing the Apple ID from the device.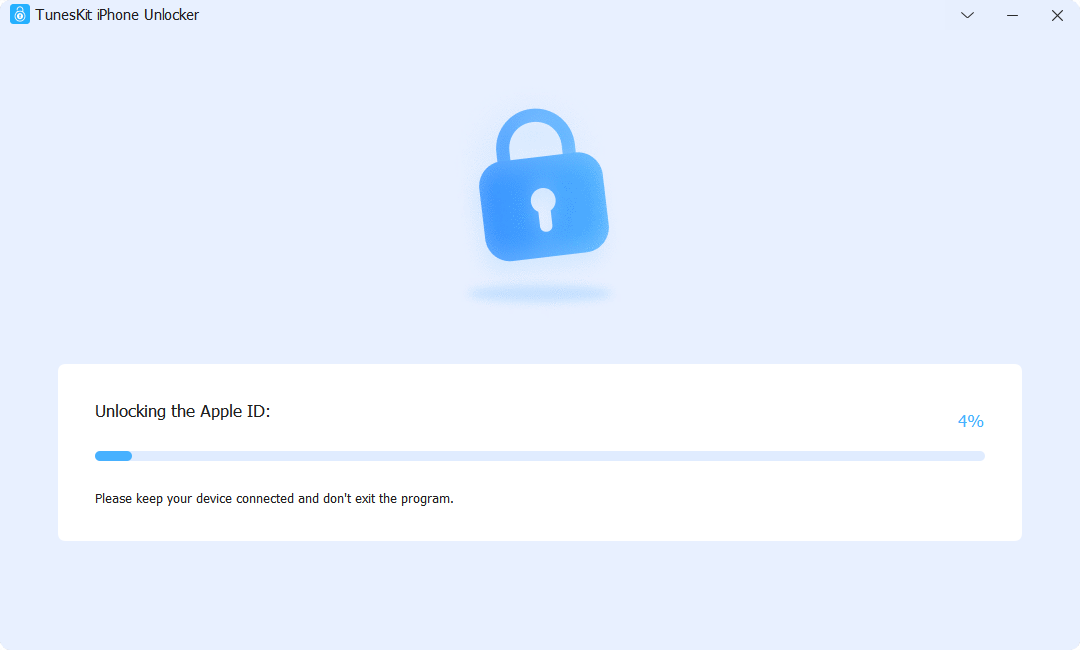 Section 3: FAQs about finding Apple ID password
Q1: What steps should I take to find my Apple ID password?
If you've forgotten your Apple ID password, you cannot "find" it, as it's not stored in a retrievable manner for security reasons. However, you can reset your password by visiting the Apple ID account page at iforgot.apple.com and following the prompts.
Q2: What information do I need to reset my Apple ID password?
You will need to know the email address for your Apple ID and have access to one of your trusted devices or phone numbers. In some cases, you may also need to answer security questions if you have set them up.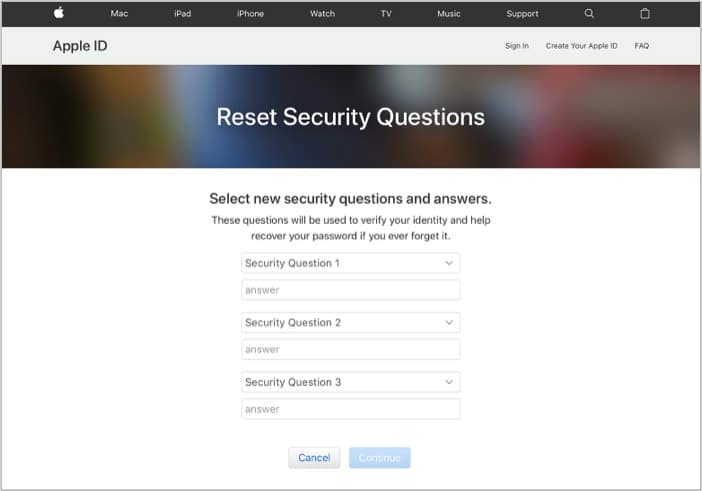 Q3: What should I do if my Apple ID account is locked or disabled?
If your account is locked or disabled for security reasons, you need to go to iforgot.apple.com and follow the instructions provided to unlock your account. This may involve resetting your password.
Alternatively, you can use trusted third-party software, TunesKit iPhone Unlocker, to unlock your Apple ID, then sign in with a new Apple ID and password.
Section 4: Conclusion
Well, this article describes four ways to find your Apple ID password without changing it, and if none of these methods can help you solve the problem, TunesKit iPhone Unlocker may be utilized to remove your Apple ID as an option. Download it now to enjoy its powerful features. That's all for our guide. We hope you found it helpful. Good luck!