Four Effective Methods for Apple ID Password Not Working
Posted by Brian Davis on Aug 9, 2022 4:30 PM • Category:
Unlock iOS
5 mins read
"The Apple ID password on the second-hand iPhone I got the day before yesterday doesn't work all of a sudden. Why is my Apple ID password not working? What methods should I take to handle with it?"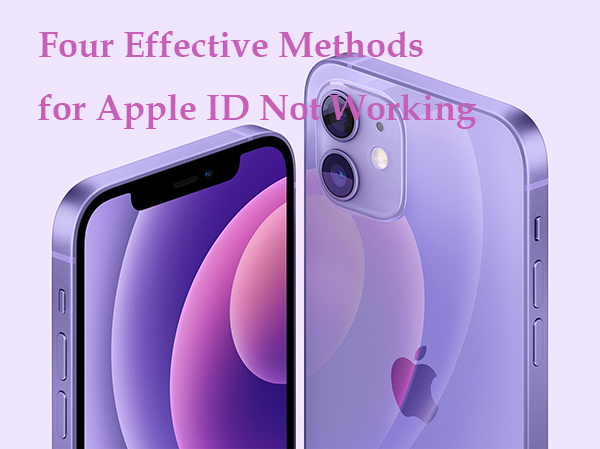 As an important account for iOS users, Apple ID plays a significant role in our daily use. However, it's common for us to meet the problem of Apple ID password not working, which may bring a lot of convenience to our lives and work. You might wonder what causes this matter, and how to solve it. In this article, we'll introduce some common reasons that lead to this error, and offer you four useful solutions to it.
Part 1: Why is My Apple ID Password Not Working
There are various reasons why Apple ID password doesn't work, which need to be judged according to the actual situation. Here are some common reasons for reference:
1. The servers of Apple are busy. Apple's servers are mostly in foreign countries. Due to the long distance, data packets may be lost, or data propagation may time out in the process of signal transmission, which leads to the matter of Apple ID password does not work.
2. The activation lock is turned on. The activation lock is designed to prevent your device from being used by others when it is lost or stolen. If you buy a second-hand iPhone, and the original owner turns on the activation lock, it will also result in Apple ID password not working. You can contact him to turn it off.
3. Not update the system to the latest version. If the system on your device is not updated to the latest version, this issue may also occur. You can update the system to solve the problem.
Part 2: Solutions to Apple ID Password Not Working
After knowing the reasons, you must want to know how to solve it. In this part, four viable methods will be presented, and you can take a try to figure it out.
Method 1. Reset Apple ID Password
When your Apple ID password doesn't work, resetting Apple ID password is a good option if you don't know whether it's because you've got the password wrong. As it's a common way, most users will try this method first. If you are fortunate enough, you can deal with this matter with this method and save a lot of time. However, before you start, you need to check whether you have signed into iCloud, and had a passcode enabled. Here are the detailed steps to reset your Apple ID password.
Step 1: Open the Settings app, and then hit on your Apple ID.
Step 2: On the next interface, click Password & Security.
Step 3: Tap the Change Password option, and enter your iPhone passcode to verify.
Step 4: Type your new passcode, and reenter it to confirm.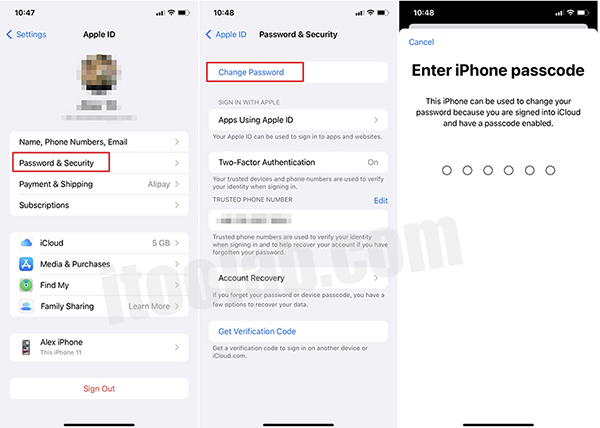 Method 2. Force Restart Your iPhone
To force restart your iPhone is a practical method when something goes wrong with your phone, and the error of Apple ID password not working is no exception. Detailed steps of force restarting iPhone will be provided below for you.
Step 1: First, press and loosen the Volume Up button.
Step 2: Hold and release the Volume Down button.
Step 3: For iPhone with the Home button:Hold down the Side button, and don't release it until you see the Apple logo. Then, release the button, and finish force restarting.
For iPhone without the Home button: Hold down the Side button together with the Home button, and loosen them when you see the Apple logo.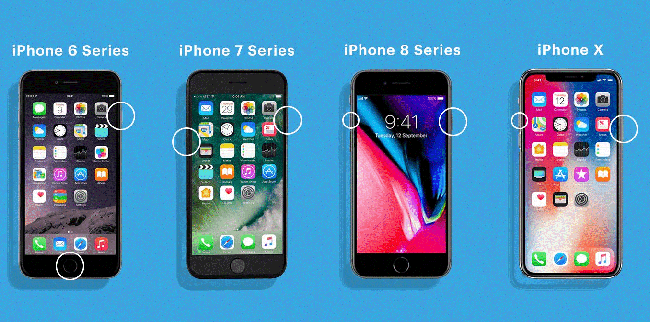 Method 3. Wipe iTunes Cache
Sometimes, not wiping iTunes cache may result in your iCloud account not being able to verify email ID and passwords. Therefore, you can try to wipe iTunes cache when Apple ID password does not work according to the following guidance.
Step 1: Launch iTunes on your PC.
Step 2: Tap the Edit option, and then choose Preferences from the drop-down menu.
Step 3: Click on Advanced in the top right corner, and then tap the Reset Cache button.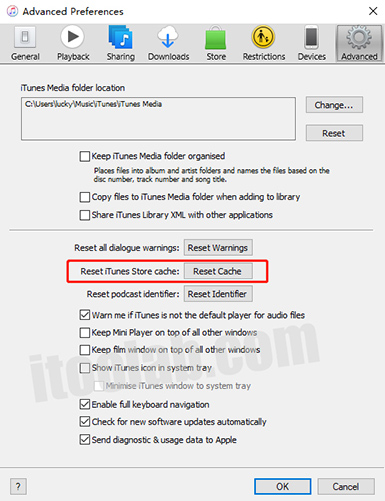 Method 4. Use TunesKit iPhone Unlocker
If the conventional methods above don't work, we recommend you use TunesKit iPhone Unlocker, a professional third-party tool, to fix the problem. As TunesKit iPhone Unlocker is multifunctional and powerful, users can unlock Apple ID, iPhone/iPad/iPod touch screen, screen time passcode, and MDM in easy and simple steps. Whether you forgot your password, your screen is broken or disabled, or your Face/Touch ID doesn't work, it can help you out promptly. Besides, it also allows you to factory reset your device in one click, which is really helpful if there's some wrong with your devices.
Let's take a look at how to use TunesKit iPhone Unlocker when your Apple ID password doesn't work.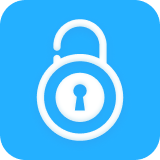 Key Features of TunesKit iPhone Unlocker
Comprehensive and easy-to-use interface
Solve the problem of Apple ID password not working with ease
Works well on all versions of iPhone, iPad, and iPod touch
Factory reset iPhone without passcode or iTunes
Take password off your iPhone within several steps
Try It Free
600,000+ Downloads
Try It Free
600,000+ Downloads
Step 1

Plug the iPhone into your personal computer

Make your iPhone connected to the PC, and then launch the software. Next, hit on Unlock Apple ID on the main interface.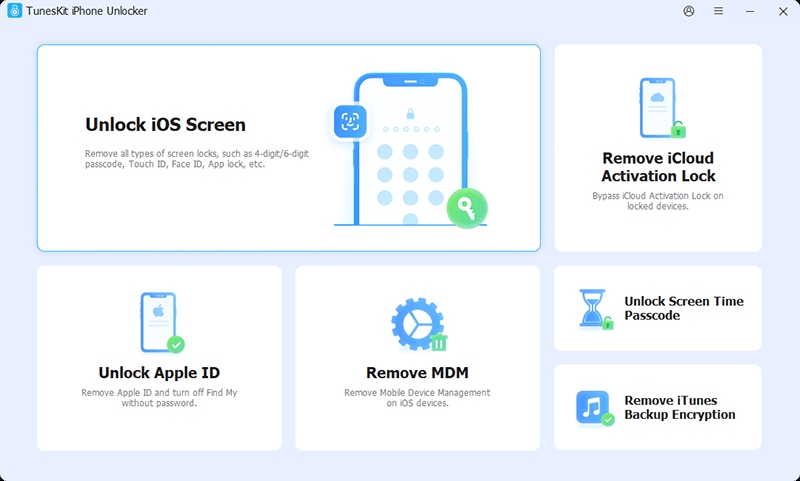 Step 2

Examine your device status

Check whether you have enabled the Find My iPhone feature. If yes, confirm that you have set up the passcode and turned on the two-factor authentication. Next, begin to download firmware package. If no, you can go to the next step.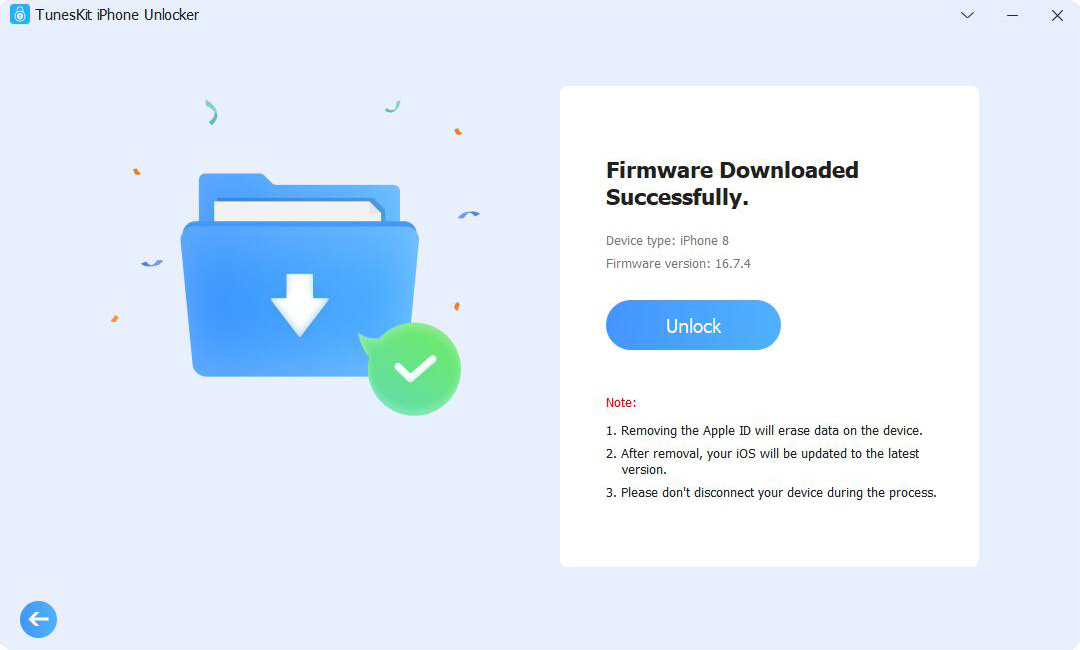 Step 3

Unlock Apple ID password

Click on the Start tab, and wait for the unlock process to finish. Your issue that Apple ID password does not work will be figured out.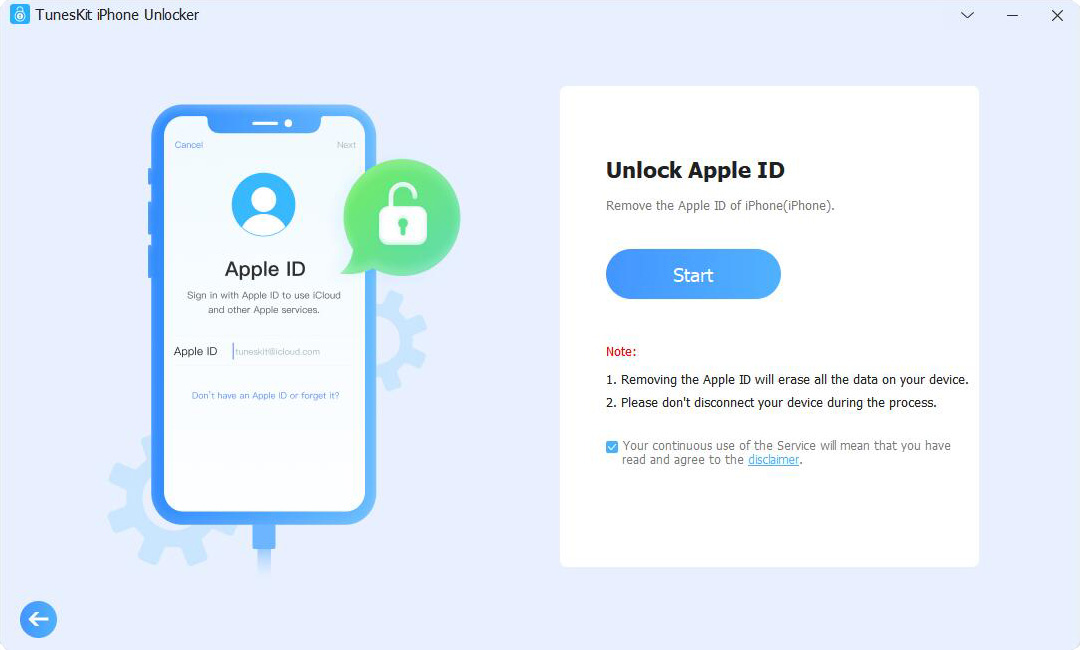 Part 3: Conclusions
In conclusion, the causes of Apple ID password not working and four efficient methods to it are introduced in this article. Among them, using TunesKit iPhone Unlocker is recommended most, which is more powerful, and can help you out in one click simply. You can feel free to try these methods, and find the most suitable one for you.