Top 4 Solutions for iPhone 6 Activation Lock Bypass
Posted by Leonard White on May 29, 2023 11:35 AM • Category:
Unlock iCloud
6 mins read
Activation Lock appears to lock your iPhone 6 when you erase your iPhone. Or maybe it was remotely locked by its previous owner, if you bought your iPhone 6 from someone else. It's unavoidable for us to buy a second-hand iPhone with Activation Lock. Should we have to give up our iPhone if we cannot contact the previous owner, or if we cannot remember the password we set? No, in fact, there are some effective solutions that can help us get around the annoying Activation Lock on the iPhone 6. In this article, you can learn the most effective iPhone 6 Activation Lock bypass tool and other solutions to save your iPhone 6.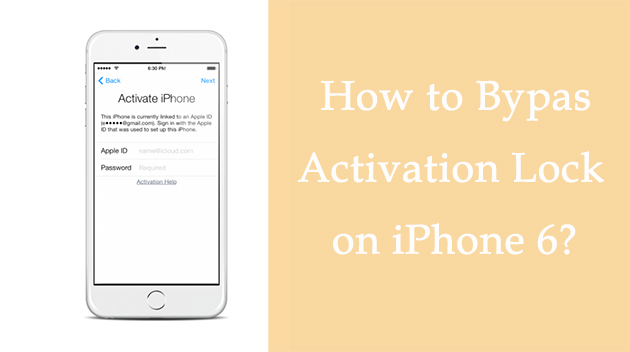 Part 1: What is Activation Lock?
Activation Lock is a useful feature designed by Apple specifically for device protection. When a user factory resets their iPhone, wipes the device, or marks the device as lost mode, the iCloud server automatically activates the Activation Lock on the device to protect its security. You must enter the correct Apple ID password to unlock the device for use. The Activation Lock is a tight program and cannot be removed directly by either swiping or jailbreaking. The following methods are some of the most recognized and effective.
Part 2: Top 4 Solution for iPhone 6 Activation Lock bypass
Top 1: Remove Activation Lock via iCloud
It is best if you can contact the previous owner as this is the most convenient solution. By logging in to iCloud account with the Apple ID and password, remove your iPhone 6 from your account, and Activation Lock will completely disappear from your iPhone 6. Here are the specific steps on how to remove the Activation Lock through your iCloud account. You can share it with the previous owner and let him remove your Activation Lock remotely.
1. Go to iCloud.com
2. Sign into your account.
3. Click All Devices and choose iPhone 6.
4. Click Remove from Account.
Top 2: Bypass Activation Lock on iPhone 6 via TunesKit Activation Unlocker
Many users deem that using a third-party tool is the most convenient and comes with the highest success rate after they use various methods to bypass Activation Lock on iPhone 6. Therefore, people prefer to choose a third-party removal tool to bypass the Activation Lock. However, you should be careful of those illegal tools which may lead to a death iPhone. Here is a very safe and legal tool that has successfully helped many users to remove the Activation Lock from their devices. You can give it a try.
TunesKit Activation Unlocker focuses on helping iOS users to bypass the Activation Lock on their devices. It gains so much appreciation from many users, since it can successfully bypass the Activation Lock with several steps, and its high success rate is remarkable. Other issues like cannot turn off Find My, iPhone locked by previous owner, cannot activate a second-hand iPhone, and more issues related to Activation Lock and Apple ID are able to be fixed with this incredible removal tool.
Read the following steps carefully and go to bypass the Activation Lock on your iPhone 6 using TunesKit Activation Unlocker.
Step 1:

Connect your iPhone 6

Using a USB cable to connect your iPhone 6 to the PC is the essential step among all your operations, because if your iPhone 6 is not connected properly, the Activation Lock cannot be bypassed and your iPhone 6 is iCloud locked. Next, go Start and you will see a Terms of Use popping up. Please read it carefully and go ahead to click Agree.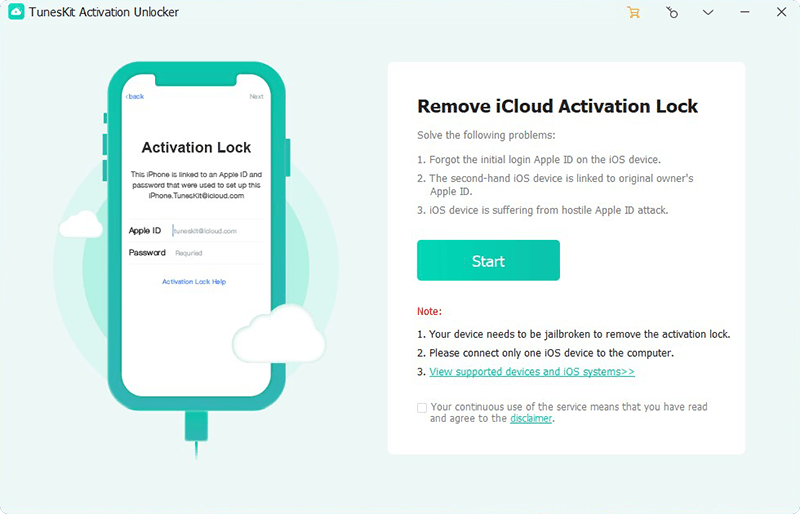 Step 2:

Jailbreak your system

The jailbreak process is quite different for Mac and Windows, and you should choose the jailbreak tutorial link that matches your system below. When jailbreak is done, you need to click on the reboot button on the button right to restart your computer.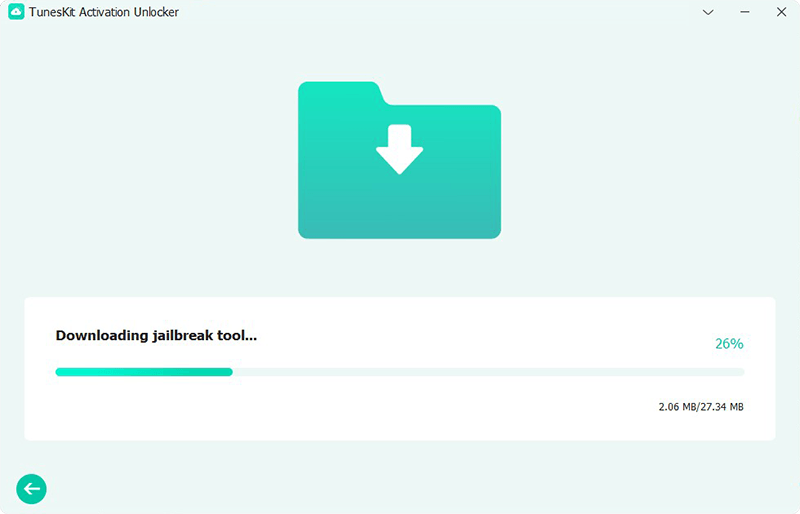 Step 3:

Start to bypass

Open this tool again, and your device's info will be shown on the interface. Check it and move on to click Start to Remove. Next, TunesKit Activation Unlocker will start to bypass the Activation Lock on your iPhone 6.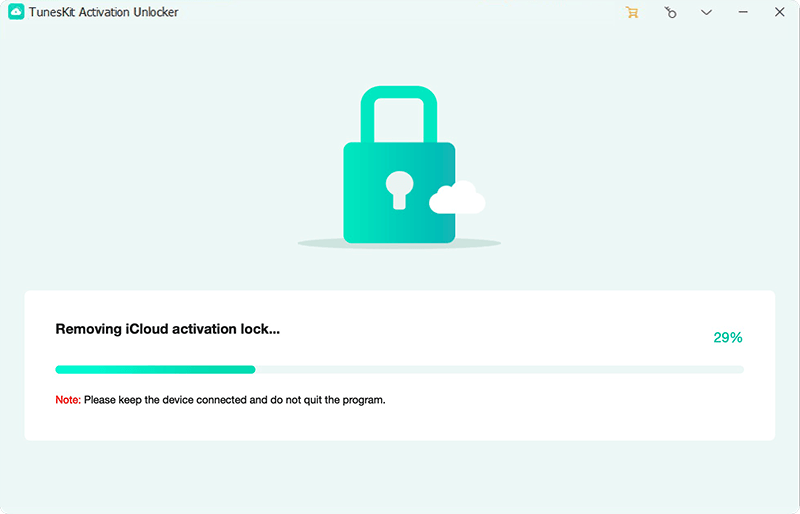 Top 3: Remove Activation Lock via DNS
Although DNS is also a method to remove the Activation Lock, it is not recommended that you use this method as your first choice because it has a very low success rate and the steps are a bit complicated. Most importantly, not all iOS versions and models are suitable for this method. If you are unable to bypass Activation Lock on iPhone 6 even with a third-party tool, you can take your chances with this method. Here are the exact steps of this method:
1. Tap Start Over and return to the initial page.
2. Reset your language and region and move to WiFi Settings.
3. There is an icon i located on the right of the WiFi name, tap on it and select Forgot this Network.
4. Tap icon i , and select Configure DNS. Tap Manual, and select Add Server. Go enter one of the DNS addressed below.
☺ North America: 104.154.51.7
☺ South America: 35.199.88.219
☺ Europe: 104.155.28.90
☺ Asia: 104.155.220.58
☺ Global: 78.100.17.60
5. Back to connect to your WiFi again. It will be an Activation page appearing, tap Back and go select Activation Help. And the Activation Lock on your iPhone 6 can be bypassed.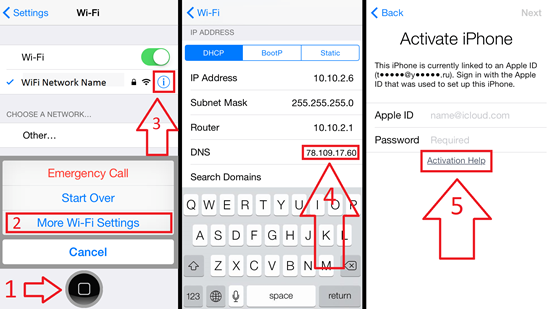 Top 4: Ask Apple for support
If your second-hand iPhone 6 has the purchase proof, you can go to the Apple Store near your home. Apple can help you complete iPhone 6 Activation Lock bypass if your purchase proof is successfully identified. After that, all you have to do is wait for Apple's call and get your iPhone 6 back.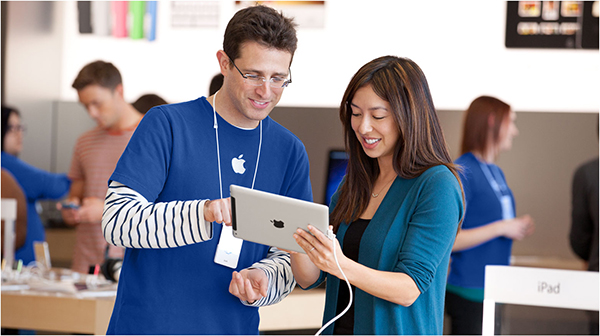 Part 3: Conclusion
With this post, you can see that the iPhone 6 Activation Lock bypass is not a difficult thing to do. It can be easily bypassed via the TunesKit Activation Unlocker or other solutions. By figuring out what Activation Lock is and how to bypass it, you can access your iPhone 6 again. Hopefully you can learn something useful from this post. Have a nice day!