Bypass iCloud with Signal - What You May Need
Posted by Leonard White on Aug 8, 2023 11:35 AM • Category:
Unlock iCloud
6 mins read
Signals are essential in this info society, as without signal, we cannot make phone calls or send text messages on our iPhone. And you may find some of the users posted that they got "no service" after iCloud bypass, and cannot make and receive phone calls, or send text messages. In fact, you're able to bypass iCloud with signal as long as you choose the appropriate tool.
In this post, you can learn what bypass iCloud with a signal is, and how to achieve it. In addition, as a bonus tip, a professional bypass tool will also be introduced in detail.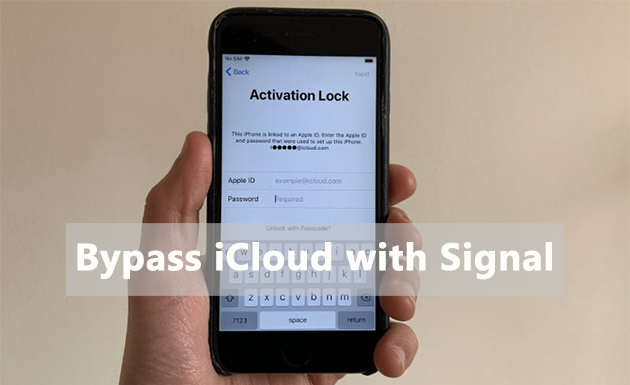 Part 1: What does bypass iCloud with signal mean?
Bypassing iCloud lock can make your iPhone lose its network signal, leading to making phone calls and sending text messages unavailable. And bypass iCloud with signal refers to unlock the iCloud lock, meanwhile, make sure the iPhone signal is available. With the tool called Checkm8, you're able to unlock the iPhone with a signal.
Next, you can see how Checkm8 works, and what you should pay attention to when using Checkm8.
Part 2: How to bypass iCloud with signal?
Checkm8 can unlock iCloud on MEID and GSM iPhone models, but there are some compatible restrictions on this tool. It supports to unlock iPhone 5S, 8 Plus, 8, X, 7 Plus, 7, 6S, 6S Plus, 6, 6 Plus with a signal. And iOS 12 to 14 (small version included) are available. You should check if your iPhone model and iOS version are supported by this tool before using it.
After that, you can connect your iPhone and follow these steps to achieve iPhone 6 iCloud bypass with signal.
Step 1: Download and launch Checkm8.
Step 2: Jailbreak your iPhone. It will offer you a tool to jailbreak your device.
Step 3: Once the jailbreak is already done on your iPhone, launch the Checkm8 again. There will be an interface showing up to ask you to bypass the iCloud lock. Click on Start Bypass. Done!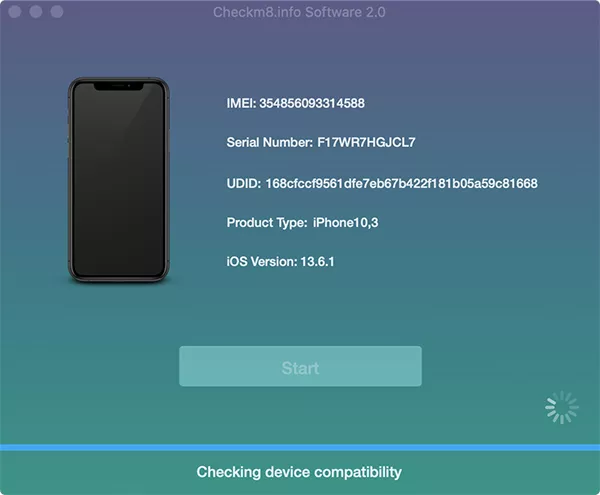 Part 3: [Bonus Tip] Utility tool for iCloud lock bypass - TunesKit Activation Unlocker
TunesKit Activation Unlocker is a bypass tool that comes with clear steps and intuitive interface, suitable for people who are green hands of computer programs. iCloud lock bypass, including different types of situation related to iCloud lock, like cannot turn off Find My, iPhone marked as Lost Mode, buying a used device with iCloud lock, and more situations, can be easily handled with the help of the TunesKit Activation Unlocker.
With no Apple ID and password required, TunesKit Activation Unlocker allows you to bypass the iCloud lock at home. It supports Mac and Windows. After bypassing, you can use a new Apple ID to log in to the App Store.
What you will see in the next section are the steps to bypass the iCloud lock using the TunesKit Activation Unlocker.
Step 1

Connect your iPhone

Launch TunesKit Activation Unlocker. You're able to start the bypass process once your iPhone is detected by the tool. So, connect your iPhone to the PC before getting started. Next, click Start. A pop-up will appear to show you the terms of use, before clicking the Agree button, please read them carefully.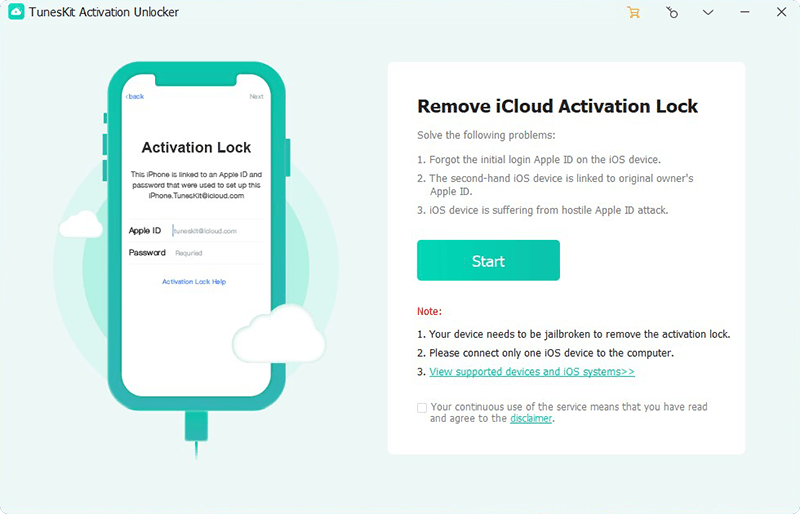 Step 2

Jailbreak iPhone

Unlike those complex jailbreak tools, TunesKit provides its users with a step-by-step guide. You only need to follow the appropriate jailbreak tutorial prepared in the following according to your computer system. Then, reboot the computer and launch the tool again when the jailbreak process is completed on your device.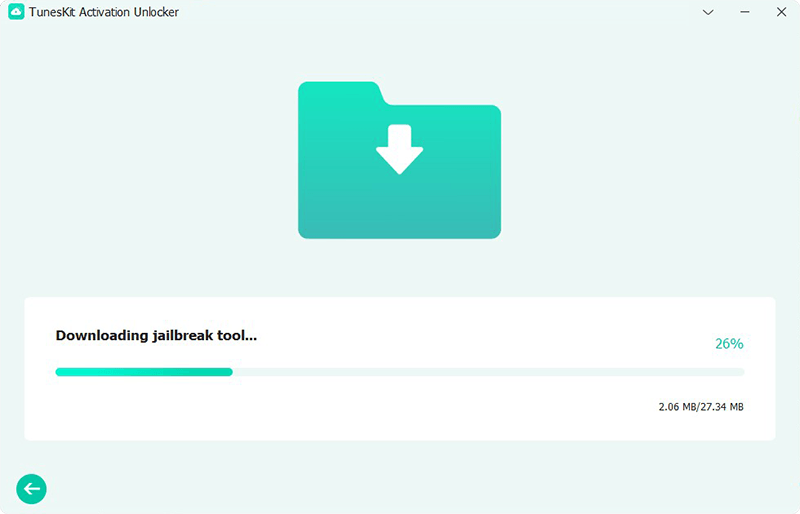 Step 3

Start to bypass

When you reboot the device and launch TunesKit Activation Unlocker again, there will be a page coming with your iPhone's info. Make sure all the info listed is correct, and go to click Start to Remove. Next, the iCloud lock will be bypassed after a while, please keep patient!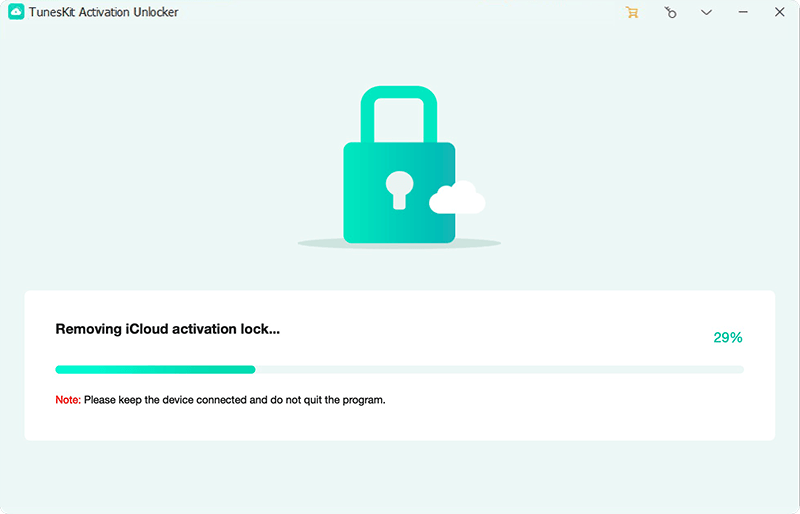 Part 4: FAQ about iCloud lock bypass
Q1: Does iCloud lock bypass remove iPhone data?
Yes. All the data will be removed once the iCloud lock is removed from your iPhone.
Q2: Why is jailbreak required for iCloud lock bypass?
Jailbreak is an important part of the iCloud lock bypass, as it can access the iOS system which is forbidden by Apple. After jailbreaking, you can bypass the iCloud lock on your device. And only with jailbreak, the iCloud lock cannot be bypassed successfully, a bypass tool is still required.
Q3: Can factory reset remove iCloud lock?
No. Whether the factory reset, swiping iPhone or restoring iPhone via iTunes can not remove the iCloud lock.
Part 5. Conclusion
By reading this post, you may find iCloud bypass with signal is available for certain iPhone models. If you wanna bypass the iCloud lock in a much easier way, TunesKit Activation Unlocker could be a great option for you because of its easy operation and high success rate. Hope this post can give you a guide to fix the issue. Have a nice day!