iPhone 12 Pro Max Activation Lock Removal Free - 2023 Guide
Posted by Leonard White on Sep 26, 2023 11:35 AM • Category:
Unlock iCloud
6 mins read
Activation Lock is a well-known feature designed by Apple that is applied to ensure the security of the device. Once it shows up on your iPhone, you have to enter the Apple ID and password to unlock it.
But, obviously, many second-hand iPhone 12 users are frustrated with it, as they have no passcode for that. This post is to display 2 ways for iPhone 12 Pro Max Activation Lock removal free.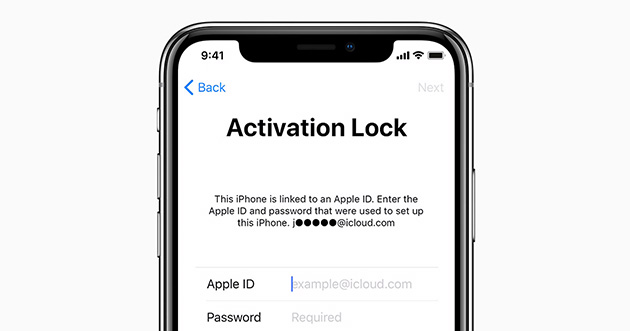 Part 1: How does Activation Lock work
It's crucial to learn how Activation Lock works before seeking solutions for iPhone 12 Activation Lock bypass.
Activation Lock, also called iCloud lock, is one of several protective measures used by Apple to prevent iPhone from being accessed by others. With Find My enabled, Activation Lock will exist on your device, and can only be unlocked with Apple ID. If the iPhone is swiped or reset, your iOS system will send a command to Apple Server, Apple ID verification triggered. Only users enter the matched Apple ID and password can bypass the iCloud locked screen.
Part 2: iPhone 12 Pro Max Activation Lock Removal Free Ways
Way 1: Bypass via iCloud
Bypassing via iCloud is the optimal way for those who have bought a used iPhone 12. What you should do is to contact the previous owner to delete the device from their iCloud account. Here's a guide to remove iCloud Activation Lock iPhone 12 Pro Max.
Step 1: Go to iCloud.com
Step 2: Sign into your account. Click on Find My.
Step 3: Click on All Devices. Select Erase Device. Continue to click on Remove from Account.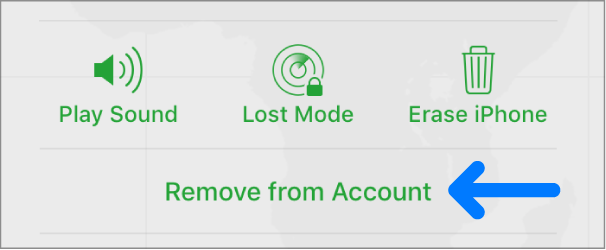 Way 2: Change DNS address
If you're seeking a service for iPhone 12 Pro Max Activation Lock removal free, this way could be a great choice for you. It doesn't require an Apple ID and password, but it just works randomly. It mainly makes use of bugs on Apple Server.
By replacing the DNS address with a new one, your iPhone 12 Pro Max may avoid the tracking of Apple Server, which makes iCloud lock bypass realizes. Here's how.
Step 1: Set up your device again.
Step 2: Ahead to WiFi Settings. Tap on the circle icon beside your WiFi. Select Forgot this Network.
Step 3: Tap on the icon again, and go to Configure DNS>Manual> Add DNS address. Choose one DNS address from below to replace the original one. Save edits.
North America: 104.154.51.7
South America: 35.199.88.219
Europe: 104.155.28.90
Asia: 104.155.220.58
Global: 78.100.17.60
Step 4: Connect to the WiFi you just edit. Continue to click on back if there is a page popping up. Finally, select Activation Lock Help. Done!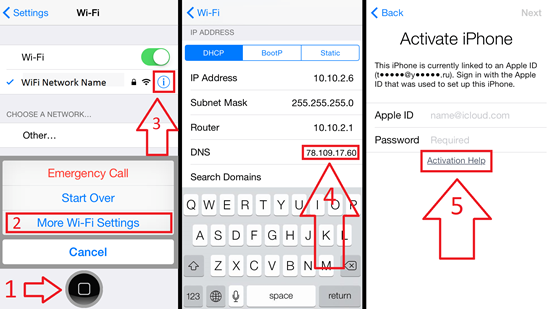 Part 3: [Bonus Tip] How to bypass Activation Lock on other iPhone/iPad models
Above are the two main iPhone 12 Pro iCloud bypass free ways. As a bonus tip, what follows is a reliable tool that specializes in iCloud lock bypass. Even though it's a paid service, it is worth giving a try.
TunesKit Activation Unlocker, a third-party program, is one of the professional removal tools for iPhone/iPad/iPod touch that allows users to bypass the iCloud lock without Apple ID by themselves. This is a multi-functional tool supporting Activation Lock removal, turn off Find My, unlock iPad Locked to Owner, etc. TunesKit Activation Unlocker is definitely a user-friendly tool, because it offers users a straightforward interface and easy understanding steps.
In addition, it also supports Mac and Windows. iOS 16.5.1 is supported.
Next, it's a detailed guide on how to get around iCloud lock on iPhone/iPad via TunesKit Activation Unlocker (iPhone 5s to iPhone X supported).
Step 1

Connect iPhone/iPad

As a beginning of the process, you need to use a USB cable to connect your device to the computer. Next, click on Start. It will show you the terms of use. Click on Agree to continue.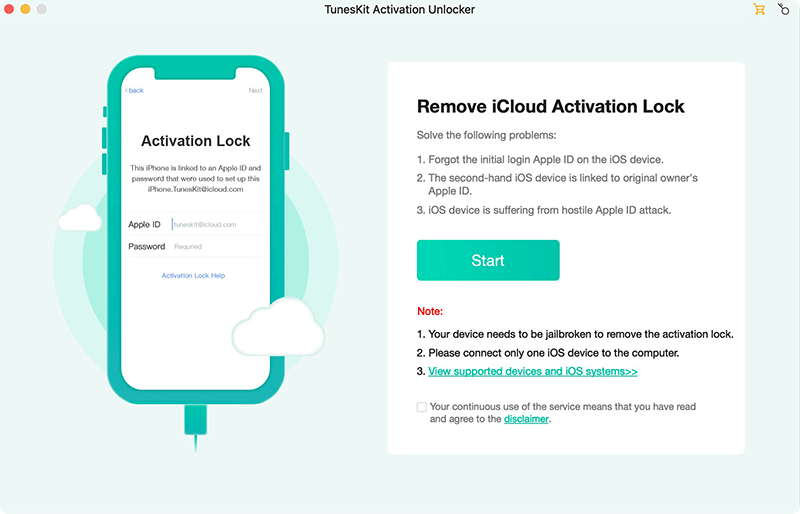 Step 2

Jailbreak iPhone/iPad

Jailbreak iPhone/iPad. Here comes a detailed on-screen tutorial. Please follow it to complete your jailbreak. When you finish, restart your computer.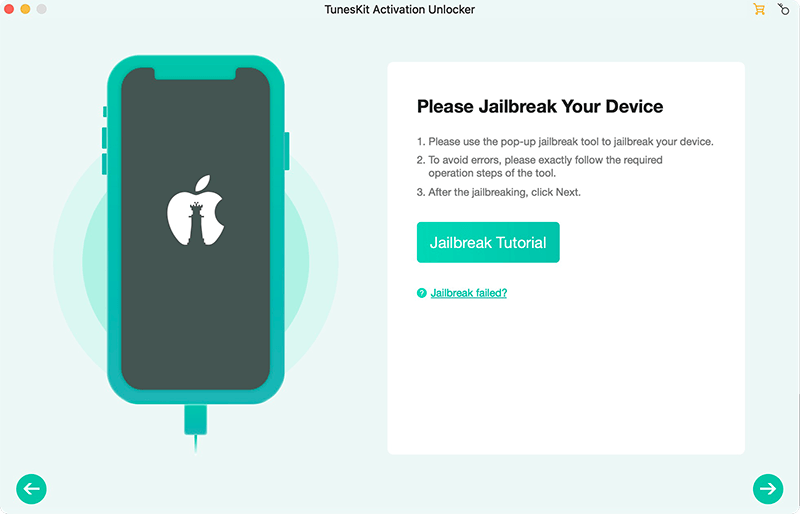 Step 3

Start to Remove

Once the program recognizes your iPhone jailbroken successfully, the arrow on the bottom right corner will be enabled. Click on it. It begins bypassing the iCloud lock on your iPhone/iPad, please wait for a while.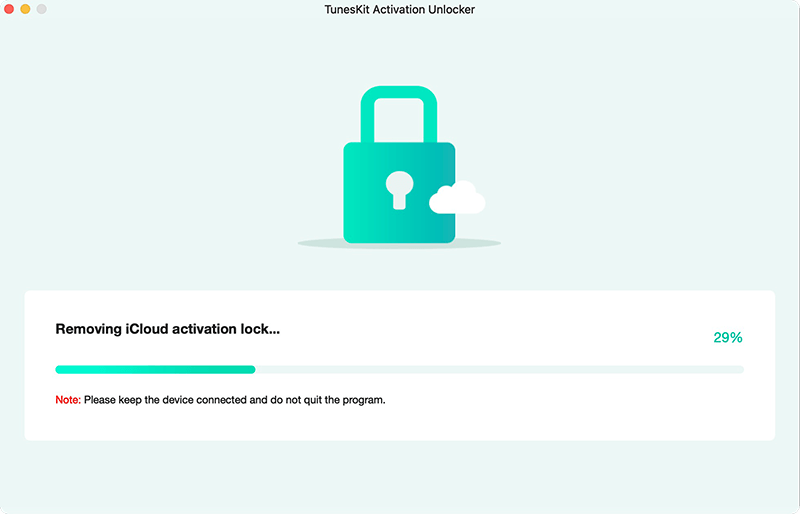 Part 4: Conclusion
About iPhone 12 Pro Max Activation Lock removal free, this post has already provided you with 2 effective solutions. As a bonus tip, TunesKit Activation Unlocker is also introduced to help you bypass the iCloud lock on other iPhone/iPad models. Hopefully, what I mentioned in this post can help you a little bit.