How to Fix iPhone Contacts Missing Problem
5 mins read
SmartPhones are the in-thing nowadays especially being that they are used for numerous activities. However, the major use is to aid in communication. We all know that phone contacts have to be in place in order to get in touch with the right people. Though what happens when you suddenly realize that your contacts disappeared from iPhone just at that moment you need to make an important call? Disappointments will of cause follow suit. It is prudent to have a clue of possible reasons for contacts disappearance. You may have lost contacts after an iOS update, accidental deletion, malware attack or an attempt of jailbreaking your iPhone.
But luckily, the emergence of advanced technology makes it possible to fix iPhone contacts missing problem in a matter of minutes. These 7 tips may just come in handy at that crucial moment.
1. Sync contacts from iCloud to your iPhone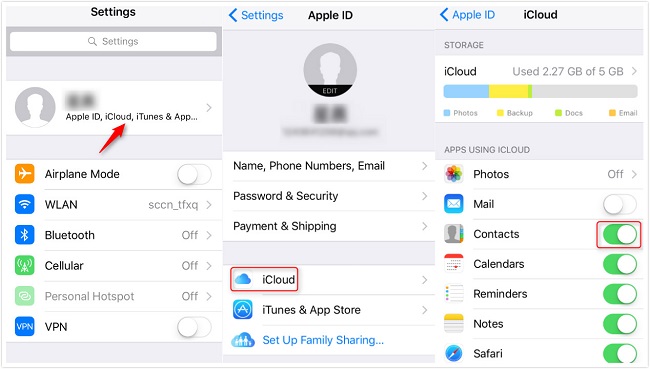 iCloud has the ability to automatically backup data as long as you have turned on syncing of your data. The moment you realize that your contacts disappeared from iPhone, head right on to the 'Settings' icon on your iPhone then tap on iCloud. You will need to log in with your iCloud account username and password. Once that is achieved, slide the toggle on your contacts to turn it off. This is meant to refresh your contacts list. Wait for about 10 seconds and then turn on contacts by sliding the toggle once again. Your disappeared contacts will resurface back.
2. Force restart your iPhone
This is another tip that has helped many users to retrieve back their contacts list. Restarting your iPhone helps it to regain its memory in a matter of seconds. Different iPhone models do have their unique format of restarts. However, the common way you can use to let contacts disappeared from iPhone come back is to use screen buttons. Simply press and hold both the 'Power' and 'Home' buttons at the same time until the Apple logo from your iPhone's screen becomes visible. Release the 2 buttons once you see the Apple logo to enable you to view your contacts again.
3. Sign out of iCloud and back again
iCloud is such a powerful mode of data back-up. Once you have registered an account, it will automatically harbor most of the information that your iPhone entails. Using this trick of signing out of iCloud helps in refreshing the backup memory. Contacts disappeared from iPhone can be retrieved by signing out of iCloud and back. Start by scrolling down to the 'Settings' menu. Next, tap on your Apple ID name then click on 'Sign out'. Wait for about a minute and then 'Sign in' to your iCloud account. Remember you will have to key in your username and password in order to sign in. When done, check at your contacts once again to gain access to the previously missing ones.
4. Toggle contacts Off/On in default email account
Default email, in this case, refers to the very email address that you used to configure your iPhone during its set up process. You can settle iPhone contacts missing issue by turning off contacts from this email account. Go to 'Settings' then pick on 'Contacts'. Next, tap on your default account and turn off contacts. Wait for about 10 seconds then toggle contacts on again. Your missing contacts will resurface in due course.
5. Restore missing contacts from iTunes backup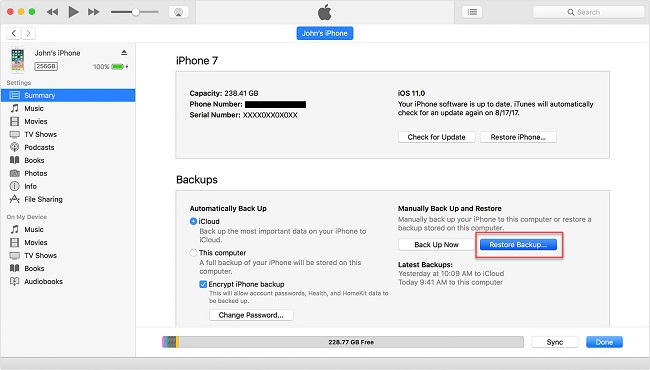 Most iPhones automatically sync to iTunes as long as there is an internet connection. This makes it possible to attain any missing data at your disposal. In order to restore missing contacts using this trick, start by connecting your iPhone to your computer. iTunes will launch automatically within a few seconds. From your computer screen, go to the top left-hand corner and click on the phone icon. Go to 'Settings' then pick on 'Summary'. Next, select 'Restore backup' option. There will be a drop-down list showing various data. Pick on 'Contacts' then press the 'Restore' button. Your missing contacts will appear once more.
6. Refresh the contacts database by editing any contact
It is unusual for all iPhone contacts to go missing. Generally, some few contacts will still be available even if you experience this problem. Use any of the available contacts to aid you in getting back all the other missing ones. Simply click on the contacts icon to populate the available list. Tap on any contact then go to the 'edit contact' section. Edit the name then save the changes. This will let the contacts database get refreshed automatically. Check your contacts list once more to verify whether the missing ones are back to normal.
7. Recover missing contacts directly from iPhone via a recovery tool
Powerful tools such as TunesKit iPhone Data Recovery/iPhone Data Recovery for Mac are also good avenues of letting you get back your missing contacts. As long as you have installed this app, simply connect your iPhone to the computer. Run the software and then select 'recover from the iOS device'. Start the search process by hitting on the 'Scan' button. Several data will be available so make sure you pick on 'recover contacts'. You are allowed to preview data before recovery. You may choose the particular missing contacts that you want to restore. However, it is wise to restore back your entire contact list. You should gain back, all your contacts that disappeared from iPhone, within a short time if you go for the right tool.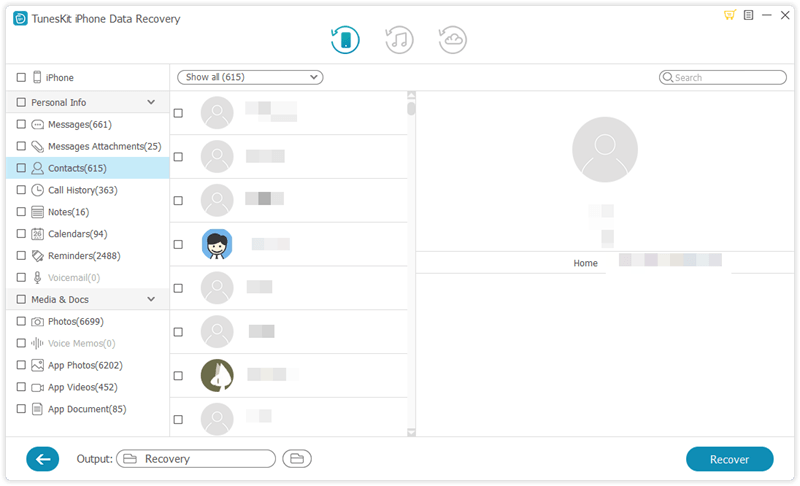 Verdict
The problem of iPhone contacts missing is a common phenomenon that can lead you to a stand-still. We have, however, offered very simple but effective solutions that can take you a long way. With all the powers in your hand, you are now set to maneuver your way to un-destructive communication at all times. The better part is that you don't need any technique in order to resolve this matter in case your contacts disappeared from iPhone abruptly. Simply try the next in line in case the previous trick doesn't work and get help within the shortest time possible.