iPad Overheating? 7 Solutions You Can Try
5 mins read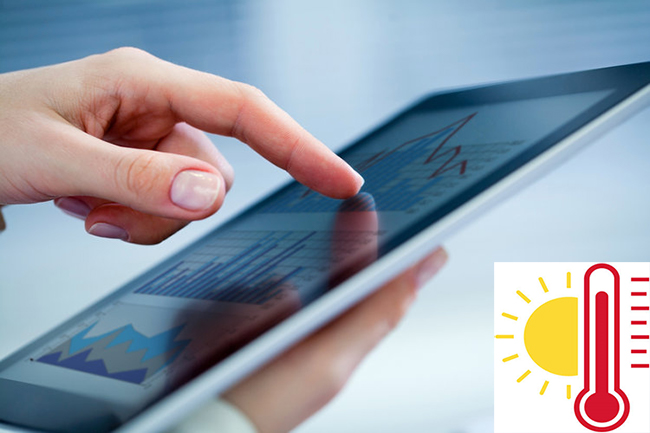 Generally, iPad is designed to run at normal temperature under different circumstances. However, in daily use, many users may encounter the problem that iPad is overheating when they play games or edit videos. When the iPad is running hot, it will slow down or even stall, affecting your use experience. But don't worry. In this post, we'll show you 7 useful fixes for iPad overheating.
Part 1: Why Is My iPad Overheating?
In general, there are a few reasons that can make your iPad overheat, including high temperature, heavy usage, bad ventilation, and outdated iOS versions. You need to look at the actual situation, and see what's causing overheated iPad. For example, if you are using photo editing apps, watching high-resolution videos, or playing mobile games on your iPad in hot weather, your device is likely to run hot. Or, you may encounter some system glitches if you have not updated your system for a long time.
Part 2: How to Fix Overheated iPad
Way 1: Stop Charging Your iPad
When your iPad is charging, the battery of it will heat up. At this time, if you use it to edit photos or videos, or play graphics-intensive games, your iPad's battery will heat much faster and become overheating. Therefore, you need to stop charging your iPad and wait for a period of time. Then, your overheated iPad will cool down.
Way 2: Change Authorized Accessories
According to Apple, it's suggested that you use official or authorized accessories to charge your iPad. If you use no-brand adapters or cables, your iPad may heat up due to the incompatible accessories. What's more, unsuitable cables and adapters can shorten your iPad's battery life in the long run. Thus, you can change other authorized accessories, or unplug your iPad from charging for a while when your iPad is overheating.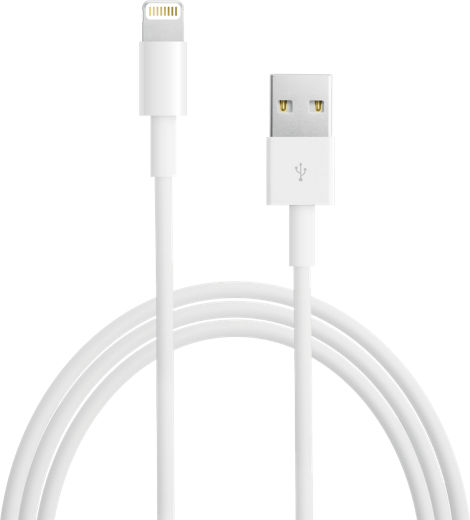 Way 3: Close Background Apps
Sometimes, the apps you open will stay in the background, which enables you to get the fresh content of the apps without waiting. However, these background apps can occupy your iPad's running memory and make it run slower and hotter. If you don't need to get instant notification of these apps, you are suggested to close background apps to cool your iPad. To close background apps on an iPad with a Home button, you can double press the Home button, and swipe up to close the apps you don't need to use instantly by the Apple Switcher. If you use an iPad without a Home button, you can swipe up from the bottom of the screen to reach App Switcher and shut down unnecessary background apps.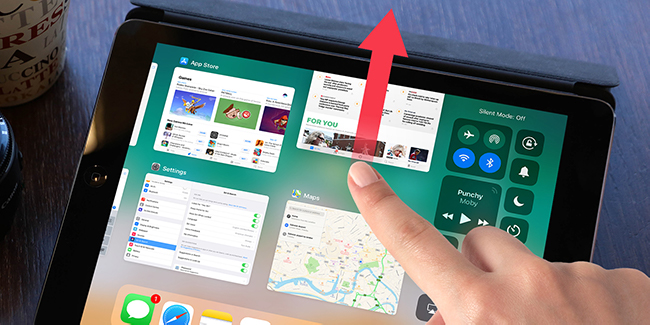 Way 4: Disable Background App Refresh
As mentioned above, background app refresh will slow your iPad and make it overheated. Thus, you can cool your iPad by disabling background app research on it. You can conduct this method by going to Settings > General > Background App Refresh. Then, the applications which are running in the background will be shown on the screen, you can determine whether they are making your iPad run hot, and choose the toggle next to the apps to turn off the background app refresh according to your needs to fix this issue.
Way 5: Update Your iPad
In some cases, an outdated version of iOS can lead to overheated iPad. To improve your iPad's performance and avoid system errors, it's suggested by Apple that you update your iOS to the latest version every year. To update your iOS system, you can head to Settings > General > Software Update, and then you'll see the update option unavailable. Choose the version you want to update to, and click on the Download and Install button followed by Install Now to allow your iPad to download and install the new version.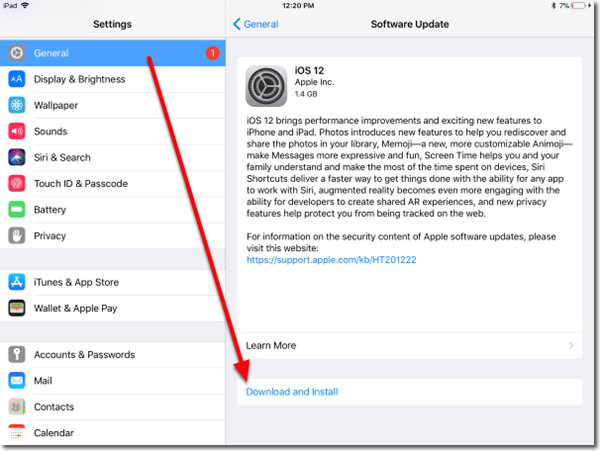 Way 6: Use TunesKit iOS System Recovery
Can't solve your problem with the previous method? Here comes our most recommended method – TunesKit iOS System Recovery. It's one of the most effective tools for you to fix more than 150 system issues on your iPhone, iPad, and iPod touch, including iPad running hot, iPhone overheating, iPhone screen flickering, iPad stuck on Recovery mode, and more. Thus, you don't need to panic about encountering system errors on your iOS devices. What you need to do is to run TunesKit iOS System Recovery, and click several buttons. You can fix your devices without losing data by yourselves.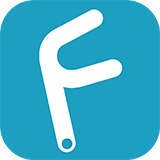 Key Features of TunesKit iOS System Recovery
Fixes iPad overheating problem with no data loss
With Standard Mode and Advanced Mode to solve simple problems
Works well on diverse iOS devices including iPhone/iPad/iPod
Supports the latest iOS 16 version and older ones
Easy-to-use and user-friendly interface with simple steps
Try It Free
600,000+ Downloads
Try It Free
600,000+ Downloads
In the following, we'll show you how to use TunesKit iOS System Recovery to fix iPad running hot.
Step 1: Run TunesKit iOS System Recovery on your Windows PC or Mac, and use a matched cable to connect your iPad to it. Once your iPad is successfully detected, click on the Start button.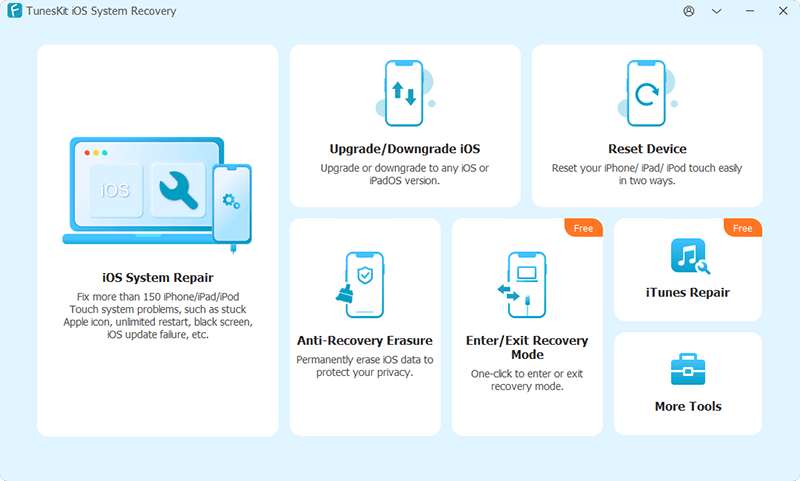 Step 2: On the screen, you will be given two optional modes to fix your iPad overheating. You are suggested to choose Standard Mode if you mind losing your data. If you choose Advanced Mode, remember to save your important data.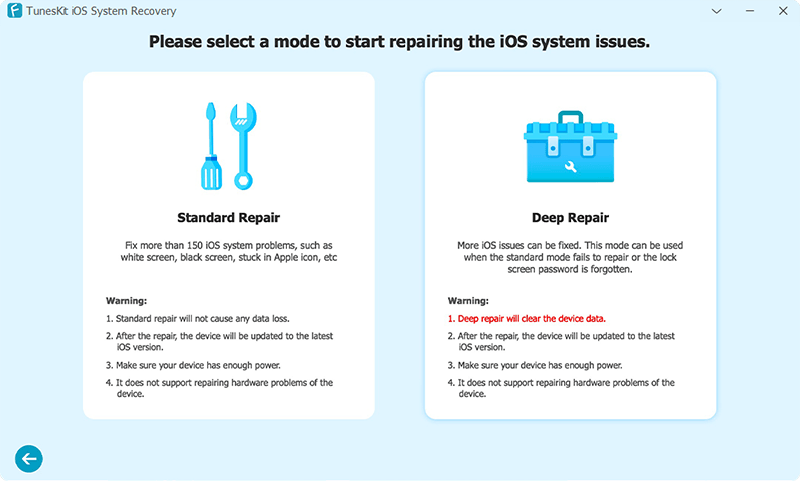 Step 3: Check whether the information displayed on the screen is totally matched with your iPad, and then click on the Download button to download matched firmware package.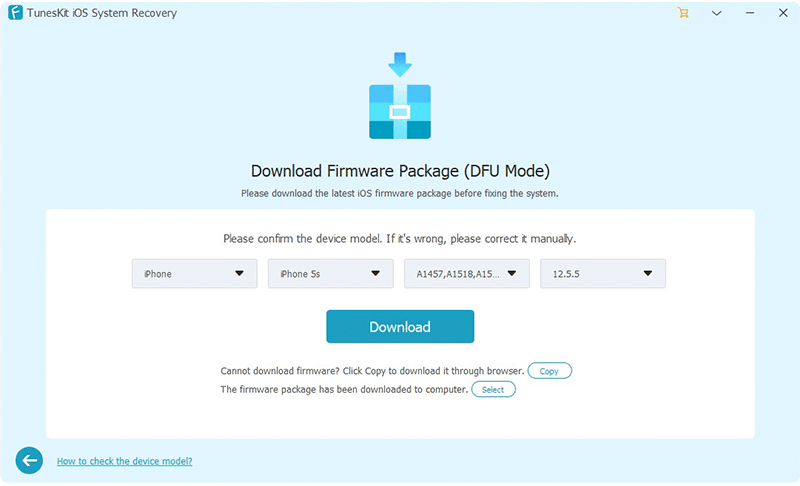 Step 4: Once the firmware package is downloaded and verified, hit on the Repair button to start the repair process. Remember to keep your iPad connected to the computer during the process. When this process finishes, your overheated iPad will become normal.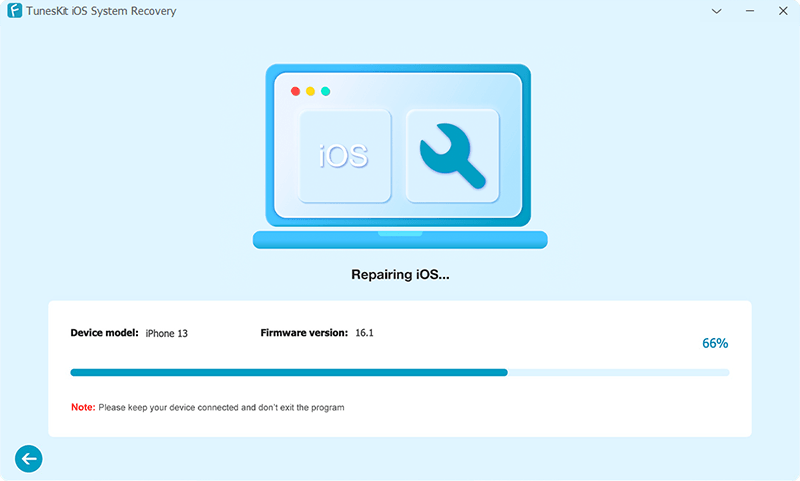 Way 7: Contact Apple Support
If you still fail to resolve this problem, it's time for you to contact Apple Support. There may be some problem with your battery or other hardware. It's not an easy thing for you to fix it if you don't have enough knowledge about Apple's hardware. Therefore, you had better seek help from professionals online or offline to fix your iPad.
Part 3: How to Prevent Your iPad from Overheating
In this part, we want to introduce you some tips ON how to prevent your iPad from overheating.
1. You had better use your digital devices in a suitable environment. Don't use it under the scorching sun.
2. Use a case that is easy to dissipate heat. Improper or impaired third-party case can influence ventilation and heat your iPad.
3. Charge your iPad properly. Don't use unauthorized accessories to charge your iPad. Try not to use it when it's charging.
4. Update your iOS system and apps on your device regularly to avoid overheating.
Part 4: The Closing Words
We hope this article can offer you some useful methods to fix your iPad overheating. Among all these solutions, TunesKit iOS System Recovery is the best one for you if you want to fix iPad running hot by yourself successfully. Please leave us a comment below if you have any doubts.