Howto: Fix iPhone Microphone Not Working 2020
5 mins read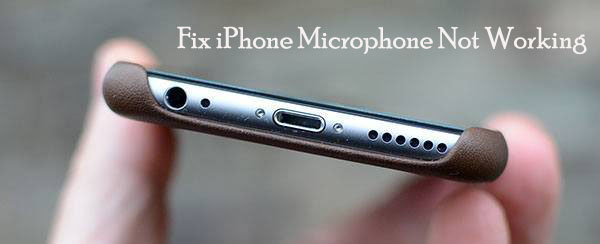 Q: "People can't hear me on my iPhone X and I cannot hear the other during calls, is there anything wrong with my microphone? How can I fix the problem? Please help!" – Kelly from Quora
It must be very frustrated when your friends don't hear you during phone calls or FaceTime calls, or Siri can't hear you, or you don't hear the sound while playing a recorded audio. No worries. In this article, I will figure out 10 possible solutions to help you fix the microphone not working on iPhone problem.
Part 1. Test the Microphones on iPhone
Before dive into the detailed solutions, let's test the microphones on your iPhone first to find out if there is an issue with the microphone. As we know, there are several microphones on your iPhone, so we can test them by using different ways. Make sure you're not blocking the microphone with your fingers or case while holding the phone or recording video.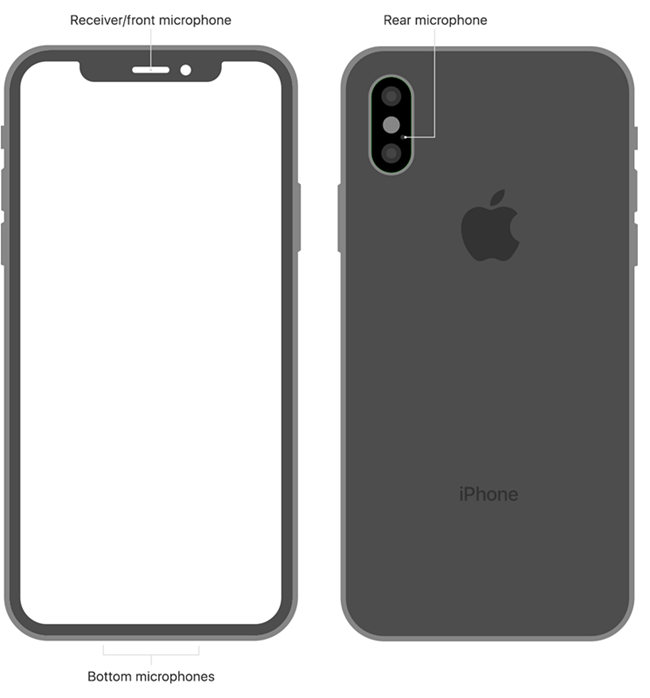 1. Use Voice Memos
To test the microphones on the bottom of your device, you can open Voice Memos app and tap the Record icon. Next speak to the microphone for a few seconds and then play back the recording to see whether you can hear your voice or not.
2. Use Camera App
To test the front microphone, you can open the Camera app and record a short video with the front camera. Play back the video to hear the sound.
To test the rear microphone, you can still use the Camera app but record a video with black camera. Play the recording to have a check.
3. Using Siri
You can also use Siri to test your receiver and front microphone on the top of your device. Just press the Home button (or Side button for models without a Home button) to activate Siri and then ask Siri something. If Siri doesn't answer you, she might not hear you.
Part 2. Fix Microphone Not Working on iPhone - 10 Methods
After testing your device and it still has issues, you can then try the following solutions to get it fixed.
1. Remove iPhone Case or Protector
Your iPhone case, screen protector or film that might cover the microphone or iPhone receiver and thus cause microphone on iPhone not working problem. Try to remove all of these and then test it by using the methods above.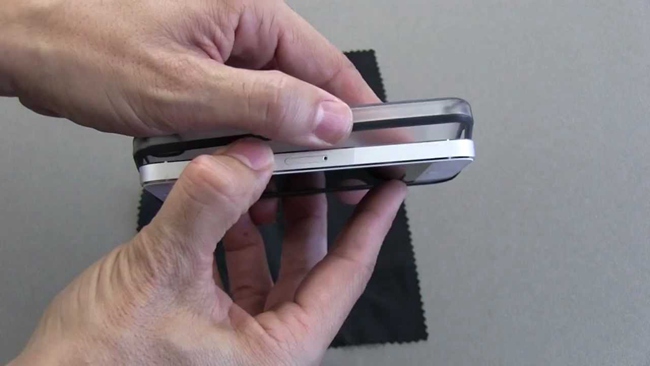 2. Clean the Microphones
If your microphones have some debris, it may prevent them from working. Use a dry clean cloth or a small vacuum cleaner to clear any debris from the hole of the microphones or iPhone receiver. After that, make a phone call to have a check for microphones.
3. Unplug External Devices
The external accessories such as external earphones or Bluetooth headsets that plugged into the headphone jack may cause your iPhone microphone not working issue. Thus, try to unplug any external device and make sure it's not connected to a wireless or wired headset. If the microphones can work normally again, you can plug earphones to have a try.
4. Restart Your iPhone
This can be the easiest yet most efficient method to fix most simple system problems and it's quite easy to do so.
Step 1. Press Power button (press both Power and Volume buttons for iPhone X and newer models) until you see the 'Slide to power off' slider appear. Drag the slider and turn it off.
Step 2. Wait for 30 seconds to let it turn off. Press the Power button until you see the white Apple logo to turn it on again.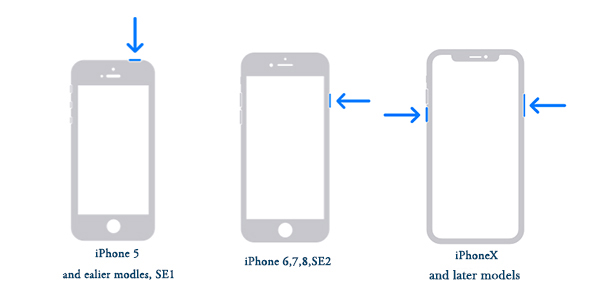 5. Give Audio Permission for Apps
If your microphone not working only happens when you use certain apps, you can check the iPhone microphone settings to make sure that the apps have the permission to access the microphone.
Step 1. Open your device and go to the Settings > General > Privacy > Microphone.
Step 2. Toggle the option to grant the permission for apps that you want to use them with the microphones.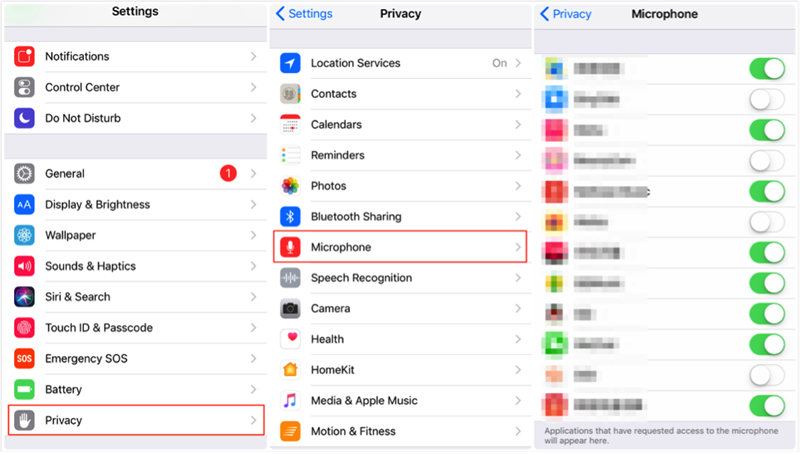 6. Turn off Noise Cancellation
Have you ever notice the Noise Cancellation feature on your iPhone? This feature will help you reduce the surrounding noise when you're making a phone call with others. You can try turning it off to fix microphone not working problem.
Step 1. Open your iPhone and go to the Settings > General > Accessibility.
Step 2. Scroll down until you see the Phone Noise Cancelation option. Toggle it off if you find that it turned on.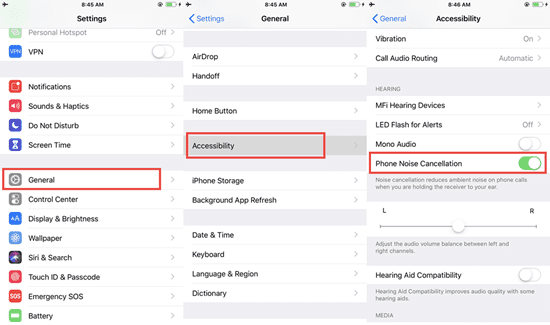 7. Update iOS to the Latest
Your iPhone microphone not working on calls may be fixed on a newer update by the Apple developer, so make sure your device has updated to the latest iOS version.
Step 1. Open your iPhone and go to the Settings > General > Software Update.
Step 2. Press on the Install Now button to download and install the update on your iPhone if there is an available one.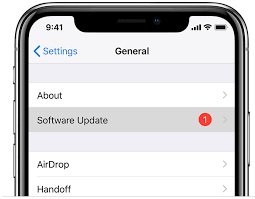 8. Reset All Settings
If you once changed the settings of your iPhone microphone settings, and this may cause the microphone not to work. So try this method if the aforementioned tips can't fix the problem.
Step 1. Open the Settings app on your iPhone and navigate to the General > scroll down to select Reset > Reset All Settings.
Step 2. Enter your password and hit the Reset All Settings option to confirm the action.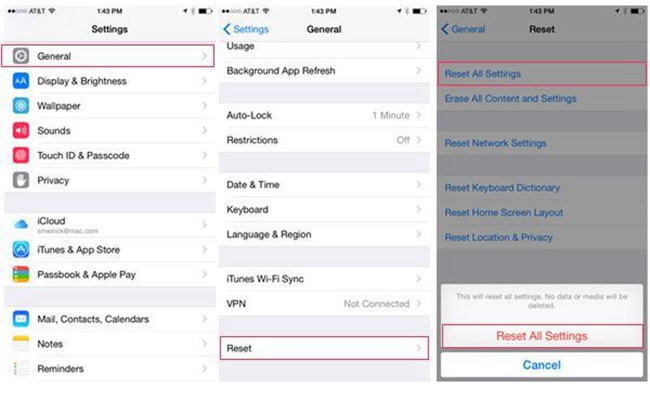 9. Erase All Content (Data Loss)
If resetting the settings of your device doesn't work, this time you can try to erase your iPhone. This will reset all of iPhone settings, but also erase the apps and content. Hence, we strongly recommend backing up your data before taking this method.
Step 1. Go to the Settings > Reset > Reset All Content and Settings.
Step 2. Enter the right passcode and tap the Erase iPhone option to continue the process.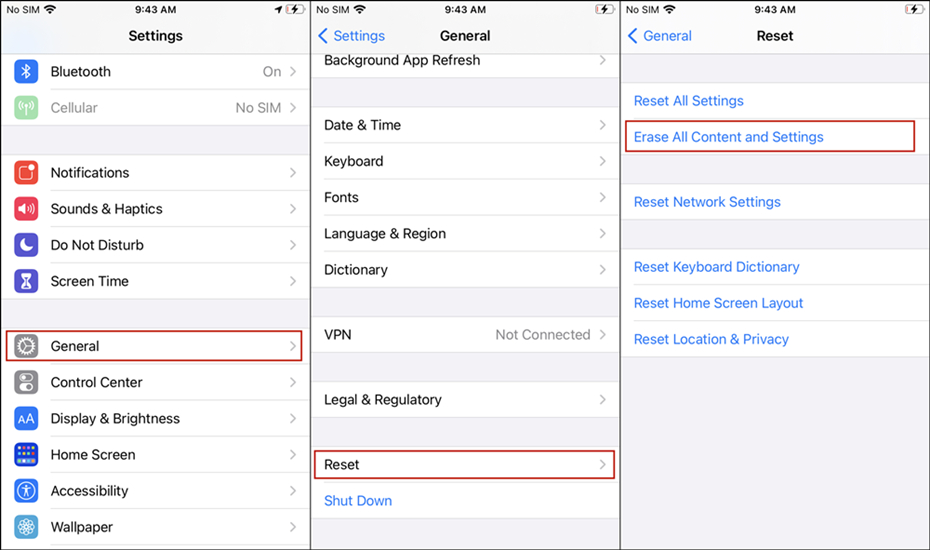 10. Fix Microphone Not Working on iPhone without Data Loss
After tried all the solutions above, but your microphone problem still exist, you can then try the last resort. That is, use a professional third-party iOS repair tool named TunesKit iOS System Recovery to fix your iPhone microphone not working issue efficiently.
This smart utility will help you fix various iOS system problems on the iPhone, iPad and iPod touch, including microphone not working, Siri not working, iPhone stuck in recovery mode, stuck on Apple logo, blue screen, etc. Most importantly, TunesKit iOS System Recovery will 100% fix the problem while keeping all the data on your device. The repairing process is super easy.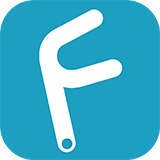 Why Choose TunesKit iOS System Recovery?
Fix iOS system issues with no data loss
Two repair modes are provided - Standard/Advanced
One click to enter the recovery mode for free
Compatible with all iOS devices and latest versions
Intuitive interface with clear navigations
Try It Free
600,000+ Downloads
Try It Free
600,000+ Downloads
Step 1. Download and launch TunesKit iOS System Recovery for Mac (or for Windows) on your Mac computer and connect your iPhone to the computer with a USB cable.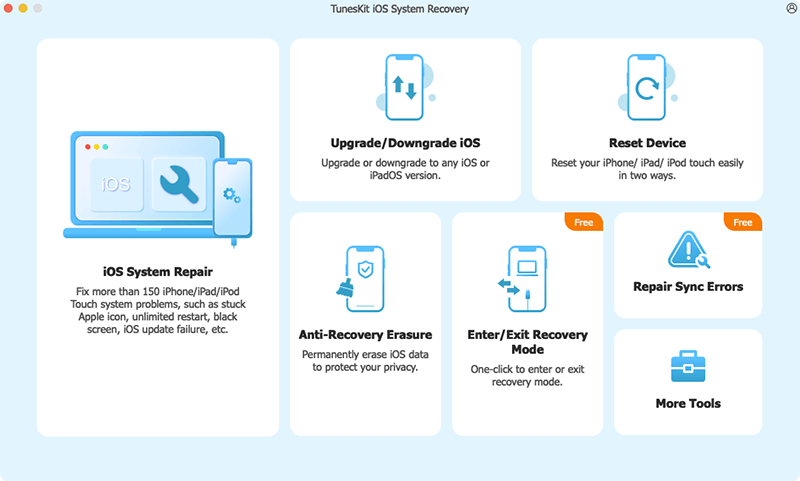 Step 2. After it's detected by the program, click the Start button and then select Standard Mode to fix microphone problem without data loss.
Step 3. Confirm your device information and make sure it's all correct. Then press the Download button to download the iOS firmware package and verify it.
Step 4. When the download is done, click the Repair button to start fixing microphone not working on iPhone problem with TunesKit.