Siri Not Working on iPhone? Easy Solutions to Fix
6 mins read
Q: "Last night, when I finished updating my iPhone to the latest version of iOS 13.2.2, I found that Siri isn't working any more. I tried to ask her to make a call to my friend, but nothing happened. She just doesn't listen to me anymore. I don't know what happened and why is my Siri not working after iOS update? Can someone help me? Many thanks!" – Bob from Quora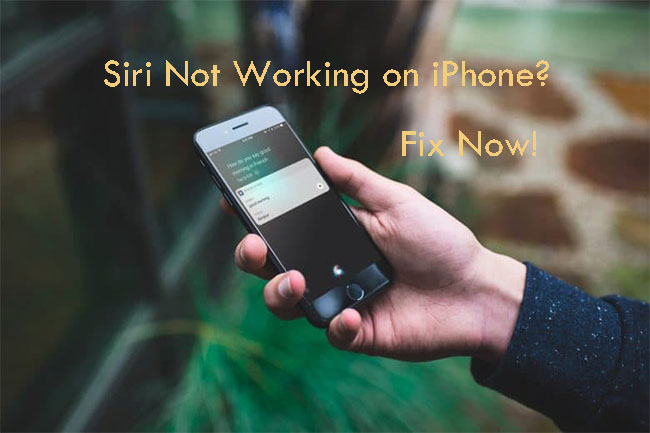 Short for Speech Interpretation & Recognition Interface, Siri is a virtual voice-activated intelligent personal assistant. As one of the most useful features on iPhone, Siri has made it easy for us to send messages, navigate the trip, check the weather or set the alarms, etc. However, nowadays a growing number of iOS users have complained that the Siri not working on their iPhones, especially when they update the version to iOS 13, just like Bob. Therefore, in this article we're going to find out some common reasons why is Siri not working, along with their solutions.
Part 1. Check Your Siri Settings First
If Siri is not working on your iPhone, you can do some checking first to make sure the feature can be normally worked on your device, according to the official Apple Support Team. So far, Siri feature can be used on iPhone 6S or later. If you're using other iPhone model, then Siri will not be available on it. If your device supports Siri, but it doesn't work, just keep reading and find solutions.
1. Is your Siri on?
First of all, please make sure your Siri feature is turned on. Go to the "Settings" > "Siri & Search" to have a check. Trigger the options for "Hey Siri" and "Press Side Button for Siri" ( for iPhone X or later) or "Press Home for Siri" (for iPhone 6s or later) if both are off. If they're on, you can toggle them to Off and turn them on again.
2. Is the restriction on for Siri?
If you cannot turn on Siri on your iPhone, you'd better check whether you have disabed Siri in Restrictions. For iOS 12 or later, go to the "Settings" > "Screen Time" > "Content & Privacy Restrictions" > "Allowed Apps" to make sure the "Siri & Dictation" is turned on. For iOS 11 or former, go to the "Settings" > "General" > "Restrictions" to have a check.
3. Are your microphones working?
When Siri doesn't respond after you ask her a question, she may not hear you successfully. At this time, you can remove your case and clear the microphones with a clean cloth. Then ask Siri a question to see whether she will respond. If not, try to connect an earphone to the microphone, and talk to her to see if Siri works.
4. Is your device muted or Voice Feedback turned off?
If Siri doesn't give your response, she may not hear you at all. Try to increase the volume level on your iPhone and speak clearly while you're talking to her. Next go to the "Settings" > "Siri & Search" > "Voice Feedback" to check and change how Siri should responds.
Part 2. Other Possible Solutions to Fix Siri Not Working on iPhone
After checked all the aforementioned problems and Siri is still not responding, you can then follow these useful tips below to fix it now.
1. Reset the networking
If your device is not connected to the internet such as Wifi or cellular, Siri may not work well and would tell you that she's having trouble connecting to the network, please try again later. Check your internet connection and go to the "Settings" > "General" > "Reset" and tap the "Reset Network Settings" to have a try.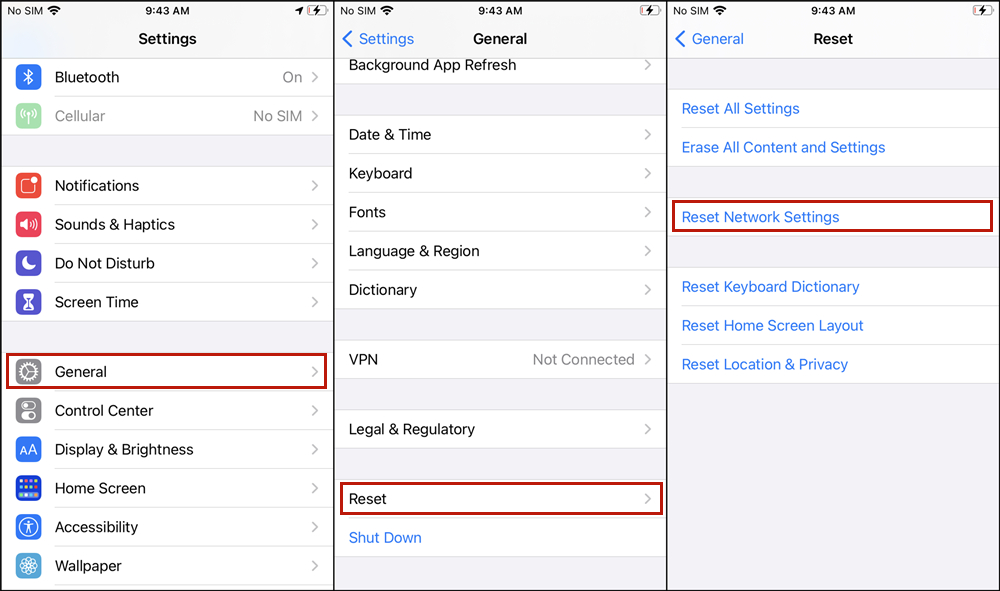 2. Force restart your iPhone
This might be the easiest way to fix most common problems related to iOS device and the method is also simple.
1) For iPhone 6s model, you can press the Home button and the Power button simultaneously until you see the Apple logo appear.
2) For iPhone 7 and 7 Plus devices, please press and hold the Power button and Volume Down button at the same time for at least 10 seconds until the Apple logo comes out on the screen.
3) For iPhone 8 and later models, press the Volume Up button and release it quickly and then do the same operation to the Volume Down button. Then press and hold the Power button until you see the Apple logo (Ignore it when you see Slide to Power Off).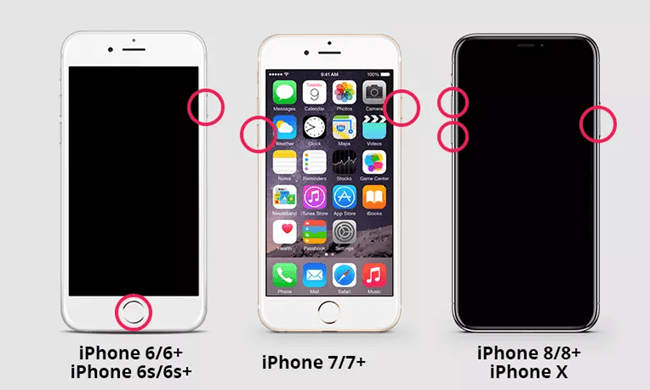 3. Restart iPhone dictaion
Sometimes Siri cannot hear your voice because the dictation function on your iPhone is not working. You can try to restart iPhone dictation to make Siri work normally. Go to the "Settings" > "General" > "Keyboard", and find the "Enable Dictation". Toggle it on or toggle it off and turn it on again.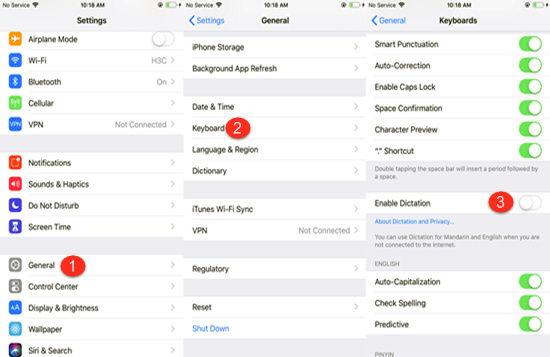 4. Update iOS version
If your Hey Siri not working on iPhone, you can update your iOS to the latest available version, and this may solve some unknown Siri issues. You can go to the "Settings" > "General" > "Software Update". Tab the "Install Now" button if there is an update available.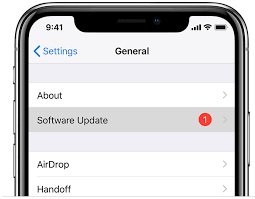 5. Restore iPhone to factory settings
This might be the last resort to fix Siri not working on iPhone X or other models. Trying restoring your device to the factory settings will remove all the settings you've made thus it will also solve the deep system issue that may cause Siri to malfunction. Just go to the "Settings" > "General" > "Reset". Tab the "Erase All Content and Settings" button to do the factory reset.
Note: This operate will erase all the data and settings on your iPhone, please make sure you have backed up all the data before proceeding.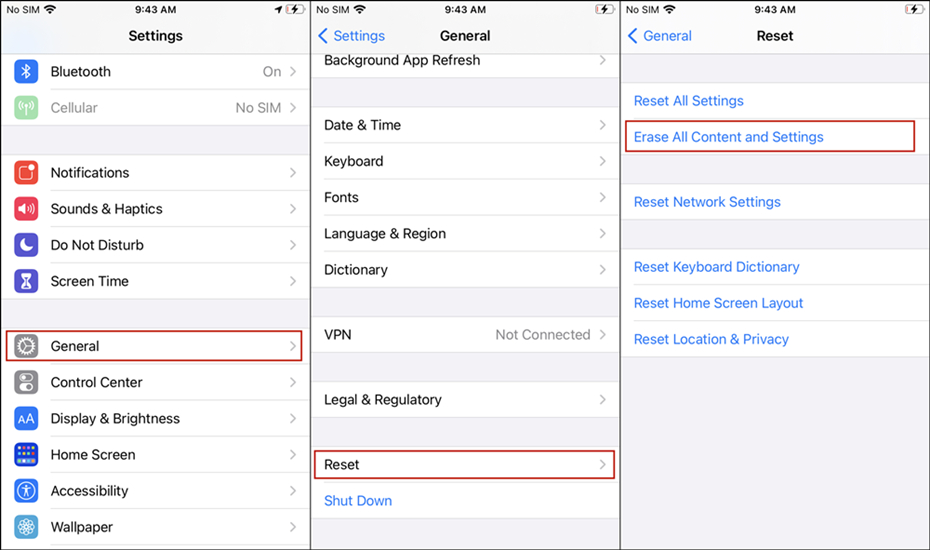 Part 3. Ultimate Way to Fix Siri Not Working on iPhone (iOS 13 Supported)
The tool you'll need: TunesKit iOS System Recovery
Before your restore iPhone to factory settings, you can take a look at this method, which is using a professional third-party iOS repair tool to fix Siri not working problem with no risk of losing any data.
Among multiple similar programs in the market, TunesKit iOS System Recovery is highly recommended here because of its fastest speed and highest success rate. It will help users fix more than 30 kinds of iOS or tvOS problems on iPhone, iPad, iPod touch and Apple TV, such as iPhone stuck on boot loop, recovery mode, black screen, won't turn on, etc. It provides two repair modes to either fix iOS problems without data loss or deeply restore iOS system.
Simple guide: fix Siri not working on iPhone with TunesKit
The following is the quick steps to fix Siri not working on iPhone issue without data loss by using TunesKit iOS System Recovery.
Step 1

Connect iPhone to computer and open TunesKit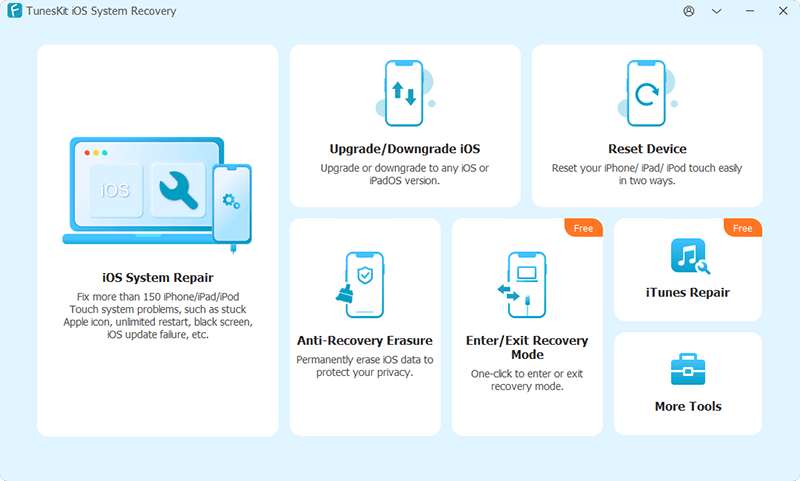 First, connect your device to the computer with an original USB cable. Then launch TunesKit iOS System Recovery on the computer and it will detect your iPhone automatically. Click the "Start" button to begin and then choose the Standard Mode to fix Siri not working problem without data loss.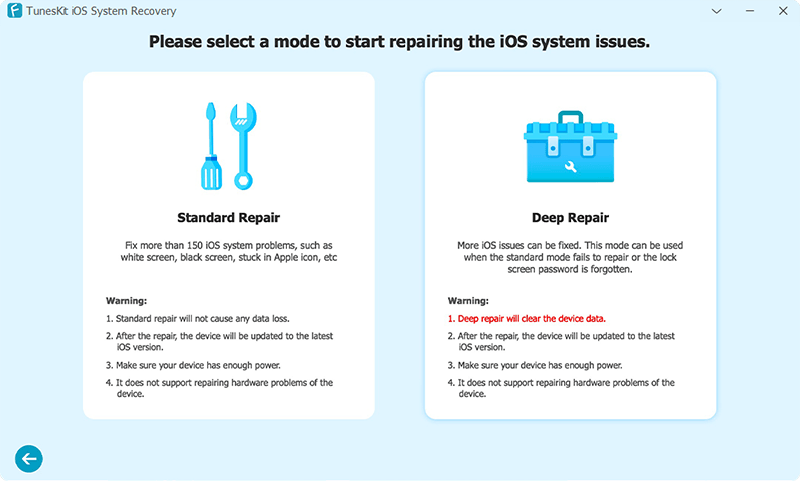 Step 2

Download and verify firmware package

Confirm your device info and correct it manually if anything is wrong. Next click the "Download" button to get relevant iOS firmware package downloaded and verified. Wait a while until the process completes.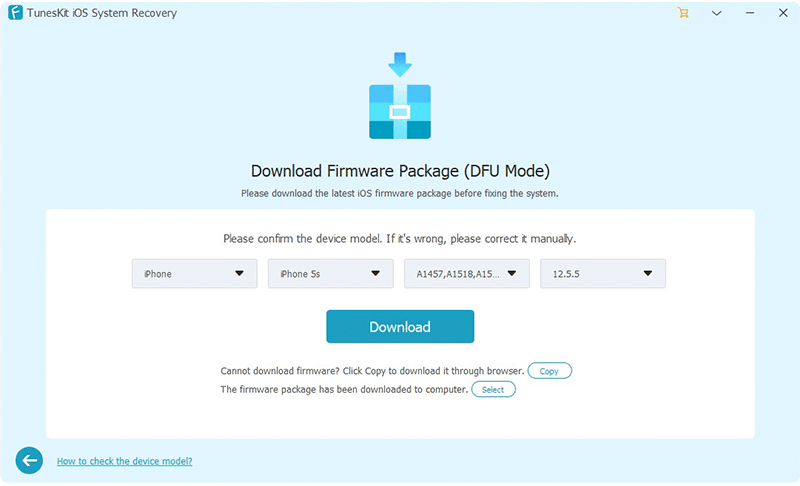 Step 3

Start to fix Siri not working issue

Once the download is done, you can click the "Repair" button and start fixing the problem. Do not plug out your device while it's repairing iOS system, or it may cause other problems. After a few minutes, your device may come back to normal.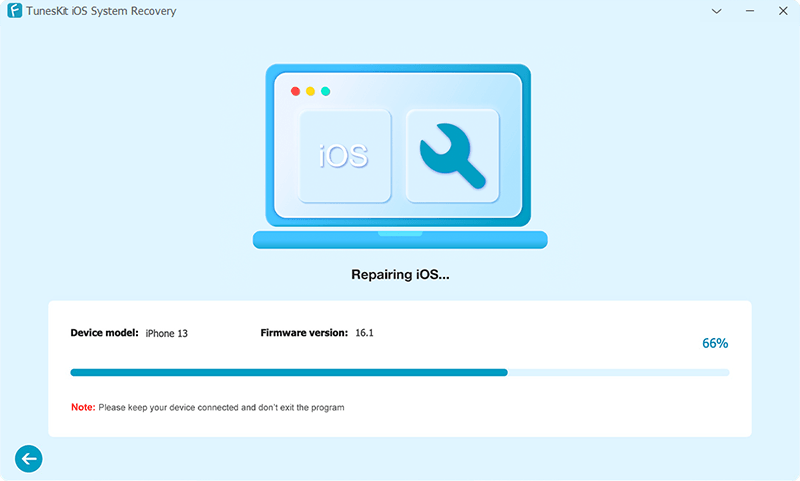 The Bottom Line
All above are some practical easy solutions to fix iPhone Siri not working problem after iOS update. You can try them one by one and if all of them fail to work, please go to Apple Support for help. Before taking your device to Apple Store, we strongly recommend you using TunesKit iOS System Recovery to have a shot. If you have any other good suggestion, please leave a comment below.