Spotify Keeps Crashing on iPhone? 6 Ways Here
5 mins read
"When I pause a song on Spotify, the app will just freeze and not play the song. I contacted Spotify and they just told me to wipe my phone." - a user of Spotify app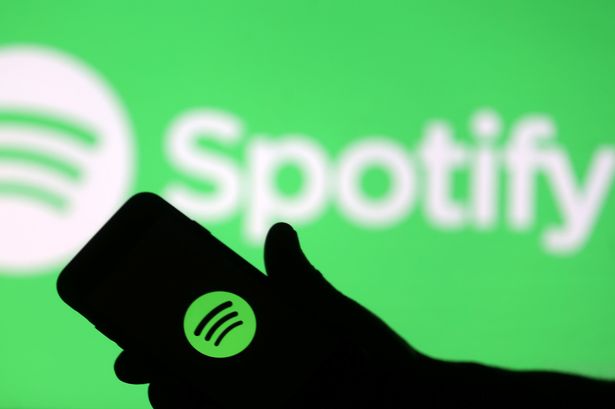 Have you ever encountered this similar issue? Spotify crashes every time you switch songs, download the songs, or even when the app itself is opened? Spotify is the main music player for a huge number of music lovers, there for the Spotify keeps crashing problem troubles many users. To help those bothered, we did researches and experiments, then conclude the best ways to fix Spotify app keeps crashing iPhone.
Why does Spotify keep crashing iPhone
Outdated version - Spotify is not the latest version, which may cause some compatibility problems or bugs.
Memory space - There is not enough memory space in RAM. Your iPhone can only hold a limited number of applications. When you run Spotify while there are multiple apps running in the background, it's very likely the crash.
App damaged - Spotify app or local files are damaged will cause Spotify keeps crashing.
Virus attack - Virus attack is another cause for crashing. When your iPhone's internal memory gets attacked, the Spotify app or even the phone may crash.
iOS version - You should update your iOS version if you are still using an old version. It may have bad compatibility with the latest Spotify app.
What to do when Spotify keeps crashing
Now that we know why Spotify crashes on iPhone, we can now begin to fix the problem.
Solution 1. Reinstall the Spotify app
If you have been using the older version of Spotify app when it starts to crash, it is may not be compatible with the iOS, especially when you have updated the iOS to the latest version. Besides, older versions of Spotify app may have some bugs, which might get fixed in the updates. To update Spotify to the latest version, you can go to the Spotify page in App Store and click the update button. However, we recommend you to remove the old Spotify app and reinstall the latest version to prevent unexpected aftermath.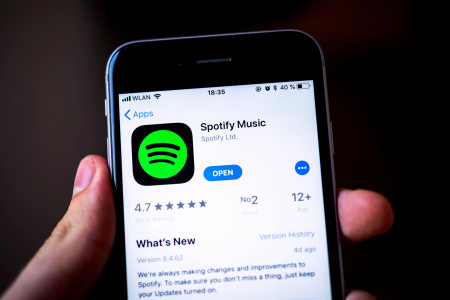 Solution 2. Hard Restart your iPhone
As mentioned above, the Spotify app keeps crashing iPhone issue can result from running out of RAM, which can be caused by too many apps running in the background. Also, if you open a new Spotify app when there is already a Spotify app running in the background, the app may fall into a crash loop. Luckily, a hard restart, which is more thorough than normal restart, can put an end to all of this.
Here is a guide of hard restart:
For iPhone 6 and older versions: hold down the 'Home' and 'Power' keys at the same time until you see the Apple logo on the screen.
For iPhone 7 and derivative versions: hold the 'Volume Up' key and the 'Volume Down' key and then push down the 'Power' key. Keep this for a few seconds until the Apple logo appears on the screen.
For iPhone 8 and later versions: hit once the 'Volume Up' first, then do the same to the 'Volume Down'. Hold the 'Power' button until the Apple logo appears on the screen.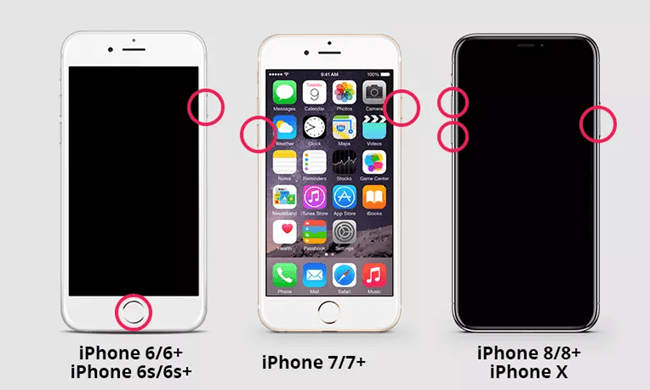 Solution 3: Clear the iPhone Storage
When the internal storage is running out on your iPhone, it's natural that Spotify keeps crashing on iPhone at some point. To clear up the storage,you can do these things: clear safari cache, delete not frequently used apps, delete unwanted photos and videos, clear the useless documents, etc. An alternative way to clear up the storage is to take the assistance of Phone Cleaner for Media Files, which helps you remove unused media files and similar photos. In fact, it would be even better to develop the habit of clearing up iPhone storage from time to time.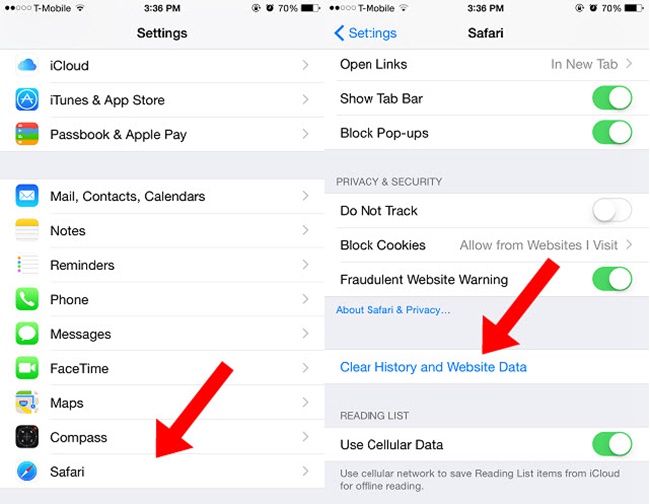 Solution 4. Use TunesKit iOS System Recovery
If the Spotify crashing problem is due to the attack of the virus, the situation gets more severe. In most cases, iPhone only gets virus when its jailbroken. Since iPhone does not have antivirus program, you will probably need the help of third-party tools, and our recommendation is TunesKit iOS System Recovery.
TunesKit iOS System Recovery is able to do a swipe to your iOS, but don't worry, it will not wipe out all your personal data. Apart from the Spotify keeps crashing on iPhone problem, it guarantees to solve over 150 iOS issues. For example, TunesKit can fix iPhone stuck on recovery mode, DFU mode, frozen screen, etc., within several minutes.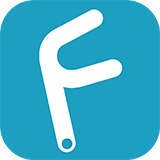 TunesKit iOS System Recovery Key Features
Resolve 150+ iOS issues, including Spotify Keeps Crashing on iPhone
3 quick steps to fix iOS-related issues
No data loss in the Standard Mode
Supports the latest iOS version and Apple models
Easy-to-use interface and user-friendly interface
Try It Free
600,000+ Downloads
Try It Free
600,000+ Downloads
Steps of Using TunesKit iOS System Recovery
Step 1

Launch TunesKit

Launch the TunesKit iOS System Recovery. Then use an Apple USB cable to connect your iOS device to the computer. Then, click Start.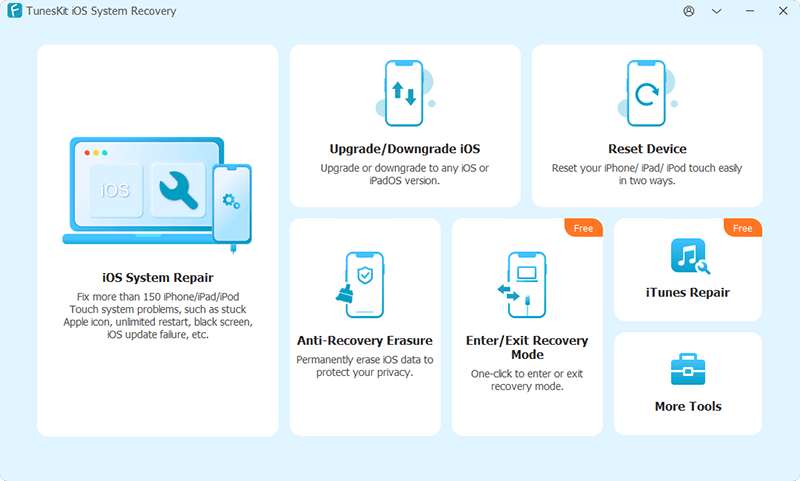 Step 2

Select Standard mode

In the next window, select the Standard Mode to repair your iPhone without data loss. Using this mode will nor erase any data.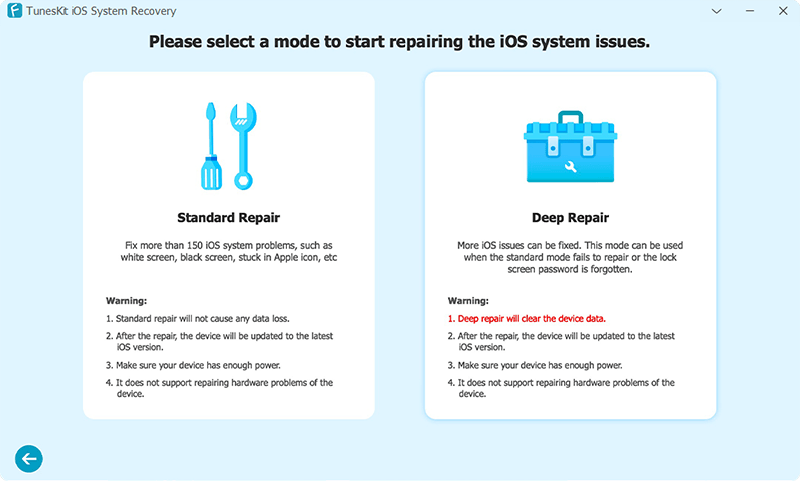 Step 3

Download firmware package

Check the basic info of your device and start to download the matching firmware package. Then, click Download.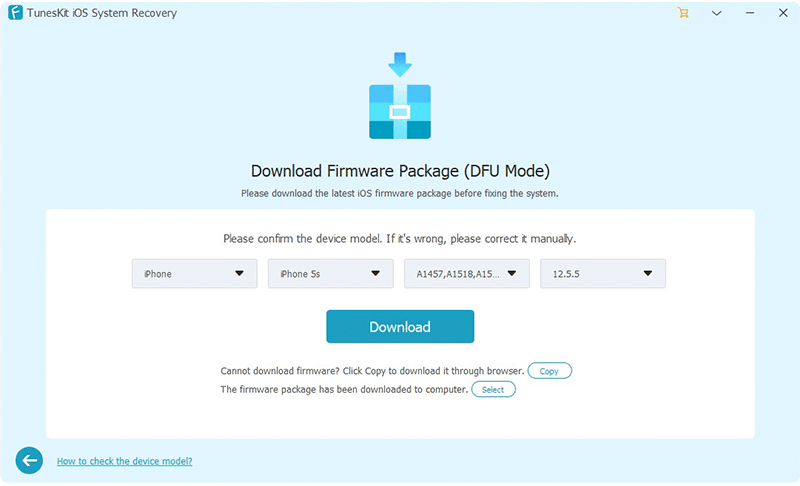 Step 4

Fix Spotify keeps crashing iPhone

Once the firmware is downloaded, click on the Repair button to begin the recovery of the iOS system. After a few minutes, the Spotify keeps crashing problem should be gone for good.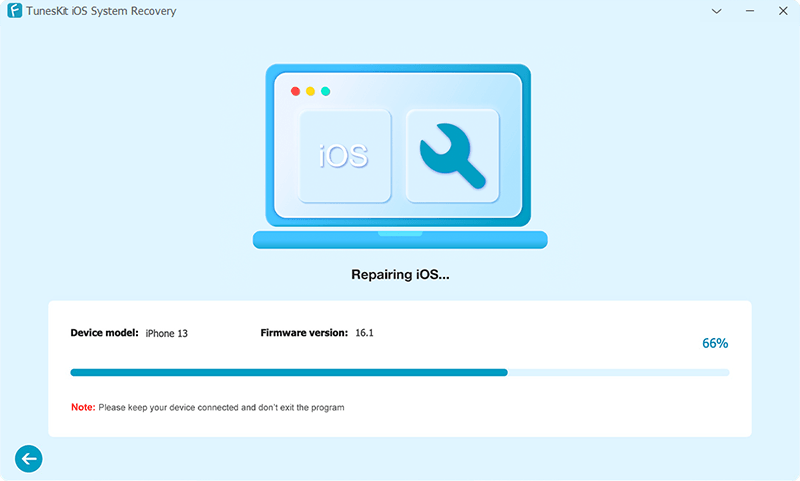 Video Guide: How to Fix Spotify Keeps Crashing on iPhone with TunesKit
Solution 5. Update iOS version to stop Spotify crashing
Updating your iOS version can be one of the feasible methods to fix this Spotify app keeps crashing iPhone issue. You can get the best user experience using the latest Spotify app and iOS version. You can update your iOS version via Settings > General > Software Update. Also, you can connect your iPhone to iTunes to download and install the latest iOS version.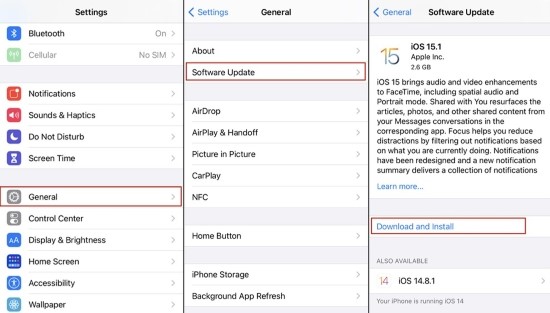 Solution 6. Restore iPhone via iTunes
If the above 5 methods are not working, you can try to restore your iPhone via iTunes. It is a workable method to stop Spotify from crashing though it would erase all your iPhone data. Here is a step-by-step guide for how to restore iPhone via iTunes:
Step 1: Connect your iPhone to a computer and turn on iTunes. Then, turn your iPhone off and put it into Recovery mode.
Step 2: When a little iPhone icon appears on the toolbar, click it.
Step 3: Click on the Summary option and hit on the Restore iPhone tab to restore your iPhone.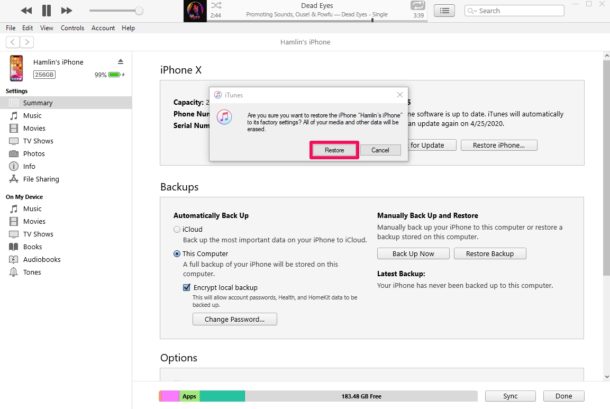 Conclusion
With the help of all the solutions, we are sure that Spotify keeps crashing problem will be gone. We sincerely wish you the best Spotify using experience on iPhone. No matter what kind of Spotify troubles you face, TunesKit iOS System Recovery can assist you at any time. Also, you can leave us a comment if you have any other questions.