What to Do If Your iPad Mini Won't Turn on?
6 mins read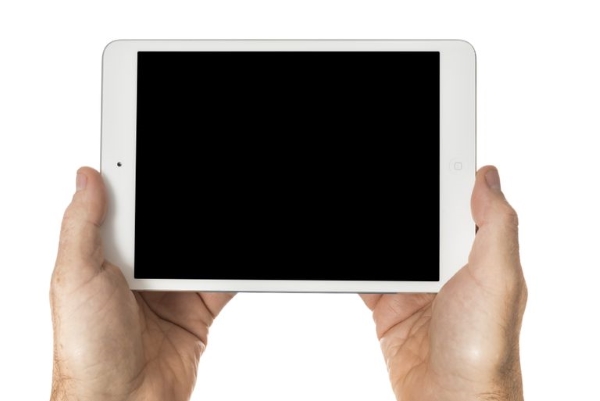 Q: " My Mini iPad won't turn on. I have had it for six months and it was working well before I fell asleep. When I woke up and tried to use it, it just didn't turn on. What should I do now? Any suggestion is appreciated. Thanks." – Shiori from iFixit
iPad Mini stops responding and thus cannot turn on is not a rare problem. Many users have recently reported that their iPad Mini screen won't turn on when they are trying to use it again as Shiori said above. If you only sit there and wonder why is not the solution. Before you take it to the Apple Store for help, we've here collected and tested 6 solutions that you can try to fix your iPad Mini won't turn on problem by yourself.
Part 1. Why Won't My iPad Mini Turn on?
There are some reasons when iPad Mini won't turn on are to blame. To make you familiar with that, I've mapped out some of the possible causes below.
Faulty Charger — A faulty charger can sometimes be the cause of a problem. Third-party chargers tend to malfunction more often, so you might have this problem more often. Providing you're still within your 1-year warranty period, you may be able to get it replaced. If not, you'll have to buy a new charger if it isn't the official Apple charger. By using a charger from a friend or family member, you can easily determine if your charger is functioning properly.
Liquid Damage — There's always that people who like to take their iPad into the bath. If you're having difficulties turning on your iPad, check whether it has been in contact with liquid, as even a small drop can cause damage.
Physical Damage — It's common for users to drop their iPads, especially they are often used by their children. Unfortunately, iPad does not have infallible internal hardware. Usually, dropping the iPad has two possible outcomes. Either the screen is broken or the motherboard is damaged.
Software Issues — There may be a problem with your iPad software that prevents it from turning on. An iPad will usually become unresponsive after a failed software update or after you have jailbroken it. software issues can easily be fixed by yourself, but if you are not familiar with technology, find the easy way in our article below.
Video Guide: 5 Effective Methods to Fix iPad Mini Won't Turn On
Part 2. How to Fix an iPad Mini That Won't Turn on?
Solution 1. Recharge for Hours
Part of users keeps complaining "my iPad Mini won't turn on", but the reason is simply for battery depleted. Similar to the case where your charger malfunctions, your iPad's battery may be fully run out of. So if your iPad Mini can't turn on, make sure that it has enough charge. You should spend more time charging your iPad than usual. Connect your device to the power outlet and charge your iPad Mini for at least 30 minutes or even overnight if you have to.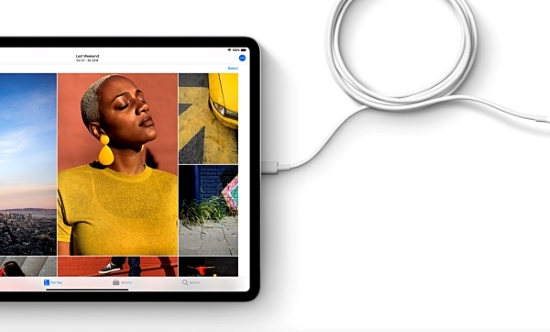 Solution 2. Increase the Brightness
Sometimes when you thought your iPad Mini can't turn on, it's because the tablet screen is too dark. You can open the Control Center of the iPad and turn up the brightness. How to open the Control Center? In iOS 12 and later, just swipe down from the top right corner; in iOS 11 and former, you can swipe up from the bottom.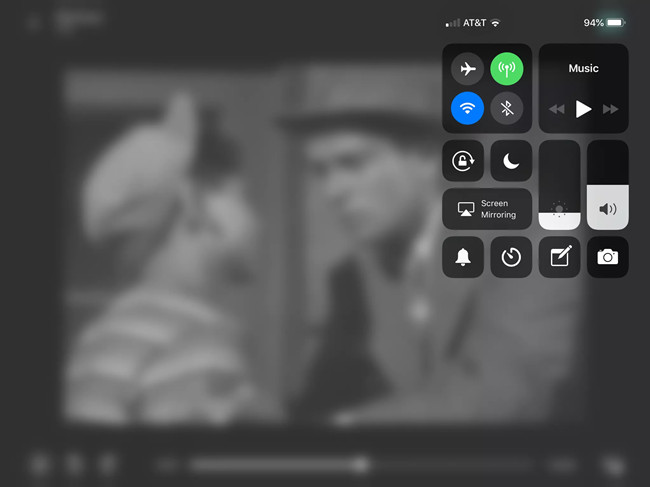 Solution 3. Restart iPad Mini
If your iPad Mini won't turn on or charge, you can try restarting it. This method can be simple yet effective.
Step 1. Press and hold the On/Off button until you see the red slider and then drag the slider.
Step 2. Press and hold the On/Off button again until you see the white Apple logo appear on the device to turn it on.
Solution 4. Hard Reset iPad Mini
If your iPad Mini won't turn on issue still exists, you can then try rebooting your device. This will not remove any app, contacts, or other data on your iPad.
Step 1. Press and hold the On/Off and Home buttons simultaneously for at least 10 seconds.
Step 2. Continue holding the buttons after the slider comes out on the screen. Release both buttons when you see the white Apple logo appear.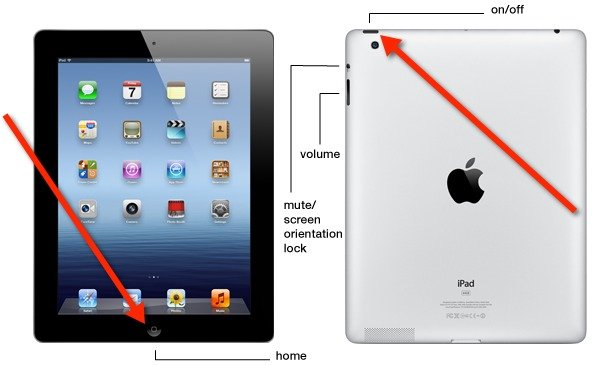 Solution 5. Restore iPad with iTunes [Data Loss]
If the aforementioned solutions can't solve your problem, you can restore your device with iTunes. Yet you should be noted that restoring the device will erase all the settings, media, and data on your iPad. If you don't care, you can follow the quick steps below.
Step 1. Open the iTunes app on your computer. Make sure it's the latest version.
Step 2. Connect your iPad Mini to the computer and it will be detected by iTunes. Hit your device icon and go to the "Summary" tab and click on the "Restore" option. Confirm the action to restore it.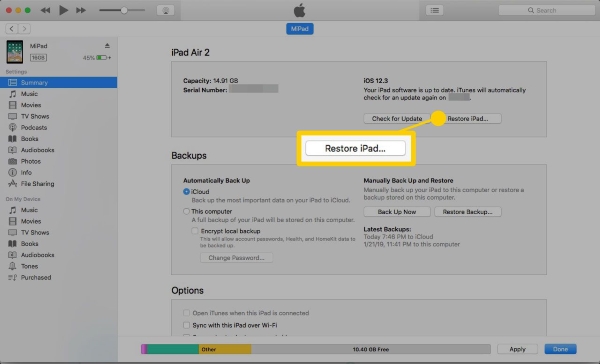 Solution 6. Fix iPad Mini Won't Turn on with TunesKit [Highest Success Rate]
TunesKit iOS System Recovery is a professional iOS repair tool that can fix over 150 different iOS/padOS/tvOS system issues including iPad Mini won't turn on and responding, iPad stuck in recovery mode, iOS update failure, white screen, red screen, blue screen, iPhone stuck in reboot loop, etc. With the adoption of advanced technology, TunesKit is capable of repairing various system problems without causing any data loss. Besides, this powerful tool can also help you bypass iTunes errors, downgrade iOS to the lower version, and enter/exit the recovery mode in one click, etc.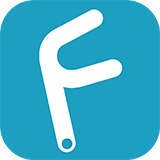 Features of TunesKit iOS System Recovery
Fix iPad Mini won't turn on issue with no data loss
Repair 150+ iOS/padOS/tvOS system problems
Freely enter/exit the recovery mode automatically
Work well on iPad, iPhone, iPod, Apple TV
Available for both Windows and Mac platforms
Try It Free
600,000+ Downloads
Try It Free
600,000+ Downloads
Step 1

Connect iPad to Computer and Launch TunesKit

Connect your iPad Mini to your PC or Mac computer with a USB cord. Download and install the TunesKit iOS System Recovery on the computer and then open it. The program will detect your device automatically. Click the left "Enter the Recovery Mode" option and your device will go into the recovery mode. Then click the "Start" to begin.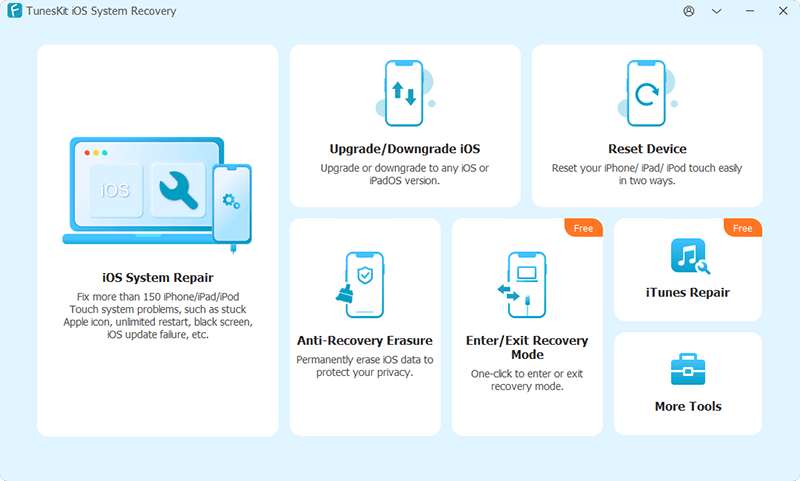 Step 2

Select Repair Mode and Download Firmware

In this interface, select the "Standard Mode" to let TunesKit fix your problem without data loss. Next click the "Download" button after confirming your device info. Wait for a while until TunesKit finished downloading and verifying the iOS firmware package for your device.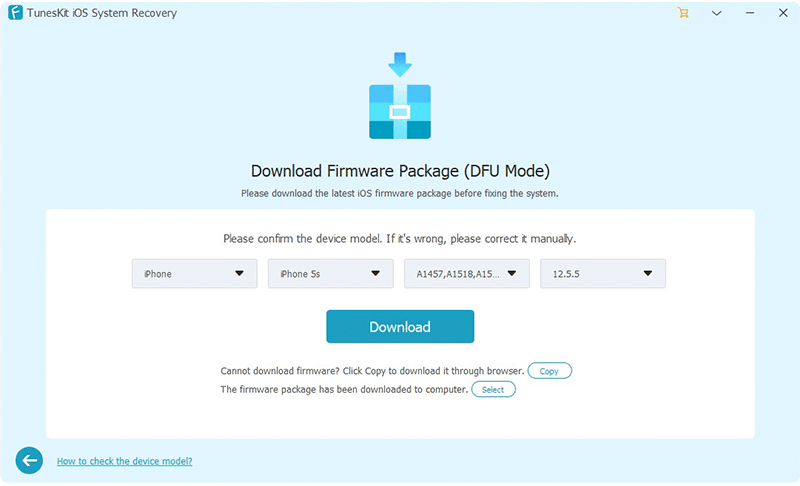 Step 3

Start to Fix iPad Mini Won't Turn on

After downloading the firmware package, you can then click the "Repair" button. TunesKit iOS System Recovery will begin to fix your iPad system problem at once. When the process is completed, your device shall start up like normal. If not, you can repeat the process once again.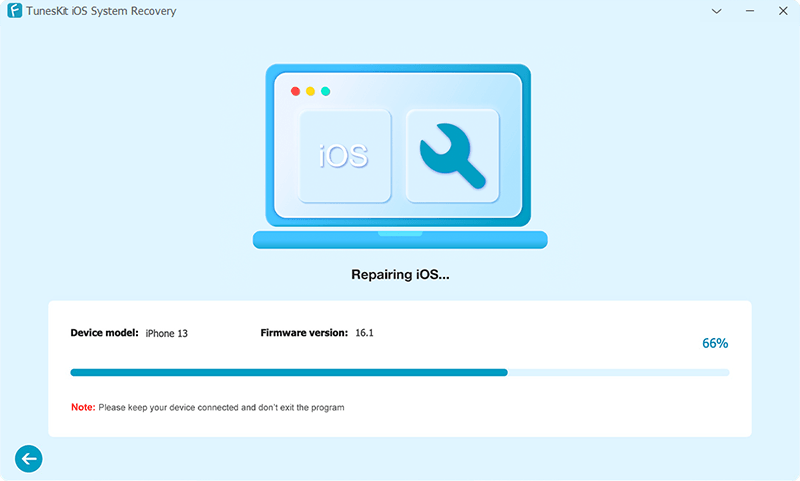 Part 3. iPad Mini Won't Turn on: Conclusion
You will be able to fix your problem immediately with the help of our fruitful helping instructions. I believe your iPad has turned back on! The abridged series of options and steps will allow you to solve many issues. Here we highlight TunesKit iOS System Recovery, which not only prevents an iPad from switching on but helps you free from many kinds of iOS troubles. Need some additional prolific fixing tips to solve this issue? Just leave your comment on the comment box.