Top 8 Quick Fixes to Stop iPhone Keeps Scrolling Up [2023 Update]
7 mins read
"I just experienced weird issue Apple mobile devices. I am wondering why does my iPhone 11 keep scrolling up? Yes, it's 'sticky' and can't allow you to scroll up, especially when the content is vertically orientated. Everything any ideas?"—from an iPhone 11 user
Users enjoy the buttery smooth scrolling of iOS, along with the speed of its user interface. Unfortunately, some iPhone users haven't been enjoying Apple's high-performance user interface since upgrading to iOS 14. Rather, they encounter sluggish keyboard response and slow scrolling. In serious cases, their iPhone keeps scrolling up in the mid of an important task.
Actually, this phenomenon is the same as ghost touch, which makes your iPhone inoperable until the issue is solved. Apple customers are undoubtedly upset by these defects since the iPhone is a premium product.
Several people may simply stop using their iPhones to wait for them back to normal by themselves, while others tend to find a solution to avoid the recurrence. Beneath, we have compiled 8 quick tips that will help get rid of it. Let's continue reading to learn the imperative fixing guide.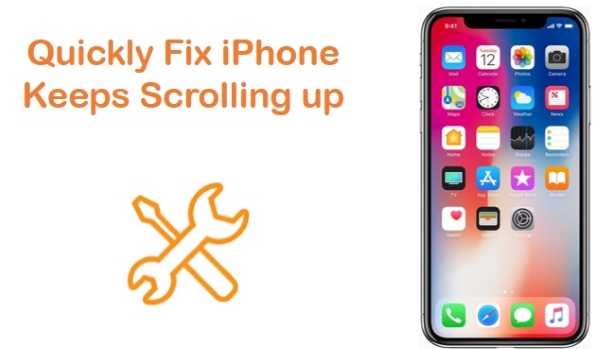 Part 1. Why Does My iPhone Keep Scrolling Up?
It is normal for iOS systems to have out-of-control or malfunctioning functions. In most cases, users can fix the problem by themselves, but if they encounter a hardware problem, they may need some professional help. All the possible causes of iPhone scrolling on its own I have displayed below.
1. Software installed taking virus or bugs. Some viruses can disrupt the operation of the system, thus preventing the operating system from functioning properly and affecting the normal use of some features.
2. Hardware issues on iPhone. If your iPhone has been dropped from a high place, the screen can be damaged to the point where this issue happens.
3. System issues. Problems with iOS have become commonplace, and these problems can lead to malfunctioning controls or random, unexpected problems.
Part 2. How to Fix iPhone Keeps Scrolling to Top?
Fix 1. Reboot Your Device
There is also a possibility that a bug in the system software could be causing the glitches on your iPhone screen. Rebooting the system can easily eliminate a minor bug. The temporary memory and cache on your device will be cleared out, which should resolve the problem.
For iPhone 8/8 Plus, iPhone X, or later, press the Volume Up button and then release it, do this for the Volume Down button. Then hold down the Side button, don't get it off until the Apple logo shows.
For iPhone 7 or 7 Plus, find the Power button and the Volume Down button, and press and hold them together until the Apple logo flashes.
For iPhone 6 and earlier, hold down the Power button and the Home button simultaneously until the Apple logo flashes.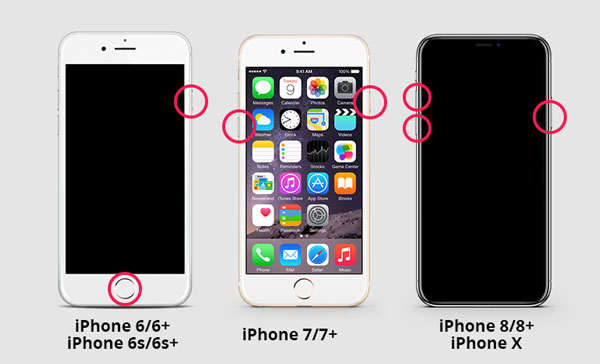 Note: Don't rush to restart your phone first, try to clean the screen while your phone is off, you can refer to the specific steps below to fix iPhone keeps scrolling to top.
Fix 2. Clean iPhone Screen
You may sometimes experience touch problems on your iPhone's screen due to dirt and dust particles. Moreover, the iPhone screen keeps scrolling up is usually generated by the grease on the phone's display. Therefore, cleaning the screen is an important step to take.
Now, please remove any attached accessories and screen protectors. Then spray some cleaning agent on a microfiber cloth and clean your iPhone body and the screen. You can also clean the edges and narrow spaces with a toothpick dipped in a cleaning solution.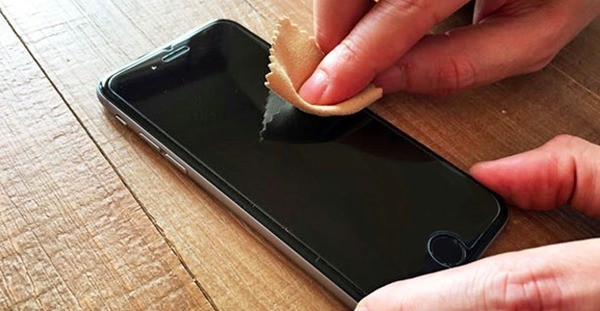 Fix 3. Remove the Case and Screen Protector
Almost all iPhone users cover their screens with a plastic or glass film to prevent scratches. Despite its primary purpose to protect the screen and thus the device's internal components, you may be surprised to learn that it can also affect your touchscreen, making your display scroll automatically. So, we suggest you remove the protective film and check if still iPhone screen scrolling by itself.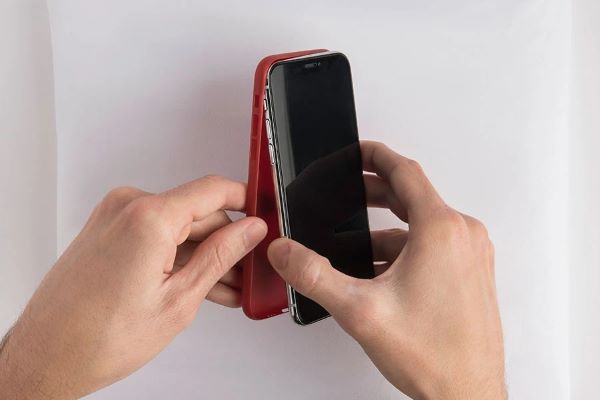 Fix 4. Disconnect All Accessories
It is possible for electronic devices to suddenly malfunction. It is extremely difficult to determine the exact cause of the problem, so it's a good idea to check the external devices. In many cases, users have noticed that their iPhone begins behaving strangely when plugged into the accessory. Whenever you experience iPhone keeps scrolling up, remove or disconnect all external devices to identify where the problem lies in.
Fix 5. Deleted and Reinstall the Specific App
If the iPhone screen scrolls by itself in just one app, maybe the issue is with the app but not the entire device. This can be a result of an unidentified bug in the software, which might be fixed by uninstalling and reinstalling it.
To delete an app:
Step 1. Locate the problematic app you need to delete from the Home screen.
Step 2. Then, long-press the app icon until a menu appears.
Step 3. Hit Remove App → Delete App to confirm.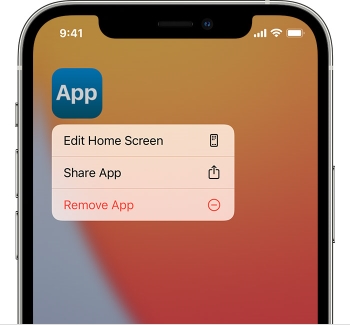 To reinstall the app:
Step 1. Open the App Store on your phone.
Step 2. Head to the Search tab and type in the app name that you want to reinstall.
Step 3. Lastly, tap on GET to reinstall it on your iPhone.
Fix 6. Change 3D or Haptic Touch Sensitivity
Haptic or 3D Touch is a unique feature, which you can use to perform various functions by touching the screen with different pressure and duration of a touch. However, if you mess with the settings or are unfamiliar to use them, things could go awry. A misconfigured setting will cause the iPhone scrolling by itself issue.
To solve iPhone scrolls on its own, try adjusting the 3D or haptic touch sensitivity as follows:
Step 1. Launch the Settings app from your device.
Step 2. Next, scroll down to choose Accessibility.
Step 3. Under the Physical and Motor, hit Touch option.
Step 4. Choose 3D & Haptic Touch.
Step 5. Here, toggle on the 3D Touch.
Step 6. Finally, move the sensitivity slider under the 3D Touch Sensitivity to select a sensitivity level.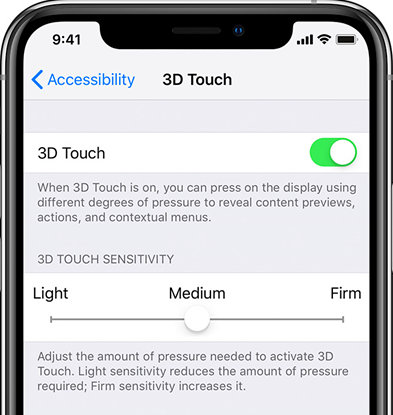 Fix 7. Use the Top-Class Repair Toolkit—TunesKit iOS System Recovery [Hassle-Free]
Relying on a trusted program with millions of iOS users vouching for may be more beneficial than trying multiple methods that only have half a chance of working. Here's a powerful specific software called TunesKit iOS System Recovery that can take care of all the iOS issues quickly and safely. The great part is that the iOS System Recovery function fixes all sorts of problems that over 150 types, not just one or two. That includes iPhone volume keeps going down, iPhone keeps crashing, iPhone keeps switching to silent, and many more. And you don't even have to understand what the problem is. It not only has the "repair" feature but contains free functions—enter/exit Recovery mode. What's more, the software is really simple to use for novice users.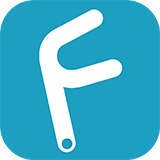 Key Functions of TunesKit iOS System Recovery
Fix 150+ iOS issues on iPhone, iPad, iPod touch
Simple interface & Easy to use
High success rate & Unlimited usage within validity period.
Compatible with the latest iOS 16
Try It Free
600,000+ Downloads
Try It Free
600,000+ Downloads
Now, adhere to these guidelines to fix iPhone keeps scrolling up quickly and successfully.
Step 1

Install TunesKit and Connect iPhone to Computer

A Mac or Windows PC is needed to download and install TunesKit iOS System Recovery. Taking a lighting cable to plug your iPhone into the computer. Now, simply click on "Start" button to fix the problem.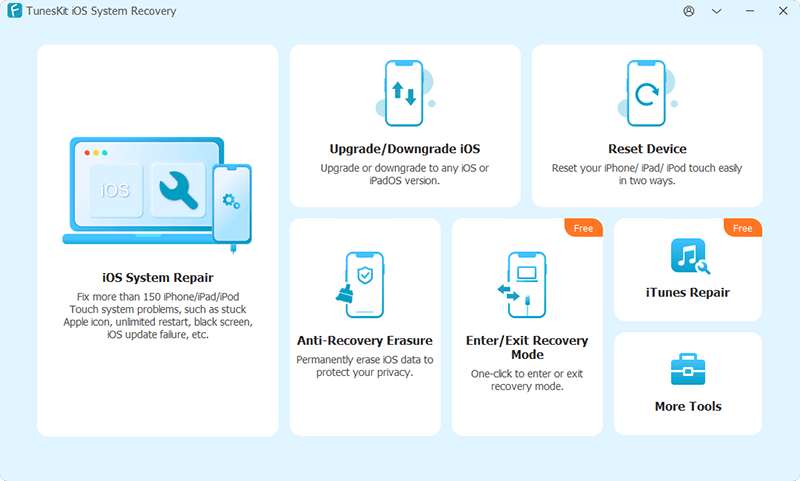 Step 2

Get Your iPhone into Recovery/DFU Mode

Now, you'll need to put your iPhone into Recovery mode with one click. Or put it enter the DFU mode by following the on-screen instructions, which will tell you what to do for your iPhone model. Please make sure you understand all the steps before taking action.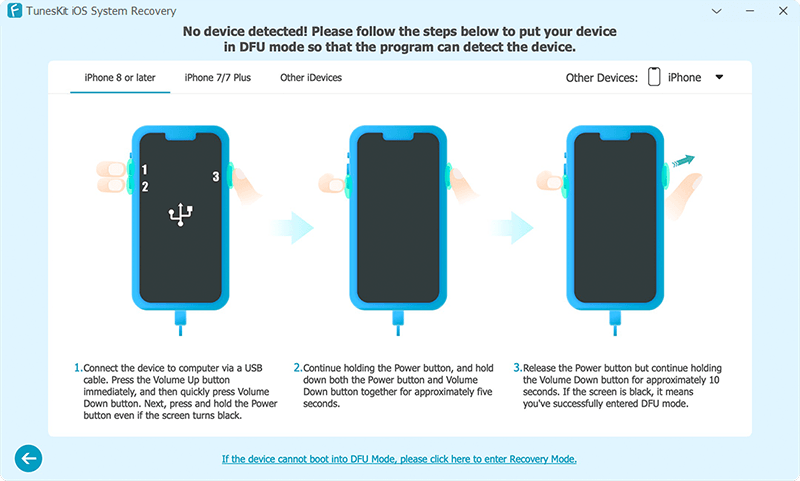 Step 3

Download iOS Firmware

When your device entered the recovery or DFU mode successfully, you'll enter a new page. Check your device info carefully, then "Download" and verify the firmware package.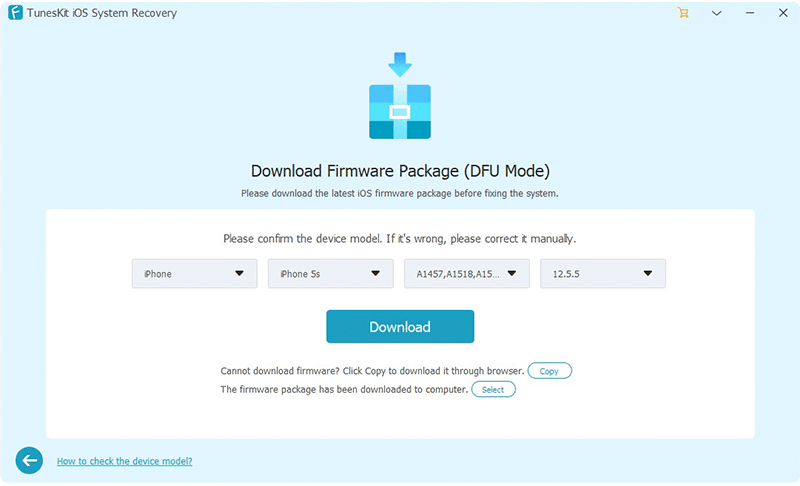 Step 4

Fix iPhone Randomly Scrolls up

When download successfully, you should see an option called "Repair". Click on it and your phone will be back in good shape in a jiff. At the end of the process your iPhone will boot up normally and you'll see the "Repair Complete" screen.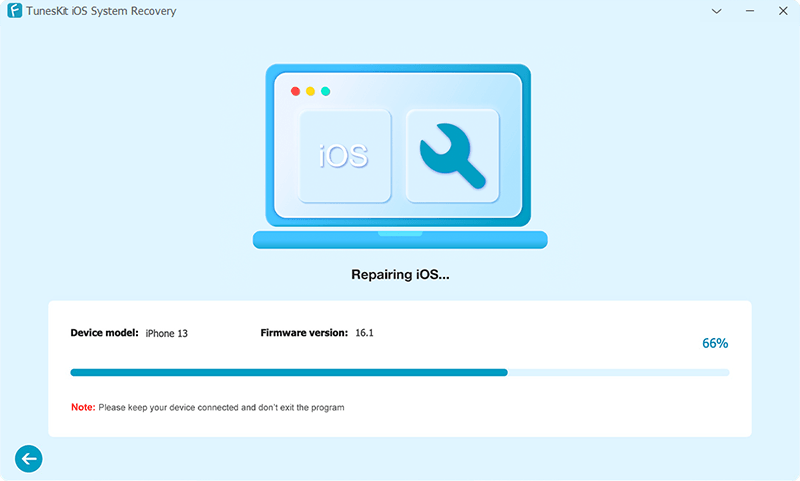 Fix 8. Update the iOS Version
Given that the "iPhone keeps scrolling up" problem is reported across the world, Apple may be formally investigating the situation. Once they figure out the solution, they should release an iOS update. Therefore, install it as soon as it becomes available. To see if you have a version update available, follow these steps:
Step 1. Open Settings on your iPhone.
Step 2. Choose General.
Step 3. Tap on Software Updates and wait to see if you have any pending updates.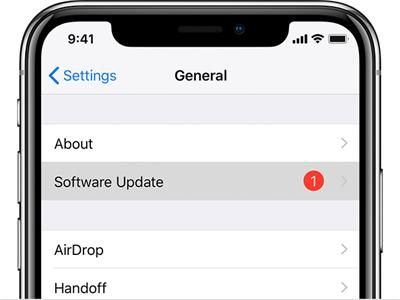 Part 3: More FAQs about iPhone Keeps Scrolling to Top
Q1. How to scroll quickly on iPhone?
When you open a page, you can see a gray scroll bar on the right. To quickly scroll your page from top to bottom, you can press the scroll bar and drag it down, then you can quickly scroll across your screen.
Q2. How to Make iPhone Auto Scroll?
AutoScroll feature is available in the Settings menu. You can enable AutoScroll by tapping the AutoScroll icon. There are three scrolling options available. One of them is determined by how fast you tap the screen. Swiping your finger quickly will speed up auto-scrolling, while soft tapping will slow it down. Apps with scrolling interfaces also offer this feature.
Part 4. Conclusion
That's all the fixes! These were 8 user-proven solutions to fix iPhone keeps scrolling up issue. In short, the causes of this problem with your phone can be broadly divided into software or hardware problems. If it's a setup problem, it can be solved by simply modifying the settings, but if there is a glitch inside the system, we highly recommend you use the repair software, such as TunesKit iOS System Recovery. Plus, ordinary external hardware problems can be solved by simply cleaning the screen or removing the phone case, but if there is a problem with the internal hardware, we still advise you to seek help from Apple.