Troubleshooted: iPhone Volume Button Stuck
5 mins read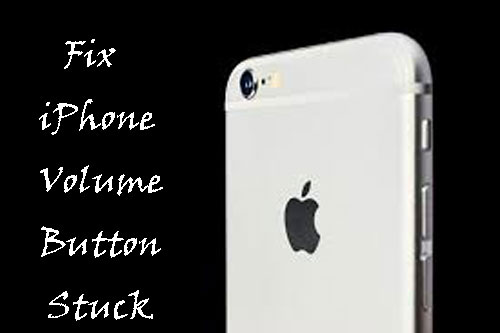 When your iPhone has some sound issues including iPhone call volume too low, in this case you want to boost it by pressing the Volume button, only to find nothing working. Generally, it could be the iPhone Volume button stuck. Why does the Volume button get stuck on your iPhone 6/7 and other models? Sometimes, it can be attributed to dust on the port, hardware or iOS glitches, and the damage of the button. Well, given the reasons, how to fix a stuck volume button on an iPhone? Please go along this article and look at the top 8 methods to get rid of the problem.
Small Tips Before Fixing iPhone Volume Button Stuck
Before we get to the real fixes for the Volume button stuck on iPhone, there are 3 simple things you could do to avoid the iPhone Volume button is superficially stuck.
Method 1: Several Click the Volume Button
First and foremost, once your iPhone Volume button turns stuck, the possible situation could be it stuck inside. In this way, what you can do is to easily and continually press the button for several times until it becomes functioning.
Method 2: Clean the Volume Button
Besides, to make sure the normal performance of your iPhone Volume button for a long time, it's also necessary for you to timely remove the dirt and debris in the port by cleaning and rubbing it with a cotton dipped with few water.
Method 3: Check Charge Port and Headphone Jack
Similarly, checking the charge port and headphone jack of iPhone is significant, too. Because any wrong with them will lead to iPhone 6/7 Volume button stuck. So please clean your iPhone charge port and headphone jack apart from the Volume button.
Effective Ways to Solve Volume Button Stuck on iPhone 6/7
If the above 3 quick ways failed to fix iPhone Volume button stuck, then you can start to try the following 5 more advanced solutions to get out of the trouble.
Method 4: Force Restart iPhone
As is widely know that force rebooting an iPhone can deal with numerous iPhone problems. Likewise, you could force restart your device to resolve the Volume button stuck on iPhone.
iPhone X/11, simultaneously press down the Side and the Volume buttons until the Slider appears, then drag on the slider to turn off the iPhone, finally hold the Side button to turn on it.
iPhone SE (2nd) /8 /7/6, hold down the Side button until the Slider appears and drag on the slider to power off your iPhone, finally press the Side button to power it on.
iPhone SE (1st) / 5 and former, press down the Top until the Slider appears, then pull on the slider to switch off the iPhone, finally hold the Top button to switch it on again.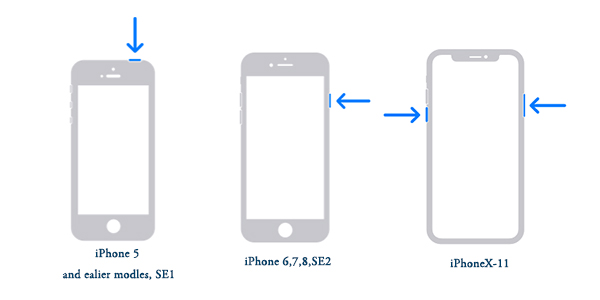 Method 5: iPhone Software Update
To avoid any software bugs causing your iPhone Volume button stuck, you need to update your iPhone to the latest version. Make sure your iPhone has enough battery and is connected to a stable Wi-Fi network, then go to Settings > General > Software Update, and click Download and Install option to wait for the process completed.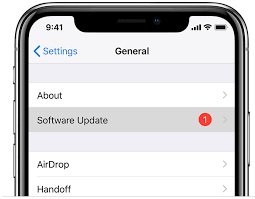 Method 6: Fix iPhone Volume Button Stuck with TunesKit
When it comes to the fastest and the most workable solution to fix a stuck volume button on an iPhone, then it should be various professional iPhone repair software coming to your mind. Just take TunesKit iOS System Recovery as an example. It is a powerful tool to fix different kinds of iOS issues including the iPhone Volume button stuck without any data loss under the Standard Mode. Moreover, it is able to be compatible with all iOS versions and almost all iOS devices. Finally, let's have a look at how TunesKit iOS System Repair troubleshoots the Volume button stuck on your iPhone with only a few clicks
Step 1

Connect iPhone to computer

Open the program and use a USB cable to connect your device to your computer. Tap on the Start button, and then set the repair mode as Standard Mode and click the Next button. After that follow the prompts from the window.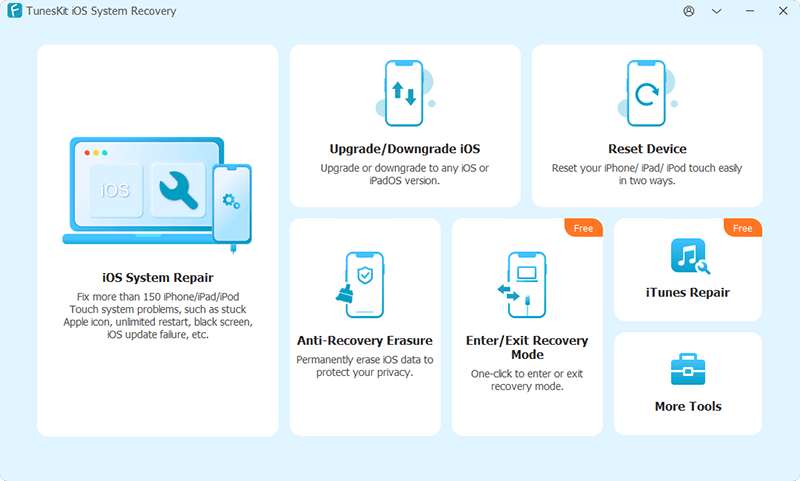 Step 2

Download firmware package

You need to confirm your iPhone info. Correct it manually if any information is wrong. Then press the Download button to get matched firmware package downloaded and verified.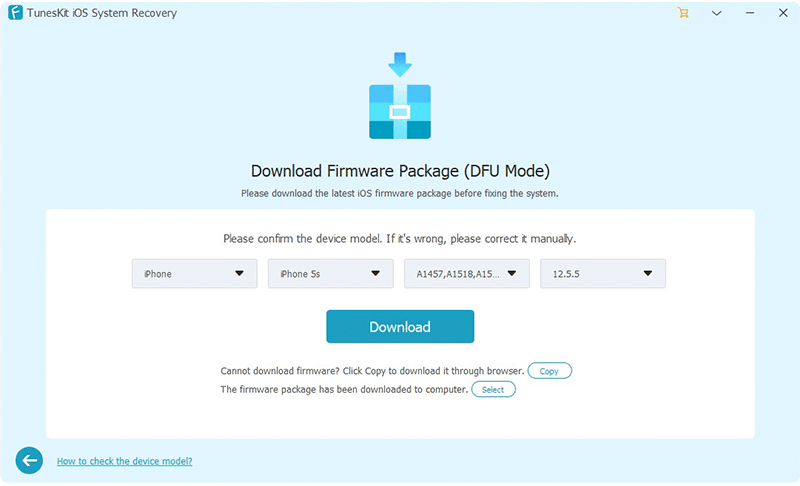 Step 3

Fix iPhone Volume button stuck

When the downloading finishes, just press the Repair option to allow the software fix the stuck volume button on your iPhone. Keep your iPhone connected to the computer until the program completes fixing.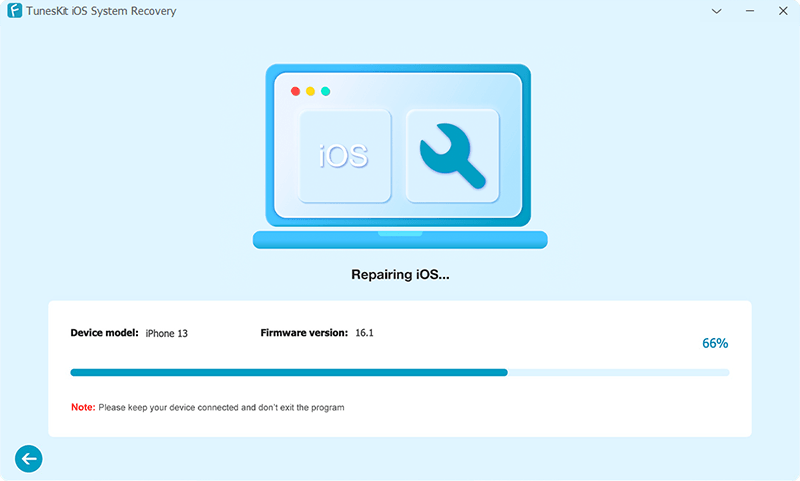 Method 7: Restore iPhone through iTunes
You may also favor the application of iTunes. If so, you could of course use the app to restore your iPhone to factory settings. You can understand from the implied meaning that this fix will delete all data and settings on your iPhone. Therefore, you are suggested to have a backup before proceeding in the steps here.
Step 1: Run the latest iTunes app on your computer and connect your iPhone to the computer.
Step 2: When your device is detected, click Summary tab.
Step 3: Choose Restore iPhone option.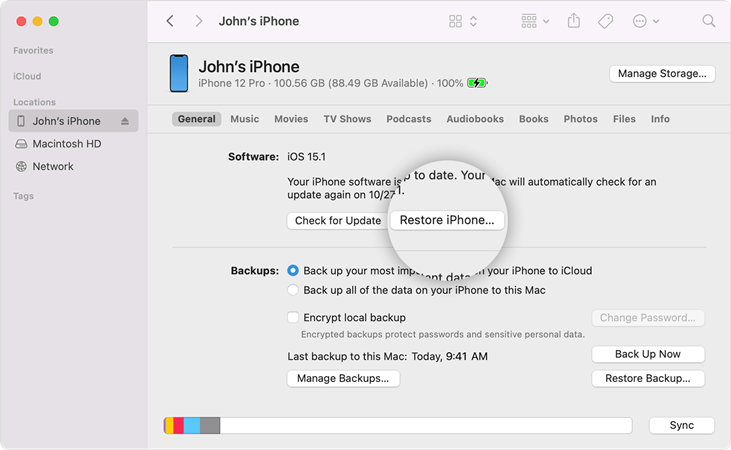 Method 8: Contact Apple Store
In the end, if it is the case of your iPhone Volume button is broken or has other physical damage, then you might have to visit a repair store or directly head to a nearby Apple Center to ask for advice. In most situations, they may replace your broken Volume button on your iPhone with a new one.
Conclusion
iPhone Volume button is of great importance as a part of the iOS device. Thus, it's quite essential to settle it down as soon as possible whenever there is wrong with it. There are 8 ways now you know to fix your iPhone Volume button stuck. Hopefully, they can do you a favor in an effective way.