iPhone Charging Port Not Working? Try These 6 Fixes
5 mins read
It is an annoying and frustrating thing for you to meet the issue of iPhone charging port not working. In this case, your iPhone won't charge unless you use a wireless charger. Then, if the battery of your iPhone becomes down, it may shut down automatically and you are not allowed to use it. However, as this is a commonly seen issue that happens to many iPhone users, there is no need for you to worry too much about it. In this post, we'll list 6 effective solutions to help you fix the charging port on iPhone not working issue.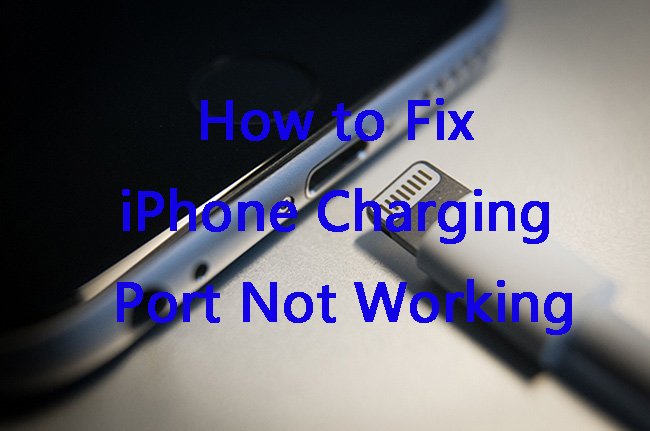 Part 1: How to Check If Your iPhone Charge Port Is Not Working
Before you come to the causes and solutions, you need to inspect whether your iPhone charging port is faulty or not. Here are some simple checks for you to conduct prior to fixing your charging port.
1. Change other charging accessories
When your charging accessories are faulty or not supported, your iPhone will fail to charge. It's hard to tell whether the disabled charging accessories or charging port cause this issue. Therefore, you can try to change another charging cable and charger to check if there is something wrong with the accessories.
2. Try a different outlet
If your iPhone still can't charge, you can try a different wall outlet using the same accessories. You can also try to plug your iPhone into the PC. If it works properly, your charging port doesn't need to be fixed.
3. Change another iPhone
You can also use the same accessories to charge another iPhone. If it can charge properly, your iPhone charging port needs to be repaired.
Part 2: What Are the Reasons for iPhone Charging Port Not Working?
1. Your charging port is dirty. If there is dust or debris in your iPhone charging port, they will disturb your charging process.
2. The charging port encounters hardware damage. This is often caused by accidentally dropping or collision. It's hard for you to fix it by yourself.
3. There are some system errors on your iPhone. Sometimes, system glitches can cause charging port not working iPhone.
Part 3: 6 Solutions to Fix Charging Port on iPhone Not Working
Method 1: Remove the Case
If you are using a protective phone case, it may perturb the charging of your iPhone. Thus, you had better remove your phone case first when you meet this issue. Then, charge it again to check if it can work now.
Method 2: Clean the Charging Port
It's easy for a charging port to catch dust, dirt, or moisture as there is no cover on it. If you haven't cleaned the port for a long time, these particles will accumulate and block the charging port. Then, your charging port will fail to make connections, and get damaged. Therefore, you need to use a toothpick or a small brush to clean the port carefully and gently to repair your faulty charging port.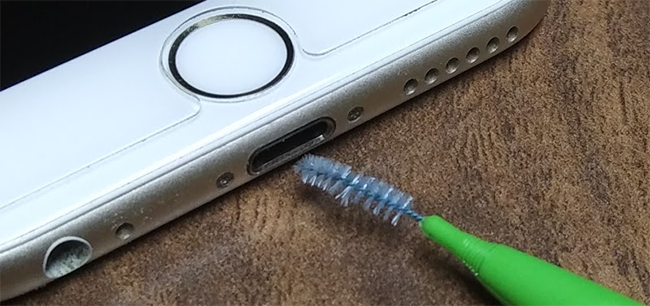 Method 3: Force Restart Your iPhone
Sometimes, a simple force restart can help you fix many common system issues. You can do the following to force restart your iPhone and fix iPhone charging port not working.
On iPhone 6 series and earlier models, keep holding the Side button along with the Home button at the same time until the Apple icon is seen on the screen.
On iPhone 7 series, hold down the Volume Down button as well as the Side button simultaneously until you see the Apple icon on the screen.
On iPhone 8 and later models, press and quickly let go of the Volume Up button, followed by the Volume Down button. Then, keep holding the Side button until the Apple icon is seen on your screen.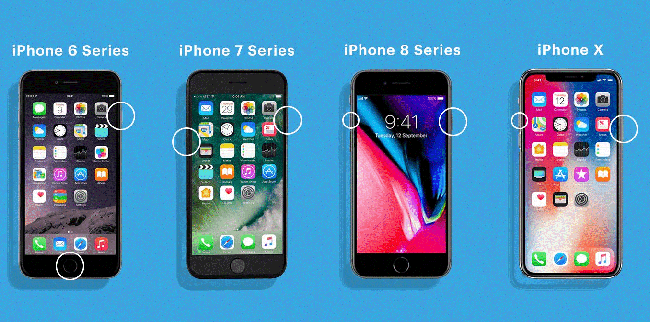 Method 4: Update iOS
Updating iOS is also an alternative for you when iPhone charging port won't work. In some cases, minor glitches on your iPhone can result in the disabled charging port. Then, an update to the latest version of iOS is needed to fix this issue. You can head to Settings > General, and then click on the menu option of Software Update. Then, you can click on the Download and Install button to install the latest software now.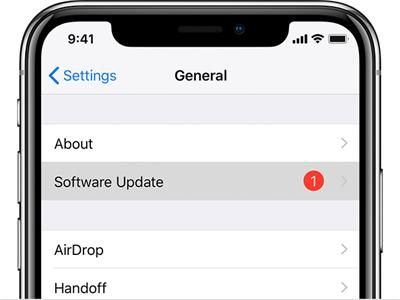 Method 5: Use TunesKit iOS System Recovery
If you still can't fix charging port not working iPhone after trying the methods above, it's time for you to try our most recommended program – TunesKit iOS System Recovery. As a professional third-party iOS repairing tool, it's totally safe and efficient. With this program, you are allowed to fix such system errors as iPhone charging slow, iPhone won't turn on, iPhone stuck on frozen screen, and more. If you don't know how to conduct it, don't worry. You can just finish the repair process by yourself following the onscreen guidance. What's more, it can also assist you to reset your devices, enter/exit Recovery mode, and upgrade/downgrade the system within a few clicks.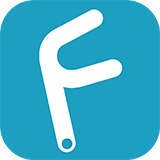 Characteristics of TunesKit iOS System Recovery
Fix iPhone charging port not working issues with simple steps.
It enables you to get rid of 150+ iOS issues with ease.
Allows you to enter/exit Recovery mode in one click.
Supports the latest iOS versions including iOS 16.
Try It Free
600,000+ Downloads
Try It Free
600,000+ Downloads
Here are the detailed steps for you to fix charging port on iPhone not working with TunesKit iOS System Recovery.
Step 1

Connect iPhone to computer

First of all, install and launch TunesKit iOS System Recovery on your Widows PC/Mac. Then, get your iPhone connected to the computer via a viable cable. After that, hit on the iOS System Repair to jump to the next page.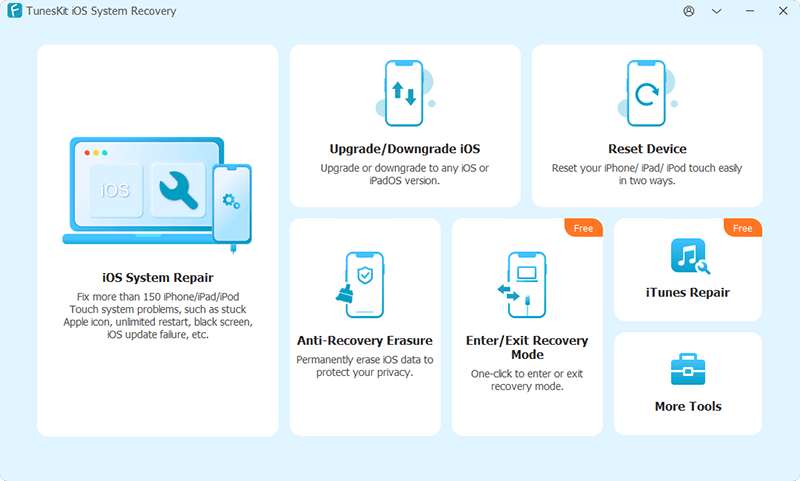 Step 2

Select a mode to fix charging port not working iPhone

Now, you can select either Standard Repair or Deep Repair to fix your iPhone. In case you don't want to suffer data loss, you are suggested to use Standard Repair first. If you want to use Deep Repair, you need to back up your data before the repair.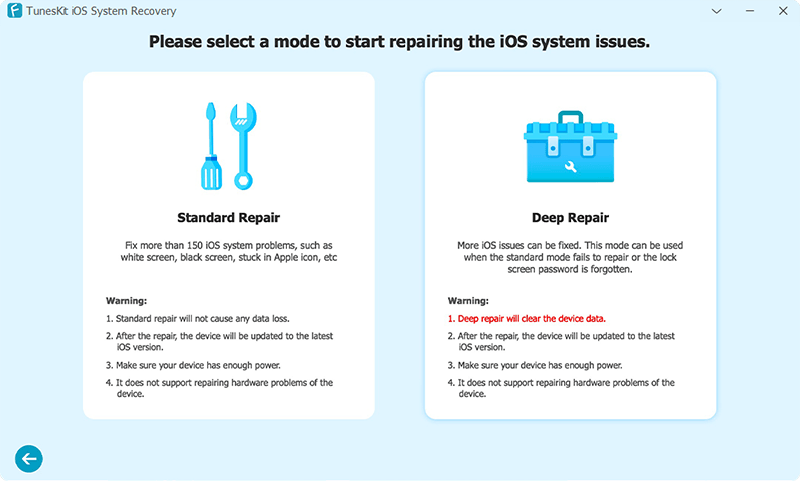 Step 3

Download firmware package

In this section, the device information of your iPhone will be displayed on the screen. Please check it carefully to ensure it is fitted with your device. Then, you can hit on the Download button to get the firmware package download.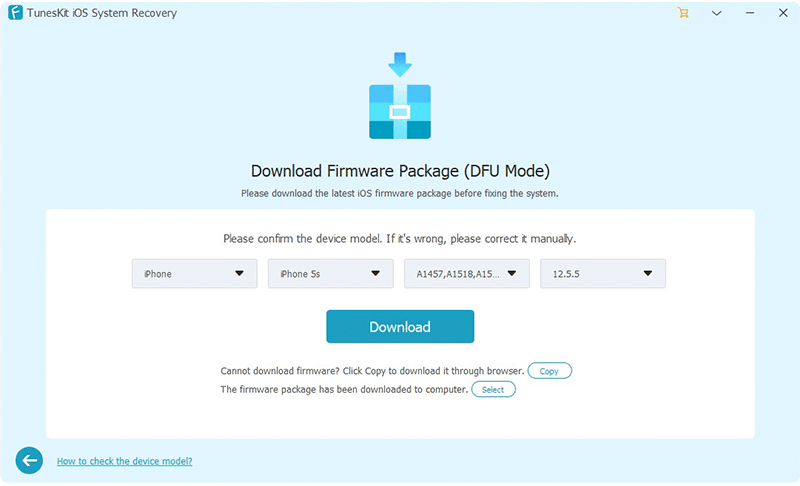 Step 4

Fix iPhone charging port won't work

When the downloading process completes, you can click on the Repair button to start the repair. It won't take too long for this process. When it finishes, the iPhone charging port not working problem will be solved successfully.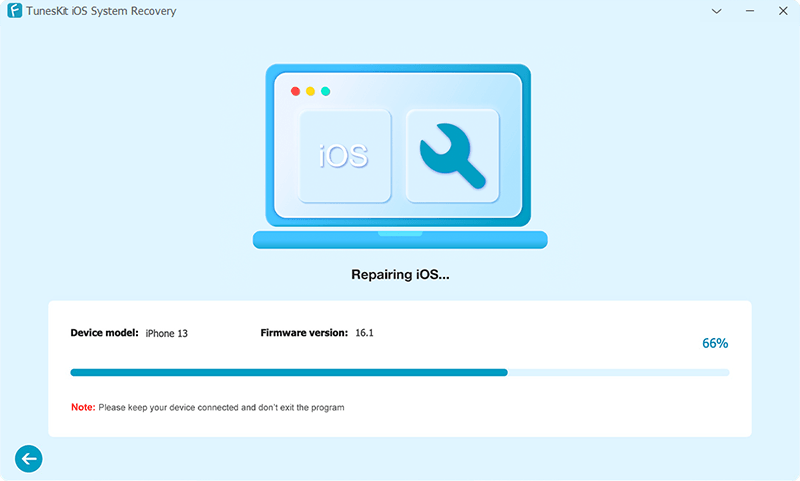 Method 6: Visit the Apple Store
In case you can't get rid of iPhone faulty charging port despite these attempts, it's time for you to take your iPhone to the Apple Store. The technical professionals there can help you detect what the problem is and fix it accordingly.
Part 4: Final Words
It's not very complicated to fix charging port on iPhone not working. You can find out 6 practical methods in this article to deal with it. In case you want to fix your iPhone with ease, we recommend you to try TunesKit iOS System Recovery first. It can be helpful with most of the common system issues, and you don't need to worry about data loss.