How to Fix iPhone Stuck on Do Not Disturb [2023 Guide]
6 mins read
Among the many unique iPhone feature is the Do Not Disturb that keeps your phone from disturbing you. When enabled, the feature ensures that you enjoy valuable moments of solitude; away from the chaotic social conversion via calls, text messages, alarm alerts, and all other notifications, meaning your iPhone will just sit silent. The feature comes in handy when you are in a meeting or when it is bedtime. Woefully, many iPhone users, especially iPhone 11/12/13 users, have regrettably reported that their iPhone keeps going into Do Not Disturb mode and cannot turn it off after updating their devices.
So, if your iPhone stuck on Do Not Disturb, then today is your lucky day. This article will furnish you with mine excellent methods to troubleshoot. Let's do it.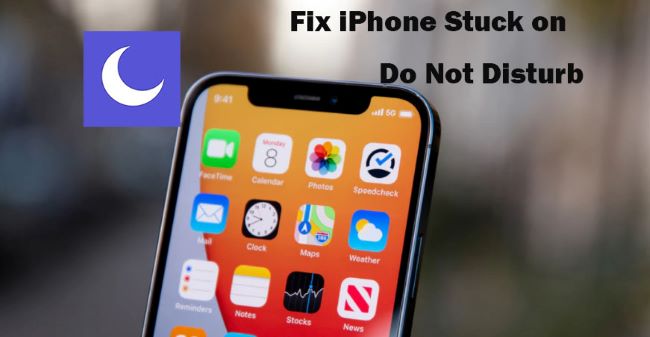 Part 1: Why Can't I Turn Off Do Not Disturb on My iPhone?
For iPhone 11/12/13 users, iPhone stuck on Do Not Disturb mode is a commonly seen problem. There are some factors can lead to this issue, and we list some general causes in the following:
1. System glitches or errors.
2. Outdated iOS versions.
3. DO Not Disturb mode not turning off.
4. Restriction settings.
Part 2: Video Guide: How to Fix iPhone Stuck on Do Not Disturb
Part 3: How to Fix iPhone Do Not Disturb Won't Turn Off
Method 1: Refresh Do Not Disturb Feature
Before resulting in more complex solutions, you need to start by double-checking your Do Not Disturb feature. If the feature is enabled, it is outrightly the reason why your iPhone is stuck on Do Not Disturb. Hence, you need to turn it off. The following are a few steps you can refer to.
Go to the Settings app. Scroll down and tap on the Do Not Disturb option. Drag the toggle to grey to disable the feature. If it is off, you can turn it on and off again to refresh it so that you can get rid of the Do Not Disturb won't turn off issue.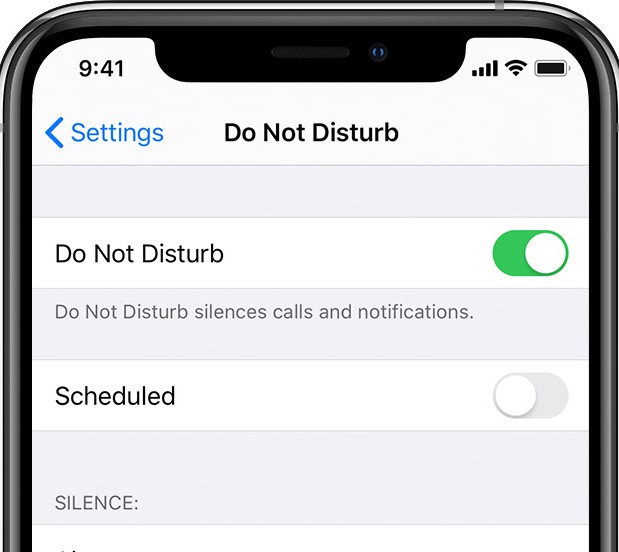 Method 2: Restart Your iPhone
Rebooting your iPhone is an excellent and tested method that helps resolve a wide range of iPhone problems. A simple reboot works to eliminate application bugs and conflicts that may be the underlying reasons for your device keep stuck on Do Not Disturb mode. How you restart an iPhone depends on the model you are using. Here is how to do it.
iPhone X/11/12/13 or later: Press and hold either Volume button and the Power button until the power off slider appears. Drag the slider to power off. Then, press the Power button to switch it on again.
Other iPhones: Press the Power button until a slider shows. Drag the slider to power off. Wait for a few seconds and then press the same button to power on the iPhone.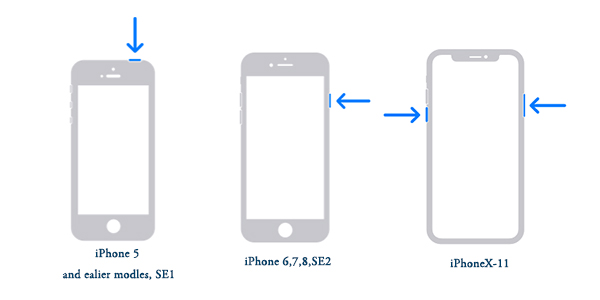 Method 3: Adjust Do Not Disturb
If you are still searching "can't turn off Do Not Disturb iPhone" and look for solutions, we recommend that you disable the Always mode or While iPhone is Locked option. It lets your iPhones have an active Do Not Disturb feature all the time - when working on it or when locked. Go to Settings > Do Not Disturb. Then make sure the two options – Always and While iPhone is Locked are off.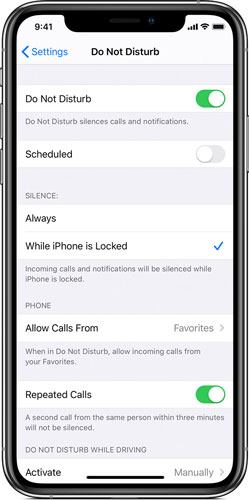 Method 4: Check Restriction Settings
It can be less obvious, but it is possible that your iPhone gets stuck on Do Not Disturb mode because the application or rather the service is subject to other wrong settings. You, therefore, need to check and verify whether there are improper settings to the service. Here, you should be wary of the Do Not Disturb While Driving option which should be disabled to solve the issue. Now, follow the steps below to get it done.
Tap on Settings and then select the General option. Scroll down and choose Restrictions. You will be prompted to provide your passcode. Enter your passcode and scroll down and tap on Do Not Disturb While Driving under Allow Changes. Last, to successfully fix the iPhone Do Not Disturb won't turn off, you need to make sure that the option is disabled.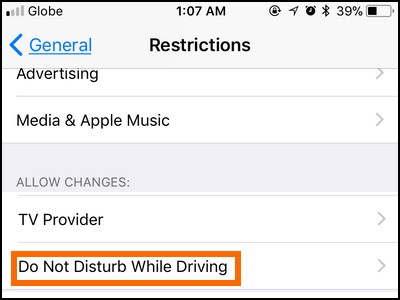 Method 5: Reset All Settings
Refreshing your iPhone settings is also another way to avoid this issue. It provides your iPhone with a fresh start and resets all conflicting settings to default/factory settings. Dismally, this procedure will lead to the loss of all customized iPhone settings. It is worth noting that this process will not erase any media files or documents from your iPhone. Below is a quick guide on how to reset your iPhone settings.
Launch Settings on the main menu. Go to General > Reset > and then select Reset All Settings. Enter your passcode to confirm the action.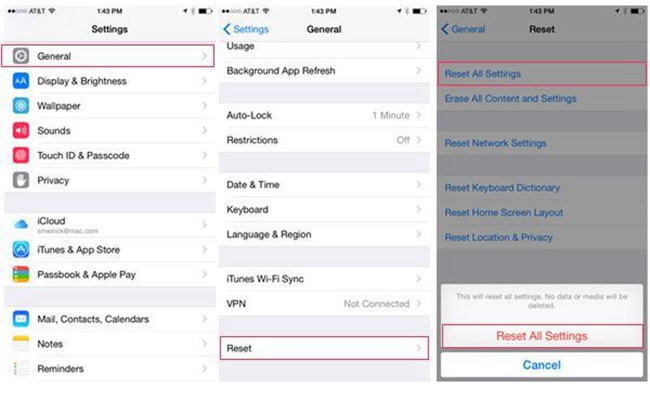 Method 6: Update Your iPhone
As this problem is likely caused by an outdated iOS version, you can also fix your iPhone that gets stuck on Do Not Disturb mode by updating the software system. To update your iPhone, you can head to Settings > General > Software Update, and check whether there is any available update version. Then, you can install the new update and solve the problem - Do Not Disturb will not turn off.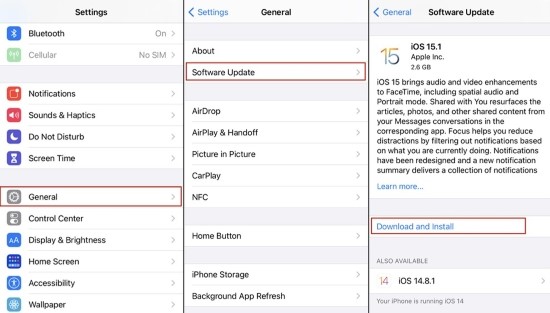 Method 7: Restore iPhone via iTunes
In some cases, restoring your device via iTunes can be helpful for you to fix the issue. In the process of restoring your iPhone, you will lose all your data if you have not back them up before. The below is a guide for you to restore your iPhone via iTunes.
Step 1: Connect your stuck iPhone to the computer after launching iTunes on it.
Step 2: Put your iPhone into Recovery mode, and then iTunes will detect it.
Step 3: Choose your iPhone and go to Summary, and then tap on the Restore iPhone button to restore your iPhone.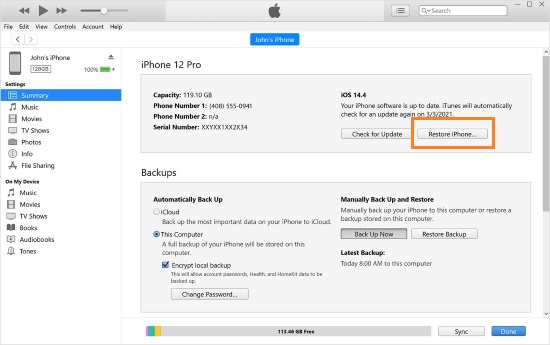 Method 8: Get Rid of Stuck on Do Not Disturb via TunesKit iOS System Recovery
If none of the solutions above worked to resolve your problem, it is eminently possible that the Do Not Disturb problem results from a severe iOS glitch. Typically, the problem can be resolved by wiping your device clean, which plainly puts you at risk of losing all your data. However, the good thing is that we have a much quicker and  safer way to fix Do Not Disturb won't turn off - TunesKit iOS System Recovery software.
It is an all-in-one system software repair tool designed with the sole purpose of fixing iOS and tvOS related problems. The app is known to fix over 150 different iOS related problems, including iPhone cannot turn off Do Not Disturb mode, iPhone Do Not Disturb not working, iPhone stuck on Apple logo, update failure, etc. Users can fix their iPhone problem in a matter of seconds without losing or compromising their data. It is 100% virus-free and comes with a free lifetime upgrade.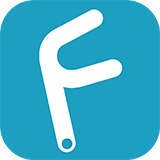 Characteristics of TunesKit iOS System Recovery:
Fix iPhone stuck on Do Not Disturb mode without data loss
Repair 150+ different tvOS/iOS issues by yourself
Provide Standard Mode and Advanced Mode
One click to enter or exit the Recovery mode for free.
Try It Free
600,000+ Downloads
Try It Free
600,000+ Downloads
Below is a detailed step-by-step guide on how to fix the problem.
Step 1

Connect Your Device

Click on the app's icon to launch it. Helped by an original USB or lightning cable, connect your iPhone to the computer. Wait for the program to detect iPhone. Go on to click the Start button to continue.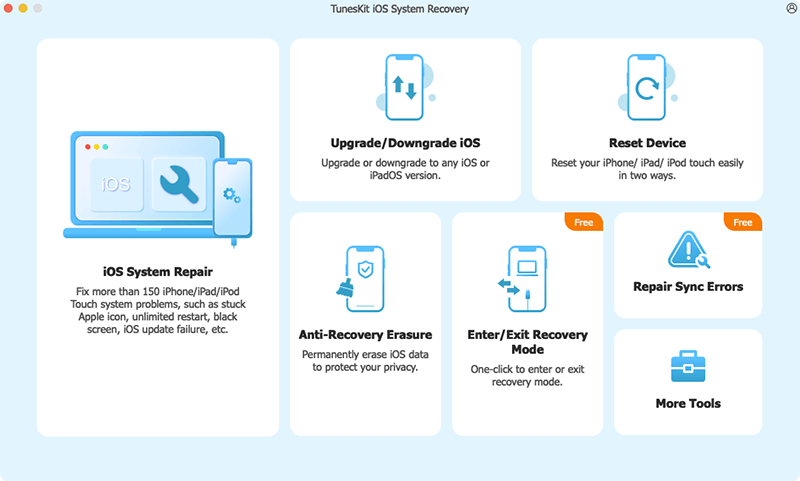 Step 2

Select a Repair Mode

Two repair mode options will display on the new interface, i.e., Standard Repair and Deep Repair. Select Standard Repair as your iOS repair mode. Then, tap Next. If it fails to fix iPhone stuck on Do Not Disturb, choose Deep Repair, but it will delete all the data.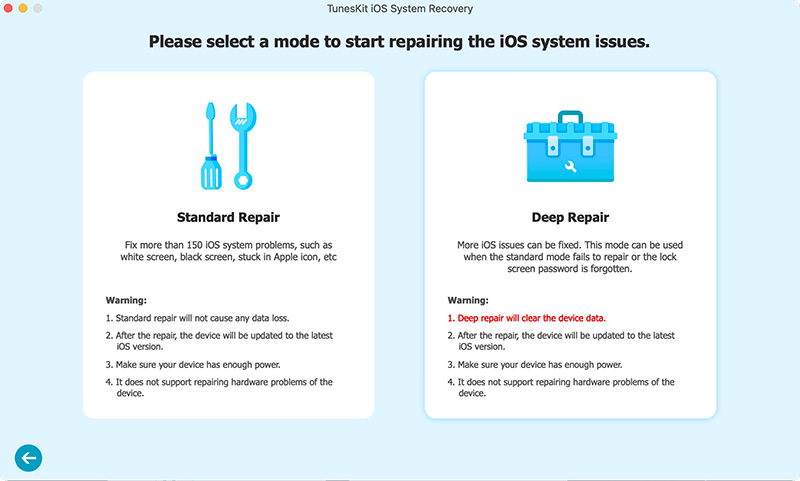 Step 3

Start to Repair

Before hitting the Download option, check if the firmware details match your device information. If not, you can always make changes where necessary. Then, click the Download option at the bottom end to start the download process. Once the download is complete, hit the Repair option. This process will take a little while. Make sure that your device is connected to avoid any further software problems.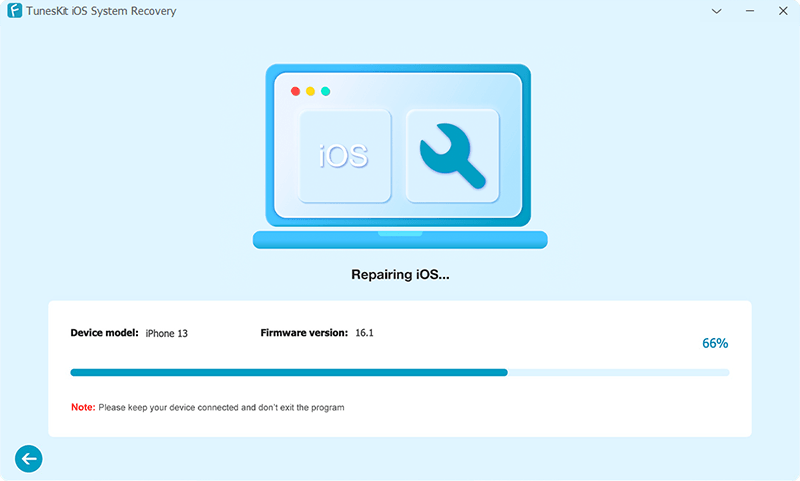 Part 4: Hot FAQs about Do Not Disturb
Q1: How to Turn off Do Not Disturb on iPhone?
To turn off Do Not Disturb mode, you can go to Settings > General. Then, scroll down and choose the Do Not Disturb option, and turn off the toggle next to it.
Q2: How to Bypass Do Not Disturb on iPhone?
The Do Not Disturb feature enables you to allow someone to call you when you turn on this feature. You can do this by going to your contacts and click on the Edit icon. Then, choose Text Tone or Ringtone, and enable Emergency Bypass.
Part 5: Conclusion
It is that easy. You now know how to fix iPhone stuck on Do Not Disturb. You can start by trying out the most basic solutions, such as iPhone reboot to more complex ones. If they do not work, you can employ the best solution - TunesKit iOS System Recovery. It is easy to use, virus-free, and guarantees your 100% data safety. It is arguably the ultimate solution for all iOS-related problems.