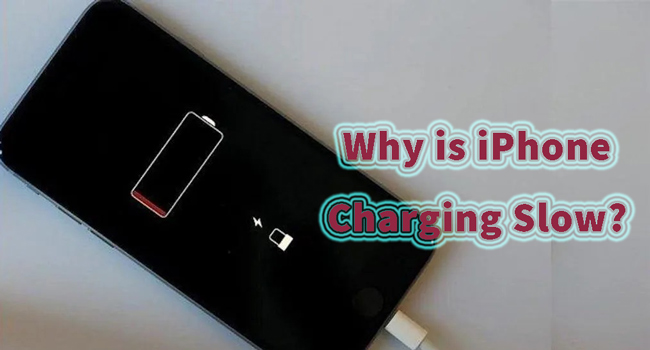 Why is my iPhone charging slow? You would be happy to know that you are not alone in this common circumstance. There are various reasons why your iPhone is not charging as it should. It could be the power adapter, the cable, a software issue, or any other hardware-related trouble.
Are you noticing a slowdown in your iPhone charging? In the majority of the situations, the reason why the phone is charging slowly is that you are using a charger that has low amperage. We will discuss other reasons in this article today, along with the solutions that will help you overcome the issue. First, however, attending to the case at the earliest is necessary to protect the phone from unwanted charging conditions that lead to battery damage.
Part 1: What are the Reasons Behind iPhone Slow Charging?
The iPhone is a fantastic phone with a great camera and a sleek design. However, people's biggest problem is an iPhone charge very slow compared to other devices. The causes of slow iPhone charging are many, and they vary depending on the device and charger used. We will cover these causes and how to fix them for good!
The first possible cause for iPhone charging slow is that the device might be running out of power. If the phone doesn't have enough battery power left to run properly, it can affect your phone's charging speed. Another reason for slow charging could be that you are using a fast charger on a slow USB port or only using a fast charger and not connecting it to a USB port.
Part 2: 5 Ways to Fix iPhone Charging Slow Issue
If your iPhone charges slow than usual, it is time to look for the appropriate solution. We will be discussing five different solutions that will help you fix the problem. These will ensure that the iPhone is charging to its usual in the preferred time, as stated by Apple.
Fix 1. Cleaning the Charging Port
The iPhone is a smart device. It is one among the most used phones globally and has been there for more than a decade. It became a part of our life, and we depend on it. Unfortunately, iPhone charges slow when the charging port is clogged with dust. Due to this, iPhone charges slow, making it harder for users to charge their phones properly.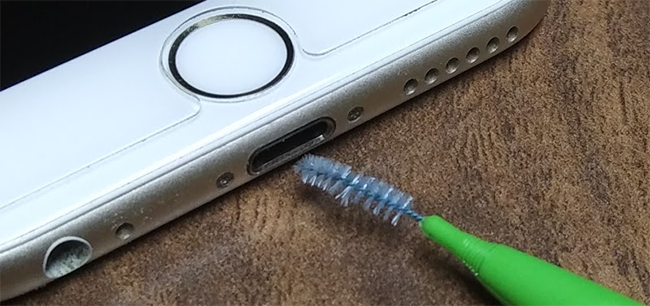 The iPhone has a problem with the charging port, and it can be fixed by simply cleaning the charging port. You can use compressed air available in a can and spray in the port to remove the debris. Alternatively, you can use cotton bud or paper. You can reshape the cotton or paper to fit into the port. Then, you can gently squeeze inside and clean. This will make sure that the iPhone is always in good condition.
Fix 2. Change iPhone Cable
Another reason for iPhone slow charging is because of the damaged charging cable. Although it is in rate situations that a cord gets damaged, chances are that it does cause a slowdown in charging when it loses its original condition. You can experience this because you have been using the cable for a long time and have not maintained it appropriately.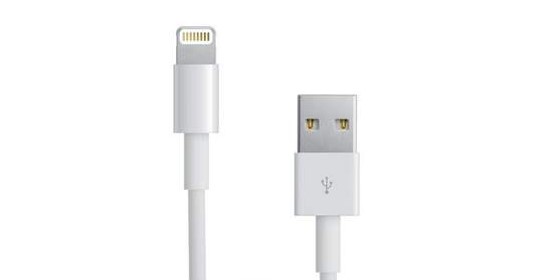 Changing the cable is an excellent option to check if the phone is charging quickly. This step is helpful after cleaning the charging port, as stated above. You can purchase the original cable available from Apple, either online or visiting a store near your location.
Fix 3. Use a Different Charger
"My iPhone is charging slow." The reason for this circumstance could be your charger. Suppose you use a third-party charger or replaced the original charger with another charger. In that case, you will notice a slow charge of your phone. This is because the original charger has a set amperage value that helps the iPhone charge quickly. If there is a drop or hike in the amperage, the phone will charge slowly.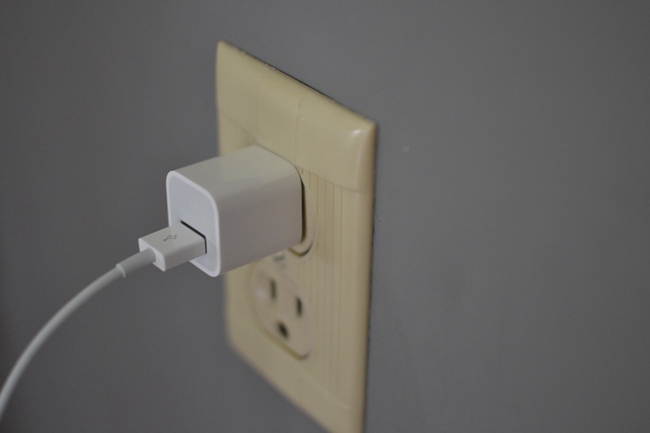 If you are using the original charger and experiencing a slow charge, look for bent prongs and damages. If you wish to opt for a non-Apple charger, ensure that it carries the "Made for iPhone" label, without which the adapter does not work. You can purchase these adapters online or visit an Apple Store near your location for the original charger.
Fix 4. Update the iOS Version
An outdated iOS version is one of the reasons for the iPhone slow charging issue. If you have not enabled automatic update or are unsure about the feature, proceed with the steps below to update your iPhone to the latest version. Keeping the phone up to date is essential, as these updates fix most of the software issues, including slow charging.
Step 1: Open "Settings" on your iPhone.
Step 2: Tap "General".
Step 3: Scroll down the page and select "Software Update".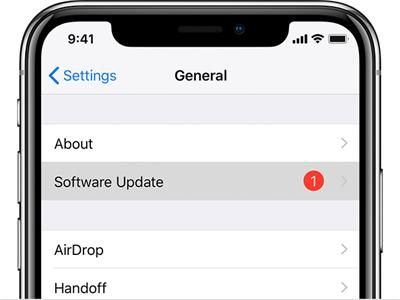 Step 4: On the next screen, the phone will check for updates and show you the available update on the screen. Click the "Install Now" button to update if you see an update. Alternatively, click the "Automatic Updates" feature and toggle it to activate (ON) for installing updates automatically each time Apple releases.
Fix 5. Factory Reset the iPhone
A software glitch or an unknown bug creates the iPhone to charge slow. Suppose your iPhone charges slow even after going through all the above solutions. In that case, it's time to reset the phone to the factory settings. However, remember that this process will erase all the content on your phone. As a best practice, create a backup of the content. Use your iCloud to create a backup and proceed with the following steps to reset your iPhone:
Step 1: Open the "Settings" app on your iPhone.
Step 2: Scroll down the page and tap the "General" feature.
Step 3: On the next page, tap "Reset".
Step 4: Click the "Erase All Content and Settings" option to proceed with the factory reset.
Step 5: Enter your iPhone passcode to proceed with the process. It will also ask for a confirmation to erase the entire content from the device. Tap "Erase" once again as confirmation.
Step 6: The process will take a while to erase the content, depending on the storage quantity. After completion, the iPhone restarts, and it will turn out to be a new device. You can then proceed with the setup process and check if the phone is charging as it should.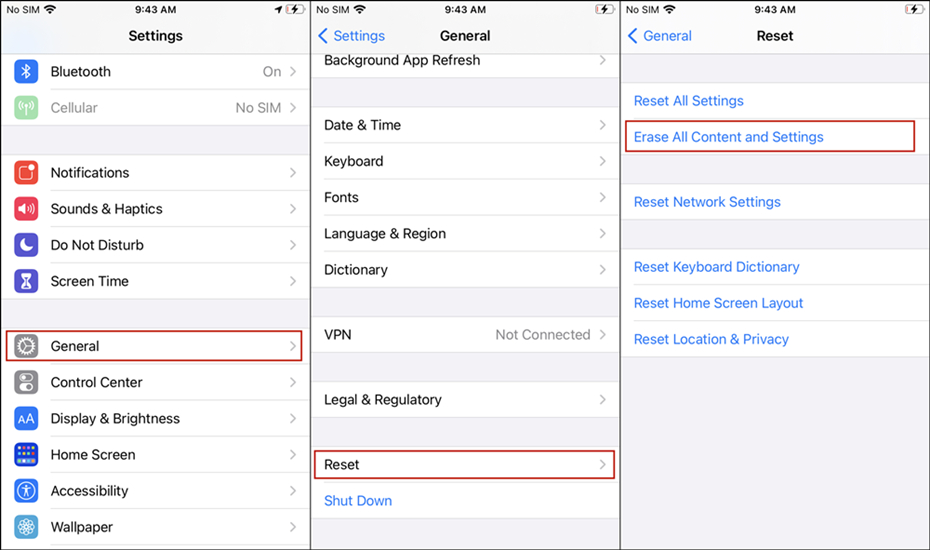 Part 3: Use TunesKit iOS System Recovery to fix iPhone charging slow
iPhone succumbs to different problems over its lifetime, of which iPhone slow charging is a common problem. The other solution available in your hand without heading out to the service center is by using TunesKit iOS System Recovery software. The tool can fix different issues that your device succumbs to, including slow charging, DFU mode, recovery mode, and frozen at Apple logo.
TunesKit iOS System Recovery uses the latest technology that helps it repair all the issues of your iPhone without losing data. Unlike other methods where the chance of losing data is high, there is none when you use this tool. Likewise, you can choose between the basic and advanced modes for repairing the iPhone based on the problem.

Characteristics of TunesKit iOS System Recovery
Fix iPhone charges slow issues with simple steps.
It enables you to get rid of 150+ iOS issues with ease.
Fix your iOS devices without data loss
Supports the latest iOS versions including iOS 15
Here are the detailed steps on fixing "why is my iPhone charging slow?" issue with TunesKit iOS System Recovery.
Step 1

Launch TunesKit iOS System Recovery

Connect the iPhone with a computer and run TunesKit iOS System Recovery. Click the Start button.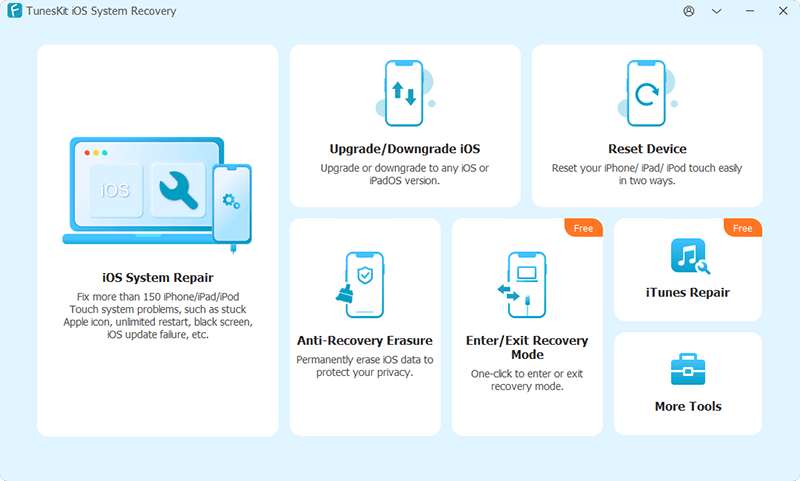 Step 2

Select Standard Mode

To fix the iPhone slow charging issue, you should choose Standard Mode first.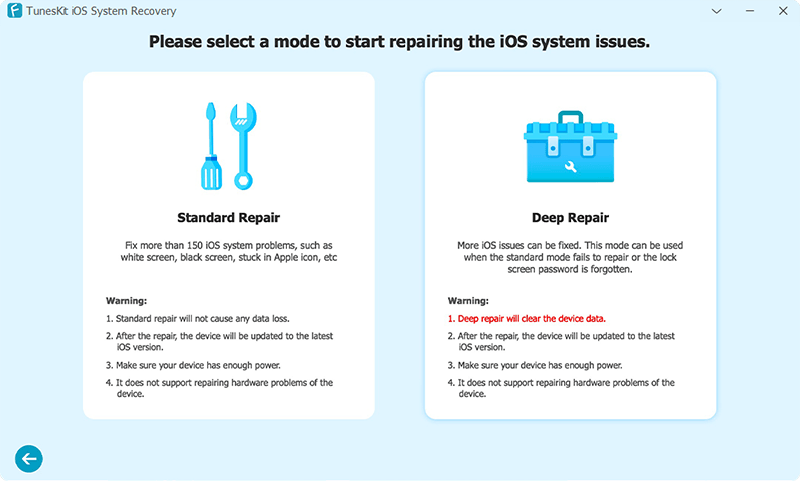 Step 3

Download firmware package

In this phase, your task is to watch for an appropriate firmware package and download it by hitting the Download icon.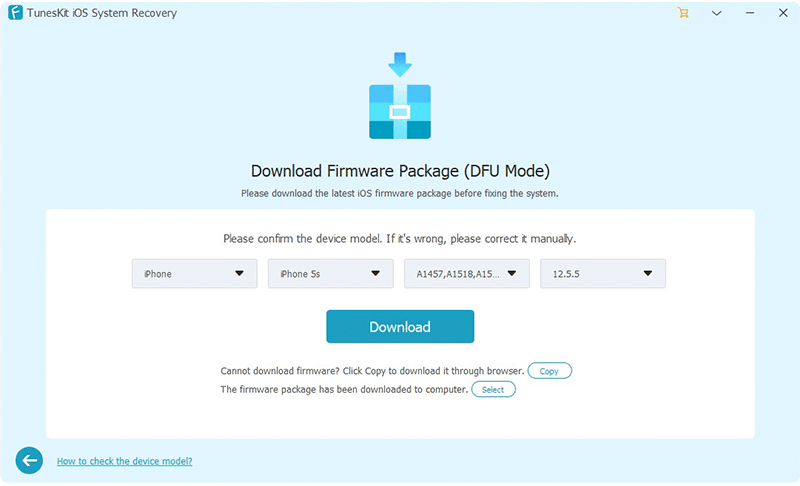 Step 4

Fix iPhone slow charging issues

After getting the latest firmware package downloaded, you'll need to tap the Repair Now icon to repair your iPhone.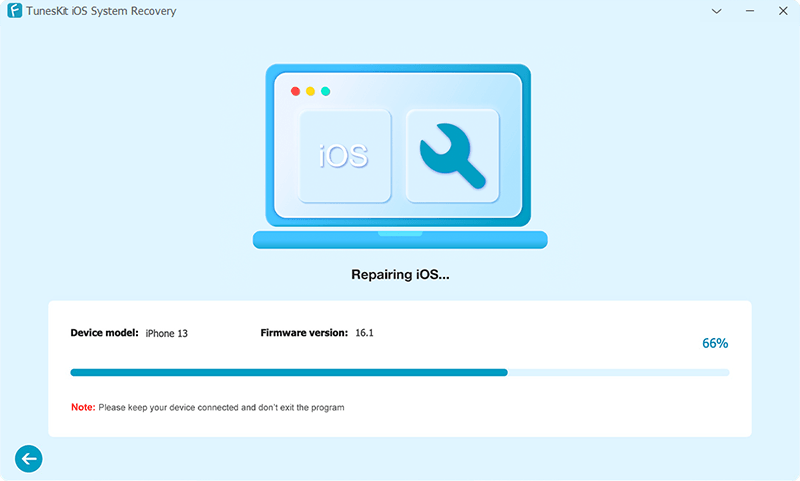 Conclusion
iPhone charging slow is a complaint from many iPhone users. The reasons for this are many, which change from unit to unit. It further relies on how an individual is handling the phone. We have seen five different solutions today, which will help you fix the issue. You can try each one to check which one is helping you out. Alternatively, you can use the TunesKit iOS System Recovery tool to solve the charging issue without losing any data right at home!

Brian Davis has covered tech and entertainment for over 10 years. He loves technology in all its forms.