How to Fix iPhone Battery Draining Fast (100% Working)
4 mins read
You may counter this circumstance: when you are out, for working or just for fun, you sadly find your iPhone has been out of power. How it went from 100% to 10% within 3 hours! That really brings so much embarrassment and inconvenience to your life.
You cannot stand to wonder what caused the battery problem. Something more important is how to fix the iPhone battery draining fast. You can reach all the answers you need in this passage.
Part 1. Why is My iPhone Battery Dying Fast?
1. Your battery is unhealthy.
A big factor is battery itself. There may be some problems with your battery of the iPhone.
2. Some APPs make your iPhone battery draining faster.
Some APPs may still run when you are not using them and even when the screen is off. This cost much power of your iPhone.
3. iPhone system problems.
The iPhone system may have some problems which further lead to the battery draining problem.
Part 2. How to Fix it?
Method 1. Change Battery
When you find that your battery is not healthy anymore, you just need to change it for a new one. To figure out whether your battery is healthy, you can check the Settings of your iPhone. It is so easy to find the Battery button then choose the Battery Health button. Your battery is unhealthy if you find the Maximum Capability is below 80% and the Peak Performance Capability does not show "Your battery is currently supporting normal peak performance."
Method 2. Find out the APPs that Drains Battery
If you think the root of iPhone battery draining is some APPs, you really need to know what they are. Go for Setting>Battery> Battery Percentage. Then you will find some APPs that need a lot of power. If they are not so important, just delete them to extend iPhone battery life.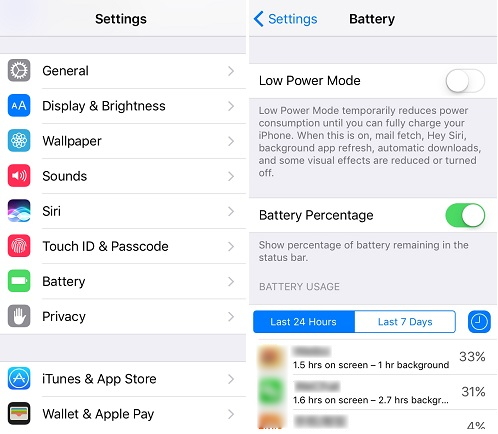 Method 3. Reset All Settings
A useful way to solve the problem of iPhone battery dying fast is to reset all settings of your iPhone. This can also be used in many other problems about iOS system. But the disadvantage is that you have to reset every setting, which is a little troublesome. Worse still, in this way, you will lose all data on your iPhone. So before resetting, you are suggested to make a backup of your iPhone data. Then just go to: Settings > General > Reset > Reset All Settings
Method 4. Use Professional iOS System Recovery Software
When some iOS system problems cannot be solved by the methods above, I would like to suggest a kind of useful software -- TunesKit iOS System Recovery. This professional software focuses on solving the system errors of the iOS, which supports the latest iOS 13, iPhone, iPod touch, iPad, and Apple TV.
This software can fix 50+ iOS system issues, including iPhone stuck in recovery mode/DFU mode/white Apple logo, or becoming black/blue/frozen/disabled screen, etc. It offers two modes for you: Standard mode and Advanced mode. The Standard mode is to solve some glitches that are usually seen and the Advanced mode is for more serious issues. Another important feature that you must know is that there is no data loss during the repairing process with the Standard Mode. So, there is no necessity to worry that you have to reset everything on your iPhone.
Only 3 steps can you fix iPhone battery dying quickly using this software after downloading it.
Step 1

Connect the iPhone with Battery Problem to PC

Connect the iPhone via the USB cable. Start TunesKit iOS System Recovery. Then you can enter or exit Recovery Mode by clicking the Enter/Exit Recovery Mode button. (If it enters Recovery Mode automatically, you do not need to do it again.) Click "Start".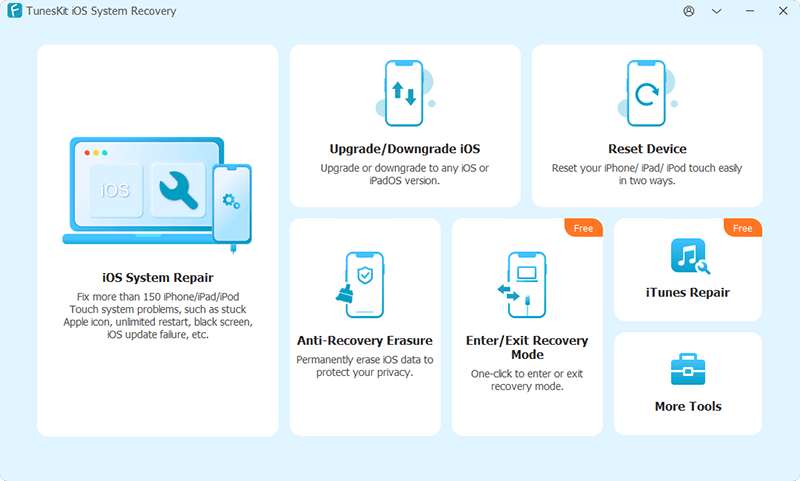 Choose the "Standard Mode" button and "Next". (If the Standard mode cannot solve your problem, try again and use Advanced mode. But do remember that the Advanced mode will clean all data of your iPhone.)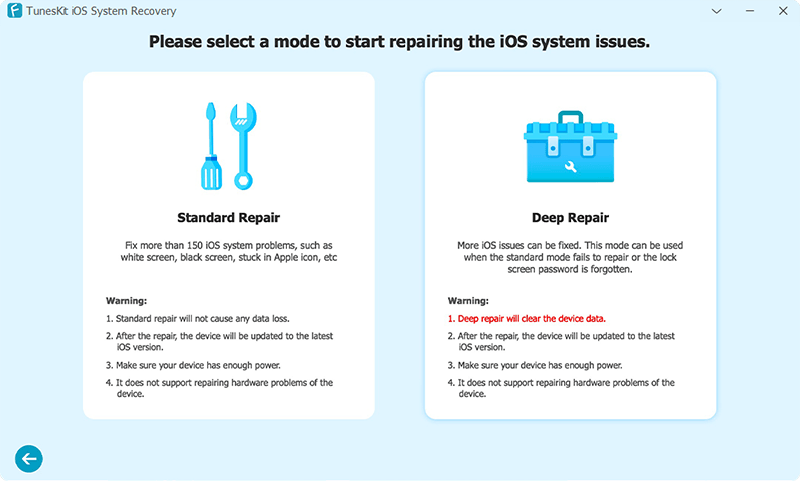 Step 2

Download Firmware

What you should do now is to confirm that the information of your iPhone presented here is correct. If all is correct, click the "Download" button. If not, you must first edit them and then click the "Download" button to download the firmware package.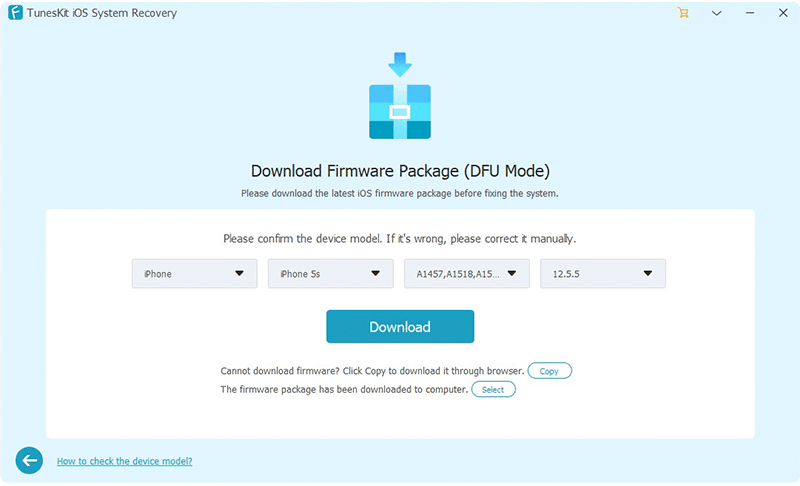 Then, confirm your device info is correct and press "Download" to download the firmware package.
Step 3

Fix the iOS System Issues on Your iPhone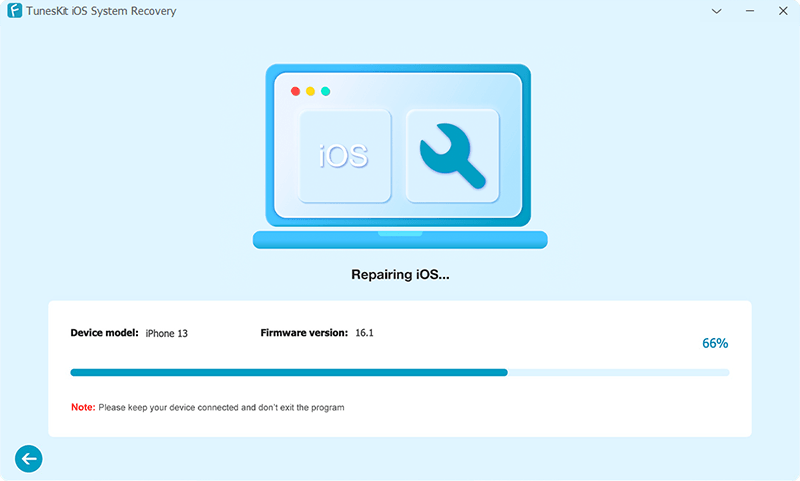 When the firmware is downloaded, just click the "Repair" button, which is the last step.
Method 5. Other Suggestions to fix iPhone losing charge quickly
Suggestions 1. Turn on the Low Power Mode.
When iPhone battery dies fast, you are suggested to do something to save more power on iPhone to meet an urgent need. Turn on the Low Power Mode can help you.
Go to: Setting> Control Center> Customize Controls> Low Power Mode
Suggestions 2. Adjust the lightness of the screen.
You can save more power by making your screen darker. Because the screen really needs a lot of power.
Follow: Settings > Display & Brightness.
Suggestions 3. Restart your iPhone.
In many situations, restarting the devices is the easiest solution when we need to fix them.
Part 3. Conclusion
This article mainly talks about 7 methods to fix the problem of the iPhone battery draining fast. Some possible reasons for that are listed, too. Among the 7 methods, using qualified software to fix your problem is the best choice, because the TunesKit iOS System Recovery is such reliable software, which fixes 50+ iOS system issues like black screen, iOS update failure, restore error, iPhone activation error, and the others without data loss. Why not download it and have a try!