"Hello, I can't access my iPhone because my naughty son changed the password. Do you have any idea that can unlock iPhone without password? My iPhone is a brick now."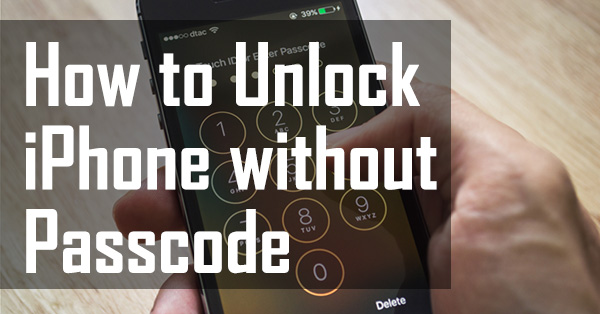 Forgetting the iPhone screen passcode or entering wrong passcodes too many times are common among iPhone users. Because of the high security of the iPhone, it would be a tough job for you to get into your iPhone in this case. Fortunately, there are still chances for us to get our iPhone out of the disabled state. In this post, we will talk about 4 feasible methods for solving the question "how to unlock iPhone without passcode?" Let's start it.
Method 1. Use iPhone unlock tools to unlock iPhone without passcode
Hiring an iPhone unlocking service would be an effective way to help you out. With the help of iPhone unlocking tools, you can access your iPhone within several clicks. Here, I would like to recommend TunesKit iPhone Unlocker to you.
TunesKit iPhone Unlocker is a professional unlocking tool that helps users to unlock iPhone without password. When you encounter cases like entering wrong passwords too many, Face ID not working, can't enter password because of broken screen, etc., TunesKit iPhone Unlocker can always help you out within several clicks. It is now fully compatible with most iPhone, iPad, iPod touch models.

Key Features of TunesKit iPhone Unlocker
Available on the latest iOS version including 15
Unlock iPhone without password within several minutes
Enable to factory reset iDevices without passwords
Unlock iPhone/iPad/iPod touch at ease
Help to remove Face ID and fingerprint recognition at ease
Now, let's see how to unlock iPhone without passcode via TunesKit iPhone Unlocker.
Step 1

Connect iPhone to the computer

To begin with, please connect your iPhone to a computer. And TunesKit iPhone Unlocker will detect your iPhone as soon as the connection is completed.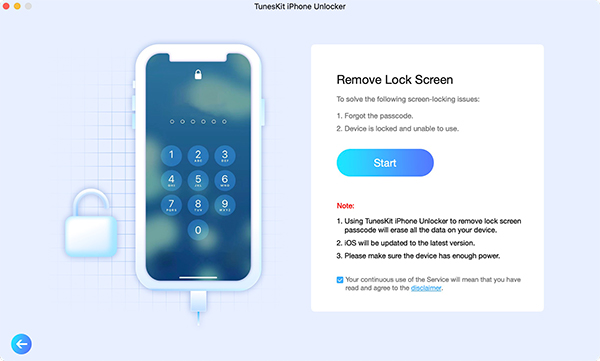 Step 2

Put iPhone into DFU Mode

Please follow the guide to put your iPhone into DFU mode or Recovery mode in this step. When you make it successfully, click the Next button.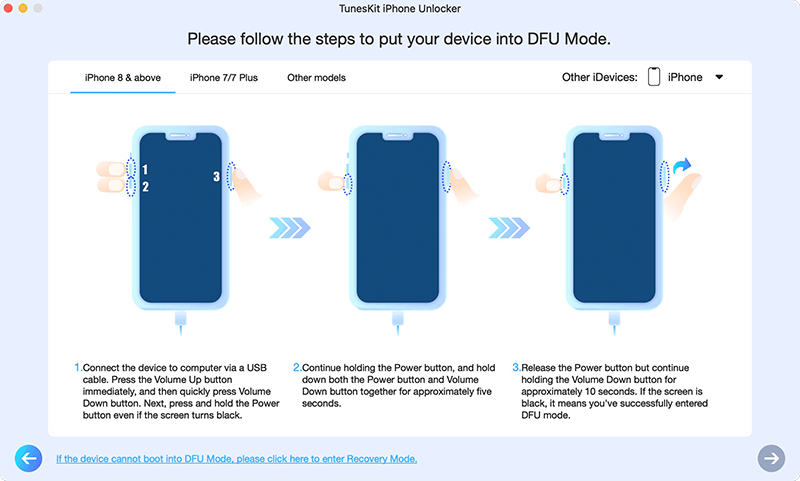 Step 3

Download Firmware Package

In this step, you will see a series of device information. Ensure that all the given information is corresponding to your iPhone. Correct it manually when there is something wrong. Click the Download button to download the firmware package if all the information is right.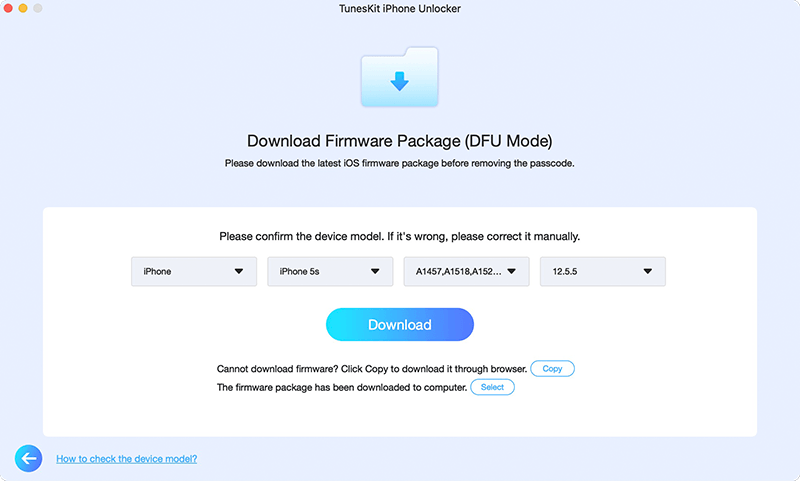 Step 4

Unlock iPhone without password

Hit on the Unlock button when TunesKit iPhone Unlocker finishes the downloading. And you can access your iPhone when the unlocking process is done.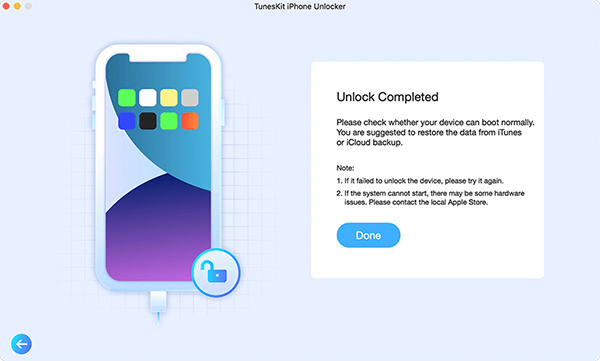 Method 2. How to unlock iPhone without passcode via iTunes
iTunes is a powerful iOS tool that can do a lot for Apple Users, including unlocking an iPhone. However, this method will be feasible only if you have synced your iPhone via iTunes before. If your iPhone does not meet the condition, please try Method 1 or skip to Method 3. Here is a detailed guide for using iTunes to unlock iPhone.
Step 1: Connect your iPhone to a computer. Then launch iTunes and iTunes will detect your iPhone until a little iPhone icon appears on the toolbar.
Step 2: Hit on the iPhone icon. Then, click on the Summary tab.
Step 3: Click on the Restore iPhone to restore your iPhone. When iTunes finishes restoring, the lock on your iPhone will be wiped.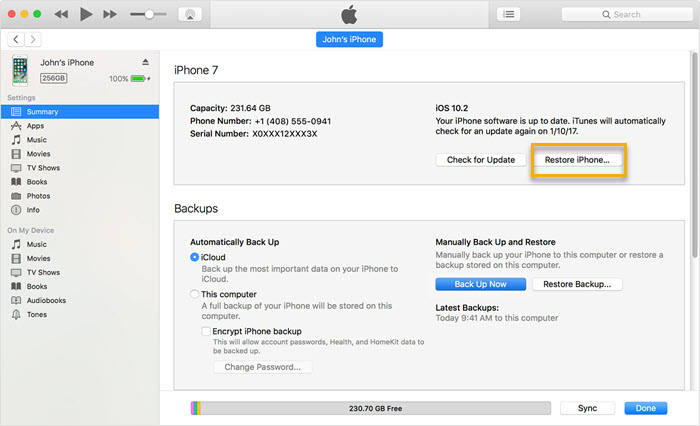 If you are a Mac user and using Finder, look at here:
Step 1: Launch iTunes and then connect your iPhone to the computer.
Step 2: Select your iPhone on the left menu, then navigate to the General.
Step 3: Click on the Restore iPhone to unlock iPhone without password.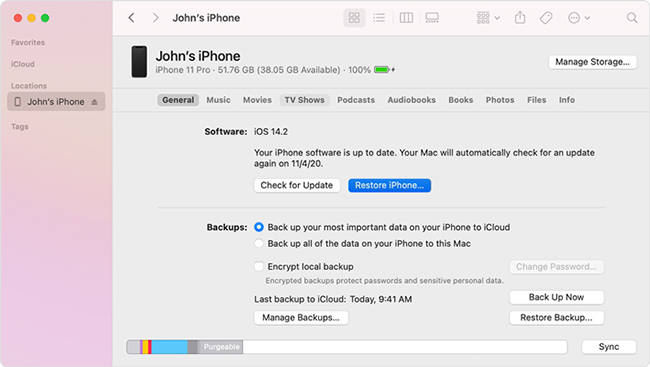 Note: No matter iTunes or Finder, all your iPhone content will be erased in this process. Backup your iPhone would be better if there is something important.
Method 3. How to unlock iPhone without passcode via Find My iPhone
In case iPhone is lost or stolen, Find My iPhone will come in handy. Unexpectedly, this Find My iPhone feature also allows users to unlock their iPhones if they have forgotten the password. Like the above two methods, this method will wipe all the content on your iPhone.
Let's see how-to.
Step 1: Launch a browser on a computer or Mac, then visit the iCloud website. Using other iOS devices is also workable. Login to your Apple ID to the next step.
Step 2: Then, navigate to the Find My iPhone option and select the All Device tab.
Step 3: Find the iPhone you are going to unlock and select it. Then, choose the option that says Erase iPhone. And the lock will be wiped on your iPhone.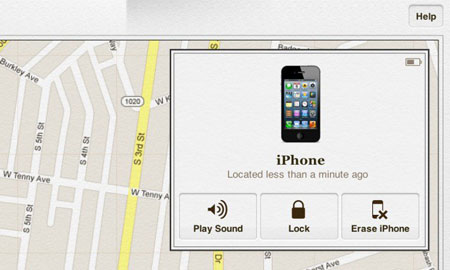 Method 4. How to Unlock iPhone without passcode via Siri
This final method is a little complicated and has limitations. If you are using iOS 10.3.2 or 10.3.3, this is for you. If not, this method will not be a good choice as it will not be feasible. Thus, how to use Siri to unlock an iPhone? Here are the steps.
Step 1: Keep holding the Home button or Side button to activate Siri on your iPhone. Or speak "Hey Siri" to activate it.
Step 2: Say "What time is it now" to Siri and the local time will show on your phone.
Step 3: Hit on the Clock icon to navigate to the clock function.
Step 4: Select the World Clock option and hit on the plus icon on the top-right corner. Then, enter any characters in the search box. Tap on Select All when the tab appears and hit on Share to the next step.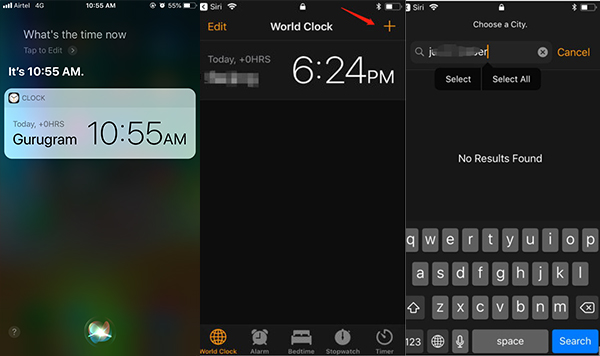 Step 5: Select the Message and type any characters in the To box, hit on Return. And you will access the home page when your click on the Home button after a while.
That's all for how to unlock iPhone without passcode via Siri. Though this method will not cause any data loss, it does not always work.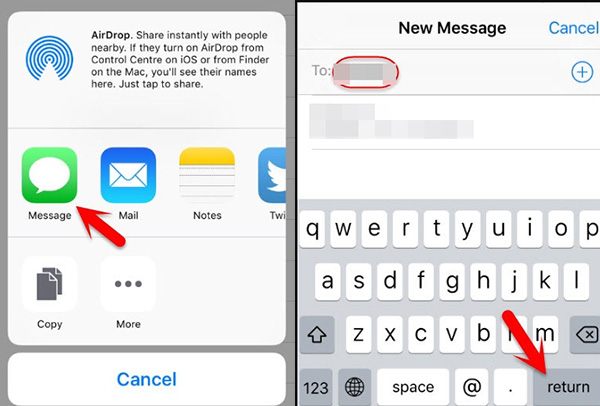 The bottom line
Unlocking iPhone without passcode is not a difficult job after reading this post. Though most methods will wipe your iPhone content, they save your iPhone from being a brick. If your iOS devices are now disabled, why not take TunesKit iPhone Unlocker a try? It can unlock your iPhone effectively, no matter what reasons that trapped you.

Brian Davis has covered tech and entertainment for over 10 years. He loves technology in all its forms.