[Full Guide] Fix Vertical Lines on iPhone Screen
7 mins read
"This is what happen to my iPhone 13 after I bought it for several days — Vertical lines appeared on the screen suddenly. Any idea why it happens? Any other user face the same problem with me?" — An iPhone user
One of the difficult things to solve on the iPhone is when vertical lines appear on the screen. This affects the screen making it unresponsive. The good news is that vertical lines on iPhone screen can be fixed. Whether you use the iPhone 13/12/11 series or other iPhone models such as iPhone 5/6/7/8/ XS Plus/ XS/ XR etc.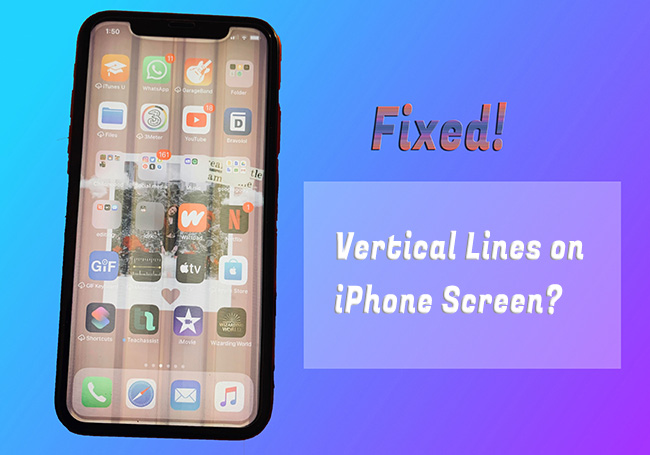 Repairing without proper knowledge is very risky and can result in data loss on your device if not done properly. You need to first know what causes the vertical lines to appear on your iPhone screen. We have investigated and summarized the perfect example of the cause of vertical lines on the iPhone screen.
Additionally, we have provided solutions to resolve those circumstances and opportunities. We believe these solutions are the most productive ones on the web. Follow the given steps and guidelines below to understand and solve this stressful problem on your iPhone.
Part 1. Why Are There Vertical Lines on iPhone Screen?
Here are some potential causes due to which these lines occur in your iPhone.
Static Charge — The static charge or the Electro Static Discharge (ESD) is a common culprit behind display malfunction. Before repairing your phone, ground your phone and yourself to release any built-up static.
Bad Connection — If the connectors are obstructed by dirt, debris, or dust, it may cause a faulty connection. Clear them away with a soft brush and rubbing alcohol. Inspect the connector if it is damaged or the flex ribbon is bent over 90°, a replacement is needed.
Damaged IC Connector — An IC in the display could be damaged. Look especially at the upper left and right corners. Damaged parts should be replaced if they are visible signs of damage.
Part 2. How to Fix Vertical Lines on iPhone?
The vertical line on the screen is a flexible type of issue. Either you are experiencing vertical lines on iPhone 11 screen or other models, you should not get frustrated anymore. Below, we mention some efficient and simple steps to fix it.
Trick 1. Fix Vertical Lines on iPhone via TunesKit iOS System Recovery
The first way to troubleshoot vertical lines on iPhone screen is to eliminate software factors. TunesKit iOS System Recovery can diagnose and resolve any iOS issues with zero data loss. It is an excellent desktop tool for fixing vertical lines on an iDevice without having to possess any technical knowledge. There is no cost to try out the software, which is available on both the Windows and Mac platforms. Not only that, it can resolve other issues related to your iDevice as well such as iPhone screen frozen, stuck at black screen, and so on. For you to better understand this software, let us show you how to use it.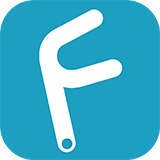 Why Choose TunesKit iOS System Recovery?
Fix vertical lines on iPhone screen quickly
A full toolkit to solve 150+ types of system issues on iDevice.
Trusted by numerous customers and famous media
Work well on all iOS models and versions like iOS 16
The program is simple to operate
Try It Free
600,000+ Downloads
Try It Free
600,000+ Downloads
For you to better understand this software, let us show you how to use it.
Step 1
Install and Open TunesKit iOS System Recovery
Firstly, download this program from the official website and save the file on your PC. And then install it in the desired location. Connect iPhone to PC with a USB data cable, you'll see your device automatically identified. Click the Start option.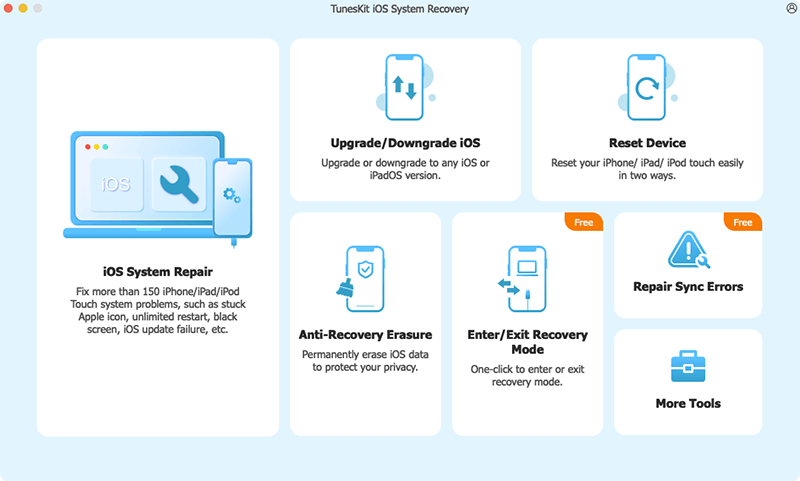 Step 2
Select Standard Mode
Standard Mode can rescue your iPhone from most of the typical issues and ensures data integrity. After that, click the Next button to proceed.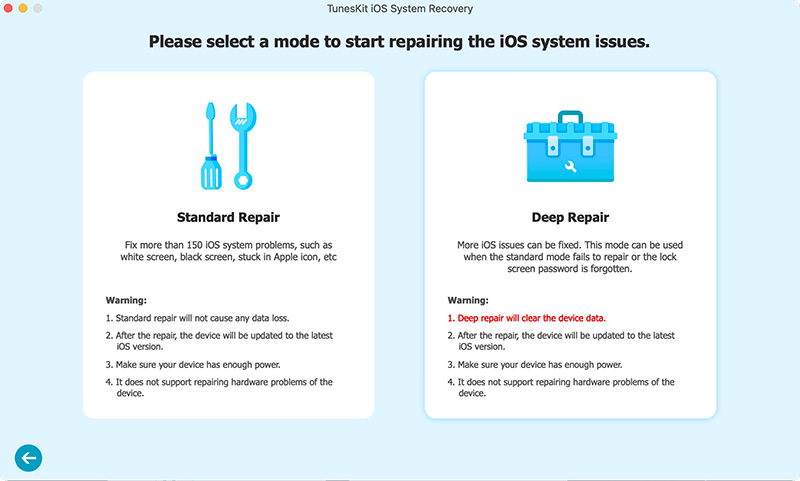 Step 3
Download iOS Firmware
At this point, it will display your device details on the screen. Check it seriously. Click on Download when you're ready. Simply choose the options from the list and click on the Download button. The downloading process should begin automatically. Please wait. The time it takes may vary depending on the speed of your internet connection.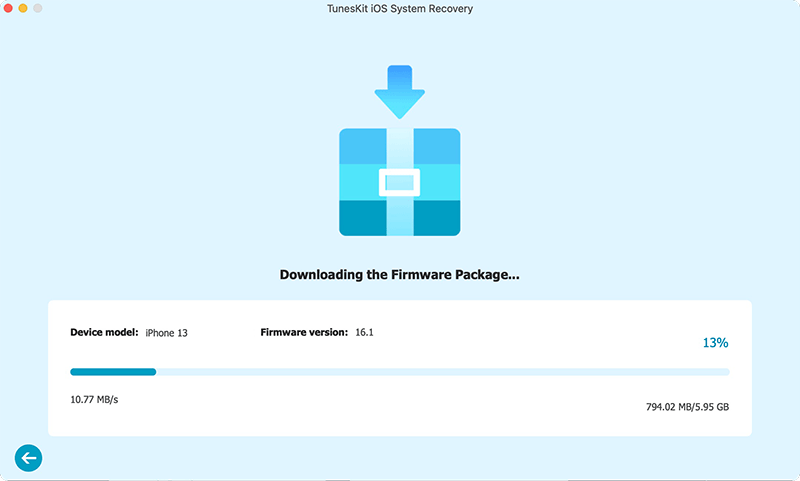 Step 4
Fix Vertical Lines on iPhone Screen
Following the installation of the firmware, you will be shown a button called Repair. Wait patiently until the process is finished. This should fix the issue you are having and you can back to enjoy your iPhone.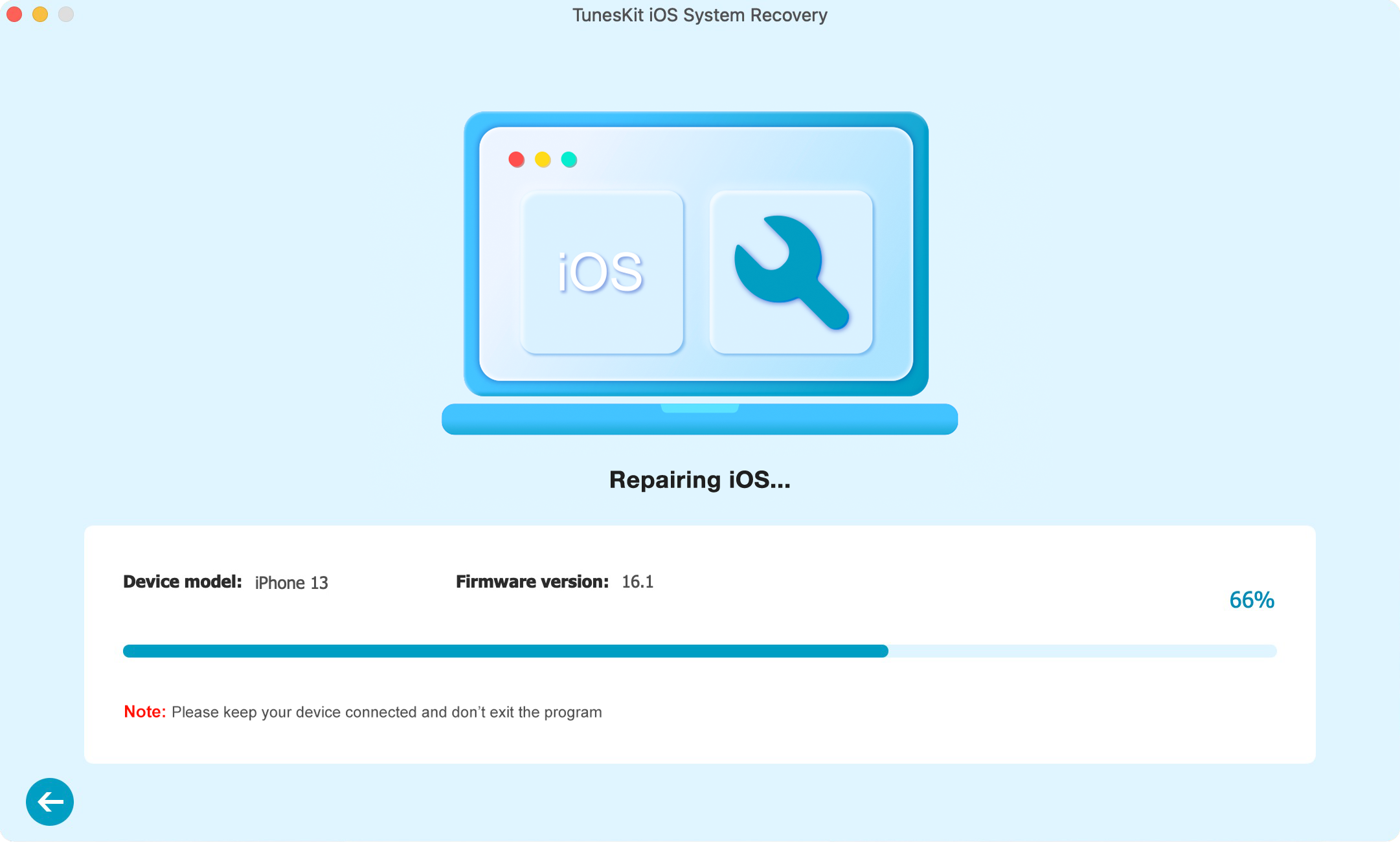 Assuming you followed the steps above carefully, your iPhone should now be free of the vertical lines problem.
Bonus tip:
While a bit more complicated than simply using TunesKit iOS System Recovery, next a bunch of methods are yet other ways to fix the iPhone vertical lines. If you don't want to mess up with them, we suggest you directly try this way.
Trick 2. Force Restart Your iPhone
First, if your iPhone has a minor software glitch, restarting your iPhone will be the best thing you can do. This is a reliable procedure and will let all of its programs shut down normally.
If you have an iPhone 6s or earlier models:
· Simultaneously Hold down the Home button and the Power button together.
· Let them go until the Apple logo reappears on the screen.

If you have an iPhone 7 or iPhone 7 Plus:
· Press and hold down the Power button and the Volume down button together.
· Do this until the Apple logo reappears on the center of the screen.
If you have an iPhone 8 or newer models:
· Quickly press and release the Volume up button, followed by the Volume down button, and then hold the side button.
· When the Apple logo appears on the display, release the side button.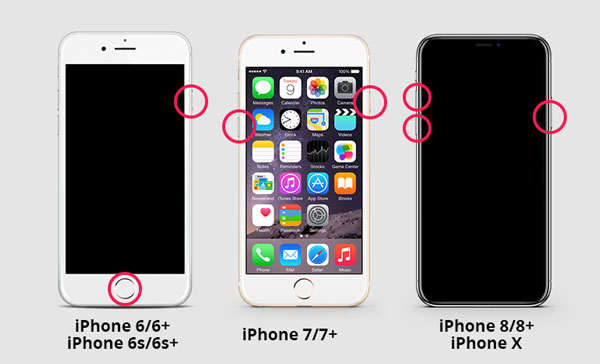 Trick 3. Gently Push Down on Your Screen
If your phone drops and hits a hard surface, the LCD cable is most likely to be separated from the logic board. It might help to gently push the screen down so that the cable connecting the screen to the logic board aligns. Using this method, you should be able to get rid of the vertical lines on iPhone screen.
Trick 4. Factory Reset Your iPhone
Restarting your iPhone is not the way all the time. This way requires you to reset your iPhone to its original setting. After factory reset, your iPhone is expected to be error-free if the problem is caused by a bad app or a software glitch. This method should eliminate them easily. To do this: Open Settings → General → Reset → Erase All Content and Settings → Enter your passcode → Erase iPhone. Wait until your iOS device gets erased. It's not clear who performed the previous repair, but a factory reset won't help at all, continue to the next way.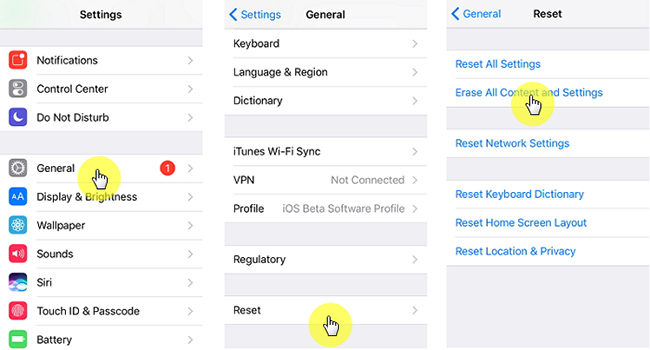 Trick 5. Restore iPhone via iTunes
On iTunes, Apple users can back up or save their data. If your iPhone is faulty or has vertical lines on iPhone screen, it can be restored from iTunes. Follow the below steps:

Step 1. Start the process by running iTunes on your computer.
Step 2. Plug your iPhone into the computer by original iOS cable.
Step 3. Under the Summary, select Restore iPhone.
Step 4. When prompt, you have to click Restore to confirm your restoration procedure.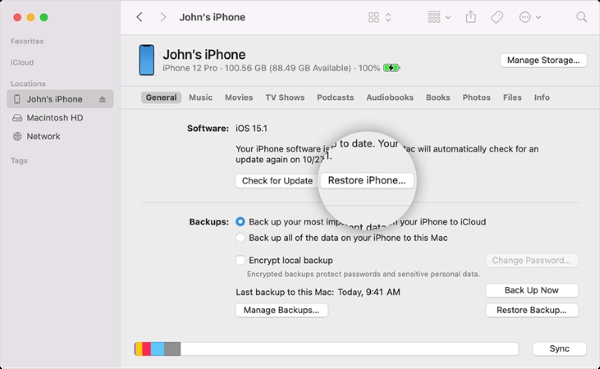 Trick 6. DFU Restore Your Device
You can also put your iPhone in DFU mode to remove the vertical lines on iPhone. Not only does it restore the phone to factory settings, but it erases and restores all the original coding. You need a computer (PC or Mac) with an updated iTunes program to perform this procedure. Then use iTunes to restore your iPhone and see if the line is gone.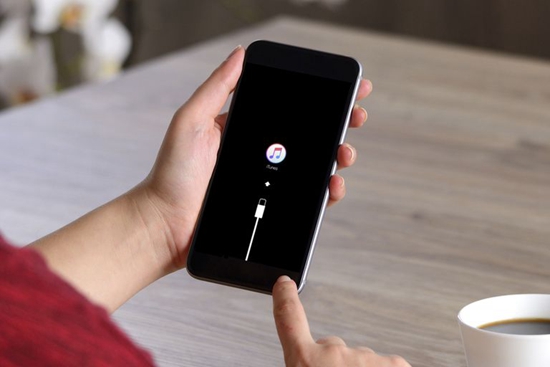 Trick 7. Repair Your LCD Display
If the lines continue to appear, more complex system complications could be the root of the issue. As a last resort, your device might be due for repair. Most likely, you need to replace your screen. Hardware malfunctions should be addressed at Apple stores. It is not a good idea to open the case as you wouldn't know what has been damaged. Verify whether your iPhone is still under warranty. The iPhone will no longer be covered by the warranty after opening it yourself.
Trick 8. Ask Apple Support for help
If the above methods cannot fix get rid of the vertical lines on your iPhone screen, you should contact Apple support for an offline fix. In most situations, Apple Support will help you get rid of the problem by replacing a new iPhone or screen. If your iPhone is still under warranty, it won't cost a lot.
Video Tutorial: Fix Vertical Lines on iPhone Screen
Part 4. Last Line
We hereby discuss some methods to resolve the "how to get rid of vertical lines on iPhone" issue. TunesKit iOS System Recovery helps you free from time-consuming and hassle-free. It can handle most of the iOS issues more conveniently and professionally. Hope this may help out and do let us know in the comments if you faced any problem apart from this.