We know it is quite worrying that you spent several dollars to purchase a new iPhone and after a few months of use, it develops the dreaded "white line on iPhone screen" problem. If that is your case, you do not have to worry or spend sleepless nights. You should veritably be heartened by the fact that there are millions of iPhone users facing the same problem.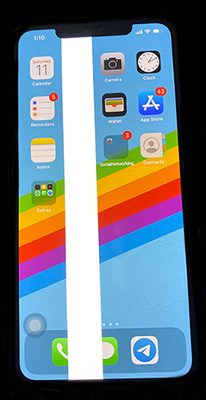 And while we are at that, if you have been hunting for a solution to fix the white lines on your iPhone screen, it is time that you call off the hunt, as this post will equip you with a complete guide on how to fix white lines on iPhone screen problem and also feature some underlying cause to the problem. Let's do it!
What Causes White Lines on iPhone Screen?
Many iPhone users have flocked Apple forums asking, "why does my iPhone have white lines on the screen." Well, for your info, there is no one particular cause for the white lines problem; instead, the issue is fueled by a variety of causes, and here is a highlight of some common causes often linked to the white lines problem.
1. iOS bugs/ glitch.
2. You will most likely see white lines if your iPhone has loose flex cables. This is the most common reason for the problem.
3. White lines are more likely to show on your screen if your iPhone has excessive electro-static discharge (ESD).
4. Damage/ faulty display IC.
5. Physical screen damage after dropping the iPhone.
6. White lines on iPhone 5 screen are likely to appear if you drop your iPhone in water.
7. Loose LCD cable. Mostly happens with iPhones with OLED screens.
10 Solutions to Fix White Lines on iPhone Fix 1 (Top Solution): Fix White Lines on iPhone Screen without Data Loss- Best Tool
In most cases, the "white lines on iPhone screen" problem result from software bugs/ glitches. Unfortunately, the only way to fix an IOS-related problem is by restoring your iPhone, resulting in data loss. Therefore, to avoid such an instance, we would like to introduce you to a more ideal solution to resolve iOS-related problems- the TunesKit iOS System Recovery Software.
It is a top professional software with immense abilities to resolve over 150 iOS/tvOS related problems, including boot loop screen, iOS update failure, headphone mode, White Lines on iPhone Screen, blue screen, to mention a few. Moreover, TunesKit iOS System Recovery is compatible with all iOS and works perfectly to resolve all iTunes errors, put iPhone into DFU or downgrade the iOS version if necessary.

Characteristics of TunesKit iOS System Recovery:
Fix iPad screen not rotating without data loss
Repair different tvOS/iOS issues by yourself
Provide Standard Mode and Advanced Mode
Easy to use with friendly interface
The program is 100% secure, ad-free, and easy to use, and here is a quick illustration of how to use the app to fix white lines on the iPhone screen without data loss.
Step 1: Install and launch the TunesKit iOS System Recovery on your PC. Connect your iPhone to your PC and hit the "Start" button.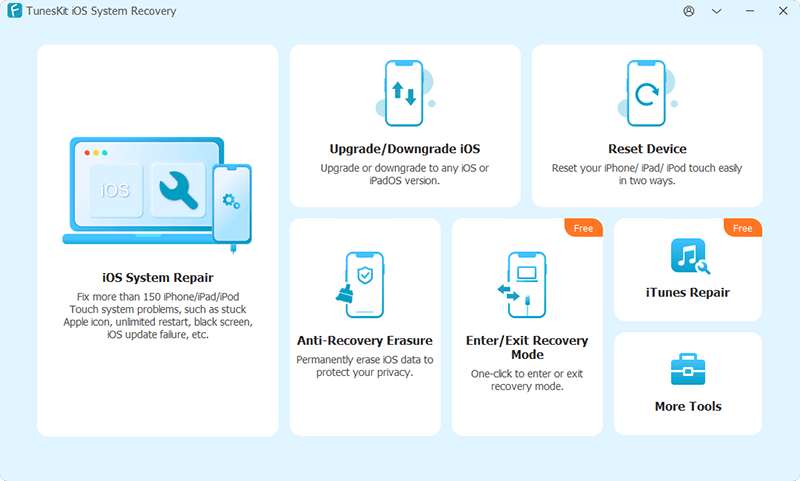 Step 2: Select "Standard Mode" as your repair mode and click the "Next" option. Then, follow the instructions to put your iPhone into DFU mode and hit "Next "to continue.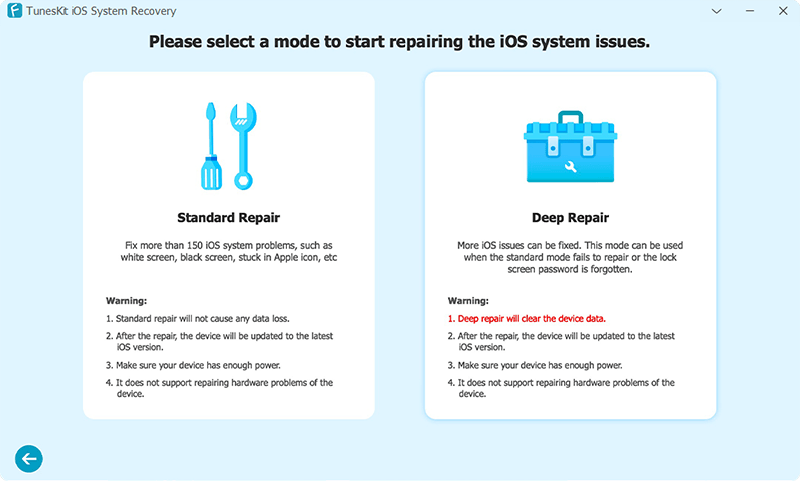 Step 3: Check to confirm whether the firmware package details match those of your iPhone. Make the changes where necessary and hit the "Download" option to start the download process.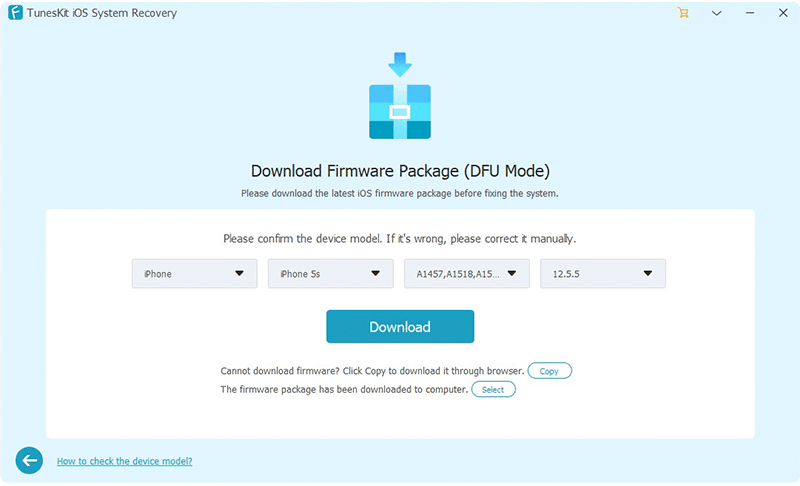 Step 4: Finally, click the "Repair" button to start the iOS recovery process. Make sure your iPhone is connected during the entire process. This should quickly resolve your white line problem on your iPhone.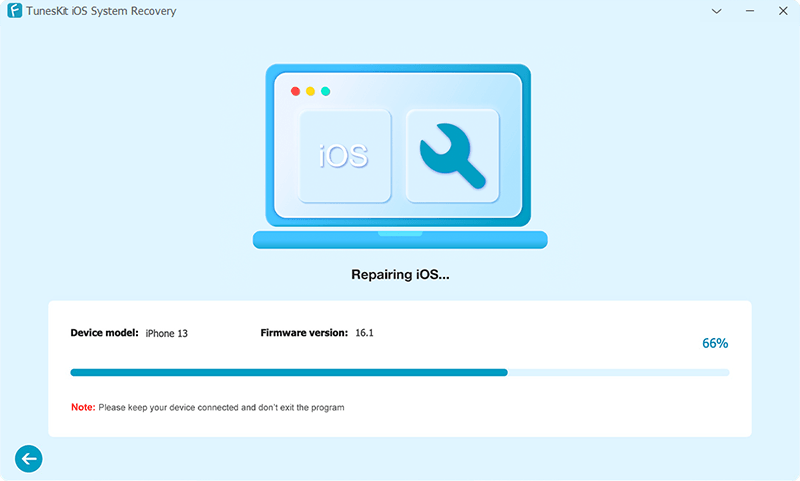 Fix 2: Force Restart iPhone
It is possibly the easiest way to fix your iPhone screen white lines problem. Basically, a simple force restart gifts your iPhone a fresh software run and helps eliminate app bugs and conflicts that may be causing the display problem. Here is a simple guide on how you can do it.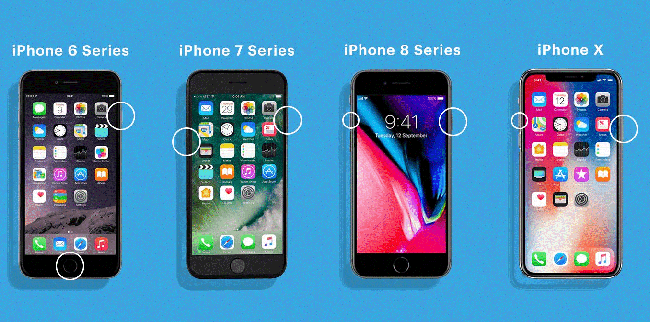 iPhone 8 and newer: Quickly press and release the Volume Up button, then press and release the Volume Down button and finally press and hold the side button until an Apple logo appears.
iPhone 7 and 7 Plus: Simultaneously, press and hold the Volume Down button and the Wake button until an Apple logo displays on the screen.
iPhone 6 and older: Press and hold the Home button and Power button at the same time till and Apple logo shows on the screen.
Fix 3: Restart Your iPhone in Safe Mode
Another top alternative solution to force reboot is restarting your iPhone in safe mode. This solution informs you whether the white lines display problem emanates from third-party apps installed on your iPhone. Below is a quick guide to restart your iPhone in safe mode.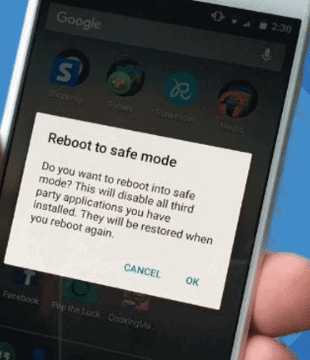 Step 1: Press and hold the Power button.
Step 2: The "Power Off" option will soon show on your screen.
Step 3: Keep holding the power button for another second.
Step 4: Now, tap on the "Reboot to Safe mode" and select "OK" to restart your iPhone.
If the white lines disappear after the restart, you should embark on a mission to uninstall the third-party apps. Keep uninstalling the apps until you find the one causing the display issue.
Fix 4: Reset iPhone Settings
Resetting your iPhone is another proven fix for the white lines on iPhone screen problem. It is possible that a glitch on your custom display settings could be causing the problem. It is, therefore, necessary that your factory reset your setting and grant your iPhone fresh settings line up.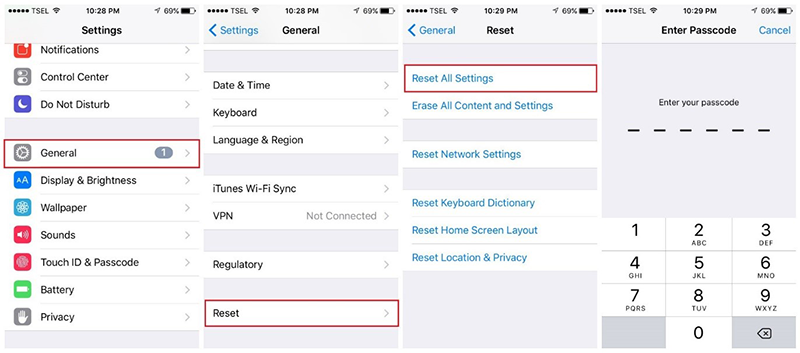 Step 1: Go to "Settings" > "General".
Step 2: Scroll down to find the "Reset" option.
Step 3: Tap "Reset All Settings" and enter your passcode to confirm the action.
Fix 5: Update iPhone iOS version
Besides launching new iOS versions, Apple provides regular update batches to help fix occurring bugs and improve performance. Older iOS versions are vulnerable to developing software glitches, which may cause display issues such as the "iPhone screen white lines" problem. Therefore, you should consider updating your iPhone to the latest version, and here is how you do it.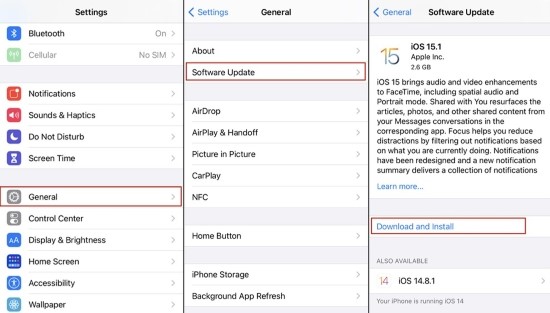 Step 1: One the main menu, select "Settings" > "General".
Step 2: Select "Software Updates" to access the updates screen.
Step 3: Tap the "Download and Install" option to download software updates to your iPhone. But, first, make sure enough space on your iPhone to hold the updates.
Step 4: Finally, tap "Install" and provide your passcode to confirm the software update action.
Fix 6: Factory Reset Your iPhone
According to many tech gurus and iPhone X users, resetting the iPhone to factory settings has proven to be an excellent fix for the "white lines on iPhone screen" issue. Usually, performing a factory reset returns your iPhone to its original state, and therefore all your installed apps, data, and setting will be lost. So, kindly consider backing up your data before proceeding with the instructions below.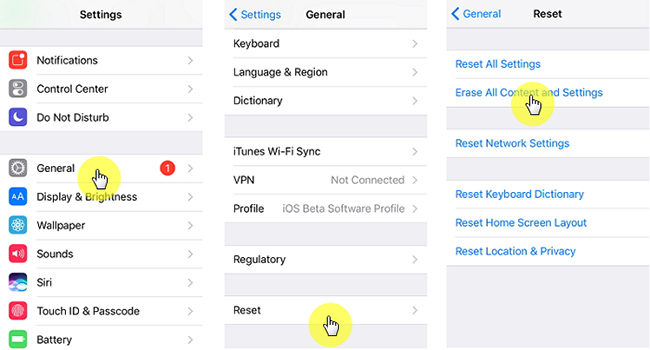 Step 1: Select "Settings" on the menu.
Step 2: Find and select "System" > "Backup and Reset".
Step 3: Tap on the "Factory Reset" option.
Step 4: Now, hit "Reset Device".
Step 5: You will be prompted to enter your passcode.
Step 6: Tap the "Next" option and select "Delete All or Erase Everything" option.
Step 7: After the process is complete, your iPhone will automatically restart.
Step 8: Check to see if the iPhone white lines display problem is resolved.
Fix 7: Fix White Lines on iPhone Screen using DFU Restore Mode
If your iPhone display problem is not yet solved, it is now time we explore more advanced software fixes to get rid of the white lines on your iPhone. Among the most effective advanced software solution is putting your iPhone into Device Firmware Update (DFU) mode.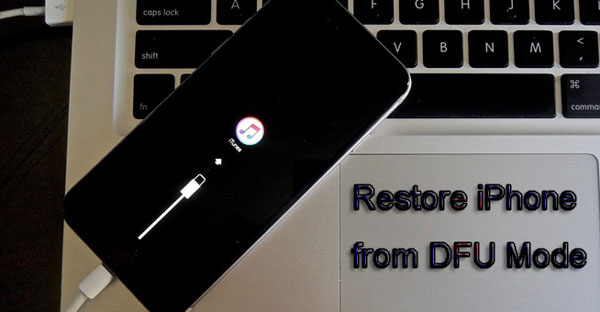 Restoring your iPhone using this trick leads to data loss, and hence we recommend that you back up your data before putting your iPhone into DFU mode. Then, follow the instructions below.
Step 1: Download and install iTunes software on your PC.
Step 2: If you already have the app, make sure it is updated to the latest app version.
Step 3: Using a genuine Apple USB cable, connect your iPhone to the computer and launch the iTunes app.
Step 4: Perform a force restart on your iPhone (refer to solution 2) for a few seconds, keep holding the Home/Volume down button until ""iTunes has detected an iPhone in recovery mode" iTunes notification shows on your computer screen.
Step 5: Now, release the button, and your iPhone will go dark. Then, on the small window on your computer, select "Restore" option to restore your iPhone in iTunes.
Hopefully, this method works to end your iPhone white lines misery.
Fix 8: Put iPhone Screen Properly
If none of the software solutions above work to fix the "white lines on iPhone screen" issue, it is now almost certain that it is a hardware problem. In that case, we suggest that you start by firmly putting your iPhone screen properly.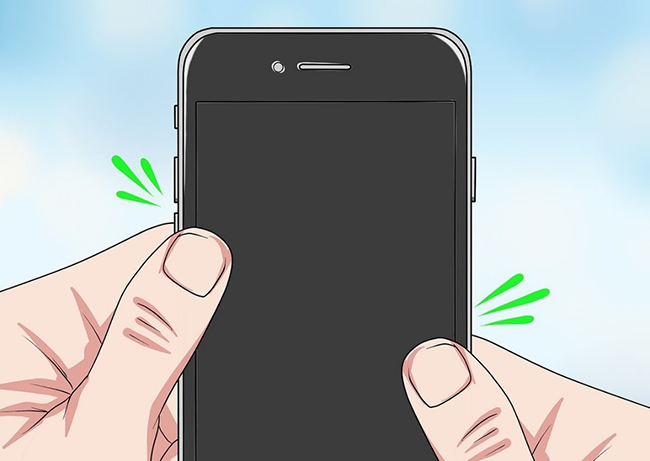 If possible that your LCD/OLED screen may have disconnected from the logic board. In such an instance, firmly push your screen to re-establish the connection. Use your thumb finger to gently press the screen against the logic board, as illustrated below.
Fix 9: Cycling the Battery
Here is another underrated hardware fix for the annoying white lines display problem. Although it may seem relatively simple, it works wonders! Now, charge your iPhone to 100% and allow it to drain to 0% before recharging again. This helps to neutralize the excessive Electro Static Discharge (ESD).
Fix 10: Repair LCD/OLED Display
In the event that none of the above-mentioned solutions work, then the only explanation for your display problem is that your screen is faulty. Hence, you need to can replace it with a new one.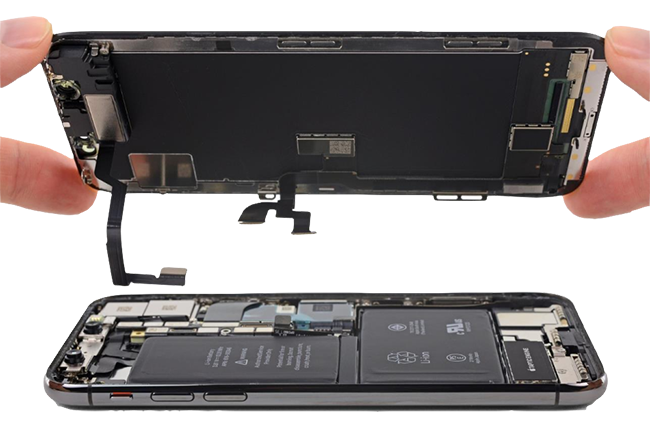 If your warranty is still valid, we highly recommend that you find the nearest Apple store for screen replacement service. Equally, if your warranty does not stand, you can always purchase a genuine Apple screen from the Amazon store and find a professional iPhone repairer to replace it for you.
How to Prevent Your iPhone from White Lines on Screen
Just a reminder, we have lined up some bonus tips to help you prevent your iPhone from developing white lines on the screen in the future. Of course, you can always share these tips with your friends and family and save them from dealing with this annoying problem.
1: Pay attention so that you do not carelessly drop your iPhone in water or knock it on a hard surface.
2: Avoid using your iPhone while charging as it may get hot and most likely develop white or multicolored lines on the screen.
3: Avoid running too many apps at the same time. Some apps may end up being unresponsive, causing white lines on your iPhone screen.
4: Apple company regularly provides software updates to fix bugs and improve device performance. Therefore, we highly recommend that you regularly update your iPhone software, and it will go a long way in protecting your iPhone from unnecessary iPhone display failures. You can either use iTunes or the "Settings" menu to update your iPhone iOS.
5: Always place your iPhone where you quickly spot it. Please, avoid placing your iPhone on the bed or chair/sofa where it can easily be sat on.
6: Consider using a screen guard to protect your screen from unnecessary damage.
7: Use soft detergent to wipe your screen. Do not use water to wipe your screen!
8: Avoid putting keys and iPhone in the same pocket. It will damage your screen in the long run.
Conclusion
Now, you have at least 10 working tips to fix the "white lines on iPhone screen" problem. The list consists of both software and hardware fixes. Your job is to try each fix and find out which one works to resolve your problem. However, we firmly recommend you first try out the TunesKit iOS Recovery software. It is a highly regarded fix for iOS-related problems and works fast to repair the system software without data loss. The program eliminates the need to create a data backup, thereby saving users a lot of time.
The TunesKit iOS Recovery app has an intuitive interface that makes it easy for anyone to use. All you have to do is download, install and use the guide above to set up and repair your iPhone iOS quick and with zero data loss.

Brian Davis has covered tech and entertainment for over 10 years. He loves technology in all its forms.