iPhone Stuck in Headphone Mode? Here's the Real Fix!
6 mins read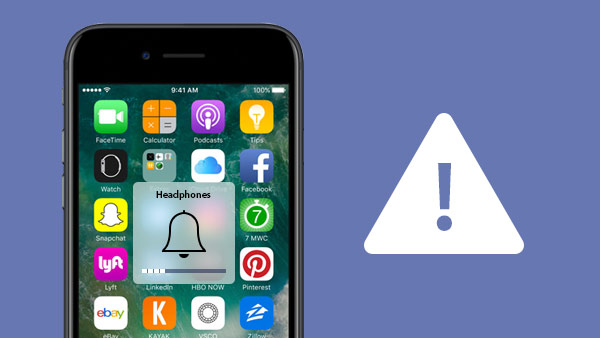 Is your iPhone stuck in headphone mode at the time you didn't plug the headphones into your device? Most of the iPhone users discover that their iPhone cannot make any sound from the speaker, but the "Headphones" sign keeps displaying above the volume slider when pressing the volume buttons. There's no need to be frustrated as you may find at least one way work in the passage, read on to learn how to fix the problem of iPhone stuck in headphone mode.
1. Plug in and out
Although you may have tried for a few times, it's still worth trying as there exists a bug in the iOS system that it may forget your headphones are not connected to the device sometimes. Simply start by plug in your headphones and out 7 or 8 times and make sure that you hear the audio sound on your headphones clearly each time you plug in. After that, you should double-click on the Home button to make sure there's no background app working before you plugging in your headphones again.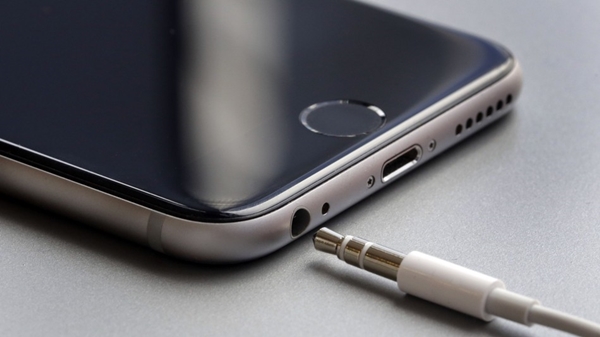 2. Remove the Case of your iPhone
Most of the times, you neglect the case of your iPhone, which may be the reason why your device is stuck in headphone mode, as the cut of the case is not precise enough to adapt the headphone jack so that it block the pathway to the audio jack. Consequently, you can try removing the case from your device to see whether your iPhone remains headphones mode or not.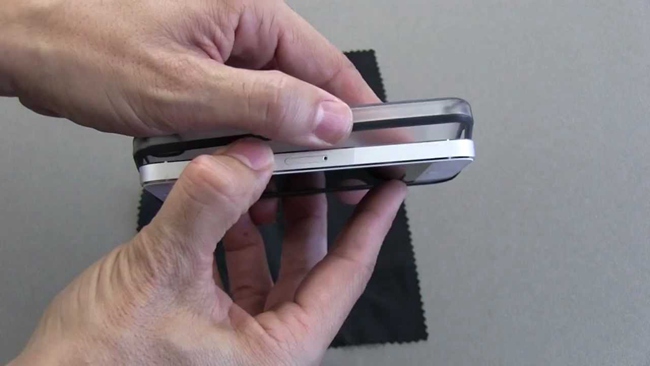 3. Try Using Other Headphones
If you are using other brand of headphones, you may consider replace it with the original Apple's EarPods because the different configurations of some types and brands of the headphones may not compatible with your iPhone perfectly. Try asking your friends for their headphones to check if your current headphones are broken if you are using the original ones.

4. Clean Your Headphones Port
Go grab a torch light and shine it inside your headphone jack to see whether there is any debris stuck inside. Any dirt or debris in the socket may likely be assumed as it is connected to headphones by your iPhone. Accordingly, you should clean the headphone port properly using cotton buds or a BIC pen and make sure that your device may not get water damaged during the cleaning process.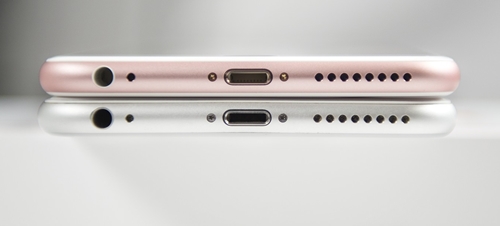 5. Hard Reboot the iPhone
One of the easiest way to fix any software related issue with your iPhone is to give the device a hard reset. Here's how to do.
1) For iPhone 6s or earlier,
Press and hold the Power button and the Home button at the same time for at least 20 seconds until the Apple logo appears on the screen.
2) For iPhone 7 or 7 Plus,
Press the Power button and the Volume Down button simultaneously for at least 20 seconds until you see the Apple logo on the screen.
3) For iPhone 8, 8 Plus, X, XS, XS Max, XR
Press and release the Volume Up button then press and release the Volume Down button. After that, press and hold the Power button (iPhone 8 or 8 Plus) or the Side button (iPhone X) until the Apple logo displays on the screen.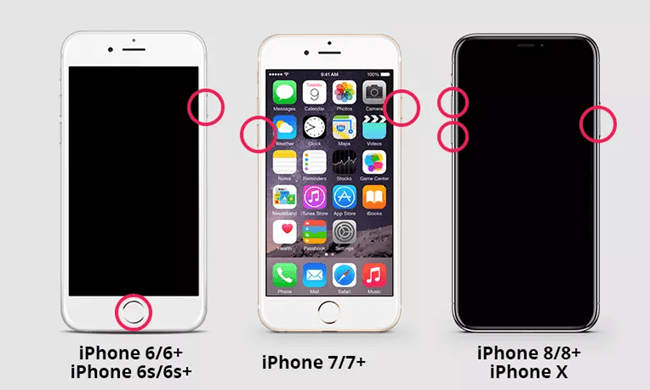 6. Try Airplane Mode
This is an easy and fast solution to fix the problem of iPhone stuck in headphone mode. If you have tried rebooting your device but it doesn't work, just put it in airplane mode. Go to Settings > Airplane mode and open it, or swipe up to access the Control Center and toggle it on the Airplane mode option. Then you need to wait for 15 minutes or more and turn it off to see whether the headphones sign disappear from your screen.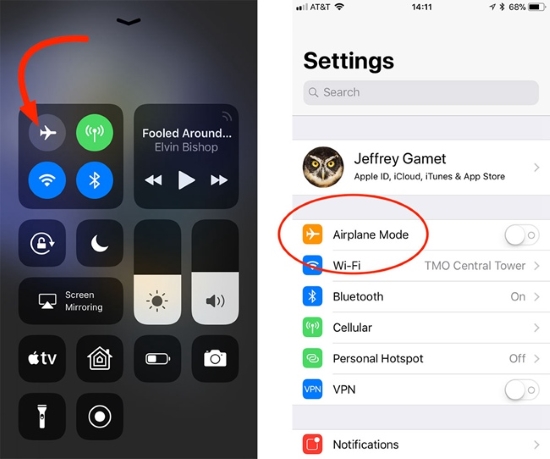 7. Record a Sound
Many users' feedbacks and practices prove that after recording an audio, they successfully solved the issue of the device stuck in headphone mode. In fact, this method is easy to implement, what you need to do is use the audio recording app on the iPhone, such as Garage Band, Voice Memos, or simply open the camera app to shoot a video, try whatever app you like and see if this method works for you.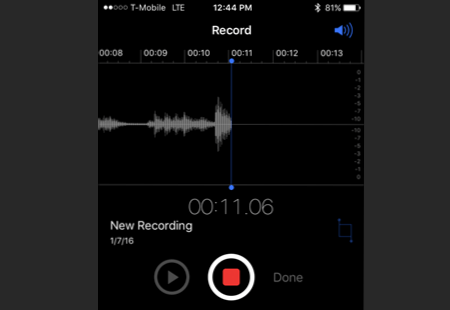 8. Try Music Apps and Plug Headphones
This is also a useful tip to fix the problem. First of all plug in the headphones and open iTunes (or other apps like Spotify, Apple Music, Pandora, etc.), select one song and play it, then wait for the device to lock its screen automatically. After that, unlock it and close iTunes. At this point, unplug your headphones in a proper manner and check if your device comes out of headphone mode.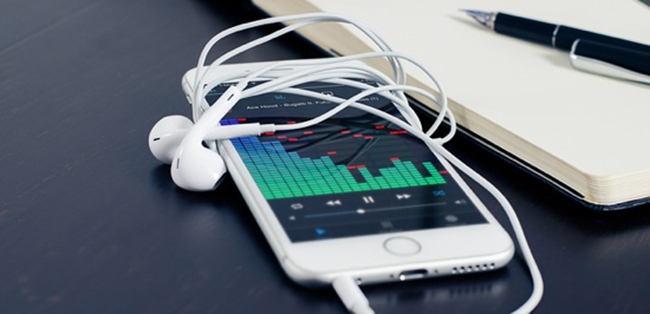 9. Connect with a Bluetooth Speaker
Try connecting your iPhone to a Bluetooth speaker or a pair of Bluetooth headphones, since they are wireless, you don't need to plug them in while your device can detects the Bluetooth speaker and will be able to recognize when you disconnect it as well. Therefore, you can easily undo the situation of the headphone mode on your iPhone.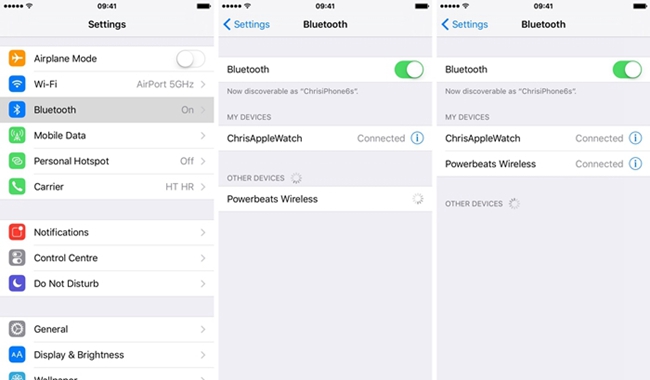 10. Check Some Settings
Call Audio Routing, a hidden setting in Accessibility, determines whether the audio is on during a phone call and a FaceTime audio call. If none of the solutions above seem to work, then you can check this method. Go to Settings > General > Accessibility, scroll down until you find "Interation", click on the "Call Audio Routing" and tap "Automatic" from the list.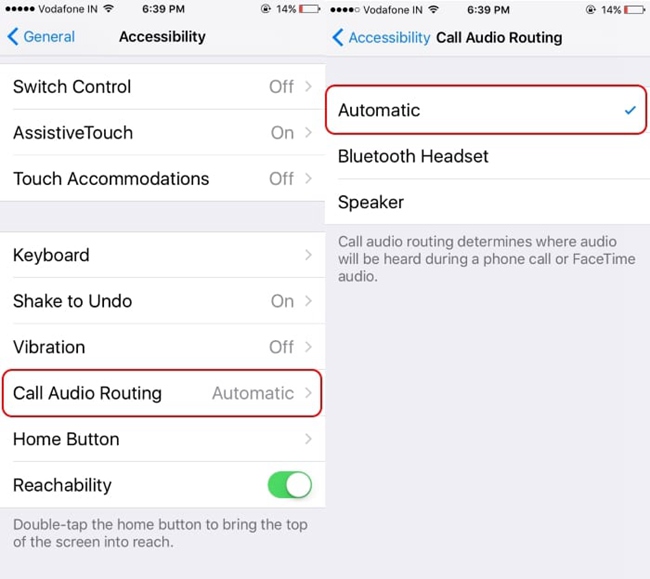 11. Fix iPhone Stuck in Headphone Mode with No Data Loss
After trying all aforementioned methods and your device is still stuck in the headphoen mode, you may get it fixed by using a professional and powerful iOS system recovery utility named TunesKit iOS System Recovery.
It can help users repair almost 30+ different iOS problems including the common stuck problems such as iPhone stuck in headphone mode, stuck in recovery mode, black screen of death, etc. or even serious ones like iPhone is disabled, etc. This tool is 100% safe and trustworthy, and you don't have to worry about the data on your device because it is capable of retaining all the existing data while repairing the iOS system problems. Besides, it offers two kinds of recovery modes to ensure a very high successful recovery rate.
Step 1

Run TunesKit and connect your device to computer

First of all, please download and install TunesKit iOS System Recovery on your PC or Mac. After that, simply open it and use a USB cord to connect your iPhone to the computer. The program will automatically detect your device. You can simply click the Enter Recovery Mode on the left side of the interface and then click the Start button on the right side to get started. Next choose the first Standard Mode to fix iPhone stuck in headphone mode to fix your device without data loss when it asks you to select a mode. Click the Next button to proceed.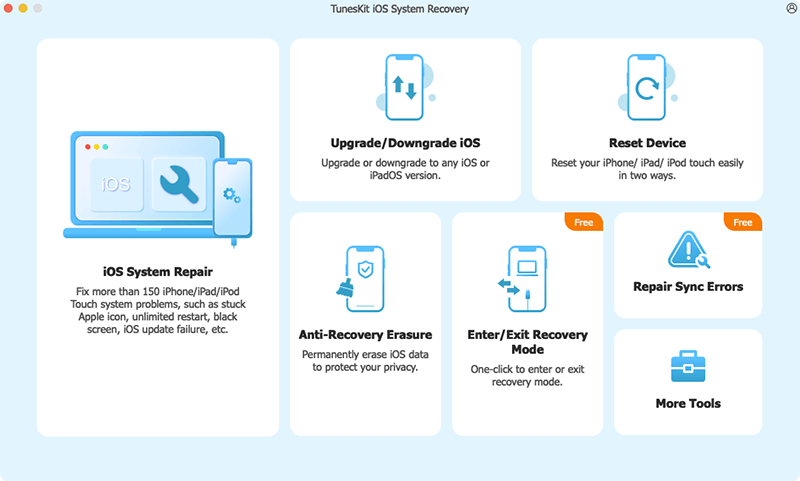 Step 2

Download and verify iOS firmware package

In this step, you need to check your device info and correct it if there is anything wrong. Afterwards, press the Download button to let TunesKit begin to download the firmware packcage and then verify it. Wait until the process bar ends.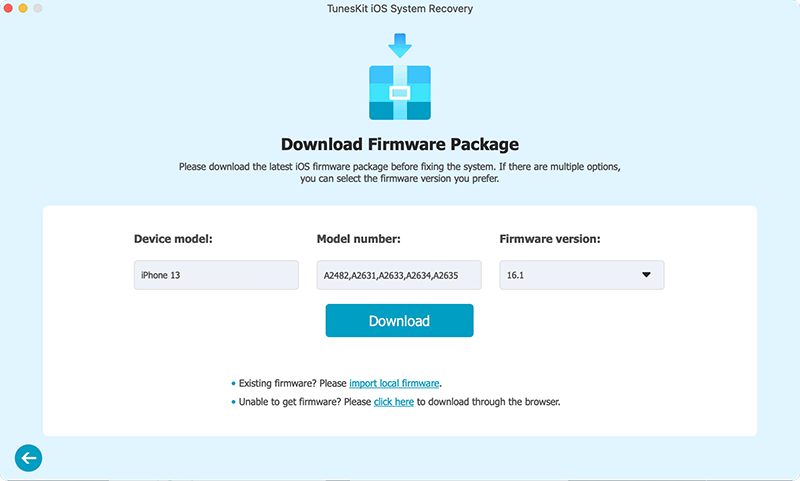 Step 3

Fix iPhone stuck issue

When the firmware package is downloaded and verified, you can now click the Repair button to start repairing iPhone stuck in headphone mode problem with no risk of losing any data. Once the repairing process is completed, you can then check your device to see whether it can work normally. If it failed, please try again or switch to the Advanced Mode to have a shot.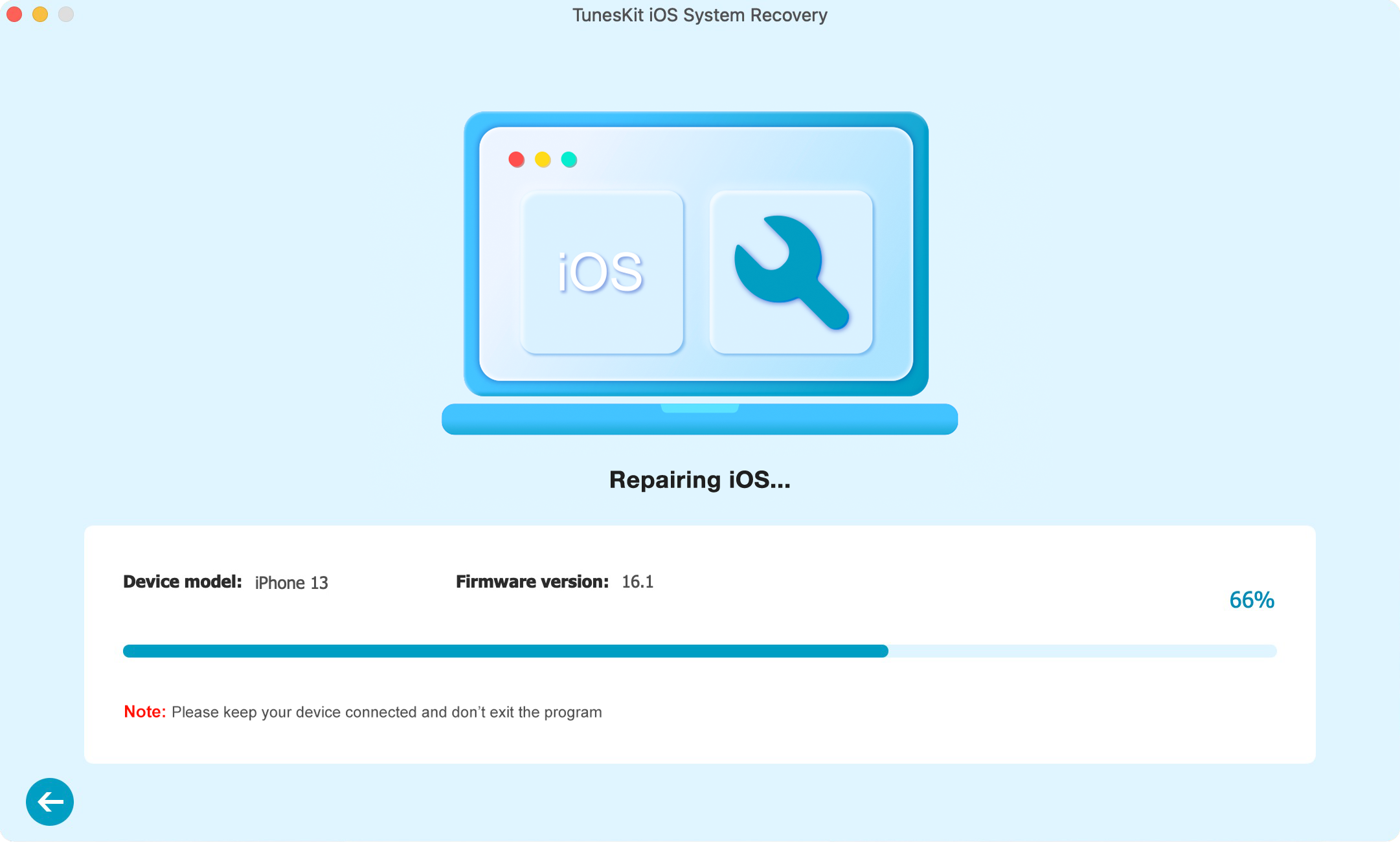 Note: If you decided to use TunesKit Advanced Mode, please be aware that it will efface all the data on your iPhone. We suggest you that you should back up your data first and then repair it under the Advanced Mode.
Conclusion & Bonus Tip
These are all possible solutions to iPhone stuck in headphone mode problem we provided for you. You can try them one by one until your issue is fixed. If you lose some files accidently when trying to get your iPhone out of the headphone mode with the solutions above, then TunesKit iPhone Data Recovery will be a perfect tool for you to choose, as it is capable of recovering 20 types of lost data on your iOS devices including photos, videos, voice memos, safari bookmarks, notes, reminders, iMessages, etc. If you still have problems by using this methods, please be free to leave your voice below.