How to Fix iPhone Reminders Not Working Problem in 2020
Posted by Brian Davis on Mar 10, 2020 12:02 AM • Category:
Restore iPhone
5 mins read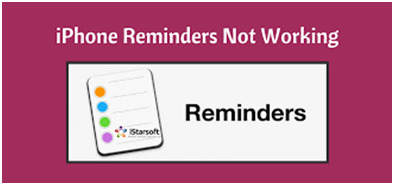 An iPhone Reminders not working problem could mean that you missed to accomplish an important task, probably attending board meeting or your best friend's birthday party! That does not sound so good and you definitely need to fix that problem before it blows on face. Well, worry not! This article will provide with an insight on how go around / fix the iPhone Reminder application not working problem once and for all. These 6 tips are well researched and tested just for you. Scroll right down!
TIP 1: Restart Your iPhone
Like many other simple problems, iPhone Reminder malfunctioning can be easily resolved by simply rebooting your iPhone. A simple reboot process helps you bypass glitches/ software bugs that maybe causing the iPhone Reminders not working problem. So, how do you reboot you iPhone?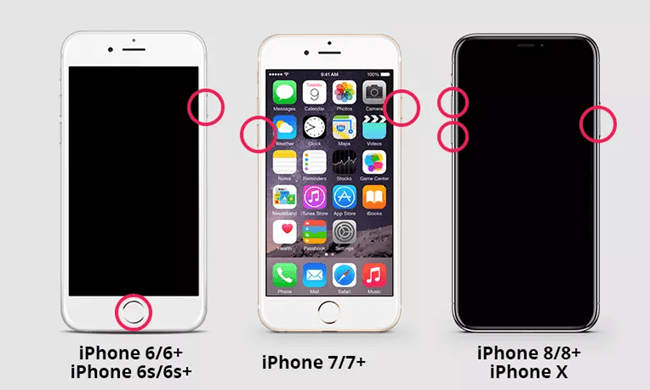 For iPhone 6s, SE or earlier models; Press and hold the home button and the power button simultaneously until an Apple logo appears on your screen then release.
For iPhone 7 and 7 plus; Press and hold the lock key/ power button and the volume down button at the same time until an Apple logo appears on your screen then release both buttons.
For iPhone 8 or 8 Plus and latest models; quickly press and release the volume up button, quickly press and release the volume down button and the proceed to Press and hold the Power button until an Apple logo appears on your screen.
Your Reminder application is likely to return to normal functioning.
TIP 2: Check Reminder Settings
If rebooting does not work to resolve your iPhone Reminders not working problem, move forward to check the Reminder setting. This is to make sure that your Reminder alert is not set to none. It means that the alert has no sound and therefore it cannot be heard. This is how you go about it.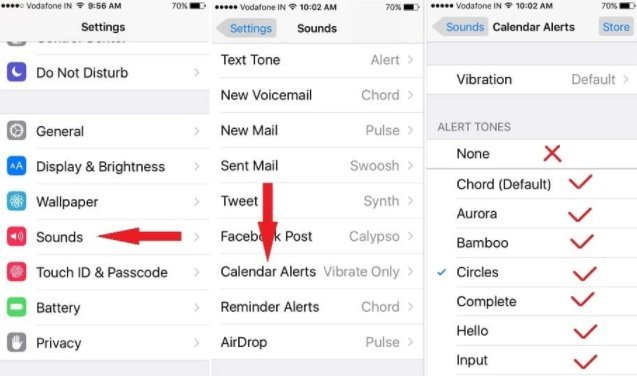 i. On the main menu, click on 'Settings; then proceed to 'Sounds'.
ii. Scroll down and click on 'Reminder Alerts'.
iii. Check if the tone is 'None'. If so, you need to select another tone.
iv. Consider a tone with a high pitch for alerts.
At the end you will have solved your iPhone Reminders alert not working issue.
TIP 3: Turn off Reminders App from iCloud
It is another way to solve the problem before proceeding to more complex remedies. Turning off the Reminders app from iCloud help you get rid of bugs that may be compromising the normal functioning of the application. It seems easy but it works. To turn off simply;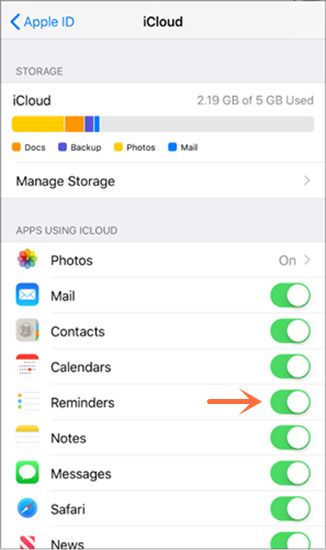 i. Click on 'Settings' on your main menu and proceed to select 'iCloud'.
ii. Locate the Reminder app and turn it off by moving the slider backward.
iii. Wait for a little while and turn it on again.
iv. Check whether you issue is resolved.
TIP 4: Remove Reminders from Widgets
If by any chance that your problem is not yet solved, it is important that you delete Reminders from widgets. It goes a long way in to fix the iPhone Reminders not working issue. How do you do that? Simply follow the steps below.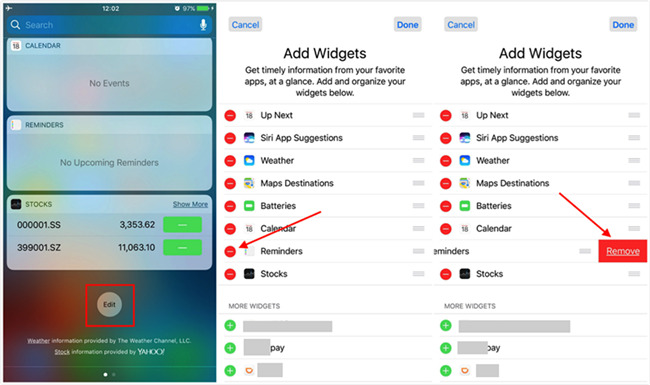 i. Scroll down from the top of iPhone screen.
ii. Click on the 'Edit' icon that appears at the bottom of your screen.
iii. A list of apps will appear, locate 'Reminders' then touch on the red icon to remove it.
iv. Click 'Done' to complete the process.
v. Proceed to home screen and check if the application is functioning normally.
TIP 5: Reset All Settings
This is a little bit more complex solution for you problem. A 'Reset All Settings' action restores all you iPhone settings to default settings. This means that all your iPhone data and files will be lost. However, it provides with a high chance of resolving iPhone Reminders app not working problem. Here are the steps to reset settings.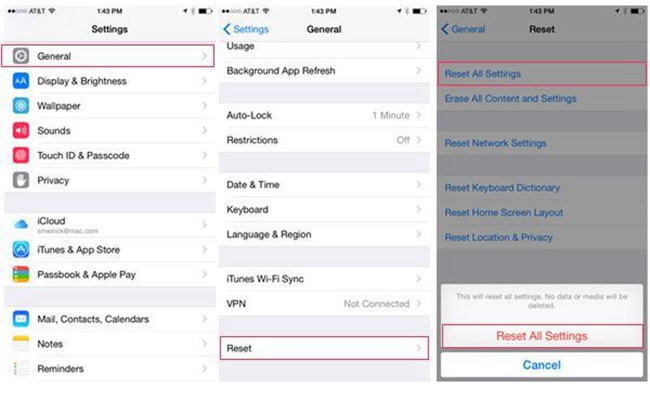 i. Click on 'Setting' on the main menu.
ii. Select 'General' option.
iii. Click on 'Reset All Settings'.
iv. Confirm action by providing the passcode.
Resetting to default provides a fresh start for the Reminder application and consequently solving it malfunctioning.
TIP 6: Use TunesKit iOS System Recovery Tool to Fix the Issue
If resetting all settings does not solve problem, then it is highly possible that your iPhone has iOS errors that maybe resulting to iPhone Reminders app not working. At this point, using TunesKit iOS System Recovery software helps you repair the iOS glitches without losing any data from you iPhone. TunesKit come in two different modes i.e. Standard Mode and Advanced Mode. In this case, it is highly recommended that you use the Standard to ensure safety of you data. Besides fixing iPhone Reminders app not working, TunesKit can fix 50+ various common or serious iOS problems, such as iPhone stuck in boot loop, Siri not working on iPhone, iPhone stuck on Apple logo, red screen of death, and many others.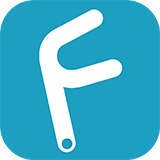 Features of TunesKit iOS System Recovery:
Fix more than 50 types of iOS/PadOS/tvOS issues
Recover iOS back to normal without data loss
One click to enter the recovery mode for free
Repair different iOS issues with highest success rate
Try It Free
600,000+ Downloads
Try It Free
600,000+ Downloads
How do you use TunesKit iOS System Recovery tool? Here are a few basic steps.
i. Connect Device and Select Repair Mode
Launch TunesKit iOS System Recovery on PC or Mac computer. Connect your iPhone to the computer and once it is detected click on the 'Start' option.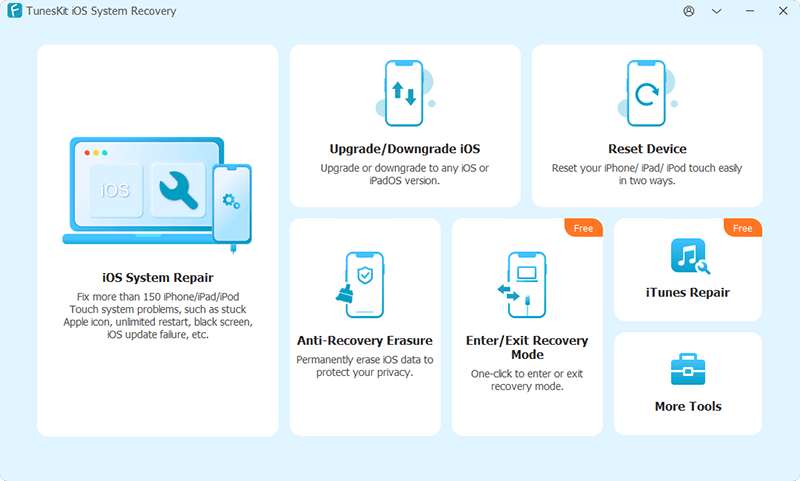 Proceed to select 'Standard mode' and click 'Next'. The windows will request you to put your device on DFU mode or recovery mode. Follow the instruction provided and click 'Next'.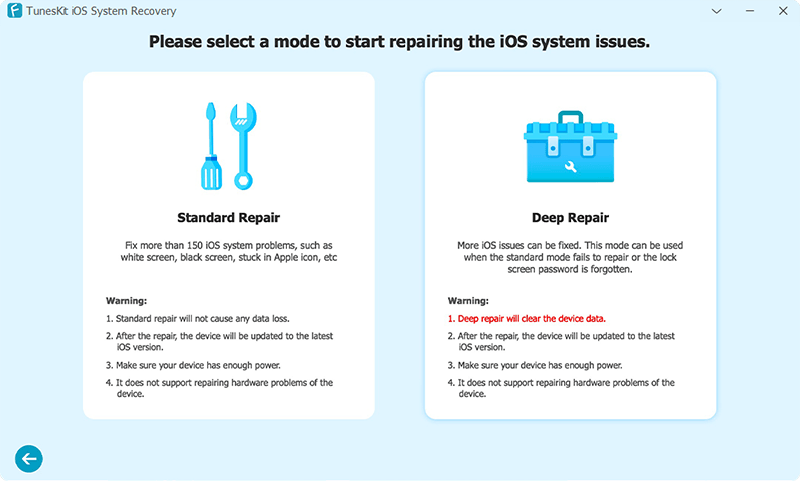 ii. Download the Latest Firmware Package
The program will download the latest firmware package as per the device info. Make the info is correct before hitting 'Download' to confirm action. Device info can be changed manually if it not correct.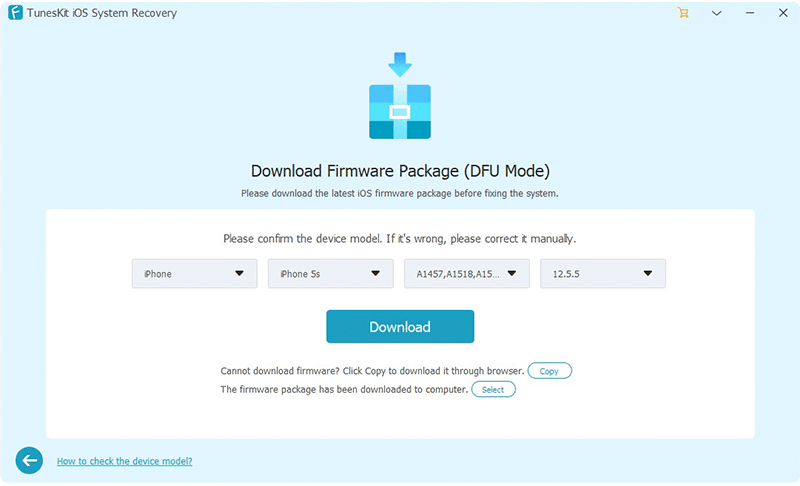 iii. Recover and Fix iOS
Once download is complete, click on 'Repair' to initiate iOS repair process. The repair process will only take a few minutes. Make your device is connected the whole time.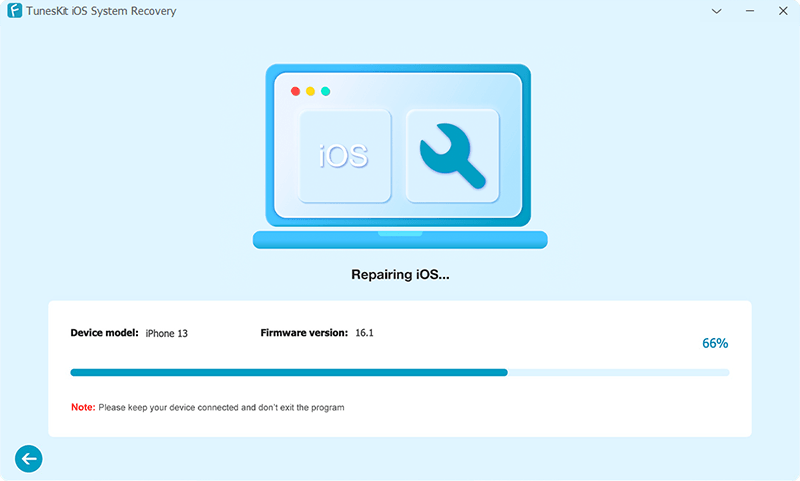 Well, if the problem persists after the repair, then it is highly likely that you iPhone has a mechanical problem and hence you should visit the nearby Apple Service Store for assistance.
Conclusion
The above listed solutions have proven to be easy, efficient and effective in the assisting iPhone user solve their iPhone Reminders not working problems. If you are facing the same predicament, then feel free to try them out. There are all tested and safe methods.