iPhone 13 Screen Freezes? Fix It Here!
6 mins read
The popular iPhone 13 lineup, including the iPhone 13, 13 mini, 13 Pro, and 13 Pro Max, are finally out with dozens of striking features. But according to the experts, even high-spec devices are susceptible to imperfections, so the iPhone 13 model is no exception. Recently, many users have encountered performance issues such as iPhone 13 screen freeze, black screen, and lagging.
Fortunately, performance issues are often minor and can be fixed easily. So, if you are horrified by the words "iPhone 13 frozen screen", don't worry; there are a few things you can try. This article discusses some basic troubleshooting hacks to fix this issue. Without further ado, read ahead to figure out why your iPhone 13 is frozen and how to fix it efficiently.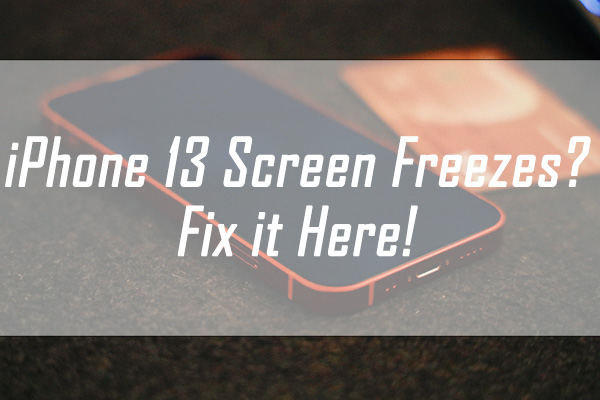 Why is my iPhone 13 frozen?
To tackle the iPhone 13 screen freeze issue, it is important to figure out why and what causes it in the first place. Well, it turns out that technology is always susceptible to failures. Having said that, we believe the iPhone screen freeze might be due to a few possible reasons.
Running on outdated iOS versions
Not rebooting the device frequently
Some problematic apps
Insufficient storage space
Technical fault in the iPhone screen
How to unfreeze iPhone 13?
Now that you know why your iPhone might be stuck with a frozen screen, it's time to resolve the issue. Here are 6 quick methods that will help you troubleshoot iPhone 13 pro max frozen screen on your own.
Solution 1: TunesKit iOS System Recovery – The best tool fix iPhone 13 frozen screen issue
Are you stuck with a frozen iPhone 13 screen? Worry no more because we have a one-stop solution for all your iOS problems. Whether your iPhone screen turns black, blue, or frozen, TunesKit iOS System Recovery is your best bet.
TunesKit iOS System Recovery is an extraordinary iOS fixing program for Mac and Windows users. It enables you to repair 150+ issues on iPhone, iPad, iPod Touch, or Apple TV without needing any technical help. Screen stuck in DFU mode, disabled screen, white line on the screen, restore failure, iOS update failure, etc., you name the problem, and TunesKit will fix it all.
What's more, it offers 100% secure recovery. This amazing tool will get your device back up and running without any data loss. Moreover, it is fully compatible with all iOS versions, including the latest iOS 16. And to top, it all, entering and exiting recovery mode is easy with TunesKit iOS System Recovery.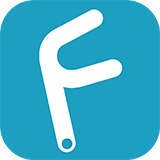 Characteristics of TunesKit iOS System Recovery:
Fix frozen iPhone 13 without data loss
Repair different tvOS/iOS issues by yourself
Provide Standard Repair and Deep Repair
Easy to use with friendly interface
Enter and exit recovery mode with ease on iPhone, iPad, iPod, etc
Try It Free
750,000+ Downloads
Try It Free
600,000+ Downloads
Take a look at this quick tutorial to fix iPhone 13 screen freezing issue using TunesKit.
Step 1: Download and install the TunesKit iOS System Recovery tool on your PC, then launch it. Use a USB cable to plug your iPhone 13 into your pc. Once connected, TunesKit will detect the device. Choose iOS System Repair section and click Start.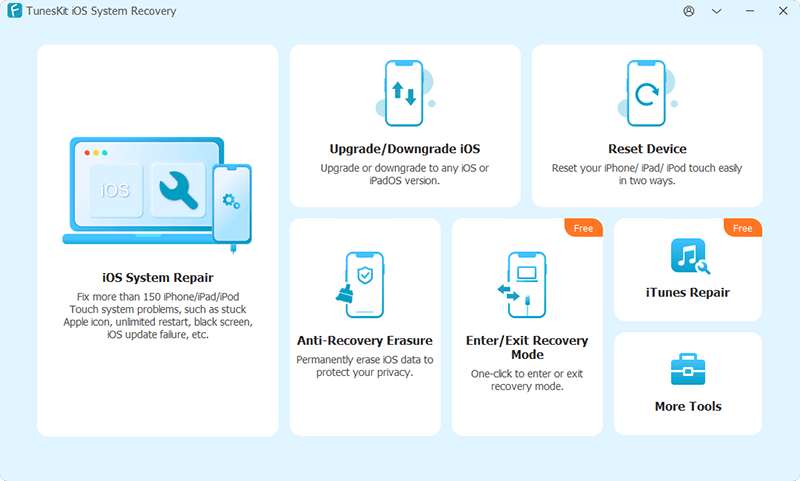 Step 2: On the next window, choose between Standard Repair mode (with no data loss) or Deep Repair mode (erase all data). You will be able to select the device model. Then click Next and follow the on-screen instructions to put your device into DFU mode.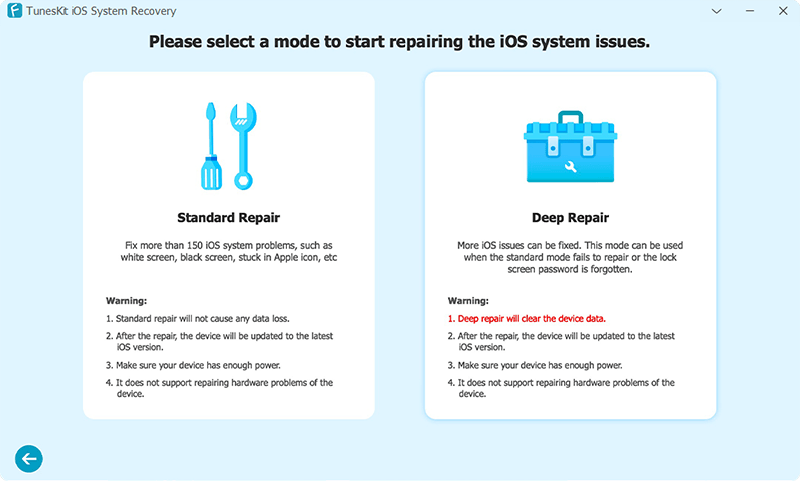 Step 3: Next, confirm your device information, such as model and iOS version. Doing so will help you to select the firmware package that matches your device. After that, tap Download to install the package.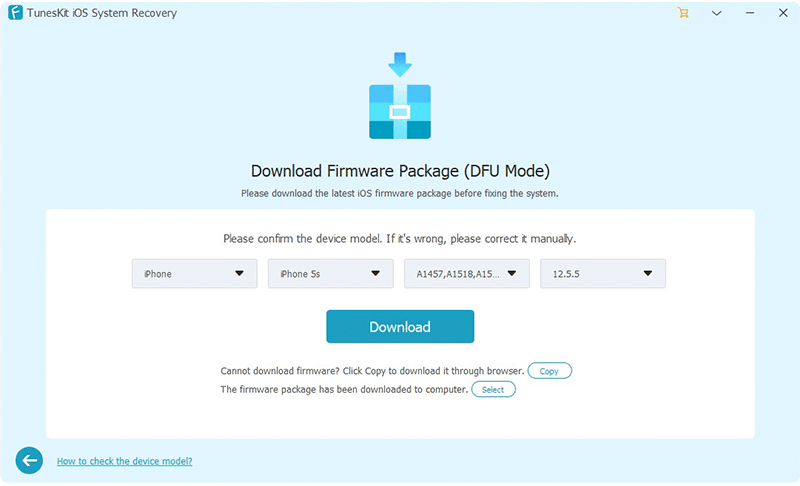 Step 4: When the firmware package download completes, press the Repair button to start repairing. Once the process completes, the iPhone 13 screen freezes issue will be fixed.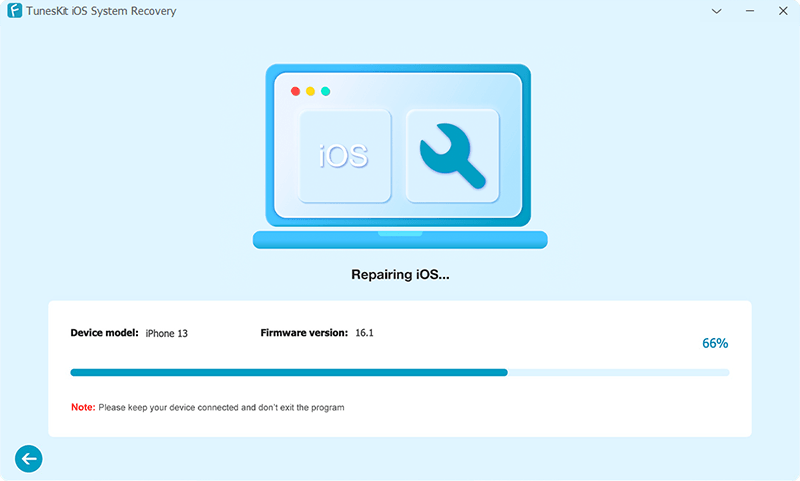 Solution 2: Force restart iPhone
Most of the time, iPhone display problems are fixed by the simplest and most commonly used solution, the force restart. Surprisingly, this easy-peasy troubleshooting hack works wonders to prevent crashes, software faults, and even black or freezing screens. Therefore, if you haven't restarted your iPhone in a while, now might be the time to do it, and we will show you how to do it.
When your iPhone display freezes randomly, you obviously can't use its touch. Well, it is noteworthy that force restarting the iPhone 13 only requires the Volume (up and down) buttons as well as the Side/Power button.
Step 1: Tap the Volume Up button and quickly release it.
Step 2: Do the same (press and release) with the Volume Down button.
Step 3: Now immediately press and hold the Side (Power) button for around 8 seconds or until the Apple logo appears.
Step 4: Release the Power button and reboot your device to check if it still freezes.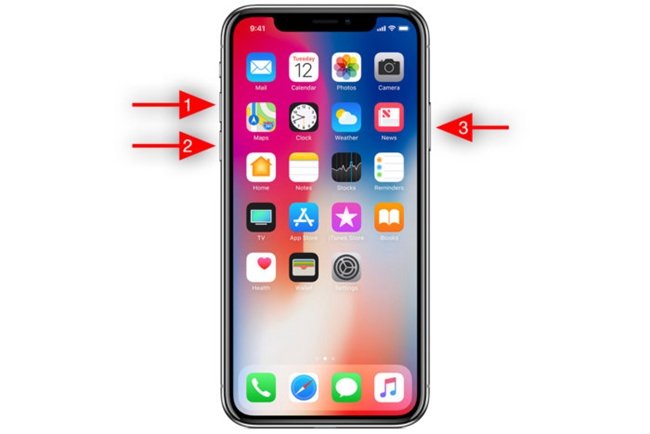 Solution 3: Reset all settings
Random freezes, display issues, and other minor system conflicts are often well resolved with a setting reset. While this method does not necessarily fix the underlying system problem, it still adds a band-aid to it to prevent screen freeze. Setting reset basically refreshes your device simply by bringing your phone back to its default settings. Besides, this process does not erase any of your personal data or files, so it's safe. Follow these steps to reset your iPhone 13 settings.
Step 1: Open the Settings app from the Home screen and tap General.
Step 2: Navigate the menu and select Transfer or Reset iPhone.
Step 3: Hit the Reset option and then press Reset all settings.
Step 4: Enter your passcode and tap Reset all Settings to confirm. Once your iPhone resets default settings, check to see if the screen freeze issue is fixed.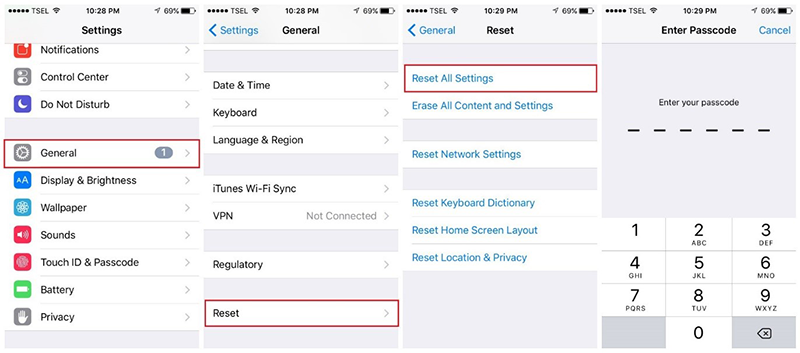 Solution 4: Restore iPhone via iTunes
Besides storing and managing music, iTunes can also restore your iPhone using the DFU mode. If you don't know, iOS devices come with a pre-built DFU (Device Firmware Update) mode that helps you restore your iPhone in various situations, including the iPhone 13 frozen screen scenario.
Anyhow, it is worth knowing that this method will wipe out all data on your phone, such as texts, photos, documents and contacts. So, before you begin restoring, creating a backup of all your important files makes sense. Follow the guide below to put your phone in DFU mode via iTunes.
Step 1: Open your computer and launch the latest version of iTunes.
Step 2: Use your original Apple cable to connect your iPhone to the computer.
Step 3: Next, quickly tap and release the Volume Up button. Do the same action with the Volume Down button.
Step 4: Now, long press the Side (Power) button until your display turns off. Then release the side button.
Step 5: Press and hold the Side button as well as the Volume Down button together for around 5 seconds.
Step 6: iTunes will automatically detect your device in DFU mode. Click ok.
Step 7: Go to the Summary tab and hit Restore iPhone. You can set up your phone when it gets ready.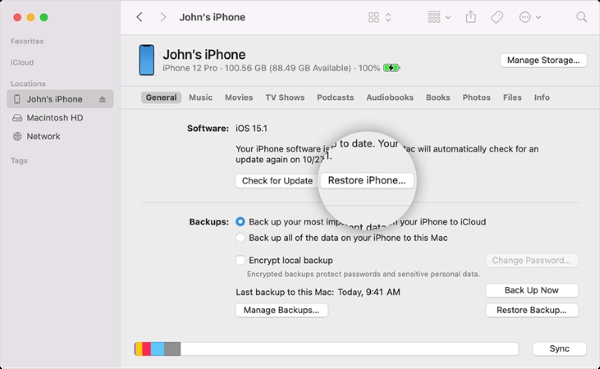 Solution 5: Contact Apple Support
If all the solutions mentioned above have failed you, you might want to consider contacting the experts. It is best to contact the online Apple Support and discuss your iPhone 13 screen freeze problem.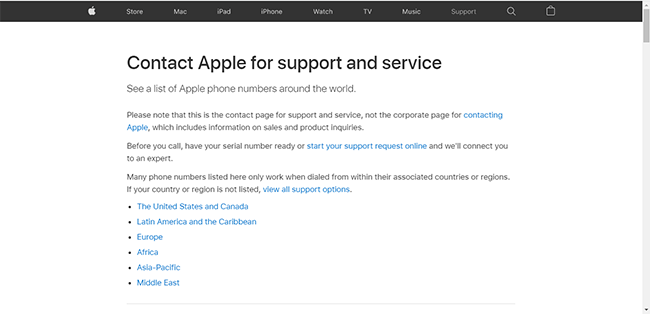 Solution 6: Replace the iPhone screen
Last but not least, try replacing your iPhone 13 screen. This is because your iPhone does not respond even after all the basic troubleshoot hacks, which means there is a technical problem. We recommend taking your phone to the nearest Apple Store to get it thoroughly checked. And if there's a fault in your iPhone 13 screen, make sure to get its screen replaced.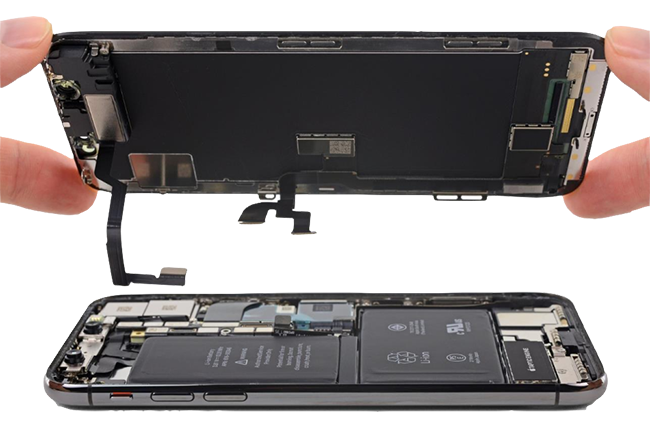 Video guide: How to fix iPhone screen frozen and won't turn off
Now, you can watch the following video demo to get some useful solutions to fix your frozen iPhone. Try them one by one until your problem is gone.
Conclusion
iPhone 13 frozen screen issue is common and frustrating. But we hope this guide will help you fix the issue. iPhone screen freezing might be due to various possible reasons. When it happens to you, try force restarting your iPhone or resetting it to factory settings. Alternatively, you can restore your device in DFU mode using iTunes.
However, we recommend TunesKit iOS System Repair as the best solution to fix iPhone 13 display issues. This easy-to-use tool can quickly resolve any iOS problems such as black, blue, white, disabled, freezing screen etc., without any data loss. Simply put, TunesKit can recover your device back to normal in no time.