iTunes Error -50? Fixed!
Posted by Brian Davis on Oct 14, 2019 6:50:11 PM. • Category:
Restore iPhone
4 mins read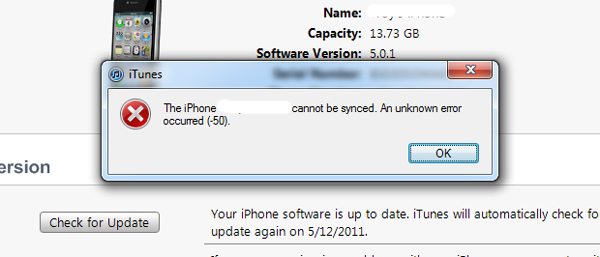 I keep getting a message when I sync my iPhone saying iTunes could not copy "name of the song" to the iPod "name of iPod" because of an unknown error occurred (-50)" - A user from Apple community
Looks familiar? iTunes error -50 (or iTunes error 50) is reported to appear sometimes when users try to sync their iPhones, iPads or iPods. This will result in the failure of syncing, and unlike iTunes error 4013, the bothered users will not be able to find many guides on the Internet. Therefore, our team did some researches and experiments about the error, and come up with 5 effective solutions to help those bothered.
1. Fix iTunes Error -50 by Stabilizing USB Connection
Not any kind of cable is suitable to conduct the information transmission between mobile iDevices with the computer. Even if you have no problem charging the iDevices with a cable, it does not necessarily mean it is able to transmit information. In a word, it is recommended to use Made for iDevices cables and adaptors.
To check whether you are using the Made for iDevices USB cable and adaptor, follow the steps below using the current cables and adaptors:
Step 1
Connect other iDevices with your computer and see if the iTunes unknown error -50 notification appears. If it does, then these two accessories may not be Made for iDevices ones.
Step 2
Connect other iDevices with other computers. If iTunes unknown error -50 notification appears, then these two accessories may not be Made for iDevices ones.
Step 3
Switch to a Made for iDevices USB cable and adaptor and see if the notification appears again.
If the error notification shows up in any one of the 3 tests above, you may consider switching to a set of Made for Apple cable and adaptor.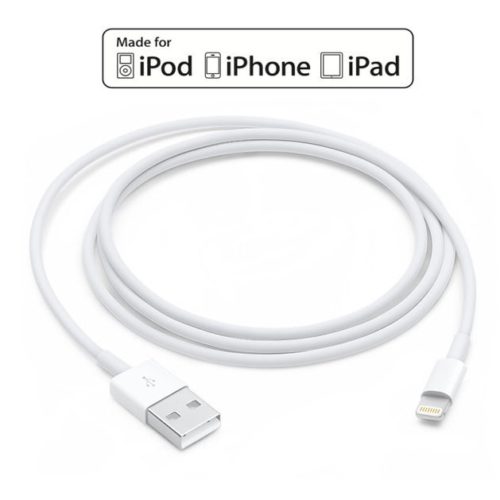 Also, it is important to make sure the port is not covered with dust or other matters, because an uncleaned port can obstruct connection.
2. Fix iPhone Error 4013 by Checking Internet Connection
Most operations of iTunes require Internet connection, and unknown errors may occur if the Internet connection is not good enough even when the operation doesn't need the Internet at all.
To make sure the successful syncing, both the computer and mobile iDevices need a stable Internet connection. The things you can do to promote Internet connection include: restart Wi-Fi, restart Internet switch on both your computer and the iDevices, unplug the SIM card on your iPhone and plug it back in.
3. Fix iTunes Error 50 by Adjusting Firewall / Anti-virus Settings
The firewall / anti-virus on the computer may mistakenly block the syncing of iDevices, resulting in iTunes error 50. This is more likely to happen if you have installed third-party Firewall / Anti-virus programs on the computer. After all, they may even mistakenly delete unharmful files.
The solution is to go to the Firewall and see if iTunes is on the block list; if so, get it out from the list. As for anti-virus programs, you can either add iTunes to the white list, or temporarily turn off the program while you are syncing the iPhone.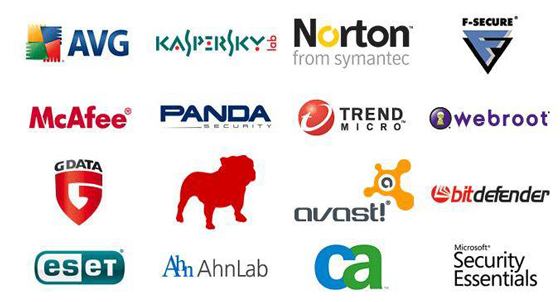 4. Fix iPhone Error -50 with TunesKit iOS System Recovery
Should the previous two solutions fail, then the cause could be originated from the iOS bugs on the mobile devices ends. However, it is extremely difficult to diagnose the specific iOS problem, as any program or file on your iDevices could the culprit.
Fortunately, there is a convenient option - TunesKit iOS System Recovery, an iOS recovery tool guarantees to solve more than 30 iOS issues, including iTunes error -50. This is how it repairs iOS issues: do a complete swipe to your iDevices. The most important feature is that your data will remain unharmed after the recovery, and the problem causes the iTunes error -50 can get resolved.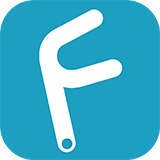 TunesKit iOS System Recovery Key Features
Resolve 30+ iOS issues, including iTunes error -50
3 quick steps to finish the whole operation
No data loss in the Standard Mode
Lowest price among similar products
Try It Free
600,000+ Downloads
Try It Free
600,000+ Downloads
Tutorial of using TunesKit iOS System Recovery
This tutorial will tell you how to use TunesKit iOS System Recovery exactly, and it would be better if you can download the software and experience it yourself.
Step 1
Launch TunesKit iOS System Recovery and connect your iDevice to the computer (make sure the connection is fine as mentioned in the first solution). Press the Enter Recovery button to make your phone enter the recovery mode, then click the Start button to proceed.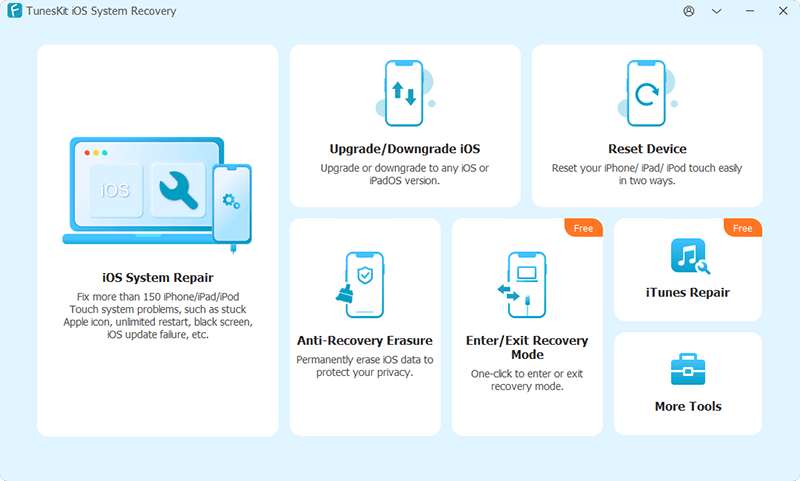 Step 2
Select the Standard Mode box to fix error -50 without data loss. Be careful not to choose the Advanced Mode, because it is designed for more severe situations and will erase all your personal data.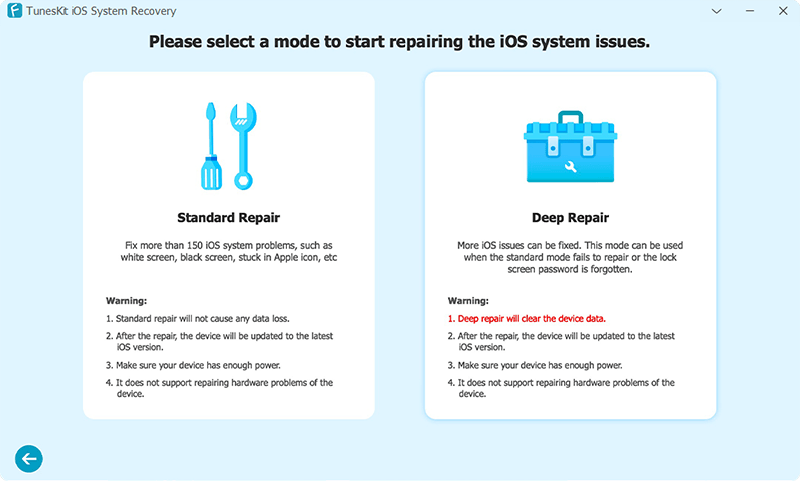 Step 3
In the Download Firmware interface, check all the info of your device to see if it fits your device. Click the Download button to download the firmware suitable to your device.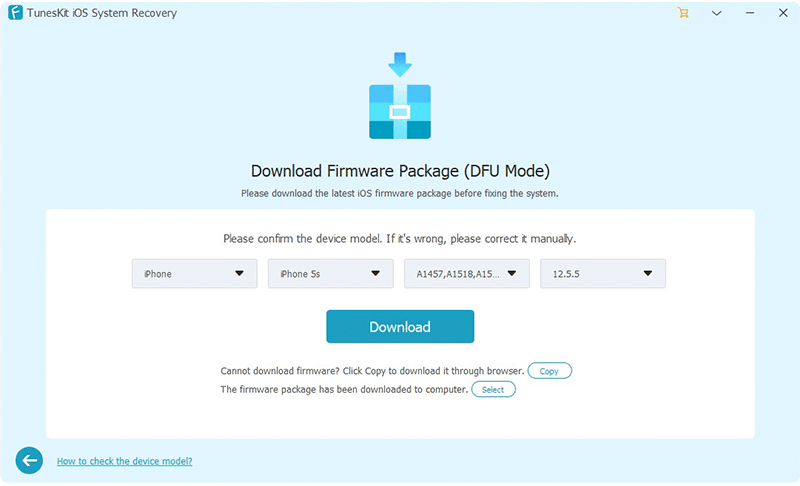 Step 4
Press the Repair button to start the repairing process. Again, be careful not to disconnect the device with your computer or it might get bricked.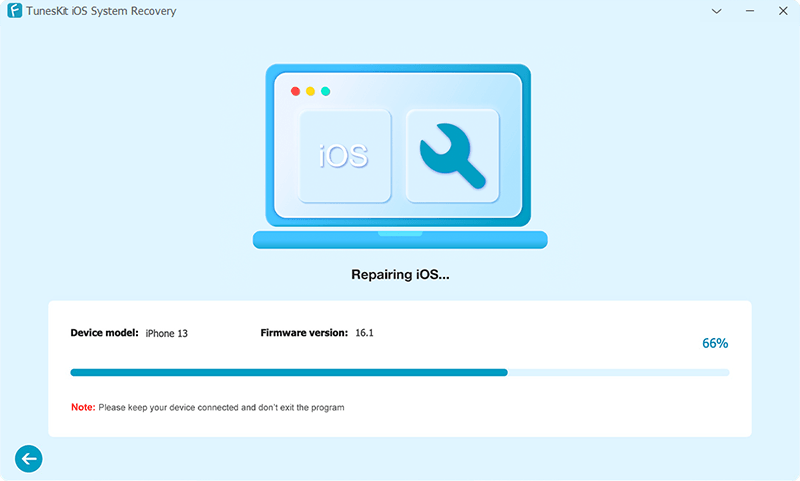 5. Resort to Apple Support to Resolve iTunes Error 50
We have seen some guides on the Internet telling people to factory reset their Devices to resolve error -50, but rush to factory reset will be a mistake because it will erase your personal data. If the previous solutions fail to work, then go to the nearby Apple Support would be the best solution. The professional technicians there will provide you with the ultimate solutions that suit you the best.
Conclusion
Though with all these suggestions, fixing iTunes error -50 is still exhausting and time-consuming experience. We beg your patience and persistence, and we are sure that everything will function normally again.