Top 7 Tips to Solve iPhone Error 2009 Problem
5 mins read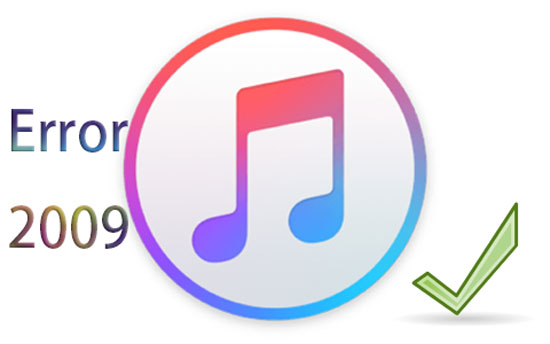 Among a list of iPhone or iTunes errors, the error code 2009 on iPhone is a common one. When some iOS device users want to update or restore their iPhone, iPad or iPod via iTunes, they find a message that reads "The iPhone (iPhone) could not be restored. An unknown error occurred (2009)" popping up. This error stops people from completing the process of iPhone restoration. Would like to settle the problem of iTunes error 2009? Please check out following 7 solutions.
Part 1. What is iTunes error 2009?
But first let's make clear what iTunes error 2009 is. iTunes error 2009 is an issue which is often caused by some hardware problems including USB cables, displays or even the computer. Although there are many unexplained reasons that result in this iPhone issue, some possible ways to fix this error still exist, which lead us to the next part.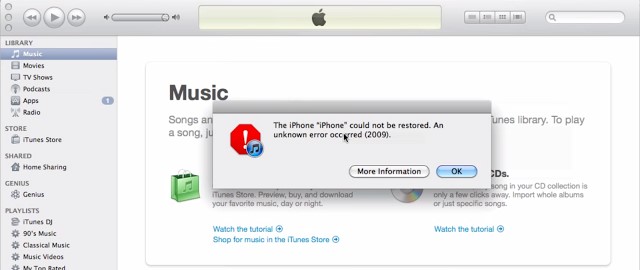 Part 2: How to fix iPhone error 2009?
In this part, we are going to discuss concrete solutions to the error 2009 and guide you steps by steps.
Tip 1: Check USB connection
Generally, people tend to ignore the simplest issue. So check the USB connection by plugging every USB port of your computer or changing Apple USB cables to see whether the USB port is working fine.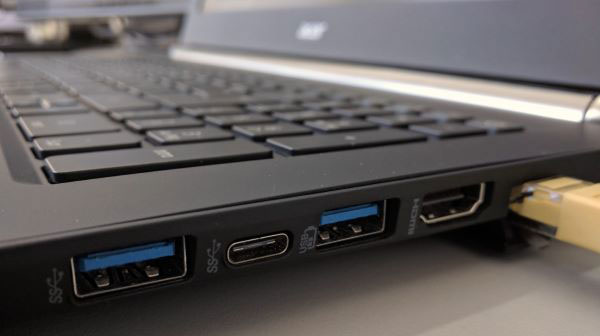 Tip 2: Restart computer or iPhone to fix iTunes error 2009
This method is widely accepted by customers when some problems occurs on digital devices. Indeed, restarting computer or iPhone often does the trick. So once iPhone error 2009 happens, you are suggested to reboot your computer and then restart updating or restoring iPhone again. If the issue still exists after rebooting the computer, then try to restart the iPhone.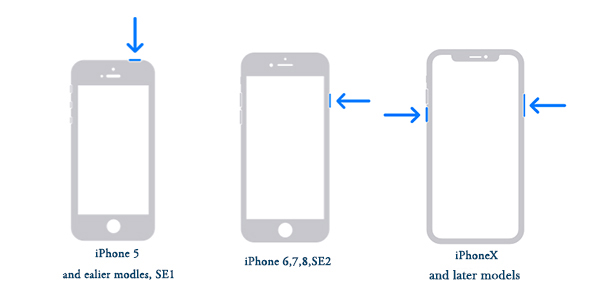 Tip 3: Update or reinstall iTunes
If the first way fails, don't be gloomy. Try updating iTunes or reinstalling it. To install the latest iTunes, first check if an update is available, try these:
For Windows PC:
Step 1: Open iTunes on the computer.
Step 2: Tap Help icon on the top.
Step 3: Click Check for updates.
Step 4: Follow the guides.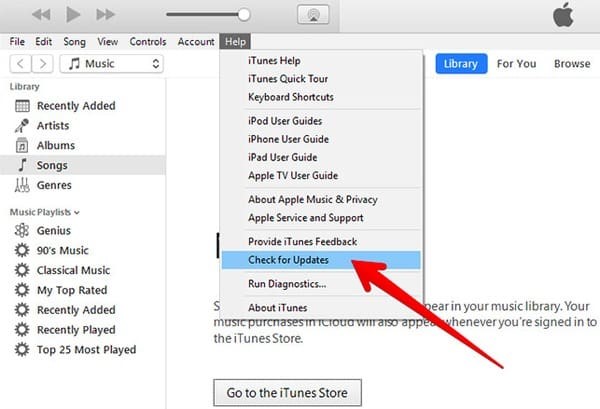 For Mac:
Step 1: Open iTunes.
Step 2: Click system references in Apple icon.
Step 3: Click software update.

Note: If it doesn't work, try deleting the iTunes from computer and reinstalling it again.
Tip 4: Turn off iTunes Helper to fix iPhone error 2009
Apart from using above two tips, disabling iTunes helper is also worthwhile to try out to settle iTunes error 2009. Do as presented here both on Mac and Windows computer.
On Mac:
Step 1: Click System Preferences.
Step 2: Tap Users and Groups.
Step 3: Log in your account by inputting the username.
Step 4: Disable iTunes helper.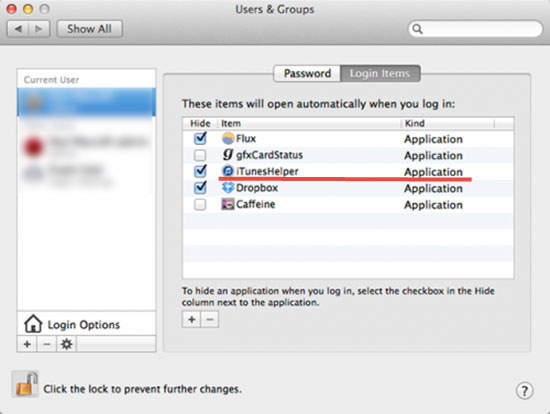 On Windows:
Step 1: Tap Start and open Run button. (or press Win+R)
Step 2: Type MsConsfig and click Enter.
Step 3: Find the iTunes Helper and hit the End Process.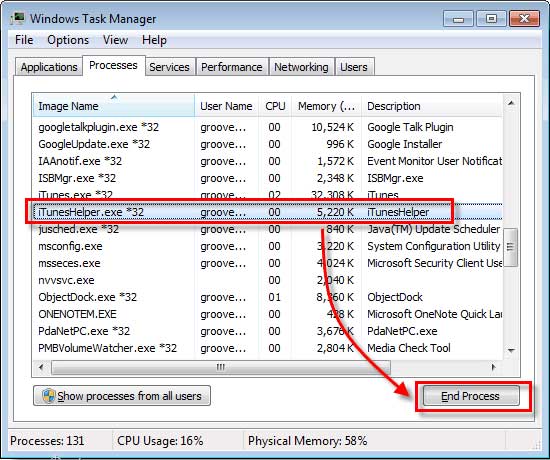 Tip 5: Update Antivirus protection program
It is not often occurred to us that antivirus software may cause a problem. Yet an old antivirus protection program may sometimes bring about some issues as other outdated applications make iPhone not function normally at times. So in order to solve iTunes error 2009, open the antivirus program and see whether an update is available. If so, do the update and see whether any miracle would happen.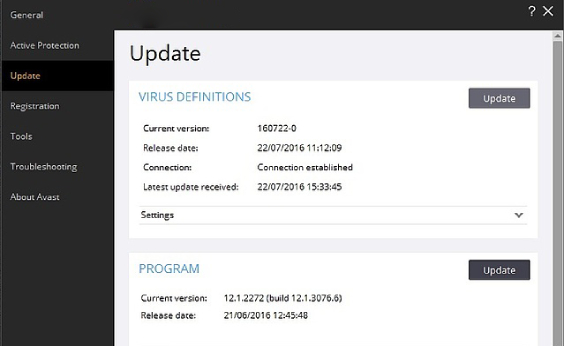 Tip 6: Use iOS repair software to fix iPhone error 2009
If you still exhaust yourself in seeking solutions to fix iPhone error 2009, then the safest way is using professional iOS recovery programs like TunesKit iOS Repair. This tool supports diverse kinds of iOS issues including iPhone recovery mode, white Apple logo, black screen, Apple TV issues etc. Then, it supports diverse devices like iPhone, iPad, iPod touch and Apple TV, and all iOS versions, including the latest iOS 16. Moreover, it has a simple interface which is easily understood and operated by customers. And most importantly, it won't cause any data loss during the process of iOS repair.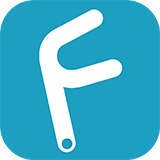 Highlights of TunesKit iOS System Recovery
Fix 150+ iOS issues on any iOS devices like iPhone error 2009
Only one-click to enter or exit recovery mode for free
Supports downgrading iOS 16 to iOS 15
With easy steps to solve problems under Standard and Advanced modes
Supports the latest iOS version including iOS 16
Try It Free
600,000+ Downloads
Try It Free
600,000+ Downloads
Related steps to fix the problem of iTunes error 2009 are as follows.
Step 1

Connect iPhone and Select Repair Mode

Firstly, open TunesKit iOS System Recovery for Windows on your computer. Then you have to connect your iPhone till it's detected. Next, click "Start" button. Next, choose the "Standard Mode" and "Next". You have to select which device you've connected. Then follow the instructions from the interface and let your device is into DFU mode. After that, click "Next" button.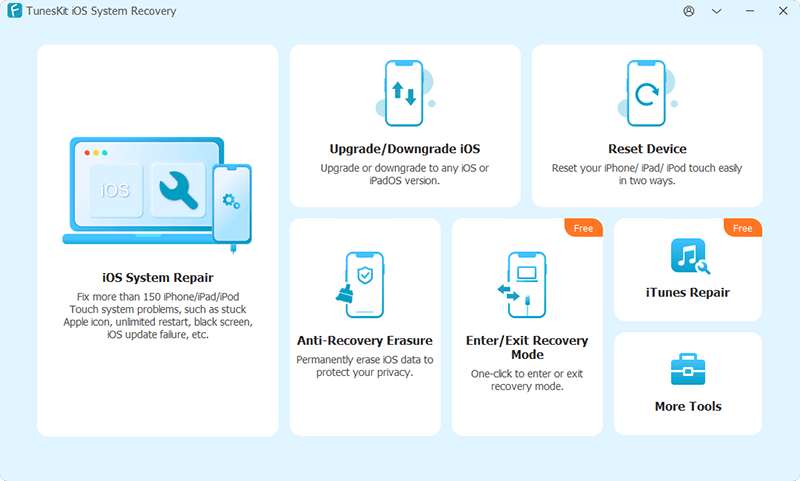 Step 2

Download Firmware Package

The application will download the firmware package matched to your device after finishing the first step. Before that, you have to make sure the device info is correct, including the model version, iOS version, etc. You can correct it if there's anything wrong. If all information is correct, click the "Download" and it will start downloading and verifying the firmware.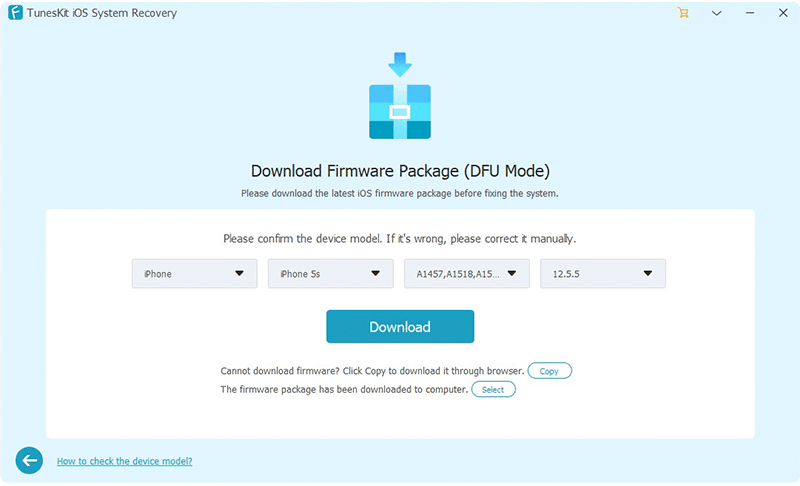 Step 3

Fix iTunes Error 2009

When the firmware has been downloaded successfully, you just click the "Repair" button and the program will automatically begin to fix your iPhone. When the reapir process is done, your the iPhone error 2009 will be fixed.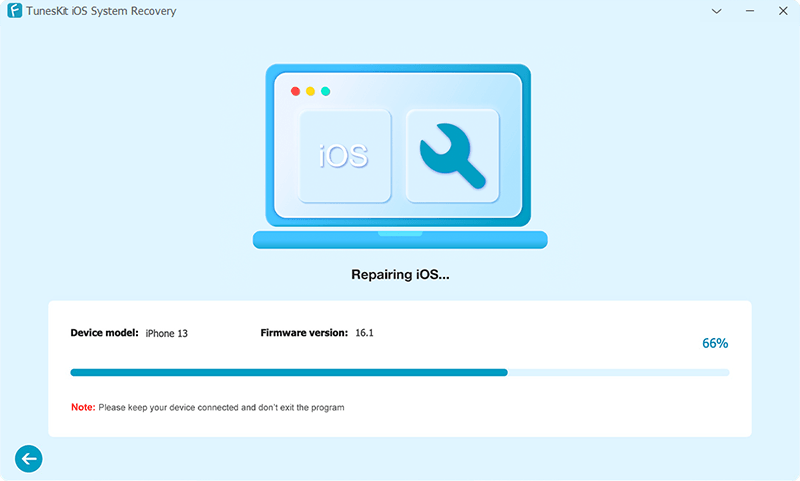 Tip 7: Take to a repair store
If unfortunately above 6 methods don't help you to settle the iPhone error 2009 problem, then you may have to take your device to a repair store. Related workers will give you suggestions.
Video Tutorial: 6 Methods to Fix iTunes Error 2009
Part 3: Final words
This article has shown you the fastest and safest way as well as other possible solutions. In this way, when faced with iTunes or iPhone error 2009 in the future, you have no need to worry. Just check this and choose the one you want to solve the problem. Finally, if you have other advice or some questions, please contact with us.