iPhone Suddenly Died? Try These Solutions
5 mins read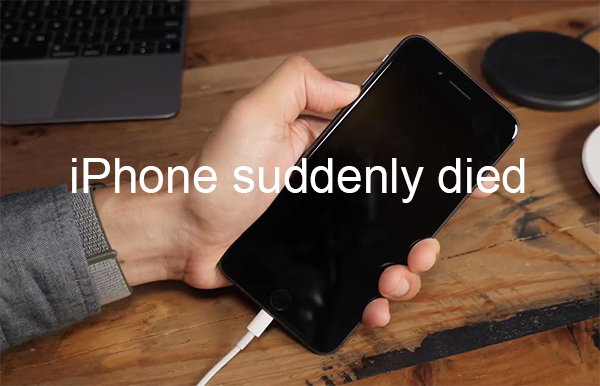 "My iPhone 6 suddenly died when I was driving and using it for GPS, I spent the next half an hour trying to restart it but it didn't work. What should I do?" - A Reddit user
Have you ever found your iPhone suddenly died? I have a similar experience - my iPhone suddenly shut off from time to time a few months ago, which severely affect my usage of the phone. A lot of users are troubled by the same problem, and thus our team concludes the causes and tree most effective ways to help all the bothered users resolve the problem.
Video Guide: 4 Solutions to Fix iPhone Suddenly Died
Top 5 Solutions to Fix iPhone Suddenly Died
Solution 1. Hard Restart to Stop iPhone Suddenly Died
If you find your iPhone shuts off constantly or iPhone won't turn on after turning off itself, it may be caught in a rebooting loop or quickly draining its battery due to the rogue process. Either way, to interrupt the shutting off loop, the best way is performing a hard reset.
Unlike normal restart, hard reset, also called force restart, is more complete. Different models of iPhone require different methods to hard restart, you can follow the guide matching your iPhone below:
1) iPhone 6 and its derivative models:
Hold the Home button and the Side button for at least 10 seconds until you see the Apple logo.
2) iPhone 7 and its derivative models:
Hold the Side button and the Volume button simultaneously for at least 10 seconds until you see the Apple logo.
3) iPhone 8 or later models:
First of all, press and release the Volume Up key. Next, press and release the Volume Down key. Finally, hold the Side button until the screen shuts off and shows the Apple logo.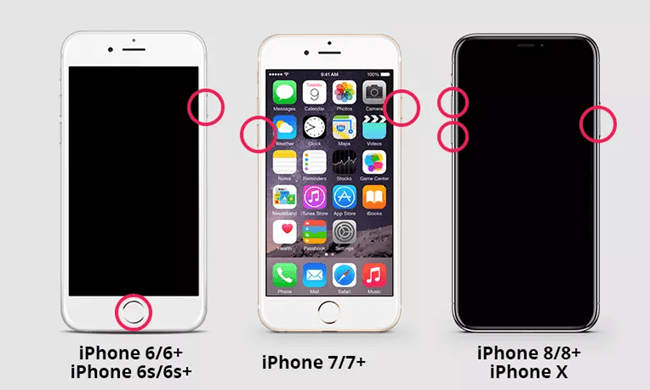 Solution 2. Stop iPhone Suddenly Died with TunesKit iOS System Recovery
The sudden death of the iPhone may be caused by the iOS system bugs. However, to tackle the bugs is never easy. To find out the specific problem will cost time energy, while an iTunes restore will have the data erased. But don't panic, we have prepared an effective and safe tool to fix the iPhone suddenly died issue with no data loss.
TunesKit iOS System Recovery is a powerful iOS repairing tool that covers 150+ issues, such as iPhone black screen, iPhone stuck in DFU mode, etc. It can save your iPhone from a sudden death without any data loss, which is its most important feature. The other main features and the download links of this software are listed below.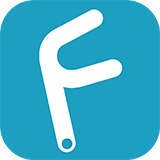 TunesKit iOS System Recovery Key Features
Covers 150+ iOS issues and iTunes glitches
User-friendly and intuitive interface
3 easy steps to fix your iOS devices with ease
No data loss in the Standard Mode
Lowest price among similar products
Try It Free
600,000+ Downloads
Try It Free
600,000+ Downloads
Here is a brief guide of using TunesKit iOS System Recovery:
Step 1

Connect your iPhone to the Computer

Connect your iPhone with the computer. After it is being detected by TunesKit iOS System Recovery, you can see an image of the device displayed on the left of the window. Now press the Enter Recovery Mode button under this image and your iPhone will be ushered into the recovery mode.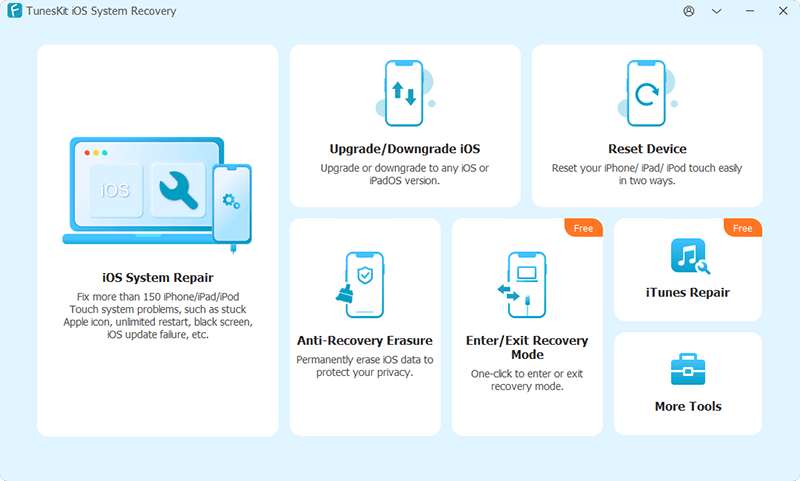 Step 2

Choose the Standard Mode to Safely Recover your iPhone

In the next window, there are Standard Mode and Advanced Mode. Choose the former, because the Standard Mode can resolve common troubles like iPhone died suddenly without data loss, while the Advanced Mode is designed to deal with extremely severe issues at the expense of your data.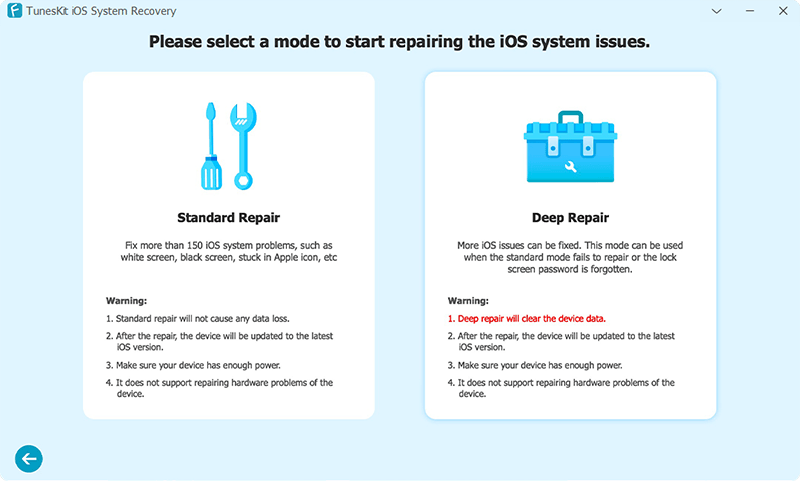 Step 3

Download Firmware Package and Fix iPhone Suddenly Died

In the window as shown below, you can see the info of your iPhone, and what you need to do is to ensure all of it is correct so that TunesKit iOS System Recovery can download corresponding firmware. Then download the firmware matching your iPhone and click the Repair button to start recovery. A few minutes, your iPhone should be back to normal.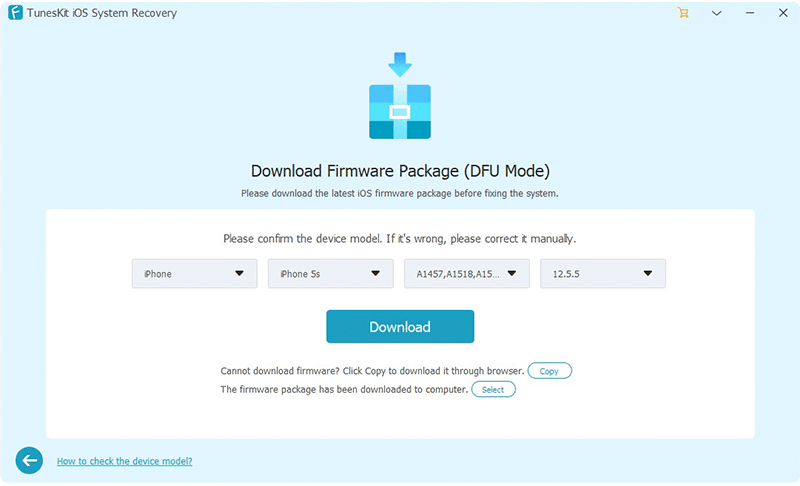 Solution 3. Deal with Virus Attack When iPhone Randomly Shut Off
If your iPhone shut off from time to time and its running speed becomes slower and slower, it is possible that your iPhone has been invaded by a virus, especially when you just downloaded something not long ago. The random shut off is a sign that the virus trying to hijack your phone. Usually, apps downloaded from Apple App Store shouldn't consist virus, but if you have jailbroken your iPhone and download unofficial apps, then it is another story.
Unfortunately, there is no official antivirus program for iPhone. To kill the virus, you can use TunesKit iOS System Recovery introduced in the last part. The Advanced Mode can kill the virus but erase all the data, so you will have to back up the data in advance so that you can recover it after the repairing.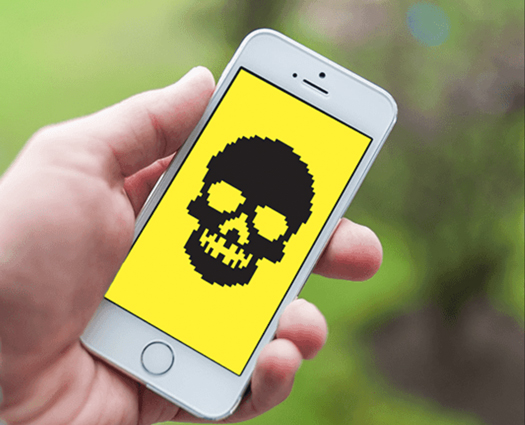 To prevent further virus attack in the future, we suggest you not to jailbreak your iPhone. But if you have to do so, please be careful of the things you download.
Solution 4. Contact Apple Support to Help with iPhone Suddenly Died
Apple official support is definitely the most authoritative help users can get. So under what circumstances should I resort to the final solution? If all the solutions above fail, then it is possible that your iPhone is suffered from hardware issues, for example, battery breaking down or damage of circuits. And the nearby Apple outlets or customer service centers are the best place to have the hardware examined and fixed.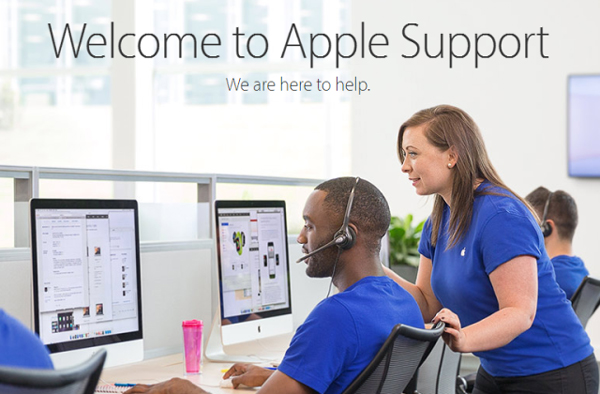 Solution 5. Restore Your iPhone in DFU Mode
Putting your iPhone into Recovery or DFU mode is also an effective choice to solve the iPhone suddenly died issue. Using DFU mode will erase all your iPhone data and the content of your iPhone. If you don't want to lose your iPhone data, you can make a backup via iTunes or iCloud before restoring. Do as the below to solve the problem.
Step 1. Connect your iPhone to a computer and launch the latest version of iTunes;
Step 2. Put your iPhone into DFU mode;
Step 3. When you see the popup window appears on your iPhone, click on the Restore iPhone option to fix your iPhone issue.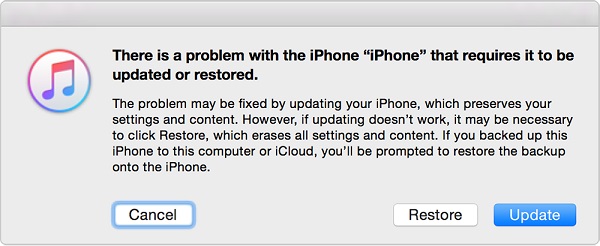 Bottom Line
We understand the inconvenience of having an iPhone suddenly died and your eagerness to fix it, but we beg you to conduct the solutions according to the order they are listed in the passage, because jumping to a certain solution might do nothing but waste your time. In the end, we truly hope that these suggestions can help you.