Fix iPhone Cellular Data not Working - 5 Methods
4 mins read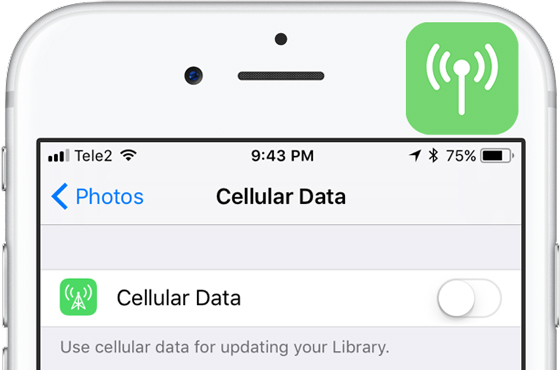 Mobile phones nearly develop into portable computers, and iPhone is one of them. Our everyday lives are closely connected to the Internet, which makes it extremely annoying when iPhone cellular data not working. Most apps on iPhone, including Snapchat, YouTube and Facebook, need to be linked to function normally. No Internet connection nearly means that your iPhone has turned into a brick.
How can we get rid of the dilemma of iPhone no cellular data? To help those who are bothered, we provide 5 effective solutions to this problem.
1. Check Cellular Data Switch to Fix Cellular Data Not Working on iPhone
Making sure your cellular data may seem too ridiculously obvious to be an actual solution, but it can also be easily ignored. Some users, who accidentally switched off the Cellular Data Switch but forget to turn it back on, mistakenly believe that the switch is on and there is no need to check it. Enter the settings and toggle the switch shown in the image below.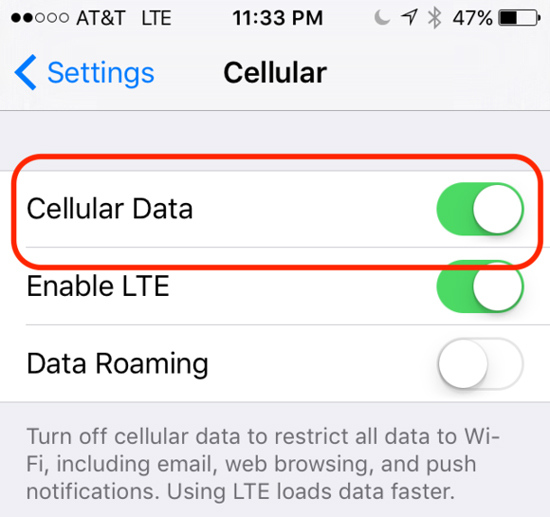 Some may forget to pay their phone bills and their defaulting phones certainly cannot link to the Internet. Therefore, check if you can make a phone call when you could not activate cellular data network on iPhone
2. Restore Losslessly to Fix Cellular Data Not Working on iPhone
If you could not activate cellular data network on iPhone, then there may be some glitches in your system. It goes without saying that diagnosing and solving the system glitches would be difficult and strenuous. Therefore, we recommend you to resort TunesKit iOS System Recovery, a professional iOS repairing tool that can tackle different iOS problems including cellular data not working on iPhone or Wi-Fi not working on iPhone. Unlike iTunes restore, it can carry out the recovery of the iOS system that can erase normal iOS problems without any data loss.
The rest of the main features as well as download links are listed below.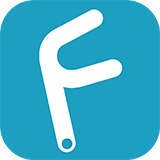 TunesKit iOS System Recovery Key Features
Resolve 30+ iOS issues and iTunes glitches
User-friendly interface
3 quick steps to fix iPhone cellular data not working
No data loss in the Standard Mode
Lowest price among similar products
Try It Free
600,000+ Downloads
Try It Free
600,000+ Downloads
Here is a brief tutorial of TunesKit iOS System Recovery:
Step 1

Connect iPhone to Your Computer

Open TunesKit iOS System Recovery and connect your iPhone to the computer (make sure the connection is fine in advance). Press the Enter Recovery button to let your phone enter the recovery mode, then just click the Start button to begin.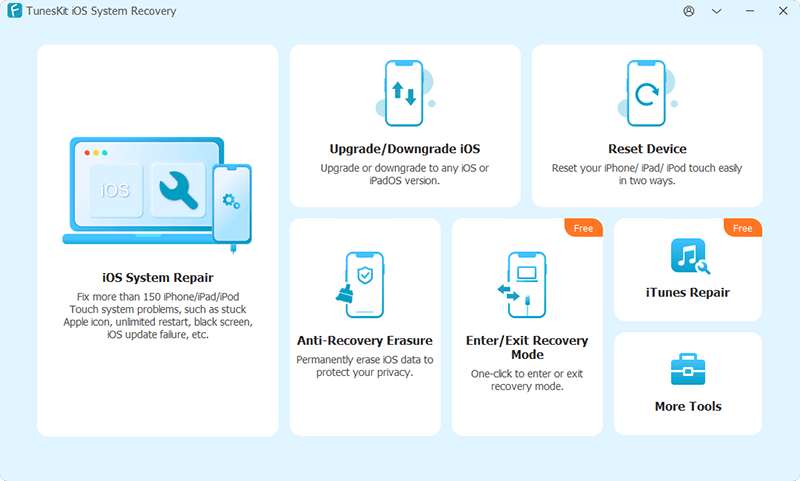 Step 2

Select the Standard Mode

Click the Standard mode to fix iPhone no cellular data without data loss. Be aware not to choose the Advanced mode because it is designed to eliminate more severe issues and will erase all your personal data.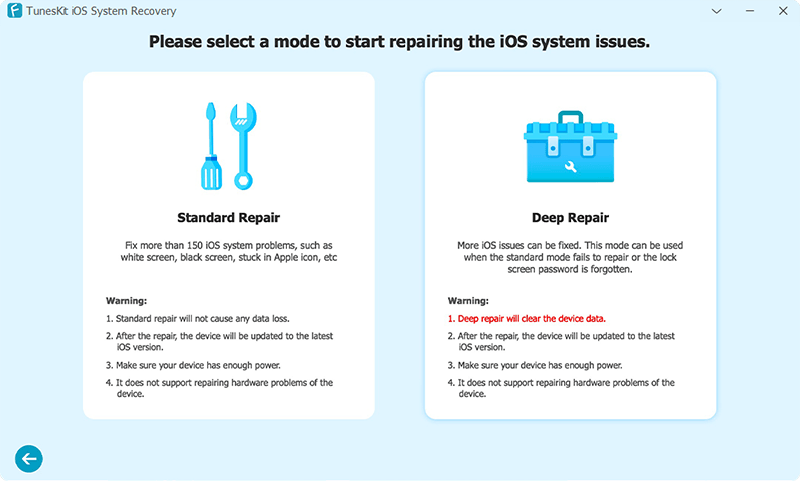 Step 3

Download Firmware

In the next Download Firmware Package window, check all the info of your device and click the Download button to download the firmware matching to your device.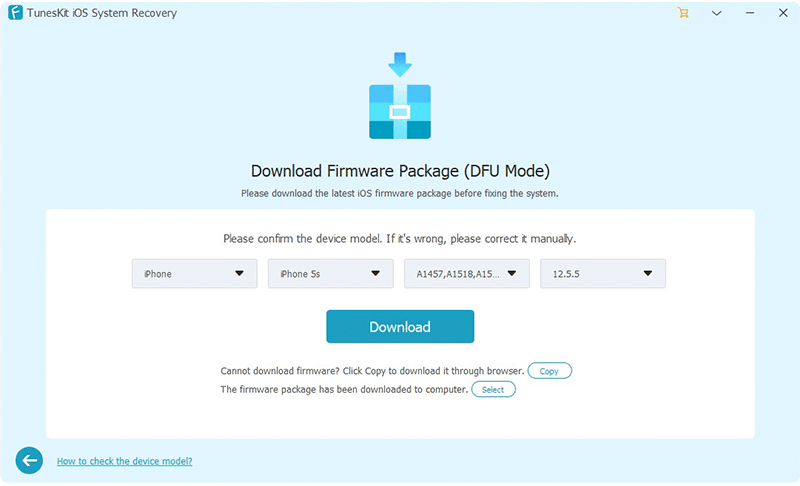 Step 4

Start the Recovery

Click the Repair button to start fixing the iOS system. Be careful not to disconnect the device with your computer or it might brick. After a few minutes of waiting, your cellular data should function as normal again.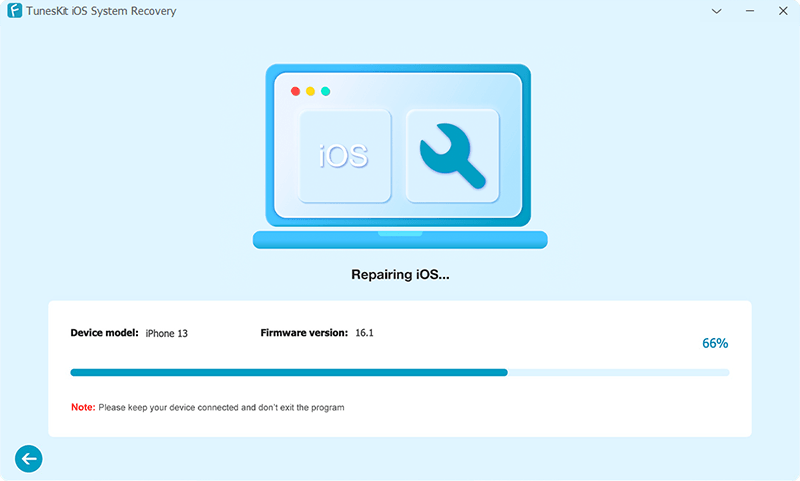 3. Force Restart Your iPhone When Cellular Data Not Working on iPhone
Long-time use of iPhone may result in cellular data not working on iPhone. Simple as it is, a force restart, also called hard restart or hard reboot, can be the solution to a variety of problems on iPhone. A force restart is different from a normal restart in that it is more complete and can reset the Internet options. To restart your device, you may refer to the ways introduced in the following paragraphs according to your iPhone model.
1) For iPhone 6s and former models:
Press both the Home button and the power button until the Apple logo appears on the screen.
2) For iPhone 7 and its derivative models:
Press and hold the power button and Volume Down button simultaneously for a minimum of 10 seconds until you see the Apple logo.
3) For iPhone 8 and later models,
Tap the Volume Up button and release it, then does the same to the Volume Down button. Then hold down the power button until the Apple logo appears.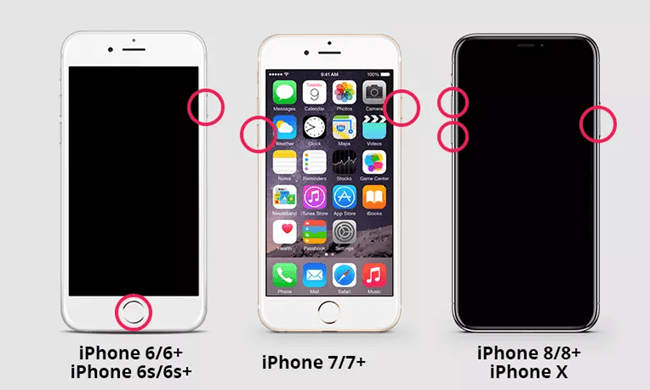 4. Check Your SIM Card to Tackle iPhone Cellular Data Not Working
If you have been using a SIM Card for a long time, a couple of years for instance, it is possible that the card is damaged and the connection may be blocked. Another indication of broken SIM Card is that your iPhone will lose service from time to time. Another way to test whether your SIM Card is still functioning normally is to install it on other cell phones and observe its performance.
To deal with this situation, reinstall the SIM Card properly or simply replace the old SIM Card with a new one.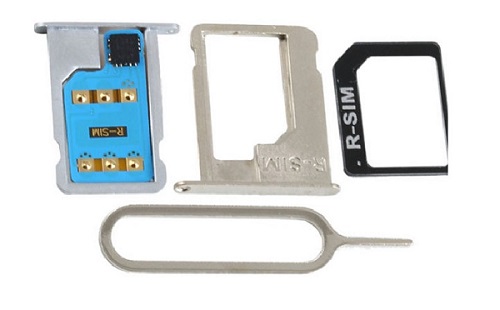 5. Resort to Apple Official Support to Fix iPhone No Cellular Data
If all the previous solutions fail to work, there may be software or hardware problems beyond normal people's problem-solving ability. The final and the best help we can get is Apple official support. Go to the nearby Apple outlet or customer service center. While fixing the iPhone on our own may either cause damage to the device or prove to be useless, the professional technicians can identify what's wrong with your iPhone, resolve it and tell you how to prevent the same issue from happening again.
The Bottom Line
We understand the disappointment and inconvenience of iPhone cellular data not working, and that is why we only provide the most effective methods. However, it would be the best if you can follow all these steps one by one patiently, which can ensure no potential solutions be ignored. Last but not least, we hope you can access to the Internet whenever you want and however you like.