iPhone Keeps Deleting Messages? Why Not Try These Solutions?
5 mins read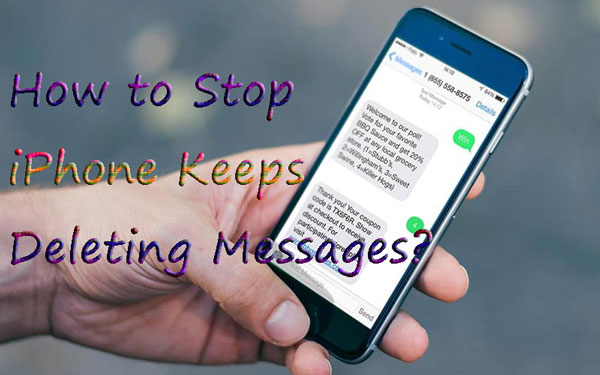 There is a feature on iPhone that allows the device to delete messages by itself, which is considered as convenient by some people yet annoying by others sometimes. Recently, some iPhone users have been complaining on several iOS or tech forums or communities that their device keeps deleting messages even if they don't enable the feature. What causes this problem? Are there a few ways to stop my iPhone deleting messages by itself and recover the deleted texts? Well, please go along this article to find the answers respectively.
Part 1: Why is my iphone deleting messages by itself?
When you find that your iPhone deleted messages by itself right now or in the future, it could be attributed to the following possible situations.
1. Wrong settings. An unconscious or accidental switching on Auto-Delete Feature to Messages and setting Keep Messages feature as 30 Days will definitely lead to your iPhone deleting texts by itself.
2. iTunes or iCloud backup failure. Your iPhone fails to back up properly to iTunes or iCloud backup and wrong backups are also important parts of reasons why the device keeping deleting messages.
3. iOS update errors. If bugs happen or errors appears during the process of iOS update, all of the messages on your iPhone might be deleted.
4. Insufficient iPhone storage space. No left storage space or room on iPhone can also be a cause that give rise to iPhone keeping deleting messages.
Part 2: Top 5 methods to fix iPhone deleting messages by itself
At present, you can prevent your iPhone from keeping deleting messages with the following 5 methods. You can choose any one you favor and let's get started.
Tip 1: The fastest and safest way to fix iPhone deleting messages by itself
If you are more willing to fix the issue iphone deletes messages by itself with the fastest speed and a 100% success rate, then you are highly recommended to use professional iOS system recovery tools such as TunesKit iOS System Recovery. Since the trouble is often caused by iOS system bugs, this reliable and powerful program can fix your iPhone's iOS system without any data loss. Now you might be wondering what makes you trust this application, well, you can check out its key features as below.
The following steps will show you how to use TunesKit iOS System Recovery to fix the iPhone keeps deleting messages by itself problem with simple clicks.
Step 1: First, connect your device to the computer with an original USB cable. Then launch TunesKit iOS System Recovery on the computer and it will detect your iPhone automatically. Tap on the Start button to start and then select the Standard Mode to fix iPhone deleted messages by itself without data loss.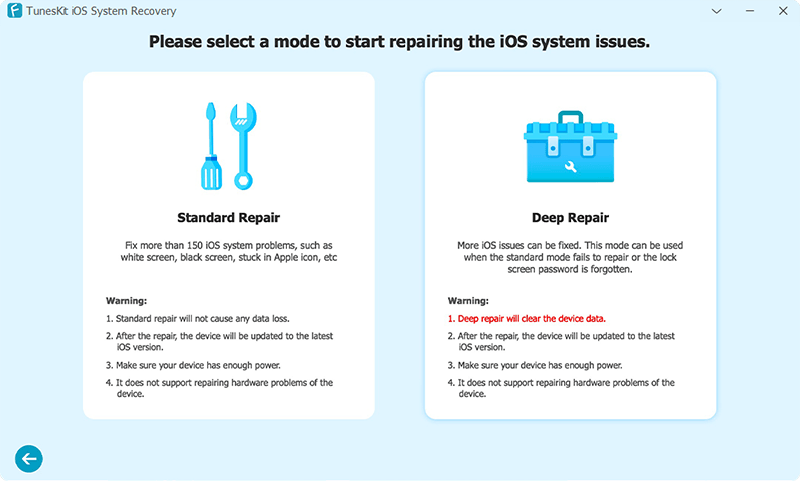 Step 2: Check out your device info and correct it manually if anything is wrong. Next click on the Download button to get matched iOS firmware package downloaded and verified. Wait a while until the process completes.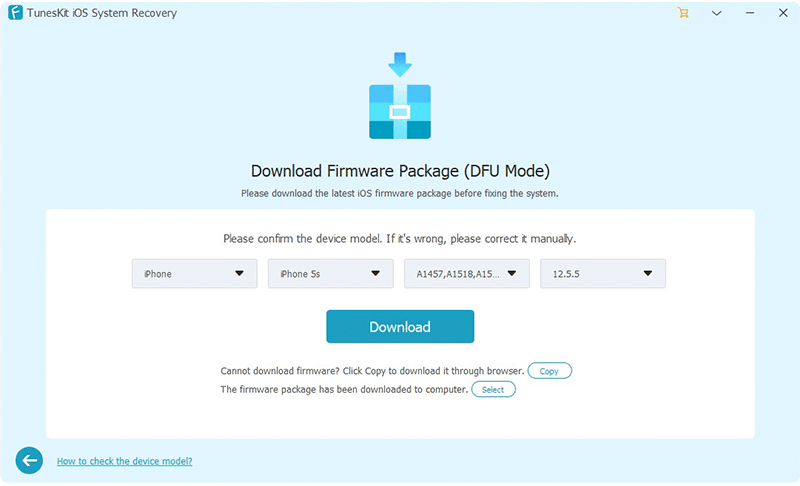 Step 3: When the downloading is done, you can press the Repair button and start fixing the problem. Do not plug out your device while it's repairing iOS system, or it may cause other problems. After a few minutes, your iPhone will not delete messages by itself.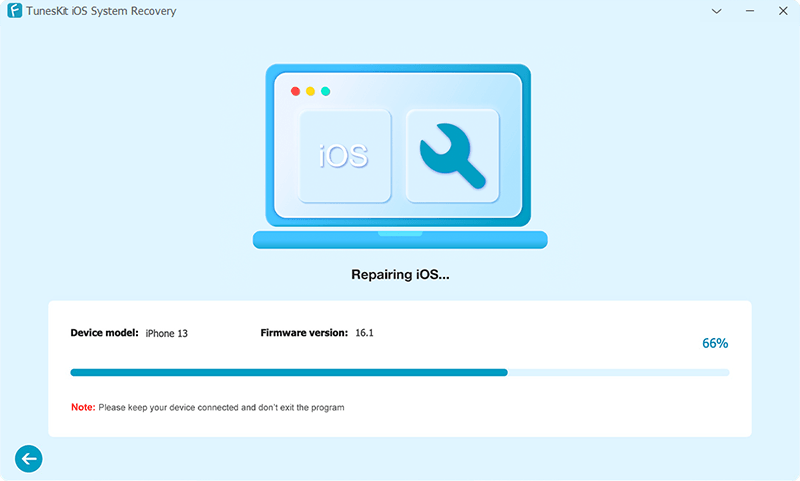 Tip 2: Reset Keep Messages
As mentioned above, one main reasons of iPhone keeping deleting messages is that the auto-delete function is activated. In this case, you may have to reset the feature by the procedures presented here.
Operating steps: Go to iPhone's Settings > Message > Keep Messages, and set it as Forever.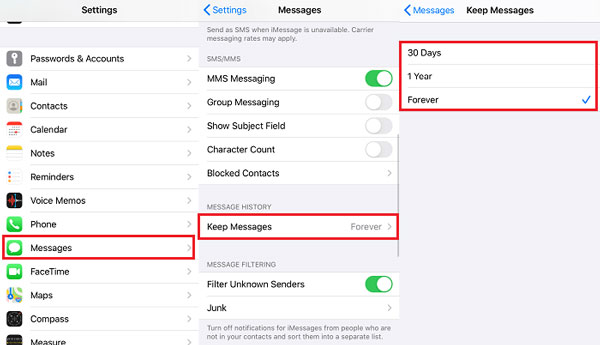 Tip 3: Use iTunes to backup iPhone
Of course, you can manually back up your iPhone to iTunes to resolve your iPhone deleting messages by itself, if it results from wrong iTunes backup. Related steps are as shown below.
Step 1: Connect your iPhone with the computer and launch iTunes.
Step 2: Click your iPhone icon when it is shown on the iTunes.
Step 3: Head to Summary > Backups > Back Up Now.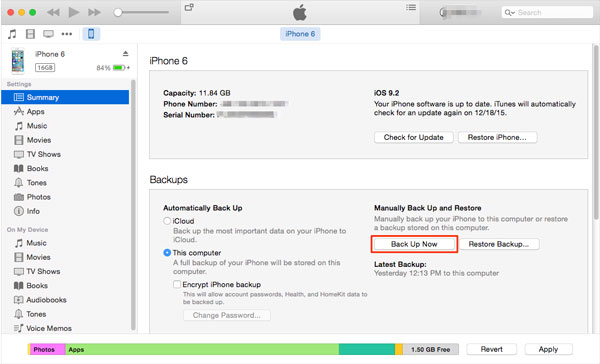 Tip 4: Turn on iCloud backup
Similarly, if your iPhone deleting messages by itself for unknown reasons, then you had better turn on the iCloud Backup function. In this way, the messages will be automatically backed up to the iCloud as along as your iPhone is connected to Wi-Fi. To open it, please navigate to iPhone's Settings > iCloud > iCloud Backup. But to remind you, this will not fundamentally get rid of this problem.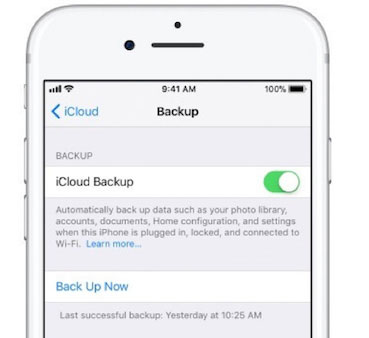 Tip 5: Update iOS version
If you are now using an outdated iOS version, the iPhone deleting messages by itself problem can probably be caused by a software bug. You can try to update the iOS version to the latest to fix the minor problems on your iPhone. Just follow the steps below to update the iOS version on your iPhone.
Step 1. Open the Settings on iPhone.
Step 2. Click on the General option.
Step 3. Hit on the Software Update button.
Step 4. Select the Download and Install option to update the iOS version.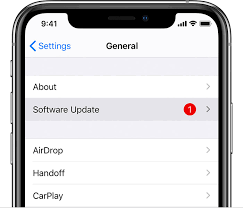 Part 3: How to recover deleted messages on iPhone?
Finally, the above 5 fixes introduced are offered to stop your iPhone deleting messages by itself. But you may think that what about the already deleted messages when you don't have a backup. Is it impossible to bring them back? The answer is absolutely "No". To restore the deleted messages on your iPhone, here we would like to recommend the professional iOS data recovery software named TunesKit iPhone Data Recovery to you. This tool can recover diverse kinds of data on different iOS devices even if there is no backup.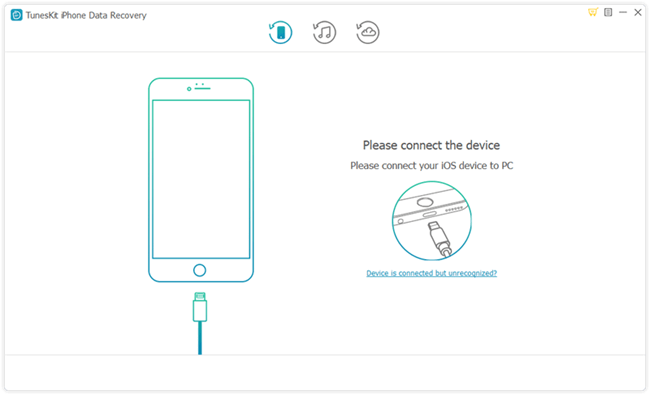 Part 4: The bottom line
That's all for how to fix the issue iPhone deletes messages by itself. The above 6 methods are recommended and effective to fix this issue and recover your messages back. If there is still any other problem with your phone, you can try to use TunesKit iOS System Recovery to fix your iPhone back to normal.