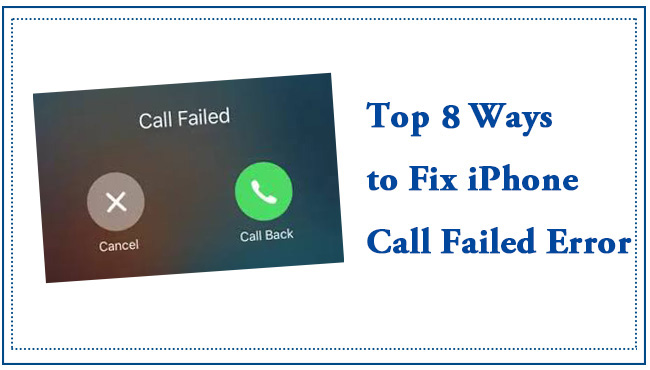 Q: Why does my iPhone keep saying Call failed? It's the problem of my iOS system on my phone? Are there some effective measures I can do to fix it? —an Apple user
Sometimes we may come into the situation that there is an iPhone Call Failed Error appear suddenly, which annoyingly interrupts our jobs or brings us on the brink of crazy. And this issue has been reported by many Apple users for many time and most of them said this issue is very disturbing for it usually occur when they are trying to make a phone call to others.
If you are also facing this issue, you don't have to be worried too much. Here I will analyze the reasons why Call Failed would occur in your phone and provide you the full guides to fix it.
Part 1.Why will 'Call Failed Error' occur in my iPhone?
Now I will analyze the reasons why your phone will exist this problem form the following aspects.
1. Your account balance is insufficient or out of credit.
In this circumstance, the carrier will not allow you to call and will impose a temporary disconnection to your account until you have topped up it.
2. The wrong settings in your iPhone
♢ You have turn on Airplane mode mistakenly
♢ Date&Time isn't correct in your phone
♢ Caller ID has been turned off
♢ Carrier setting haven't updated
3. iOS system issues
♢ The iOS system on your phone haven't updated.
♢ Your iOS system will be damaged for some unknown reasons and it will cause some issues like iPhone Call Failed.
4. Hardware damage of iPhone
Above are the common reasons and triggers that may lead to this problem. In the next part, I will list the detailed instructions on how to fix it steps by steps.
Part 2. How to fix the issue that iPhone says Call Failed?
Tip 1. Check your account status
You should first contact your carrier or service provider to verify and check your account status. And if your account balance is out of credit, please top up it timely. Then you can call another to check whether this issue still exists.
Tip 2. Turn off Airplane mode in your phone
Swipe up the Control Center form the Home Screen at the bottom of the interface. Then click the 'Plane' icon and make sure it has been turned off.
Or you can turn it on in your iPhone 'Settings'. Go to 'Settings'> Find 'Airplane mode'>Click the button on the right side to turn it off.
Tip 3. Correct Date&Time on your iPhone
Step 1. Go to 'Settings'> 'General' > 'Date & Time'
Step 2.Select your time zone
Step 3.Change the correct date and time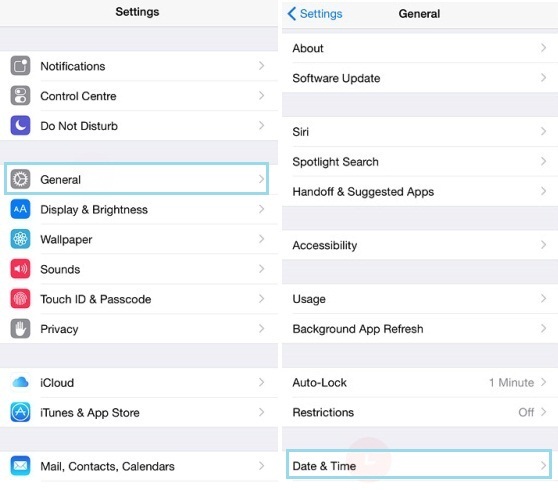 Tip 4. Dial '*#31#'
Dialing '*#31' on your phone will allow you to disable your outgoing calls on anonymity status. So If your phone number is hidden, dialing this code may help you fix the Call Failed issue.
Tip 5. Turn on Caller ID
Go to 'Settings'> 'Phone' > 'Show My Caller ID' > click the button on the right to turn it on.

Tip 6. Update your Carrier Settings
Go to 'Setting'> 'General'> 'About', if there is an update, press 'Update'.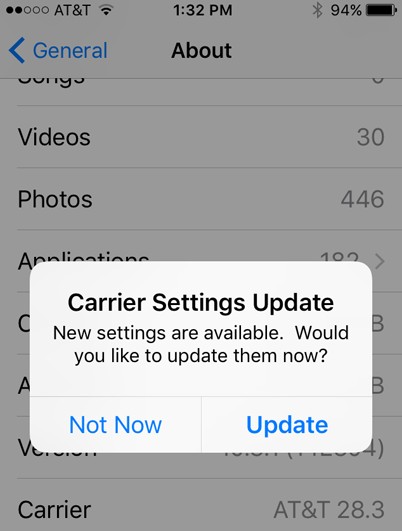 Tip 7. Update iOS system
Go to 'Settings' > 'General' > 'Software Update'> click 'Install Now' to update iOS system.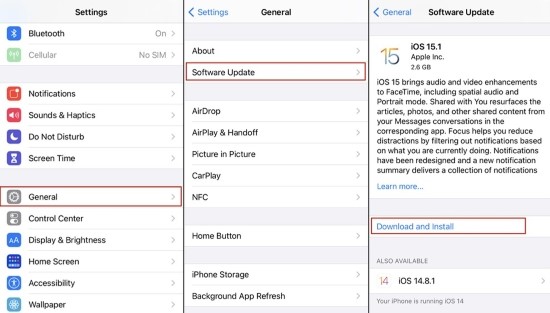 Tip 8. Use an iOS System Recovery software
If you have gone through all the above steps and still can't fix this problem, you can try to use the TunesKit iOS System Recovery software which can help you effectively fix more than 50+ iOS issues without any data loss and the complicated operation of backing up. It can also fix iPhone echo problems, iPhone voicemail not working, stuck on the white Apple logo.
Here are the detailed steps on how to use it.
Step 1.

Open TunesKit and Connect your iPhone with Computer

First you need to open TunesKit on your computer. Then connect your phone with computer via a USB cable. After your phone has been detected by your computer, press 'Start'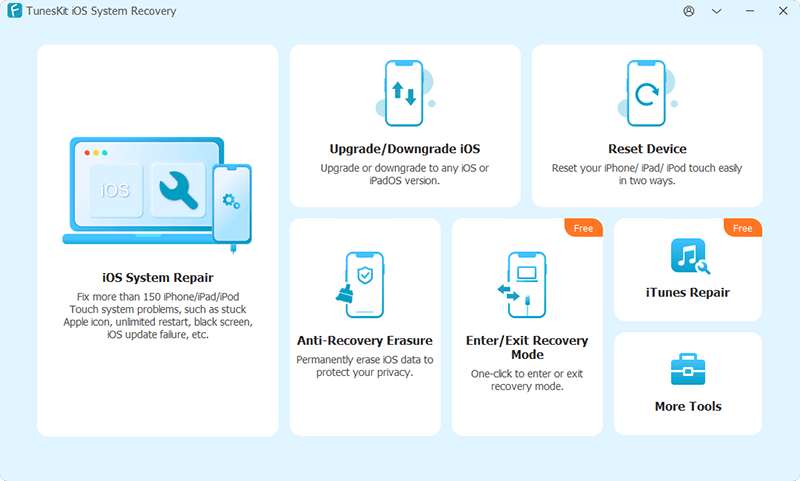 Step 2.

Choose a repairing mode and Download firmware package

To fix the iPhone call failed error, you should select Standard Mode first. Standard Mode can solve the common iOS issues and repair the iOS system without data loss. And the Advanced Mode can fix more serious issues but it will erase all data on your phone.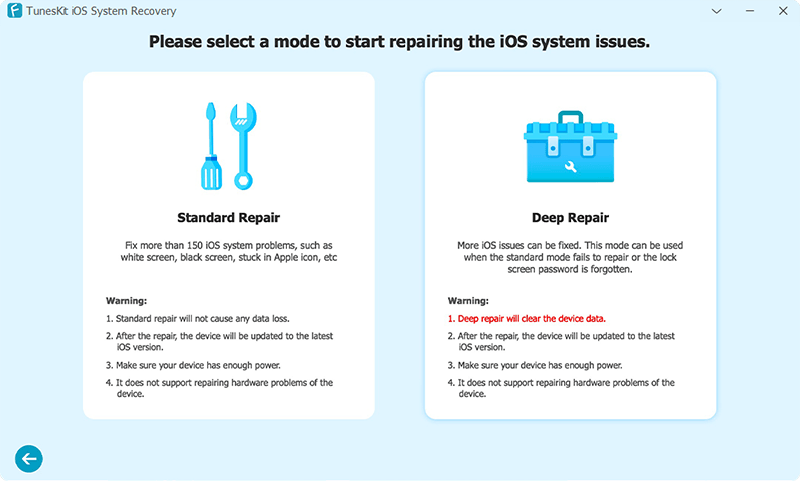 Then, confirm your device info is correct and press "Download" to download the firmware package.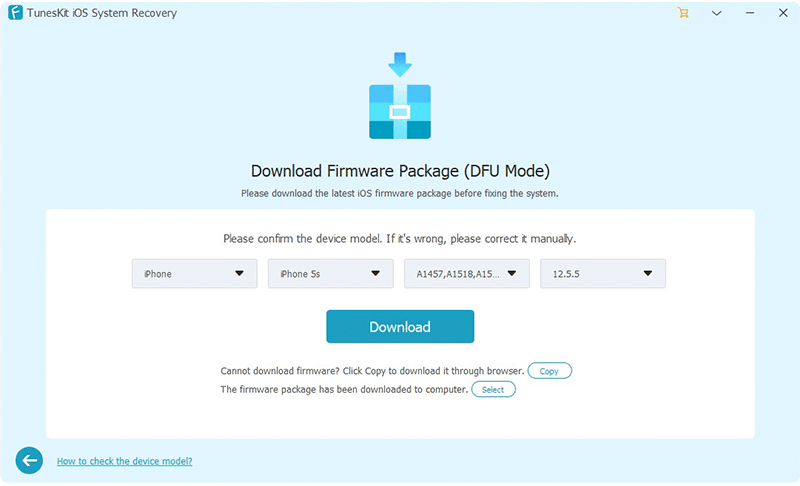 Step 3.

Recover the iOS system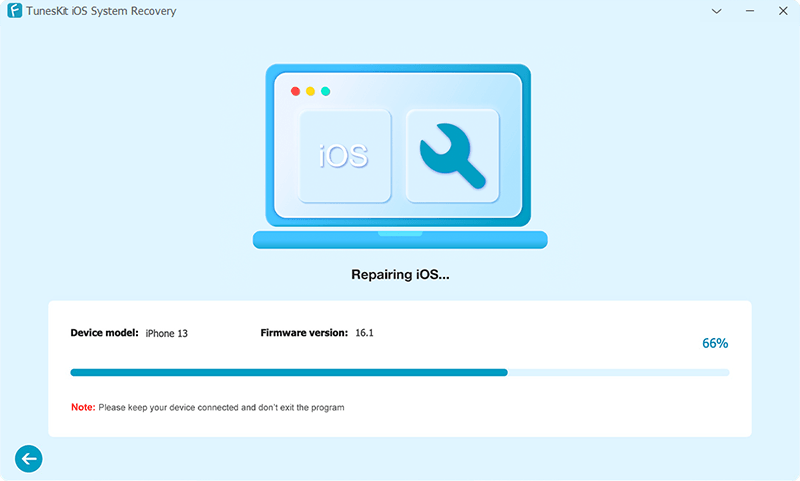 At the same time, this software also provides the function of 1-click to enter/exit recovery mode for free. And it will also help you downgrade iOS and fix iTunes error easily.
Part 3. Conclusion
Here are all the 8 best ways to fix the iPhone Call Failed error. If you still have any difficulties in fixing this problem, or you don't know how to use TunesKit, please leave your voice below and I will try my best to help you.

Brian Davis has covered tech and entertainment for over 10 years. He loves technology in all its forms.