"My iPhone is an 11 and my wife's an X neither phones now work with Find My since we did the 14.3 update. Both phones send a share request and state that sharing location is working but no notifications on either phone are received. We have gone through the standard set up for Find My all the Sharing boxes are ticked but it still does not work. Any ideas?"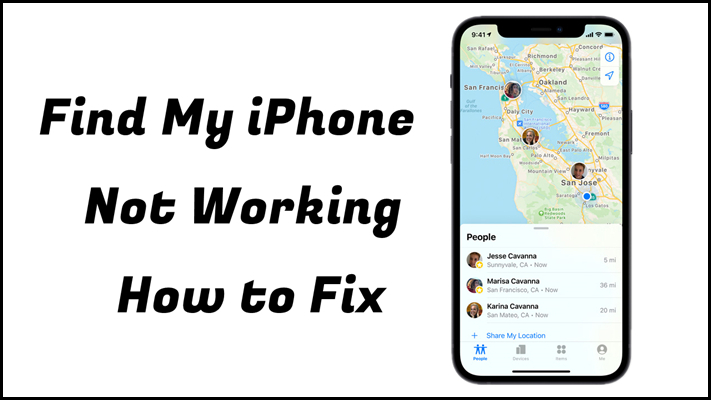 Find My iPhone is a very important built-in function of iOS devices that can help you locate your iPhone when it is missing or stolen. It can not only help you locate your device and your friends and family but also find your device when it is offline. However, some Apple users complain that Find My iPhone is not working on their iPhone for unknown reasons. If you're experiencing the same situation, you don't need to worry too much. Here we'll analyze the reasons why Find My iPhone is not working. Also, we'll give you the full guides to solve it.
How to Set up & Use Find My App with iPhone
The Find My app makes it easy to keep track of your Apple devices, including your iPhone. It works on iPhone, iPad, Apple Watcj, iPod, Airpods, and Mac — even if your missing devices are offline. But before enabling it, you should make sure that you have completed the setup of Find My on your iPhone. Learn how to set up Find My on your iPhone for use.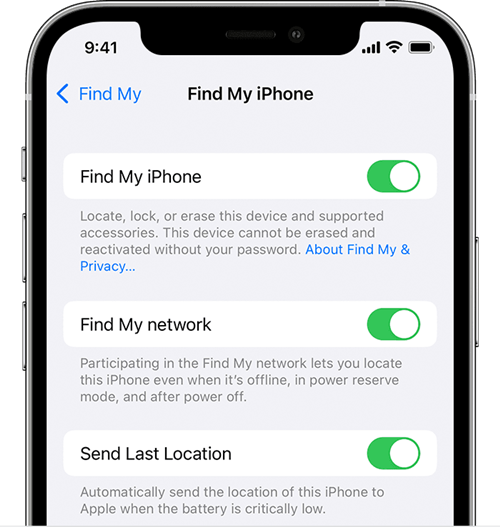 1) Power on your iPhone and then open the Settings app.
2) Tap your name and choose Find My under Apple ID.
3) Select Find My iPhone and then turn on Find My iPhone.
4) To see your device even when it's offline, turn on Find My network.
5) To have the location of your device sent to Apple when the battery is low, turn on Send Last Location.
After setting up Find My on your iPhone, it will work and you can use it to find your device and friends and family members (if you are in a family sharing) on a map. What's more, you can use the Find My app to locate a missing device or item. In addition, you can also use the Find My iPhone feature on a computer. Just launch a browser on your iPhone and navigate to the iCloud.com website. Then, you will need to login into your Apple ID. The main interface of iCloud is the right place where you can find the Find My option.
Why Find My iPhone App Not Working Happens?
To fix the issue, you should make clear the major reasons why Find My iPhone is not working. Here are the main reasons that cause the issue to happen.
1. Weak or no internet connectivity on your iPhone.
2. Doesn't have the correct Date and Time.
3. Have some restrictions on settings.
4. Some apps are incompatible with the browser.
5. Weak or no GPS signals on your iPhone.
6. iOS system hasn't been updated or damaged.

Video Tutorial: Fix Find My Not Working on iPhone
If you are encountering the situation that Find My is not working on your iPhone, you can learn the different ways you can use to help solve the issue in this video. Here you can follow the guide step by step to efficiently resolve the issue.
How to Solve Find My iPhone Not Working in 7 Ways
According to this reason, we provide you with six effective solutions to help solve the Find My iPhone not working issue. Try solving the issue now!
Solution 1: Check the network connection
If the network connection is very poor on your iPhone, Find My will not be able to work. So, go to check the network connection on your device. When it is not working properly, you can change to another Wi-Fi or try to reboot your data connection. Make sure that you have turned on the Cellular data. Also, check whether your device allows Find My to use Wlan or Cellular data.
Solution 2: Make sure the Date & Time correct
Find My will turn grey out on your iPhone and shows offline if you have the wrong settings on Date & Time. To fix this problem, go to Settings, then tap General, choose Date & Time, and check if it is wrong and correct it.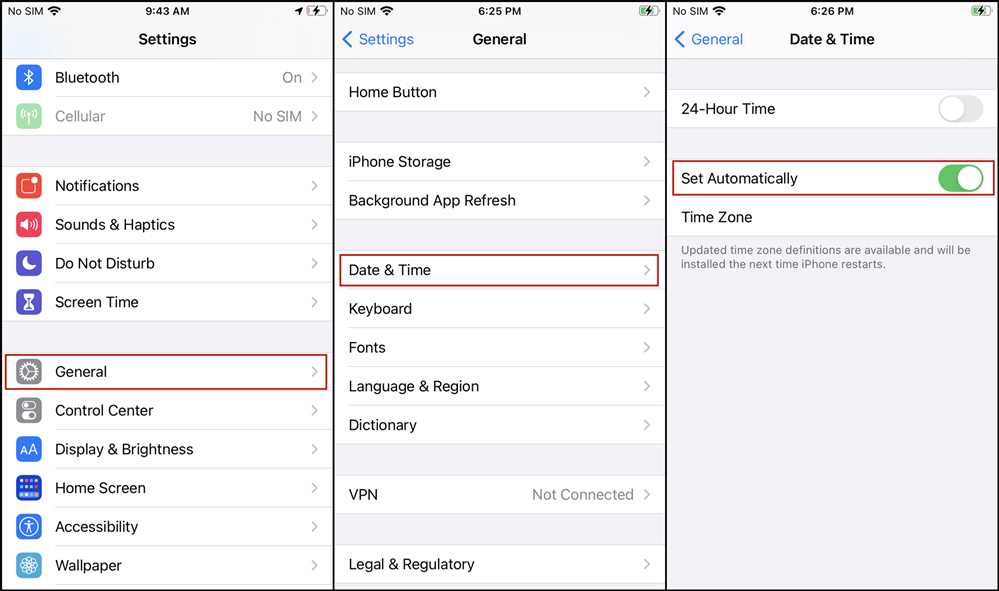 Solution 3: Turn on Location Service
The main function of Find My is to locate your iPhone. So, it is very necessary for you to turn on Location Services. Or it will not send the GPD signal to your iPhone. Here's how to turn on Location Services on the iPhone.
Step 1. Go to Settings and then choose Privacy.
Step 2. Tap on Location Services and check if it is enabled or not.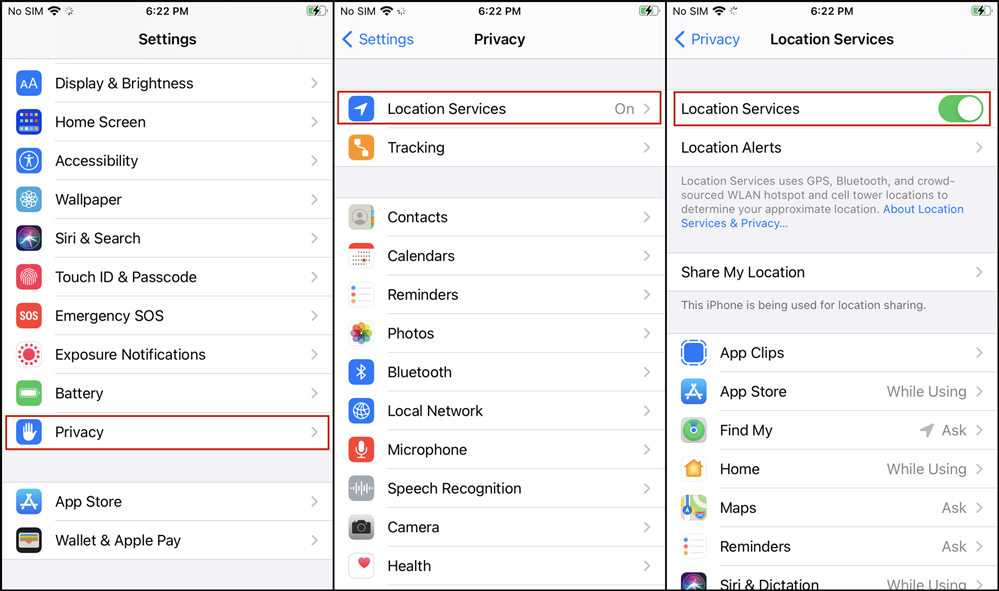 Solution 4: Update iOS system
If your iOS system has not been updated to the latest version, some system issues on your iPhone/ iPad will not be recoverable. Here are the steps to update your system
Step 1. Go to Settings and find General.
Step 2. Tap Software Update and then choose Install Now.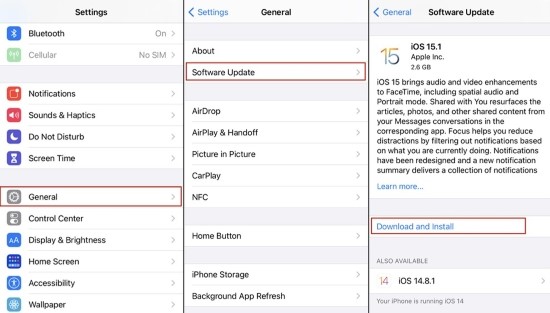 Solution 5: Disable Don't Allow Changes
If you found that Find My is grey out on your iPhone, the direct cause is that the feature of Don's Allow Changes hasn't been disabled. Simply allow Find My to share your location.
Step 1. Go to Settings and tap Screen Time.
Step 2. Tap Content & Privacy Restrictions.
Step 3. Select Location Services and check Allow Changes.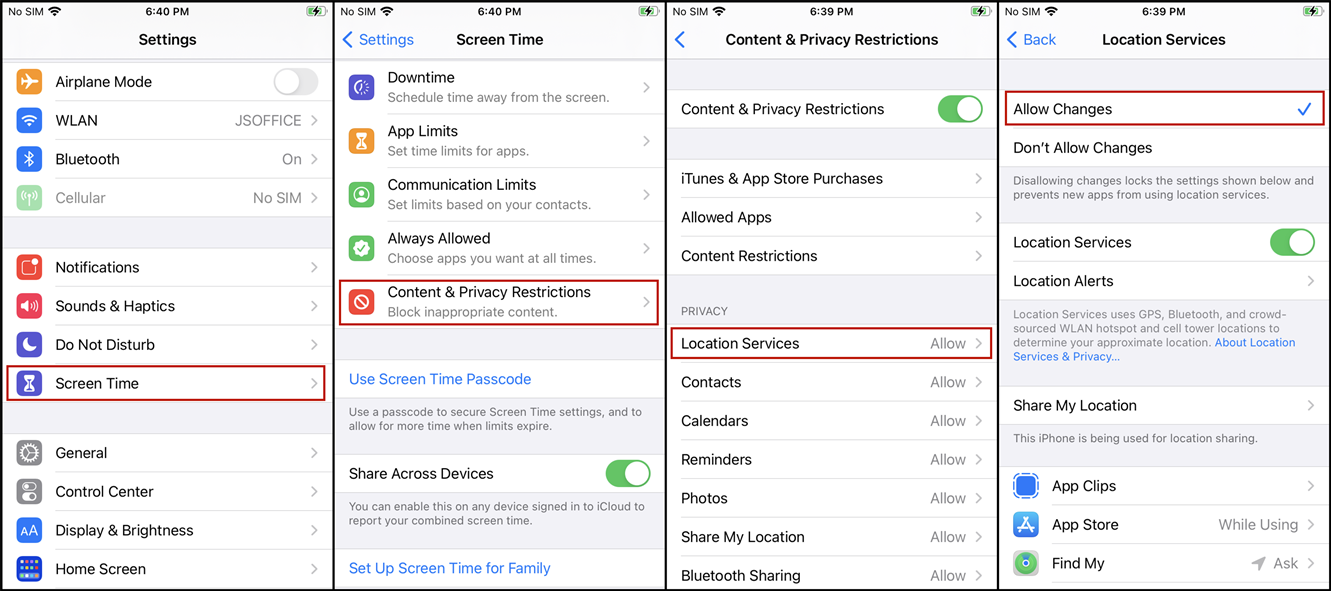 Solution 6: Enable Push or Fetch New Data
It is very important to enable your phone to fetch new data every 15-30 minutes. When your data gets lost or you want to update the location, it will be helpful. And you can use this way to fix Find My iPhone not updating location.
Step 1. Go to Settings and hit on Mail then tap Accounts.
Step 2. Tap Fetch New Data and enable Push then choose Automatically.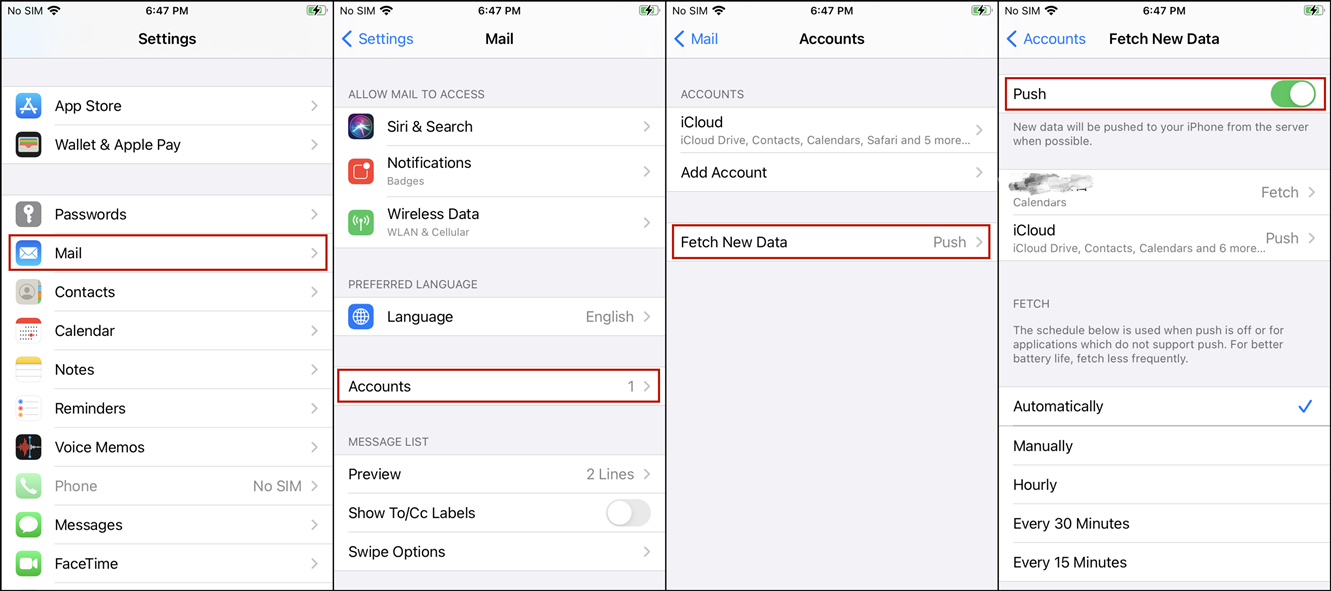 Solution 7: Sign in with the same Apple ID
Make sure that you sign with the same Apple ID on your iPhone. It is because that Apple tracks all the devices by using Apple ID. If you are using another device, you should go to log into the device using the same Apple ID. Then you can properly use Find My to track your device or share your location with your friends and family members.
Alternative Workaround to Find My iPhone Not Working
If you have tried the above solutions and still can fix the problem on your device, you can try to use an iOS system recovery tool to help fix your iOS issues. Here we do recommend you to use an iOS repairing tool named TunesKit iOS System Recovery.
Regarded as one of the best iOS repairing tools, TunesKit iOS System Recovery can help you fix more than 150 types of iOS issues like Find My iPhone not working, iPhone call failed, iPhone stuck in white screen, and more. It can also provide you with the function like one-click to enter or exit recovery mode for free, help you downgrade the iOS system, and fix iTunes errors.

TunesKit iOS System Recovery Key Features
Resolve 150+ iOS issues and iTunes glitches
User-friendly and intuitive interface
3 quick steps to finish the whole operation
No data loss in the Standard Mode
Lowest price among similar products
Step 1

Connect your iPhone with the computer

First, you need to download TunesKit iOS System Recovery on your computer and then launch it. Go to connect your iPhone to the computer via a USB cable. After your iPhone has been detected, click the Start button.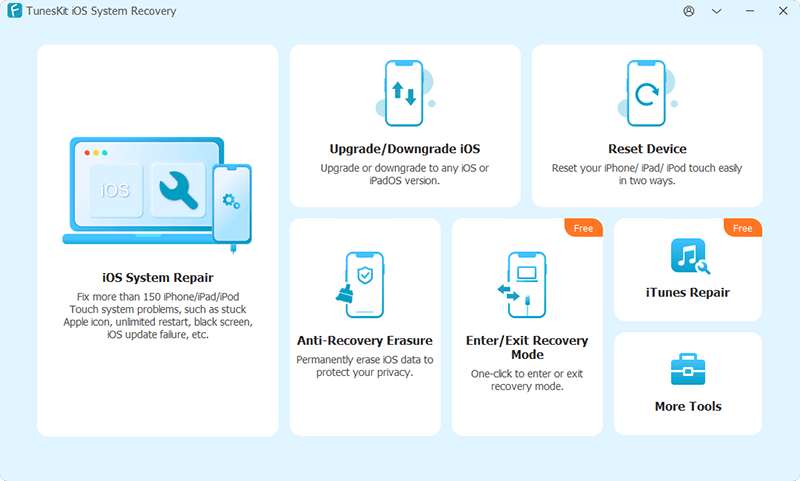 Step 2

Choose Standard Mode for your iPhone

To fix the Find My iPhone feature, choose Standard Mode and confirm the information of your device. Then click the Download button to download the firmware package. When it is complete, the software will verify the package.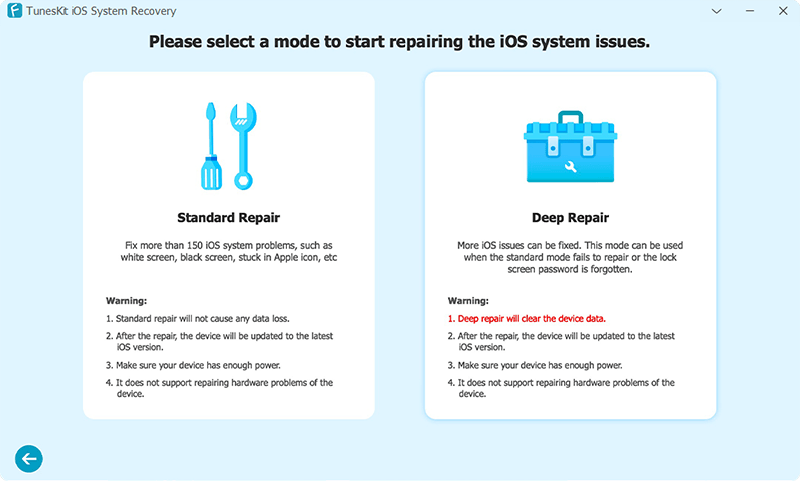 Note: Standard Mode can solve the common iOS issues and repair the iOS system without any data loss. Advanced mode can fix more serious issues, but it will erase all data on your phone.
Step 3

Start fixing Find My iPhone not working

After the download process has finished, click the Repair button and wait for your iPhone to be recovered. During the whole process, make sure that your iPhone is connected to the computer. Or the restoring of your iPhone would fail.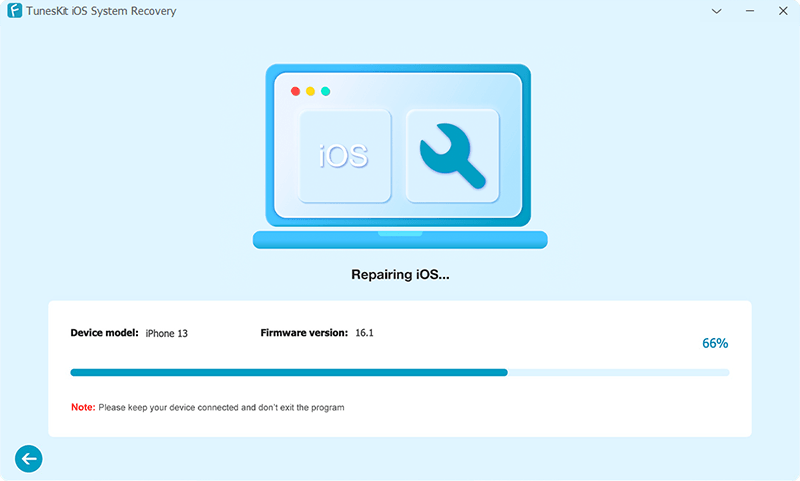 Common Issues of Find My Not Working on iPhone
The common issues that Apple users faced will be listed as followed. When it comes to Find My not working on iPhone, you can check if you have the same problems.
1. Find My iPhone is greyed out. Check if you have enabled the Find My iPhone feature on your iOS device.
2. The location is not accurate. Try to use the Find My iPhone feature when the GPS signal is well.
3. Find My iPhone shows offline. The Find My iPhone feature is only available when your iPhone is online.
4. Find My iPhone cannot share the location. In case of this, you can check the internet connection of your iPhone.
5. There is a server error with Find My App. You can re-install the Find My App to get rid of the Find My iPhone not working issue.

The above are the common issues you may face when you encounter the Find My iPhone issue. If you are experiencing this situation, you can try using the above solutions to solve your problem. When your problem still cannot be solved, contact Apple Support and you'll get some help.
Conclusion
Fixing Find My iPhone not working is easy if you have followed the solutions we've introduced. All the methods are effective and troubleshooting, and we think that you can solve the issue successfully. You can also try TunesKit iOS System Recovery to solve your other problems. As a professional and multi-functional software, TunesKit can provide you with the highest experience and improve the quality of your life. Why not download it and have a try?

Brian Davis has covered tech and entertainment for over 10 years. He loves technology in all its forms.