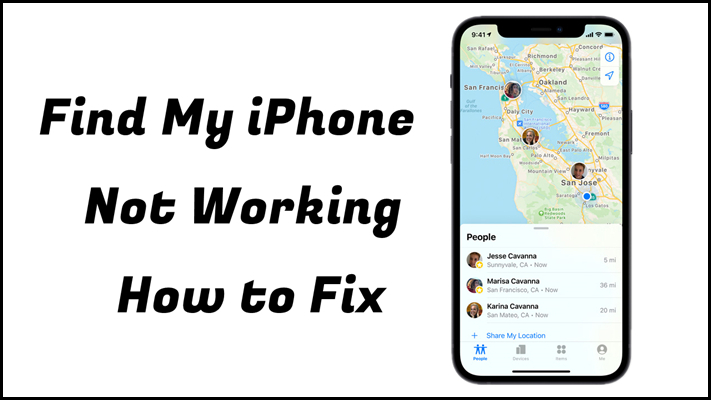 Find My iPhone is a very important built-in function of iOS devices that can help you locate your iPhone/iPad when it is missing or stolen. It can not only help you locate your device and your friends and family but also can find your devices when they are offline. But some Apple users may report that Find My iPhone is not working on their iPhone for unknown reasons. If you also encounter the same situation. You don't need to worry too much. This article will help you analyze the reasons why this situation will happen and give you the full guides to solve it.
What's the Common Find My iPhone Not Working Issues?
The common issues that Apple uses faced will be list as followed. You can check if you have the same problems.
1. Find My iPhone is greyed out
2. The location is not accurate
3. 'Find My iPhone' showing offline
4. Find My iPhone not sharing location
5. Has a server error
These are the common issues you may face when Find My iPhone not working. In the next part, I will analyze the reasons why this situation will happen.
Why will Find My iPhone Issues Happen?
To fix these problems, you should make clear the major reasons that cause these issues. Here are the reasons why 'Find My iPhone' issues will happen.
1. Weak or no network connectivity on your iPhone
2. Doesn't have the correct Date and Time
3. Have some restrictions on settings
4. App incompatibility with the browser
5. Weak or no GPS signals
6. iOS system hasn't updated or damaged

How does Find My iPhone Work?
When you enable Find My iPhone on your device, Activation Lock will be turned on automatically. Your Apple ID and password will then be required before anyone can erase your device or reactivate it. Activation Lock is designed to prevent anyone else from using or selling your device. And your Apple ID and password is required if you want to turn off 'Find My iPhone' or erase your device. As a result, people cannot install the IPSW file, reactivate, and use your device without correct Apple ID and password. In a word, 'Find My iPhone', 'Apple ID', and 'Activation Lock' work together to protect your iOS devices.
How to Fix 'Find My iPhone' Not Working Effectively?
According to the issues above, we provide you 6 effective solutions to fix your problems.
Tip 1. Check Network Connection on Your iPhone
If the network connection is very poor on your iPhone, 'Find My iPhone' will not be able to work. So you need to check the network connection on your iPhone. You can go and change another Wi-Fi or try to reboot your data connection when it is not working properly. And make sure you have turned on the Cellular data.
Tip 2. Make sure Date & Time Correct
'Find My iPhone' will turn grey out and showing offline if you have the wrong settings on Date & Time. To fix this problem, you should go to 'Settings', then click 'General', tap on 'Date & Time', and check if it is wrong and correct it.
Tip 3. Turn on Location Service
The main function of 'Find My iPhone' is to locate your iPhone, so it is very necessary for you to turn on the locations service or it will not send the GPD signal to your Phone. So how to turn on the location services? Here are the solutions.
Step 1. Go to 'Settings'
Step 2. Choose 'Privacy'
Step 3. Tap on 'Location Services' and check if they are enabled or not.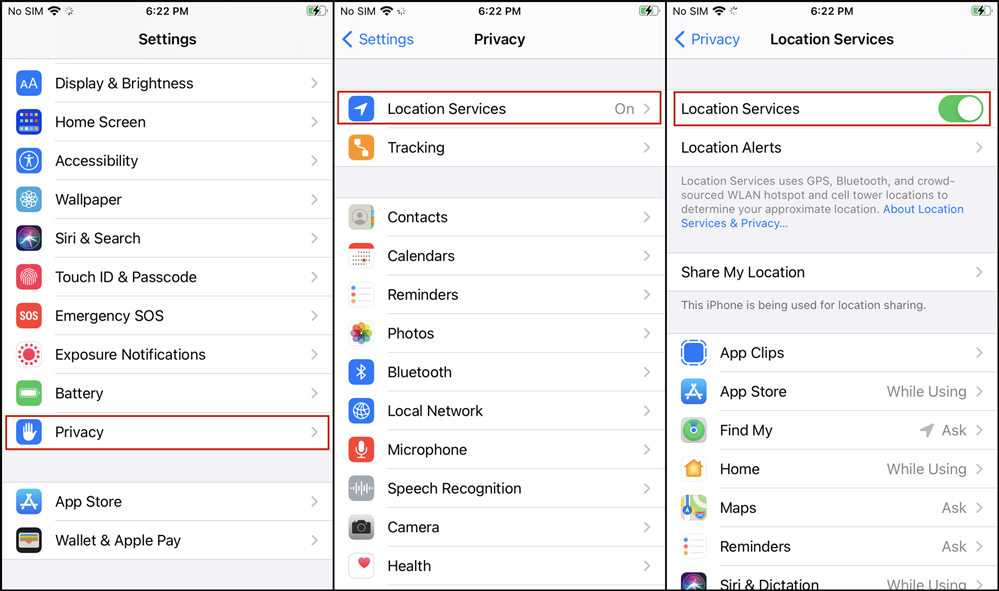 Tip 4. Update iOS system on Your iPhone
If your iOS system has not been updated to the latest version, some system issues on your iPhone/ iPad will not be recoverable. Here are the steps to update your system
Step 1. Got to 'Setting'> Find 'General'
Step 2. Tap 'Software Update'
Step 3. Choose 'Install Now'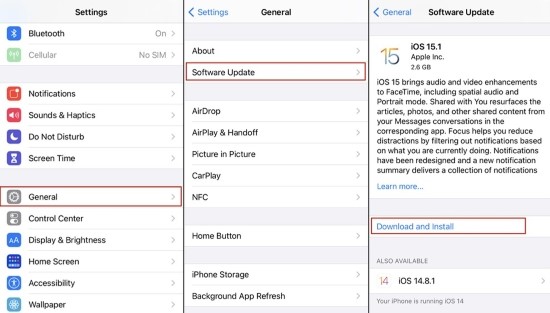 Tip 5. Disable 'Don't Allow Changes'
If you found 'Find My iPhone' is grey out, the direct cause is the 'Don't Allow Changes' haven't disabled.
Step 1. Go to 'Settings', click 'General'
Step 2. Tap 'Restrictions' > 'Privacy'.
Step 3. Then select 'Location Services' and uncheck the 'Don't Allow Changes' option.
You are also required to supply the restrictions password.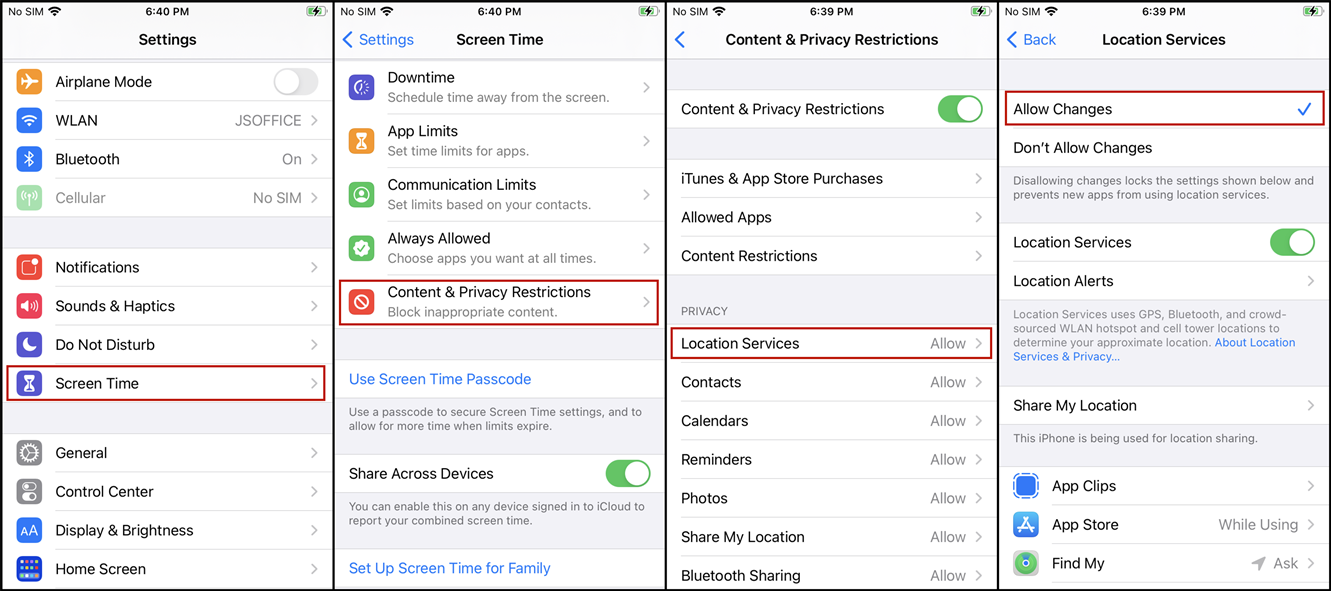 Tip 6. Enable Push or Fetch New Data
Enable your phone to fetch new data every 15-30 minutes is very important. It will be helpful when your data gets lost or you want to update the location. And you can use this way to fix Find My iPhone not updating location.
Step 1. Go to 'Settings'
Step 2. Hit on Mail, Contacts, Calendars
Step 3. Tap on 'Fetch New Data'.
Step 4. Enable 'Push' or also set Fetch new data every 15 to 30 minutes.

[The Alternative Workaround] Use an iOS Recovery Software
If you have tried the 6 tips above and still can't fix the problem on your phone, you can try to use an iOS recovery software that can help you fix your iOS issues. Here I will recommend you to use an iOS repair tool named TunesKit iOS System Recovery. Regarded as one of the best iOS repair tools in 2020, TunesKit can help you fix more than 50 iOS issues like Find My iPhone not working, iPhone call failed without data loss. It can also provide you the function like 1-click to enter /exit recovery mode for free, help you downgrade iOS system and fix iTunes error.
Here are the steps on how to use it.
Here are the steps on how to use it.
Step 1.

Open TunesKit and Connect your iPhone with Computer

First, you need to download TunesKit on your computer and then connect your phone to the computer via a USB cable. After your phone has been detected, press 'Start'.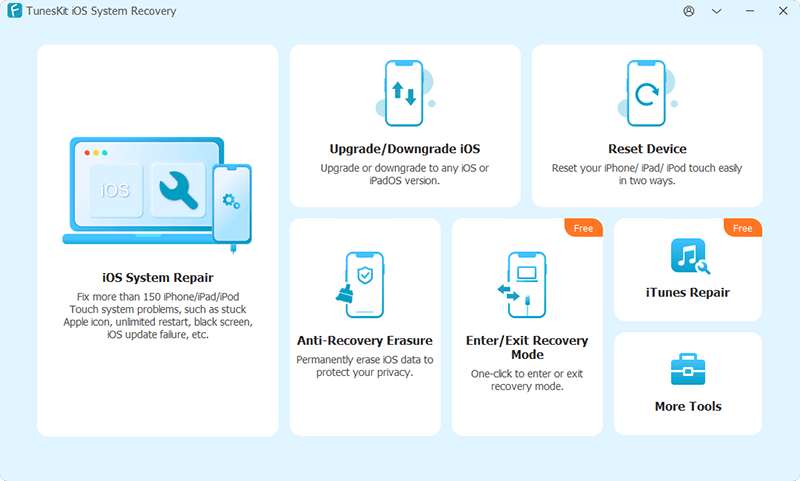 Step 2.

Select a Repairing Mode and Download Firmware Package

To fix find my iPhone not working, choose the Standard mode first.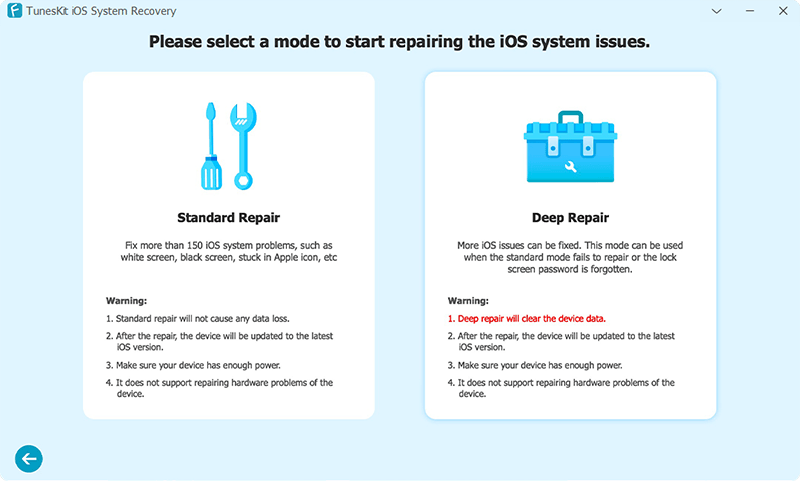 Note: Standard Mode can solve the common iOS issues and repair the iOS system without any data loss. Advanced mode can fix more serious issues, but it will erase all data on your phone.
Next, confirm your device information and press 'Download'.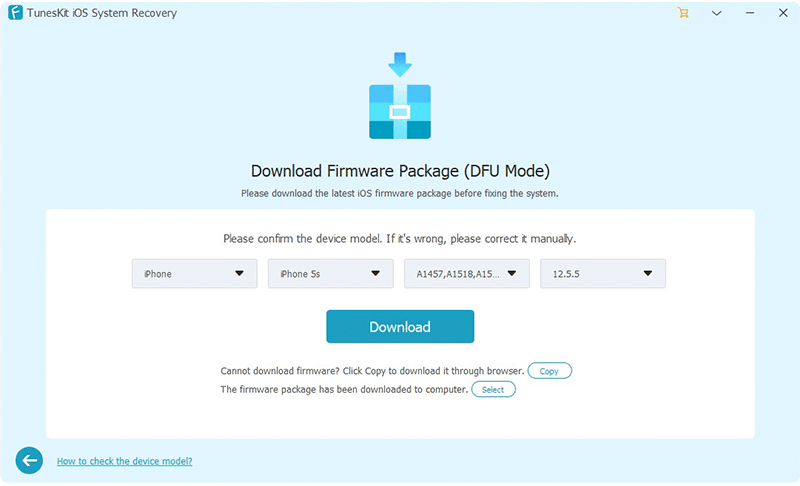 Step 3.

Recover the iOS system

After the download process has finished, click the 'Repair' button and wait for your phone being recovered.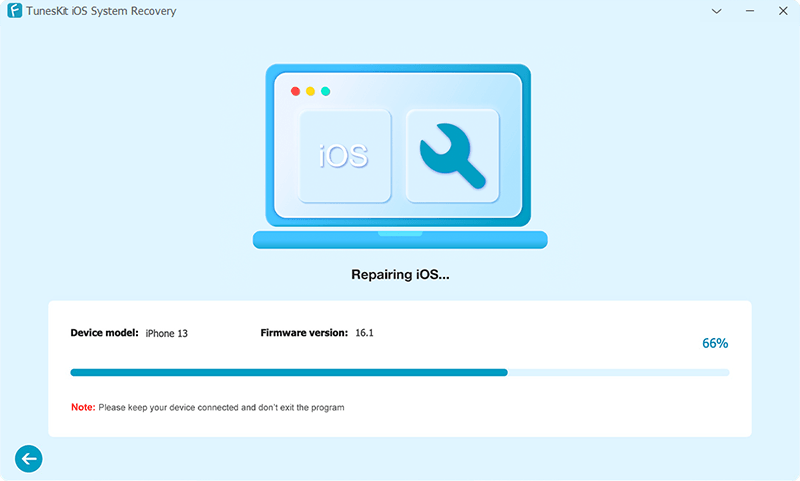 As a professional and multi-functional software, TunesKit can provide you the highest experience and improve the quality of your life. Why not download it and have a try?
Conclusion
Fixing Find My iPhone is easy if you have followed our top 6 instructions above. All the methods are effective and troubleshooting, I believe you can solve your iPhone successfully. You can also try TunesKit iOS System Recovery to fix your problem. If you still have any problems on fixing your phone, you can leave your voice below.

Brian Davis has covered tech and entertainment for over 10 years. He loves technology in all its forms.